Kopaonik National Park
Kopaonik National Park
is in
Serbia
.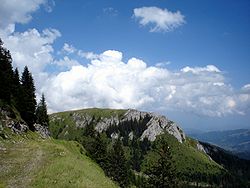 Understand
Kopaonik
(
Serbian
: Копаоник) is the biggest mountain range in
Serbia
, located in the southern part of the country. The highest peak of Kopaonik, Pančić's Peak, is 2,017 metres above sea level. Kopaonik was declared a national park in 1981. The area of the Kopaonik National Park is 118.1 km². The tourist resort on the Kopaonik mountain includes hotels, rest houses, ski lifts, excellent ski slopes and many other tourist facilities.
History
Kopaonik has a rich historical heritage. The area was an important mining center during medieval times with many Saxons operating in the area as miners. During those days there was an intensive trade with Ragusa (Dubrovnik). Besides old churches and monasteries, several medieval and pre-medieval fortresses built by Serbian dynasties that ruled the area can be found on Kopaonik. The nearest Serbian medieval castle is
Maglič
. Also, the monastery of
Studenica
is fairly close.
Transportation
Kopaonik National Park is 230 km away from Belgrade. It is well connected with the main transport routes in Serbia. The central part of Kopaonik with the tourist center and ski slopes is linked with the Ibar Highway by a modern tarmac road. The nearest airport is in Nis.
Landscape
The Kopaonik mountain range is characterised by extraordinary natural beauty with vast expanses of grassland, picturesque forests composed of a wide variety of tree species, beauty spots and deep river gorges.
Flora and fauna
Deciduous forests and native coniferous woodland make up most of the forested land on Kopaonik. The flora is characterized by a large number of autochthonous plant species like the Balkan beech, fir, spruce, yew, several kinds of maple, pine and oak. The fauna is also diverse but its concentration varies, depending on the quality of the habitat. Kopanonik has many species of birds, such rock partridge, scops owl, red-backed shrike, and the wood lark. Soil erosion poses no threat as there is no logging and deforestation in the park.
Climate
Get around
On foot
If you plan to go hiking, it is advisable to buy a map of the area. They are sold in the souvenir shops and cost around €3.

Drink
When you order black tea in Kopaonik, Earl Grey will be served; there's no plain black tea most of the timeno matter how simple or splurge is the restaurant.
Sleep
Hotels
phone: +381 36-5471-044, +381 36-5471-046

This hotel is central, near the Konaci hotel complex. In general this is one of the cheapest hotels on Kopaonik. All the rooms have a kitchen, bathroom and Wi-Fi. There's also a restaurant in the hotel, where the cheapest option is the all-you-can-eat buffet for €4 at 12:00-15:00. The rooms are old but immaculate, and you must leave your room in a clean state. It is possible to leave your luggage at the reception after checkout.
Stay safe
There should be no safety concerns.

Go next