Koraput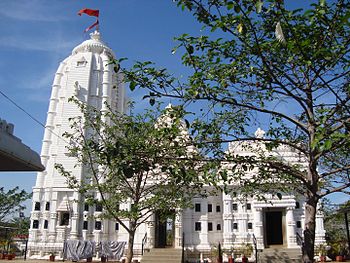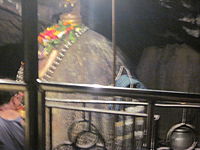 Koraput
is a city in the state of
Odisha
(formerly Orissa), near the borders of
Andhra Pradesh
and
Chhattisgarh
states. It has enchanting hills, verdant forests, winding streams, exotic wildlife and a rich tribal way of life.
Understand

It is the commercial nerve centre of the region. The aircraft engine plant of Hindustan Aeronatics Limited (HAL) is at Sunabeda about 20 km from Koraput. National Aluminium Corporation (Nalco) operates at Damanjodi nearby.

Get in
By plane
There are three airports in the area - one at
Visakhapatnam
which is 5 hours by road, the second one is
Raipur
which is 7 hour to Koraput. The third one is Jeypore airstrip, which has some air connections with Bhubaneswar (Air Odisha).
By train
Koraput is connected to Vishakapatnam by a day train and
Bhubaneswar
by a night train. The Hirakand Express (train number 18447) leaves from Bhubaneswar at night (7:35PM), and reaches Koraput, the next morning (9:15AM). Most of the people get down at Vizianagaram at around 2AM (tell the TTE to wake you up) and catch share taxis for Koraput, Sunabeda or Jeypore - it takes around 3 hours and costs ₹350-400 per person. A passenger train (Visakhapatnam-Kirandaul Passenger, Train Number 1VK) leaves from Vishakapatnam in the morning (6:50AM), and reaches Koraput by evening (1:20PM). The journey through the scenic
Araku Valley
is breathtaking and attracts many tourists.
Samleshwri Express has two sleeper, one AC three tire and some general coaches for Koraput. It leaves Howrah at 9:35PM daily and takes almost 24 hours to reach Koraput via
Rourkela
,
Sambalpur
and Rayagada. From Kolkata you can take the Howrah-Koraput express. Another way is to take a train on the Howrah-Chennai route, get down at Vizianagaram (50 km before Visakhapatnam from Kolkata side) and catch share taxis to Koraput which takes 3 hours and costs ₹350-400 per person.
By road
Koraput on the hills can be reached from most places in either Odisha or Andhra Pradesh by travelling up a heavily forested winding road (also called a ghat road), with many sharp hair-pin bends. The road trip from either state is quite scenic. It is the most travelled and well maintained. If travelling in the early morning or late evening, you definitely will spot wildlife feeding along the road, or even spot the odd carnivore. There are forests of sandalwood trees all the way.
There are 2 ways to get to Koraput from Visakhapatnam and Vizianagaram:
#The route from Visakhapatnam traverses along Pendurthi, Kottavalsa, Srugaravarapu Kota (S.Kota), Araku, Araku Valley and Koraput. This route is a bit long and is well paved till at least the Andhra Pradesh-Odisha border. As
Araku Valley
is a hill station and major tourist attraction in the northern parts of Andhra Pradesh one can get decent accommodation in one of the 3 Andhra Pradesh Tourism Department operated resorts or private hotels at Araku Valley. And from there one can travel to Koraput after a refreshing night in the laps of nature. The road from S.Kota to Araku Valley is a ghat section or a winding mountain road which has 9 hair pin binds on route 1.
#The other route to Koraput from Visakhapatnam goes via Vizianagaram, Gajapathinagaram, Rambhdhrapuram, Salur, Pottangi, Simliguda, Sunabeda (HAL) and Koraput. From Vizianagaram the trip to Koraput is around 150 km and the journey time is usually 4-6 hr depending on the road conditions, traffic conditions and the weather. The road till the Andhra Pradesh and Odisha border is well maintained on the Andhra Pradesh side.
The journey to Koraput is scenic and as mentioned above and one will definitely see wolves, foxes, and if one is lucky enough hyenas and bears on the roads. Coming to the scenic part, it is a very scenic to watch but really dangerous for the inexperienced driver who never drove earlier on winding ghat roads (mountain roads), especially trying to avoid ditches, potholes and all other obstacles
Get around
There is a Government of Odisha Tourist Office at Koraput Club, Telephone: +91 6852-250318.
Area landmarks
HAL Engine Plant

address: Sunabeda

JeyporeTown with feudal heritage which is a commercial nerve centre near Koraput.

NALCO Alumina Refinery

address: Damanjodi

National Aluminium Company Limited (NALCO) is Asia's largest integrated aluminium complex, it draws its raw material, bauxite, from Panchapatmali mines nearby, NALCO has a smelter at Angul.
See
Bagara WaterfallsRiver Kolab forms three waterfalls of about 9 m (30 feet). The last 5 km of the road from Khandaguda is 'kutcha road' (dirt track). There is a rest house near the falls.

DeomaliThe highest & largest mountain peak of Odisha.

Duduma WaterfallsThe Machkunda River forms the 175 m high waterfalls, with facilities for generation of hydroelectricity at Machkunda Power Station. It is located in the deep forests and is amongst the higher waterfalls in the country. Ankadeli (Onukudelli), a village 3 km away, has its weekly market on Thursdays. The Bondas, a primitive tribe come to the market. There is a dam and reservoir at Jolaput nearby, across the Odisha-Andhra Pradesh border.

Gupteswar Cave ShrineCave shrine of Lord Shiva on the banks of the River Shabari. The place name literally means 'hidden God'. Odisha Tourism has a lodge at Gupteswar. There are other caves such as Swargadwar Cave and Paravadi Cave nearby. There is a view point at Sangam Ghat. Kanger Valley National Park is across the river and the inter-state border. During Shivratri the cave tempple attracts 200,000 devotees.

Kolab DamIt is across the Kolab River, 900 m (3,000 feet) above sea level with facilities for hydroelectricity generation.

Maliguda railway tunnelIt is the highest broad gauge tunnel in India. It is on the Visakhapatnam-Kirandaul line.

Sabara Srikhetra Jagannath Temple

address: Pujariput

Shakti WaterfallsIt is a small waterfall with a height of 6 m (20 feet). The water forms a 'S' shape.

Tribal MuseumIt educates tourists about the culture and heritage of the tribals.
Do
Attend Parab"Parab" is a tribal festival organised by Unicef every year from 16 to 18 November, where one can find different tribal cultures at one place who demonstrate their dance and art forms. It is also a time to shop for decorative handicraft items made by the tribals. So be there without a miss to celebrate.

Attend Rath YatraRath yatra is the main annual event.
Buy
phone: +91 9443342241

address: Goudaguda village, Kakiriguma

Buy handicrafts at the guesthouse handicraft shop
Eat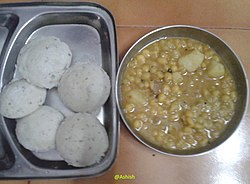 phone: +91 9443342241

address: Goudaguda village

Restaurant at guesthouse located in a mixed village of general, adivarsi and potters (Kumar) population 40 km from Koraput. Seasonal. Bookings essential.
Raj Residency (see "Sleep" below) serves good food.
Drink
Please drink bottled mineral water. It is also available locally.

Sleep
Mid-range
Koraput
phone: +91 6852 251591, +91 6852 252391

address: Post Office Rd
Budget
Damanjodi
Bhavani Stay Lodge

phone: +91 9937293749

Lodging only.

Maa Mangala Guest House

phone: +91 6853 253994

address: Bhejaput

Maa Mangala Lodge

phone: +91 6853 254455

Lodging only.
Gupteswar
Panthasala

phone: +91 6852-250318

Reservation: ATO, Panthasala, Gupteswar, OR Tourist Officer, T.R.C. Building, Near Circuit House, Koraput.
Koraput
Atithi Bhawan

phone: +91 6852 250610

address: 127/1 Dhandi Street, Near Jagannath Mandir

Atithi Nivas

phone: +91 6852 250254

D.N.K. Guest House

phone: +91 6852 251598

address: Pujariput

Hotel Ambika Heavens

phone: +91 6852 250350

address: 61 Gundicha Chowk

Maha Laxmi Lodge

phone: +91 6852 250485, +91 9853539007

address: 321 Koraput Rd

Yatri Nibas

phone: +91 9337622637
Semiliguda
Jagannath Lodge

phone: +91 6853 225409

Food available.

Sri Ram Hotel

phone: +91 6853 225388

address: Hotel Chowk
Sunabeda
NAC Guest House

phone: +91 6853 220315

Panthika

phone: +91 6853 220310

ATO, Panthika, Sunabeda, Telephone +91 6853-220310 or Tourist Officer, T.R.C. Building, Near Circuit House, Koraput, Telephone +91 6852-250318
Nearby
phone: +91 9443342241

address: Goudaguda village, Kakiriguma

Luxury 5 double room guesthouse located in a mixed village of general, adivarsi and potters (Kumar) population 40 km from Koraput. Bookings essential.
Go next