Korean cuisine
Korean cuisine
can be found in
North Korea
,
South Korea
and
Northeast China
as well as with the Korean diaspora around the world.
Food
Korean cuisine often is based on rice and noodles in common with
Chinese cuisine
and
Japanese cuisine
, although indigenous ingredients such as fermented spicy cabbage (
kimchi —
김치), rice cakes (떡, 糕 'duk'), garlic and chilli produce many dishes not recognisable in either Japan or China.
Regional variations and specialities inside Korea do certainly exist, although typically 'the basics' can be found everywhere.
Barbecue
Many may consider Korean marinated barbecue meat of beef, pork and chicken to be the canonical Korean food. In fact visiting these restaurants are typically reserved for special occasions. You typically visit in a large group and order large amounts of raw meat which you cut yourself with large scissors and cook yourself on a gas (or charcoal) cookers in the middle of the table. When cooked, the meat should be dipped in chilli sauce and wrapped in lettuce or perilla leaves. A high strength air vent is positioned above the cooker to avoid too much smoke landing on you.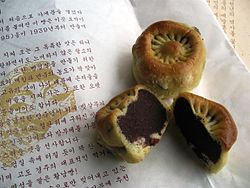 Fried chicken
A good amount of food in South Korea has also been inspired by American cuisine such as spicy twice-fried chicken (양념 치킨), which is actually more crispy and has less oil than its American counterpart. It is served generally with either plain or with a very sticky sweet marinade (or combination of both).
Sundae
Sundae (순대) is a black sausage made from blood and glass noodles and wrapped in intestines (and very much not the western ice-cream dessert with the same spelling). Very much lacking in any flavor by itself, but combined with chilli makes for a delicious experience. Available by itself with chilli-salt, or in hot pots.
Sokcho
has a variety made completely from squid.
Others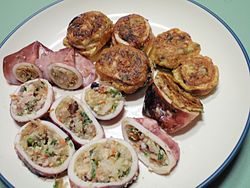 Koreans often snack on
kimbap
(김밥, the name is a portmanteau of "seaweed" and "rice") which looks like large pieces of Japanese sushi but is usually filled with pickled vegetables, fish cake, sesame oil and sometimes cooked meat. It is always wrapped in dry seaweed.
Controversial
Korea has many dog and whale meat restaurants. These are almost never targeted at foreigners, so you will have to ask your local contacts to take you if you so wish. The legal status of these restaurants is ambiguous, although you are not likely to get into trouble by visiting one. The provenance of the meat will certainly not be that of high welfare, and high levels of toxins in whale (and dolphin) meat can be considered dangerous to consume.
Drink
Soju
Soju
(소주) is a clear, distilled beverage made from rice, wheat or barley (or sometimes sweet potato or other root vegetables) that is the most popular drink in Korea. Has some similarities to vodka but is not as strong and has a touch of sweetness.
Tea
Tea
(차) is widely drunk, as elsewhere in East Asia. There's a range of Korean teas, for example
insam cha
(ginseng tea).
Culinary destinations

The following destinations may be of interest for authentic regional dishes. Many of these are also available in some form in specialized restaurants in South Korean cities (and to a somewhat lesser extent Korean restaurants around the world).


See also