Korpo
Korpo
(Finnish:
Korppoo
) is one of the former municipalities in the
Archipelago Sea
in
Finland Proper
. It includes a lot of small islands, among them important destinations such as
Jurmo
and
Utö
. This guide is about the main island and a few adjacent ones.
Understand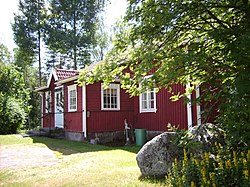 Korpo used to be an independent municipality, including many minor islands (about 2,000 in all). This article focuses on the main island, "Korpo Kyrklandet", where the parish village
Kyrkby
is located. The island is big enough to host several villages, forest and agricultural landscapes, being some 10 km across.
Like in the rest of Åboland, Swedish is the main language. You will survive on English or Finnish.
Get in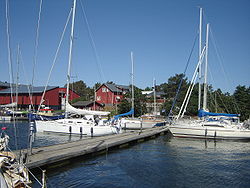 By car
The "Archipelago road",
Skärgårdsvägen
(Finnish:
Saaristotie
, regional road 180) leads from
Kaarina
outside
Turku
to Korpo, via
Pargas
and
Nagu
, with two road ferry passages and several bridges. The last short ferry passage is from Pärnäs in Nagu to Retais in Korpo. Turku is well connected. If coming from the east you can turn to Skärgårdsvägen from national road 1 (E18) or regional road 110 already in Kaarina.
During the summer season there are daily connections from
Kustavi
in the north to
Iniö
continuing through
Houtskär
to Galtby in Korpo. The road ferry from Iniö to Houtskär has a fee. See the articles for Iniö or Houtskär for details.
By bus
There are
coaches
from Turku to Korpo six to eight times a day, operated as the brand
Skärgårdsbuss
by TLO of Turku, and a few direct connections weekly from Helsinki by
Skärgårdsvägen Ab
, part of Vainion Liikenne Oy. The voyage from Turku takes about two hours. Transfers in Kaarina or Turku, if needed, as explained in
Pargas
. Most of the buses visit Galtby harbour to leave or pick the ferry passengers before continuing to the main village.
Almost all of the Skärgårdsbusses from Turku drive all the way to Korpoströn by request. Tell the driver if you need to get there, otherwise the terminus is next to the Korpo church.
By bike
The
Archipelago Trail
runs through Korpo, arriving at Retais jetty and continuing from Galtby harbour. There are no separate bikeways on this part of the trail. There is a separate bikeway between the Korpo school and the main village.
By boat
There are daily
ferries
from Långnäs on
Åland
to Galtby in Korpo. The trip takes about five hours. During the high season (June 17th - Aug 11th in 2019) you need to change the ferry in
Kökar
. This connection (as all the ferries operated by Ålandstrafiken) is free of charge for passengers but there is a fee for carrying any vehicles. The Ålandstrafiken's feeing system is a bit complicated and the price depends on not only the type of the vehicle but also whether you have stayed overnight in the Åland archipelago (cheap fee) or are you just trespassing (quite an expensive!).
Road ferries connect Galtby with
Houtskär
in the west and Norrskata in the north. These are free of charge.
By a
yacht
, Korpo is at the main fairways from Sweden or the Baltic Sea (via southern Åland or Finnish Utö to Turku and Naantali). There are lots of other fairways crisscrossing between the islands. Guest marinas include the one in Korpoström and the one in Verkan.
Get around
Except school buses and the like, there are no local buses on Korpo. The Skärgårdsbuss coaches can be used when their schedules happen to fit. If you want to get around, you probably need a car or a bike. There are taxis.
KyrkobyParish village.

Galtby ferry harbourFerries to Norrskata, Houtskär and Åland leave here.

KorpoströmGuest marina. Skärgårdscentret.

WattkastAn island connected to the main island with a bridge. Many farms with farm-gate sales. Notable for the number of oak trees.

NorrskataUntil 2008 the second largest village in Korpo. Nowadays there are hundreds of summer residents.
To get to the minor islands you take a ship-like ferry from Galtby or from in
Nagu
(just across the sound), with departures once or twice a day. From Galtby you get to Norrskata and the northern archipelago, from Pärnäs to the southern archipelago, including
Jurmo
and
Utö
.
A ship-like ferry
M/S Eivor
is serving the route
Pärnäs–(Berghamn)–Nötö–Aspö–Jurmo–Utö
daily during the summer season (June 7th – August 31th). Day trips to Nötö, Aspö and Jurmo are then possible in Mondays, Tuesdays and Wednesdays, but in Wednesdays there is no coach connection any more when the ferry arrives back to Pärnäs. The rest of the days you need to stay overnight on some of those islands. If you want to leave the vessel in Utö you always need to stay overnight, but you may take a day trip to Utö and back if you don't leave the vessel. M/S Eivor is free of charge, but it does not carry private cars. The vessel has a café.
See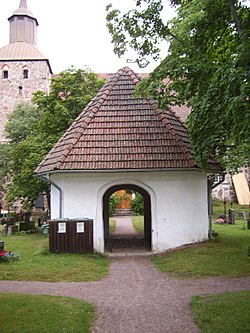 phone: +358 40-139-1218

address: Korpoströmvägen 832

Restaurant. Exhibitions and workshops. In the summer children are invited to make marine biological research, studying what they find in the water under the microscope, and are guided on the 18th century wartime and civil life in Korpo (check the language issues: can trilingual instruction be provided?).

Korpo kyrka

phone: +358 40-312-4442

address: Korpovägen 1

The medieval church built in early 15th century has interesting architectonic details telling about not so peaceful history. Truly medieval looking murals and a number of medieval wooden statues. The apsidal balcony is the only one left in the Nordic countries.

phone: +358 40-741-0545

address: Strömmavägen 39

Historical collections from the surrounding archipelago from handicrafts to fishing gear.

phone: +358 40-741-0545

address: Kabeluddsvägen 1

A small museum with an exhibition concentrated on bootlegging! Also some fishing and bird-hunting equipments and boat engines.

Rumar hillAn observation tower, a weather radar display, and a nature and culture path

address: Änkistentie 540

A wooden church built 1932–1934.

AspöA small and beautiful archipelago island 24 km south from Korpo main village having just 11 year-round residents. The current chapel next to the harbour is the fourth one on the island and built in 1950 after the previous one got destroyed by an autumn storm. Summer café. Nature trail. Accessible by the ferry M/S Eivor from Pärnäs. During the season a day trip is possible in Mondays, Tuesdays, and Wednesdays (no coach connection from Pärnäs at Wednesdays).
The islands
Jurmo
and
Utö
are accessible by
M/S Eivor
from Pärnäs.
Do
Åvensor quarry

address: Åvensor

An old limestone quarry filled with crystal clear water is a popular destination for scuba divers. The calcareous soil makes some rare plant species to grow on the island. Åvensor has daily ferry connection by M/S Falkö but there are no services for visitors on the island.
Buy
phone: +358 2 463-5335

address: Handelsmansvägen 2

Grocery store with lots of local products. Delivery service. Cash withdrawals. Fuel.

phone: +358 2 463-1033

address: Handelsmansvägen 6

Tools, garden items, pet food, souvenirs. Postal service.

StrandbodenBasic food, imported delicacies from Spain.
There is a very small grocery store in Verkan as well. The
market square
is in the middle of main village, in front of the church and Korpo handel.
Many agricultural producers in Wattkast village have
direct sale
to consumers including meat, vegetables, flowers etc.
Eat and drink
There are restaurants in a few of the villages.
Sleep
Guesthouses or, mainly for longer stays, cottages. There is no official camping area on Korpo main islands but plenty of woods for wild camping. For staying overnight on the islands
Jurmo
or
Utö
, please see the corresponding articles.
In Norrskata
phone: +358 40-550-6677

address: Norrskatavägen 285

Cottages in Norrskata. Meals available only for those who stay overnight. The cottages do not have cooking facilities.
Connect
Postal code: 21710 Korpo

Go next