Kortrijk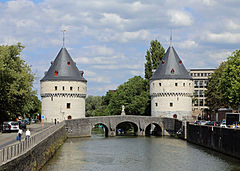 Kortrijk
(French:
Courtrai
, sometimes referred to in English as
Courtray
) is a city in
Flanders
, the northern part of
Belgium
. It is the capital and biggest city of the arrondissement of Kortrijk, which has about 285,000 inhabitants (2014). The wider municipality comprises the city of Kortrijk proper and the towns of Aalbeke, Bellegem, Bissegem, Heule, Kooigem, Marke, and Rollegem.
The city is on the Leie River, 42 km (26 miles) southwest of
Ghent
and 25 km (15 miles) northeast of
Lille
in France. Kortrijk and Lille are part of the same transnational Eurodistrict urban area with around 1,900,000 inhabitants.
As the biggest city of southern
West Flanders
, Kortrijk has many schools, a university, hospitals and shopping streets.
Understand
Kortrijk is a medium-sized city with a good balance of tradition and innovation/modernism. It has always been famous for shopping, and in 2010 a big shopping centre was opened in the heart of the city. There are traffic-free shopping zones, and lots of historical sites in the city centre. Outside the centre there are some less developed neighbourhoods, though none are really bad.
Kortrijk is a rather safe city. Suburbs/satellite cities like Menen have to endure mainly burglary criminality from youth and gangsters, but Kortrijk is rather safe.
The city is known as the Guldensporenstad (City of the Golden Spurs), after the battle of the Golden Spurs in 1302. It used to be the centre of the linen industry and is still known as an important textile industry region.

Talk
As Kortrijk is a part of Flanders, the main language is Dutch. Many of the inhabitants will be happy to answer you in English or if you ask beforehand, in French, although automatically starting a discussion in French could offend some of the locals. Some older people speak a little German.

Get in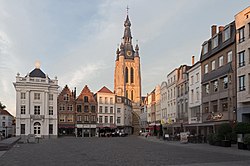 By train
The is in the centre of the city. Kortrijk is an important node in Flanders' railroad network.
Direct connections from Brussels and Ghent. Kortrijk is 1 hour and 20 minutes away from both Brussels and 26 to 35 minutes from Ghent, depending on the type of train you take. So make sure to take the quicker train, unless you like to spend time in trains.
The French city of Lille is a train ride of 40 minutes away from Kortrijk. Occasionally, this will require a change in the Belgian/Walloon border town of Mouscron. Kortrijk can also be reached from Lille by taking a Tournai train and changing at Froyennes.
There are also direct connections to and from Ghent and Bruges. The train covers the distance in 50 minutes to 1 hour and 10 minutes.
High speed train lines do not stop in Kortrijk. There is a direct connection to the Lille Flandres and Lille Europe train station (30 minutes by train) however. Accessing Kortrijk from England/Paris through stopping in Lille is easier and quicker to do than going to Brussels and taking the regional train in Brussels.
By bus
Next to the train station there is a large bus station, giving access to regional bus lines and a well-constructed city bus network. The Flemish national bus company, De Lijn, has lines to Kortrijk from Mouscron,
Roeselare
,
Waregem
and other neighbouring towns. For more information regarding different timetables (only available in Dutch):
https://www.delijn.be
.
By car
Kortrijk has an inner beltway, the R8. This highway is connected to the A19 (Ypres/Ieper), E403 (Bruges/Brugge, Ostend/Oostende, Tournai/Doornik) and the E17 (Lille/Rijsel, Ghent/Gent, Antwerp/Antwerpen, Brussels/Brussel).
By plane
Flanders International AirportMainly business travel. No daily passenger services.

Daily connections by train to Brussels Airport (BRU). Lille Airport (LIL

) can also be an option.
Get around
Kortrijk has a well-formed bus system, offering easy transport to main spots like Kortrijk Xpo and most surrounding cities.

See
Museums
phone: +32 56 27 78 50

address: Begijnhofpark

An interactive museum showing you the Battle of the Golden Spurs (11th of July 1302). This battle is historical because it was one of the first battles where a peasant-based army defeated a knights army. After the battle, the spurs of the fallen horses were kept as a victory sign. The battle gave Flanders its regional holiday.

BroelmuseumIn an old 18th-century mansion. Mostly contains regional artists (f.i. Roelant Savery) and an unique collection of ceramic. Closed for renewal. Will open in 2018 with a different name and concept.

phone: +32 56 27 74 70

address: Noordstraat 28

New museum that opened in 2014 on the banks of the Lys (Leie) river. Shows a historical image of the flax industry in Kortrijk and the surroundings.

Groeninge Abbey

Bakery and Mill Museum

address: Abijdmolenweg

Housed in a 1841 brick mill in the village of Marke. In four steps you get to know the various aspects of the bakery sector. In addition you can look at various mill types and milling machines.

Agricultural MuseumIn Bissegem.
Historical buildings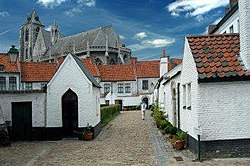 City Hall

phone: +32 56 27 70 00

Belfry

address: Grote Markt
BegijnhofThe scenic beguinage (UNESCO-heritage) was founded in 1238 by Johanna Van Constantinopel. It was destroyed 3 times and rebuilt for the last time in the 17th century.

BroeltorensThese two identical towers are remains of the medieval city wall. They are the typical image of Kortrijk. Build in the 13th and 15 century, they are on both sides of the Leie river.

Onze-Lieve-VrouwehospitaalHospital, founded between 1200 and 1204.

BaggaertshofMedical garden and 13 old houses.

Groeningepoort and Groeningekouter

address: Plein

The Groeningepoort gate is built in 1908 to commemorate the 600th anniversary of the Golden Spurs battle on the location of the Groeningekouter, the field of the battle took place. In the park that now covers a part of the former battle field, you can also find the Groeningemonument.

phone: +32 56 23 98 55

address: Schouwburgplein 14

A rather impressive, chateau-like building. Schouwburg is the Dutch word for theatre.

The Wave Fountain

address: Schouwburgplein

Made by Olivier Strebelle.
Churches
Sint-Maartenskerk

address: Lange Steenstraat

A Gothic church, built and rebuilt after a fire in the 14th century.

Onze-Lieve-Vrouwekerk

address: Deken Zegerplein

Sint-Michielskerk

address: Sint-Michielsplein

Sint-Elooiskerk

address: Overleiestraat

Sint-Jan-de-Doperkerk

address: Sint-Jansplein
Do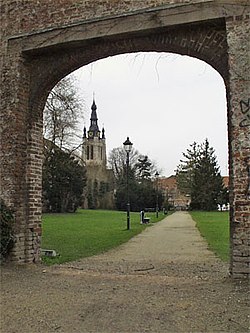 phone: +32 56 37 06 44

address: Conservatoriumplein 1

Main cultural center of the city. Frequent concerts of usually rather unknown local singers and bands.

phone: +32 56 24 11 11

address: Doorniksesteenweg 216

This is the main exhibition centre of the region and from time to time hosts fairs that can attract a big crowd.
Events
Buy
Kortrijk offers one of the biggest car free areas in Belgium where one can shop or have drink on a nice terrace. One of these streets, the Korte Steenstraat, was the very first pedestrian street in Belgium.
K in KortrijkIn the heart of the pedestrian area, a large covered shopping centre, named K in Kortrijk, opened in 2010. This shopping mall makes the pedestrian link between the Lange Steenstraat and the Veemarkt-square and offers some 90 large stores.
Eat
Budget
phone: +32 475 49 71 75

Eat-in and take-away burger bar with surprising and tasty combinations - includes a lot of vegetarian options.

phone: +32 56 22 79 69

address: Sint-Jansstraat 17

Vegetarian restaurant near the K shopping centre. Only open during lunch time on weekdays.

phone: +32 56 90 30 98

address: Voorstraat 34

Budget restaurant with tasty dishes.
Mid-range
phone: +32 56 21 60 32

address: Etienne Sabbelaan 11

Traditional Flemish food. Outside the city centre.

phone: +32 56 44 02 23

address: Deken Zegerplein 1

Restaurant with Belgian dishes.
Splurge
phone: +32 56 20 45 17

address: Handboogstraat 20

Delicious dishes in a stylish setting. This restaurant is one of Kortrijk's most cherished ones.
Drink
The typical place to party is the end of the Burgemeester Reynaertstraat close to the station. By the local public this is called 'Het Straatje', which stands for 'the little street'. This is a typical place for going out on Thursday night and in the weekend. There are around seven bars, which typical have loud music and are for dancing.
If you're keen to enjoy a quiet drink, a place to go is the Vlasmarkt, on a minute walk from The Belfry. A handful of bars there are very nice designed and enjoyable to visit, and usually, they are less expensive then the bars on the Market Place. This place is frequented by locals.

Den Bras

phone: +32 56 20 49 03

address: Stationsplein 6

Perfect place to go during daytime.

address: Burgemeester Reynaertstraat 19

The little brother of Den Bras, located in the cellar. Den Trap is a bar with high rock and roll appeal, and sometimes during the week you can enjoy a free concert here from very promising bands in the area.

phone: +32 56 90 72 57

address: Budastraat 12

Cozy little place to have a small drink and play board games. Homely atmosphere, and they have a cat walking around. In one of the rooms is a piano you can play on. Also small snacks are available.

address: Sint-Rochuslaan 1

The Pit's, the concertplace of vzw Bang Zoom Noise Produktions (BZN), started in december 1988. Kortrijk had in the 1980s some places where "alternative" , "non-conformist" music could play. For various reasons those places stopped doing that and some locals decided it was their time to set things up. After 27 years more than 2000 bands have played; most part in The Pit's and some on other stages under various co-organisations. This is rather a huge achievement for a completely volunteer run organisation. Among the bands who played are: Drive Like Jehu, GO!, Crowbar, Eyehate God, Rancid, Nations on Fire, The Mummies, Antiseen, New Bomb Turks,Supersnazz, the Spits, the Locust, Dead Moon, Groovie Ghoulies, Killdozer, Deadbolt, D.O.A., Strychnine, Zeno Tornado.... Nowadays it's run by some arrogant prick with a beard but still worth it!
Sleep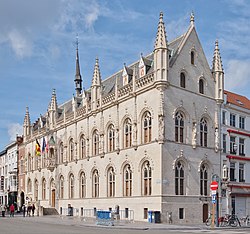 phone: +32 56 98 06 92

address: Passionistenlaan 1

HI Hostel within walking distance east of the city centre. Was renewed in 2015. Rooms for 1 to up to 6 people.

phone: +32 56 22 03 03

address: Stationsplein 2
Connect
Internet reception over the whole city is very good, as major networks cover the area. Also almost all hotels and a lot of bars and pubs offer you free internet.

Stay safe
Generally safe, small unsafe areas near the station (at night) and the Venning, a local neighbourhood.
The local police station is at the end of the street in front of the train station(Next to Domino's Pizza). Most of the police officers speak fluently Dutch/English/French.
Small crimes (vandalism) or information (directions) can easily be reported/asked at some of the city's "guards", who just walk around dressed in purple.
Go next
Kortrijk is on the "Vlaanderen Fietsroute", a cycling network through Flanders, a network of 800 km guiding you through Flanders nicest spots by bike.