Kothamangalam
Kothamangalam
is a beautiful town in the mountains of
Kerala
,
India
. Kothamangalam is now one of the most important pilgrim centres of Kerala, with a dozen churches, half a dozen ancient temples and a few sacred mosques. The place is spiritually glorified by the ancient Thrikariyoor Temple, mosques, St. George Cathedral, St. Mary's Church (Marthamariyam Valiyapally) and Mar Thoma Cheria Pally. The city is also known as
Entrence of High Range
.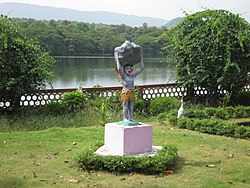 Get in
Kothamangalam is 80 km from
Munnar
.
Nearest Railway station -
Aluva
35 km / Ernakulam - 53 km.
From
Aluva
bus station, located just opposite to railway station, one can get frequentis buses for Kothamangalam. Bus journey can take 40 to 50 minute.
Nearest Airport -
Nedumbasserry
(Kochi) - 34 km.
See
Salim Ali Wild Life Sanctuary
in Thattekkad is 14 km from Kothamangalam is the home for the bird sanctuary where we can find some of the rare species of birds. Exotic birds flock in the sanctuary and make this place a heaven for any ornithologist.
Bhoothathan Kettu
is a good picnic spot, 10 km from Kothamangalam. There is a dam here and in the reservoir one can go for boating too. The legend says that the dam was built by a "Bhootham" using the rocks, which is the ample proof for the name. Trekking through the forest to the old Bhoothathan Kettu is very interesting. The forest offers a wide variety of flora and fauna and is a botanist delight.
Ancient temples in or near Kothamangalam are:
Valiyakavu in Ambalaparambu
Charupurathu Srikrishnaswamishathram in Ambalaparambu
Ilamkavu
Ayyankavu
Choriyankavubhagavathi temple in Kottappady
Do
Ayakad Mahadeva Temple
Edathil sri mahaganapathy temple
Sri narasimha swami temple
Sri maduraminakshiyamman kovil

Sleep
Birds lagoon Resort Thattekkad is a resort with a private lake and mountains around near the Thattekkad birds sanctuary. see Birdslagoon for more details
Hotel Maria International (
***)
Mundackal Plantation Homestay (
****) Mundackal Estate, Pindimana PO, via Thrikkariyur, 686 698 Kothamangalam, Kerala
The Dreams, Never Miss it. Home Stay in Kothamangalam.
Go next
Being a gateway to HighRange (the western ghats,
Sahyadri
region, is a high altitude cool belt with defined tourist places), almost every traveller touches this town. Famous
Munnar
is just about 75 km away.