Kourou
Kourou
is a town in
French Guiana
. Together with the
Îles de salut
(
Salvation's Islands
) outside the coast it used to be part of a penal colony for the worst criminals in France, but in 1946 the prisons were closed. Since the 1960s it's been best known for the Guiana Space Centre.
Get in
By bus or taxi
The town is on the road between
Cayenne
and the Surinamese border. You can get in by car (rental car or a rather expensive taxi) or by bus.
TIG's
bus line 5 takes you from Cayenne to Kourou in little over an hour and the fare is €10. Also bus line 9 from Cayenne to Iracoubo further west stop in Cayenne.
A shared taxi (minivan) from
Saint-Laurent
is 25 Euro.
By plane
Get around

By foot. There is no public transportation in Kourou itself, however the town is just about 2 km across.

See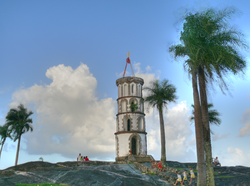 Guiana Space CentreKourou is primarily known for the European Space Agency's launch site. Take a guided tour of the area or watch a rocket launch (you have to apply for an invitation for the latter online - or you watch from a beach nearby).

Dreyfus towerA tower on a small peninsula that formerly was used for Morse communication between the mainland and the islands outside the coast. Named for the French officer of Jewish descent who was deported to the area on trumped up espionage charges, exposing widespread antisemitism and convincing Theodor Herzl of the necessity of Zionism.

Penal colony buildingsFrom the mid-19th century.
Do
There are great beaches in and around Kourou. In July and August there's a free open air cinema on the beach.
Carnival is celebrated in February; this means street parades every Sunday and a more intensive nightlife.

Pôle Culturel de Kourou

phone: +594 223290, +594 223140

address: Avenue Thomas Guidiglo

The cultural centre of Kourou with regular events, a movie theater and an art gallery

Cinéma Urania

address: rue des Tamanoirs

Yet another place to go and see a movie.
Eat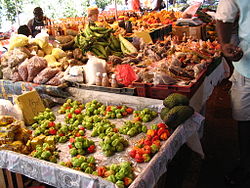 Kong LongsGood food and good prices at Kong Longs and they speak English, French and Chinese.

Chez WaïWaïA good and affordable Chinese restaurant, dishes around €6.

Le Singapour

address: rue Duchesne

Another good Chinese restaurant with a good television.

Chez JosephCuisine based on things like termites, ants, opossums, cingulata, iguanas. Everyone reportedly knows where this restaurant is.

Chez DisouBrouchettes/skewers of meat and fish.

Pizzeria de Kourou

address: Avenue du Lac

Good pizzas and a swimming pool in the restaurant.

Aux delicesA Creole restaurant in the old part (vieux bourg) of the town. Try the delicious green papaya gratin. You can dance on the terrace.
Markets
There are several food markets in the town:
Tuesdays and Fridays on the morning until about 13:00 on Place de la République.
Every morning except Sunday you can buy fish in the fish hall in the old part of the town. Also worth a visit if you aren't going to buy.
Saturday mornings there's a vegetable market next to the road (Avenue du Général De Gaulle) to the fish hall
Drink
The old part of the town has some nice bars including Guyarock Café, Saxo Club, Talon Aiguille, l'Yguana café and Vieux Montmartre
Bar des Sports opposite the post house is popular among French Foreign Legion servicemen.
Bar le 13 has a large terrace, good ambience seems to be the hangout for many of the people working in central Kourou. Belgian beers on the tap.
Sleep
Good hotels exist, but they can be relatively expensive.
phone: +594 324206

address: 1-3, Rue A. Martial

Hotel des Roches

phone: +594 327826

address: Ave des Roches

phone: +594 32 13 00

address: Lieu dit Bois Diable

Stylish, pool, bar that also serves some snacks. Lots of mosquitoes in the outdoor lounge area, free repellent at the bar. Free, very fast WiFi.

phone: +594 594 32 89 00

address: Avenue de St Exupéry

The Ariatel is a bit upscale compared to the Atlantis.
Connect
address: in the quartier Simaroba

Computers with Internet access, WiFi around the clock, phone booths, fax; everything you need to get connected. French, English and Spanish spoken.

phone: +594 32 20 06

address: in the quartier Simaroba

You can get online both with their computers and your own, however their fees are steep. Service in French, English, Spanish, Catalan, Portuguese and Italian.
You can also get connected at the mediatheque next to the lake, however fares are high. For Kourou residents Internet access is free for one hour.
Go next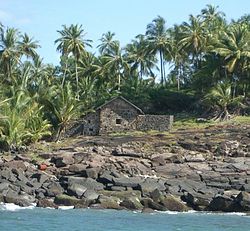 Îles du salut
The
Îles du salut
can be visited from
Kourou
. The islands used to be part of a penal colony. A one way ticket with a catamaran cost around €21. On weekends or holidays it can be crowded. So you should book in advance.
There are three islands:
Île Royale (Royal Island) is the main island where you arrive with the boat. On this island there's a hotel/restaurant with the opportunity to hang your hammock for €10. There is also a camping side where you can put your tent or your hammock for free. But there are no showers. Just toilets without a sink. But the sea is really close if you need to have a bath. On this island you will find a lot of monkeys, iguanas, sea turtles and some macaws.
Île du Diable (Devil's Island) is closed to the public. This is where Captain Alfred Dreyfus was incarcerated for four years in the 1890s.
Île Saint-Joseph. (St. Joseph's Island) You can get there with a boat from Île Royale which cost €5.