Kovalam
Kovalam
is a village in the southern state of
Kerala
in
India
located about 17km from
Thiruvananthapuram
.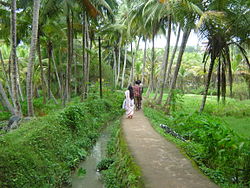 Understand
Kovalam is famous for its beaches, among the most pristine in India. Kovalam is extremely popular among westerners due to shallow waters and low tidal waves. It is also one of the oldest tourist enclaves in India, a well known part of the tourist circuit since the 1930s. Kovalam shot into the limelight in the early 1970s with the arrival of masses of hippies. That started the transformation of a casual fishing village of Kerala into one of the most important tourist destinations in all India - the Kovalam beach.
Kovalam was brought to the public eye by Her Highness The Queen of Travancore Maharani Sethu Lakshmi Bai decided to build a palace for herself at a rock top near the beach, as her private residence better known as Haylcon Castle. Later, in 1936, the next Queen, HH Karthika Thirunal choose this palace for her honeymoon with her newly wed husband, 1st Prince GV Raja. It was Prince G.V Raja who found immense tourist potentiality of the region and decided promote the region among state guests, by inviting Thomas Cook & Sons- UK to develop the region. The Maharaja of Travancore soon started hosting regular state banquets and accommodation of his European guests in Kovalam Haylcon Palace. This made the beach popular among European families living in nearby Madras and Bombay Presidencies as well as elite Travancore families to spend their holidays. Thus, the move helped to lay foundations of modern tourism industry in South India. Post independent India, the beach was popular among Indians and few tourists. It was 1970s, the hippie culture helped to revive the beach, with vast influx of tourists, spending their wild holidays here. When Kerala government thought of making tourism as a major industry, towards 1990s, Kovalam was the first tourist destination to be highlighted and promoted. Today its an intentionally renowned beach.
Kovalam has 3 major beaches in its 17 km coastline. The southernmost, known as the Lighthouse Beach is the most popular of the three. Many hotels, restaurants, lodges and shops are located here. It is frequented by outsiders who stay and enjoy Kovalam.
The Northern most crescent, (with the different names Main Beach/Leela Beach/Samudra Beach) - is crowded on weekends, is very popular with the locals, day-travelers, and passing-by tourist buses. During the week it's quiet. Hawa Beach in between is among one of the beaches in India where topless sunbathing is tolerated and well appreciated by the locals. The tourism department provides a vigilant life guard service on both Lighthouse and Hawa beach.
The Kovalam beach sand is partially black in colour due to the presence of Ilmenite and Monazite and this colouration is off-putting for some visitors and also causes the dry sand to heat up particularly fiercely, so you might want to consider bringing some footwear if you don't want to walk in the sea.
Many tourists in Kovalam are between the ages of 40 and 60 years old. Those expecting a replica of Goa will be pleasantly surprised by the more relaxed atmosphere, a bit more laid back, the food a touch softer and lighter.

Get in
Kovalam is about 16 km (20 min in a taxi) from Trivandrum. Taxis can charge around ₹400-500 to get to Kovalam. When asked where you want to go, say Hawa Beach, Leela Beach/Main Beach or Lighthouse Beach in Kovalam.
In an auto-rickshaw ₹150-170 (per head) is a fair price. Avoid going above ₹170. If in doubt ask to use the meter, but in reality they really don't work at all. Advice being if they are trying to rip you off go to leave for another rickshaw and they will often back down and offer you a fair price; if not, get in a different rickshaw. Even if India is a cheap country, the prices for gasoline are international standard, so don't expect super cheap private transportation. If you go by public bus from Trivandrum-East Fort to Kovalam Beach you only pay ₹8 for the half hour trip. If you're landing at Kochuveli train station, you can take AC bus from right outside the station to Trivandrum East Fort bus stop. And take connecting bus from there.
Buses to Trivandrum can also be caught from Kovalum Junction as well as Ambassador taxis and Autos to pretty much anywhere.
Be very careful walking around the junction, especially at night, as there are no traffic lights (what's new?) and the street lighting is very minimal. The intersection can be busy.

Get around
Tourist taxis are the most convenient way to travel around attractions, especially while travelling in a group. Most airports and railway stations have tourist taxi services that would take you anywhere you would want to go.
The rate should be around ₹15 per kilometre on auto rickshaw but some drivers may try to overcharge up to ₹100 for 1 km.
A more adventurous option is to get a bike on hire. The highway is a pleasure to drive on, with the cool breeze and coconut palms lined along the way. Once on the highway, drive north for the plains, drive south for the hills. Avoid driving through Thiruvananthapuram city, it's congested. The old highway, also called MC road, is also good to drive on. The MC road can take you deep into the hills. Try out the throaty Enfield 350 cc bikes for a truly vintage experience, check your fuel levels before you leave.
Two wheelers do not have to pay the highway toll, simply ride through the side lane.

See

The beaches are the star attractions here. Kovalam has three crescent shaped beaches separated by rocky outcroppings. The larger of the beaches is called Lighthouse Beach, known for its 35-m-high lighthouse which towers over it atop Kurumkal hillock. Most of the foreigner's stay on Lighthouse Beach, which is more developed. There are some vendors on the beach, but they are not too pushy. It takes less than five minutes to walk from Lighthouse Beach to the second largest beach, Hawah Beach. This beach is named thus for the topless European women who used to throng there. It was the first topless beach in India. However topless bathing is banned now.
The northern part of the beach is known as Samudra Beach. A large promontory separates this part from the southern side. Samudra Beach doesn't have tourists thronging there or hectic business. The local fishermen ply their trade on this part.
The old lighthouse, located at the southern beach is a local landmark, for being one of the oldest lighthouses of Kerala, guiding ships to the nearby Vizhnjam port. The lighthouse can be visited 15:00-17:00 daily.
Scenery from the Leela resort and the Govt guest house, Kovalam are breathtaking. The beach and rocks are most beautiful when you view from the rooms here.

Do
Motor Boat Ride - In 2009 local fishermen/catamaran people added a few motor boats to their fleet, destroying the peace and serenity of the coves. They hope to make some extra money from Indian tourists, but are not aware of the impact on the environment and Western tourism.
Surfing - Some fine waves from time to time (0.5-2 m). You can hire surf boards and body boards on the beach from USD6 a day. During peak season they will try and charge more unreasonable amounts but just say no. Body boarding can be enjoyed by anyone. Surfing takes a bit more skill. It is wise to follow the life-guards' instructions as there are some strong currents that can suddenly whisk the unwary out to sea. The new artificial reef is creating some good surfing conditions, more on ASRltd.com website and .
Wooden Boat Ride - At Kovalam's Main Beach/Leela Beach you can go out on the ocean with a traditional Catamaran. These ancient boats are rowed with a bamboo paddle and manoeuvred by experienced local fishermen. There are 11 registered boats available. Rides last from about 15 to 120 minutes and cost ₹300-600 p.p. The best time for going snorkelling from the boat is in the early morning. Most romantic are the "sunset cruises". No advance booking necessary. First come - first served.
Buy
There is a wide range of shops selling good quality souvenirs. Most of the beach front shops are the general Kashmiri stores you see everywhere.
Beware of hawkers though. Once you show interest in a certain product, they will pursue you everywhere until you buy it.
Try some of the shops behind the beach front stores. You'll get a better price plus some hidden gems.
Little Tibet Arts (between Malabar and Coconut Grove Restaurant) is a nice little shop with fair prices. The very nice Tibetan owner seems to be the only one of the dozens of shop-owner"s that won't hassle you!
Kovalam Junction is about a 10-15 min walk up the hill from the main beach. You will pass through it on your initial arrival into Kovalam. Your main reason for coming here will be the ATMs, the post office, and Divine Supermarket. There are also a few good cheap eateries located around the area, a decent supermarket, and a few grocery stores where you can save a little money from the beach store prices.
ATMs
Kovalam junction: there are four ATMs here which accept all the major cards. They are open 24 hours a day and protected by security guards.
There is an ATM just inside a hotel driveway a short distance (10-minute walk) from Hawa Beach toward Kovalam Junction. This ATM only accepts Visa cards but is often out of money as it is closest.
The ATM's are:-
Federal Bank (next to the Divine Supermarket) – has a daily limit of ₹20,000 and the full amount is allowed in 1 transaction.
ICICI ATM next to the restaurant/café almost opposite the supermarket – has a daily limit of ₹20,000 but a limit of ₹10,000 per transaction
Canara Bank ATM next to the Post Office – again a daily limit of ₹20,000 but only ₹5,000 per transaction.
Catholic Bank ATM at the Hotel Swagarth up Cardiac Hill. Daily limit is ₹20,000 but only ₹10,000 per transaction.
There are money changers on the shore line on Lighthouse Beach and these do not charge any commission. If you change T/Cs or money at your Hotel or an Thomas Cook exchange then you will be charged commission. Bank will also change money but expect to wait.
Eat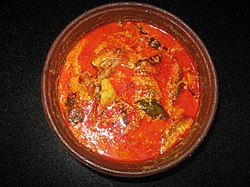 There are many restaurants along the beach front at Lighthouse Beach. The days catch is usually laid in front of them in the evening for those who like fish. Most restaurants have a leisurely approach to life and an hour between ordering and receiving your food is not uncommon. But don't get uptight, just relax and enjoy.
You can grab a top fruit salad from the fruit ladies with all the trimmings for less than US$1. But, they'll remember you and if you don't buy from them again they will take it very personally.
Head up the hill from the beach to Kovalam Junction and sample some of the many local restaurants. The speciality of the area is Chicken Fry. Fried chicken in a red masala paste with freshly cut chillies. Some places are spicier than others. For between US$2-3 you will get 2 pieces of chicken fry, vegetable sambal and some paratha (a richer version of roti). Beef fry and fish fry are sometimes available as well. Note: These establishments are very local orientated so do not expect cushy surroundings, its very much eat, pay, leave. Expect great chicken.
BethelA good vegetarian restaurant in Kovalam. Friendly staff and comfortable, cozy, open-air seating with two levels. They serve delicious Keralan, and other Indian foods, as well as a medium selection of (equally tasty) Continental and Chinese cuisine. The owner (who cooks there) was a chef in an upscale veg restaurant in Varkala for 8 years.

Coconut Grove

address: Lighthouse Beach, Kovalam

Fusion restaurant

address: Lighthouse Beach

First floor restaurant on the beach front with beautiful ambiance and great food. Unique menu offers food from the East, the West and fusion of both. Great seafood. Good service. Super atmosphere. Highly recommended.

The German BakeryGo for the date shake and the excellent banana pancake. A full range of baked goods are available too. Plus one of the best views in Kovalam! Easily the best and most popular place for breakfast on the main beach.

Hotel Sea RockFamous for their grilled sea food.

Malabar Cafe

address: in front of Lighthouse Beach

Spice village Restaurant

phone: +91 8089286913

address: Lighthouse Beach

Near the Lighthouse Beach with traditional Kerala cuisine and European dishes as well as continental with fresh vegetables and fishes updated

Suprabatham

address: Kovalam

One of the best vegetarian restaurants in Kovalam. Friendly waiters.
Drink
Don't miss out on fresh coconut from the coconut walla on the corner. It's organic, it's healthy, it helps the local farmers to support their families, it's cheap - only ₹25.
There is a beer and wine store 500 m up the road from the beach. You are supposed not to show any purchases from that store near the beach - keep it i.e. in a cloth bag.
Usually the restaurants serves "special tea" (beer) if you ask, but they will ask you to have the bottle under the table.
Sleep

Many hotels have ayurveda and yoga available.

Budget
Mid-range
Splurge
Ayurveda and health resorts
Stay safe
Swimming in the ocean here can be dangerous and many people drown. The lifeguards mark different areas of the sea as dangerous. They are not kidding. If the current catches someone, it pulls them both down and out.
You also have to be careful of the jellyfish. The small orange jellyfish are dangerous, and the purple ones are harmless.

Connect
There is an official !dea mobile operator store up on a hill/junction ~1km walk / ~15 minutes. 9am-6pm, closed Sunday.
₹100 for SIM card (and they can help cut it to mini or micro SIM for ₹50 by going to the shop across from them; if you go, it will likely be ₹100 to cut). Bring a copy of passport + visa + passport photo and the mobile phone number of a person who will verify you (ask your hotel owner). It may take as little as 24 hours or less to activate.
Otherwise, you can pay many "dealers" at the bottom near beach about ₹300 for a SIM card they will go to the shop and do it all for you (some will quote much more like ₹800 for SIM with 1GB plan).

Go next