Kozhikode
Kozhikode
(Malayalam: കോഴിക്കോട്), formerly
Calicut
, is one of the major cities in
Kerala
,
India
.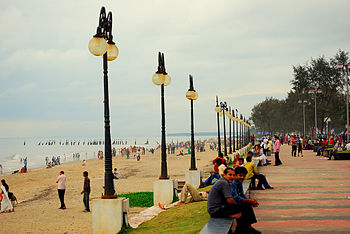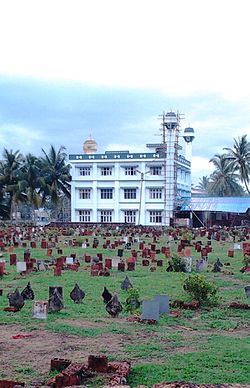 Understand
Kozhikode was the ancient capital of Zamorin kings until the British made it part of the
Madras
province. Formerly called Calicut, the city was a major port on the
Maritime Silk Road
, frequented by traders from Arabia, Persia and later Europe. The English word
calico
, a cotton textile, originated from this city's old name.
Kozhikode used to be a romantic location with the charm of centuries-old streets and the smell of local sweets in the air. Today, Kozhikode is a developed city with high tech malls and modern cafe's, but there still remains the purity of heritage.Many renown philosophers have titled kozhikode as the best place to live in. The city still has its charm left with wonderful people and cultures.
Kozhikode has many important educational institutions including calicut medical college, Indian Institute of Management, National Institute of Technology etc.
Kozhikode has rich tradition of folk arts. Thirayattam is one of the most outstanding ethnic performing art of kozhikode district. This ritualistic annual celebration enacted in courtyards of sacred groves and village shrine of kozhikode and malappuram district. Thirayattam annual festival in between january to april.
Get in
By plane
The nearest airports are at
Karipur
CCJ
, 27 km and Kannur, 93 km, both international airports.

By train
Direct trains are available from Mumbai, Delhi, Chennai, Bangalore and Thiruvananthapuram. For railway enquiries, you can find timetables, prices and other details at http://www.indianrail.gov.in

By bus
Buses are available from all South Indian cities.

By road
Driving is tiresome as the roads are only two line and traffic blocks are very frequent. The people of Kozhikode are very polite except when they drive. Honking horns continuously is a fashionable pastime of the locals. Bangalore road is closed during night time.

Get around
By bus
Buses charge only ₹8.00 for five kilometres.
City buses are green colored here and they are very punctual and cheap. All the city buses originate and terminate in the Mananchira Pond area. Buses going to Pavangad, Elathur, Nadakkavu areas originate from the Head Post Office side of Mananchira. Buses going to Medical College and Mavoor Road stop at the Income Tax side of Mananchira. Buses going to Feroke, Kallayi and Beypore stop at the Girls School side of Mananchira.
Buses are very infrequent to the beach area. You have to walk the 2 km distance or take an auto-rickshaw.
Private buses originate from the New Bus Stand on Mavoor Road (1 km). Private buses to nearby villages originate from the old Bus Stand at Palayam ( 1 km).
Government buses originate from the New KSRTC Bus Station on Mavoor road. This modern bus station has 350,000 sq.ft.space for traveler amenities. Parking is provided for 270 cars. They have slow moving low floor air conditioned buses to nearby towns. You can make use of these buses for travelling inside the city.
Bus Numbers
Bus numbers for green city buses:
Bhat Road Beach. 110B
Chaliyam Seawalk. 215
Cheruvantta River.121
Kadalundy Jetty. 210K
Kalipoika Boating. 113
Kappad Beach. 9
Karad River. 223
Karuvan Thuruthy River. 213
Kozhikode City. K.0
Malikadavu River. 12
Mambupazha Bridge. 231P
Manakkadavu River. 246
Mananchira Squire. K1
Mukkathu Jetty. 211K
Odumbra Jetty. 242
Payyanakkal Beach. 239
Puthiyappa Beach. 105
Thamarassery Hill. 8
By auto rickshaw
Autorikshaw drivers of Kozhikode have a reputation for honesty as they do not overcharge. The usual charge is ₹20.00 for every km. This meticulous honesty cannot be expected from Autorikshaw drivers outside the Malabar region.
By taxi
Air conditioned taxis are available at ₹1,000 for a day. Look for them at the Railway Station or Mananchira area.
Contact Taxi Stand. +91 495 2306023
Since the weather is hot throughout the year and the humidity quite high, an air conditioned vehicle is one thing you cannot economize here.
By car
There are many rental companies offering cars with drivers or self-drive.
Traffic blocks exceeding one hour are common. Keep away from Kallayi Road and Wayanad Road as traffic is heavy and dead-slow.
By walk
Walking is near impossible as traffic is erratic and heavy. Footpaths are rare or occupied by peddlers. The noise created by endless motorcyclists is unbearably prominent even in interior roads. The long beach road from
Beypore
to Elathur (16 km) is the only peaceful area to walk.
See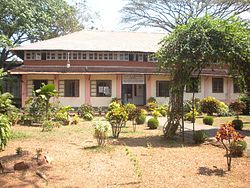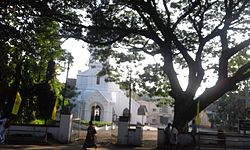 Art GalleryNear Town Hall

Elathur

address: Beautiful riverside village with an estuary

Vallikkattu Kavu is a 27 acre sacred grove in a swamp at Edakkara near Elathur. You can see monkeys, peacocks, wild boars, porcupines, wild hens, different kinds of butterflies and numerous species of orchids here. There is a species of herb here which has leaves in the shape of butterflies.

Kappad BeachVasco Da Gamma landed here in 1498 from Europe. There is a park and a memorial pillar. Visitors are rare as the new generation Indians are not bothered about colonial history and all that. An ancient temple on a hillock facing the sea is another attraction here.

Kirtads Museum

address: Chevarambalam

Tribal Research Station maintained by the government.

Kozhikode BeachAquarium, Esplanade, Radio Stations, Fishing villages, Ancient Mishkal Masjidh, Seafood restaurants and Lions Children's park.

Krishna Menon Museum & Art Gallery

address: East Hill

Ideal place for students of Indian History.

Mananchira Pond and GardensA sprawling park with many beautiful statues. Entrance is free but the gate is open only after 2 p.m. There are many historic buildings like the Commonwealth Company near the park. There is a circular mosque called 'Pattala Pally' on the southern side of the park. You can also have a walk into the crowded 'Mittayi Theruvu' shopping zone on the southern side of the park. The town hall, the art gallery and the crown theatre are on the western side of the pond. The Basel Evangelical Mission and Girls School are on the eastern side of the park. The park has 250 colonial style lamps posts, an artificial stream, a musical fountain, a music stage and an open air theater. The public library near the park has a huge collection of Malayalam and English books.

Pazhassiraja MuseumCopies of megalithic monuments.

Planetoriumon Jaffer Khan colony road near new bus station. Regular shows are available only in the forenoons when busloads of schoolchildren arrive from adjoining towns.

Sarovaram Biopark- only for couples

address: Near Baby Hospital

7 mangrove species, 29 mangrove associates and fauna ranging from protozoa to Otter. It is also a congenial habitat for 20 types of water birds. The area is 200 acres containing canal walkways, boating facilities, an Otter Park and a Butterfly Park. The outers section is beautifully tiled and lighted. It is a popular hangout of college couples. The inner section is undeveloped mangrove forest with walking tracks. The entrance ticket is ₹10 for the outer tiled section and additional ₹10 for the inner forest section.
Temples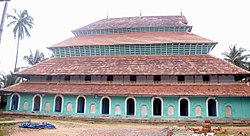 Gotheshwaram Beach Temple

address: Marad Beach

You can also visit nearby beach villages like Chakkum Kadavu, Kayyadi Thodu, Payyanakkal, Kayyadithode, Naduvattom, West Mahi, Thampi Road, andJhansi Village

Jain DerasarThere are 2 temples inside the temple complex of which one is over 2500 years old and has 1000 pillars.

Kizhakke Murikkunnu Bhagavathy Temple

address: V.K.Krishna Menon Road, Kallayi

The temple is situated on a beautiful hillock near an upmarket residential area, a pristine pond, green lawns and the scenic hilltop school.

Mishkal Masjidh

address: Kuttichira

600 year old structure. Beautiful pond surrounded by several old buildings. The mosque is very photogenic only when you look from the other side of the pond. This four level mosque is built mostly of wood. The mosque has no cupolas or minarets and looks like a Hindu temple. Maybe, Kerala's temple architecture influenced the architecture of old mosques in Kerala which have gopuram-style entrance arches and no minarets. Non-Muslims will need a special permission to enter the mosque.

Narakath Bhagavathy Temple

address: Near Kerala Kaumudhi newspaper, Thondayad

silent place in the middle of the city.

Shiva Temple

address: Thiruvannur

This ancient and beautiful Siva temple has an apsidal garbhagriha, decorated with typical Chola pillars and pilasters, panjaras and vyalimukhas. The central shrine has escaped any repair or change and is relatively well preserved.

Sri Kandeshwaram Temple

address: Opp. New Bus Station

Thali Temple

address: Palayam

Beautiful 14th-century temple and a second temple near a very big pond and vegetable market. The temple walls are elephant shaped.

Thrikaipetta Subramanya Temple

address: Ponnenkottu Kunnu

1,400-year-old temple. Now under active renovation work.
Do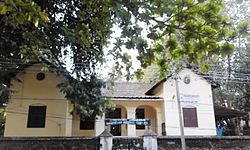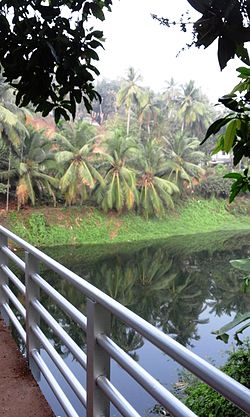 City Walk OneStart from Fathima Hospital, take the narrow line opposite the hospital. Walk past Kerala NGO Union, Lakshmi Printers and Oyisca Youth Centre. Cross the culvert in the swamp, turn right, walk beyond the forest temple, Hajj House, Sunni House, again turn right to Chilli Malabar Restaurant and once again turn right to reach at the New Bus Station.

City Walk TwoStart from the new busstand. Take the road opposite to it, walk past Markaz Mosque and Samastha centre. Turn right towards More Supermarket, Planetarium and Science Centre. You enter Cherootty Nagar where you can get a nice cup of coffee at the roadside stall. Walk straight to Bhagavathy Temnple, Muthappan Forest, Balan K Nair Road and the Zoological Survey of India. The Brahmakumaris Meditation Centre and the Needle Acupuncture Clinic leads you to Spiinelly School and Redeemer Convent. You have reached Aqsa Juma Masjidh at St. Vincent Colony, and walk back to the new bus stand.

Climbing a hill @ Govindapuram

address: Mankav

Take a bus to Govindapuram from Mananchira pond. Walk up the hill to Central School. Very good view of the entire city and Arabian sea . The views are terrific but nobody comes here other than the school people. Elderly people can also reach here by hiring an auto rikshaw from Mankav junction.

Green Walk @ Iringadan PallyTake a bus to Kovoor on Medical College route. Ask for the Iringadan Pally road. Walk in the company of spectacularly spacious expanse of paddy fields hidden between four main roads of the city. You can walk up to Poolakkadavu junction on the Mysore road. The locals have tastefully decided to convert this little road through the paddy fields to a busy street with deafening traffic. They will start the work by 2017. You can also get the best beef curry in the city only in this place, just for ₹40. It is available at a little restaurant even without a sign board. It is adjacent to Koyas Cycle Mart and Prabhakara Pharmacy at Poolakkadavu Junction near JDT, Vellimadukunnu. (1 pm to 9 pm). After dinner, you can continue walking on the Poolakkadavu river road, cross the river on the cute foot bridge and reach the village of Parambil Bazar from where you will get direct buses back to the city.

North Beach walkStart from the Nalam Gate, and as soon as you cross the railway gate the road forks into three. Choose the third one, walk past Caffe Coffee Day and Gateway Hotel. The Mayor Residence and Moidhu Museum are on your way. Enter Vellayil Road and walk to the beach. There is a very short sea bridge and the Vellayil Fishing Harbour there. When you reach the beach, turn right, you will go by Vellayil Police Station, Shanthi Nagar, Radio Mango, Puthiyappa, Vengaly, Elathur and Pavangad. Pavangad offers air conditioned buses back to the city.

Park Walk

address: Mananchira Park

Well maintained and manicured garden around a clean pond. Very big lawn to relax. Open only after 2 p.m. Extremely crowded place.

Public Library and CafePublic Library, Audio library, Language laboratoary, Career Guidance center, Children's Library, International Cultural Center and Free Coffee.

phone: +91 4952721896

address: Crown Theatre

Near Railway Station. Two AC screens and a small snack bar inside. Hangout of the Indian elite.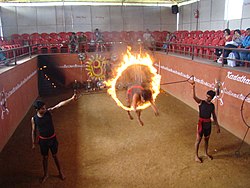 South Beach walkStart from All India Radio on Kozhikode beach. Head south to Mohammedhali Beach. You can walk through a beautiful promenade and reach Francis Road junction within ten minutes. Continue walking on the beach road until you pass Kannanm Parambil cemetery, Kannam Parambil mosque, Nainan Valappil beach and finally the New Kothy bridge. When you cross the bridge, you reach Chakkukm Kadavu village. Proceed to Payyanakkal beach. Finally, ask for Panniyankara police station to get back to the main road. Come back by one of the green buses, they all take you to Mananchira pond junction.

Walk @ ValiyangadiEnjoy a walk in the ancient seaside market of Valiyangadi where Arabs and Europeans brushed shoulders a few centuries back. Even today, the businessmen in this ancient market include Hindus, Muslims, Jains, Gujarathis, Marwaris and Tamils. This market is not targeted by local tourists, as they are ignorant of its importance. Start from the back side of the railway station and enter Valiyangadi directly. Valiyangadi ends on the seashore, turn left to Gujarathi street and you can even see the 600 year old Mishkal Masjidh near Kuttichira pond, another 1 km from there.

Watch 'Kalari' Martial Arts

address: C.V.N.Kalari Sangham

Special demonstrations can be organized. Sunday Holiday.

Yoga and Meditation

phone: +91 9447871791

address: Inner Harmony Osho Meditation Centre

Mystic School, Moorth village, Malikadavu, Kozhikode. Run by Swamy Arulji.
Buy
Big Bazaar Supermarket

phone: +91 4954015551

address: Opp. New Private Bus stand.

For economy stuff.

phone: +91 495 3017811

address: Opp. New Private Bus Stand

Sprawling 250,000 sq.ft. structure for upmarket jewellery, clothes and accessories. The Food Court @ Focus Mall contains one Dosa restaurant, one grill house, one Wimpys, one sandwich corner, one pizza ricotta, one coffee gallery, one chaat zone and one mufti-cuisine restaurant.

address: Palazhi, 8 km

200 branded shops, 32 escalators, 18 elevators, 8 cinemas, gaming zone and a food court. Be prepared for traffic snarls lasting for several hours that can trap you in the locality of the mall.

Kairaly Handicrafts

address: MM Ali Road

Wooden models of elephants, boats and Kerala dancers.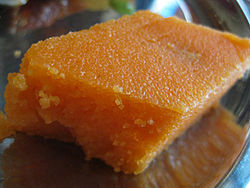 Kozhikodan HalvaThis very sweet and colorful solid stuff made from maida (highly refined wheat) is available at a few shops near Palayam Junction and comes in various flavors, such as banana, ghee, coconut, cashew, date, tender coconut, pineapple and jack-fruit. However, karutha haluva (black haluva) made from rice is the most popular variety. If you are health conscious, simply keep away from all halvas.

Pillai Snacks

address: Link Road Junction, Palayam

An early bird, Pillai Snacks pulls up its shutters at 3.30 during the wee hours of the morning and serves customers till 8:30 in the night on all days except on Sundays. It's better to come in the morning to enjoy a breakfast of 'Thattu Dosa'.

R. P. Mall

phone: +91 495-4015804

address: Opposite New Private Bus Station

Six level AC shopping complex with four cinemas and several shops selling clothes, jewellery and electronic goods.

Swamy's Karumuru Bakery

phone: +91 4952370427

address: Pottammal

For vegetarian snacks prepared by the Brahmin community.

French Bakery and Hotel

phone: +91 4952365366

address: Opp. Fire Station, Calicut Beach

Situated in the old French territory.
Eat
Budget
Ali Baba Thattukada

address: Near Palm Beach Apartments, South Beach

Kadukka nirachathu, pidikozhi nirachathu, bharani chicken, fried ice cream are some of the main dishes you can try from this place.

Amma Restaurant

address: Puthiyara

famous for its spicy fish fry served with the afternoon meals. Located on a narrow byline just after the first bridge at S.K.Pottakkad road this restaurant serves customers from 12pm to 3 pm everyday except Sunday.

Ashoka Tea Shop

address: Randam Gate

A favorite among foodies for their evening special upmaav and pappadam.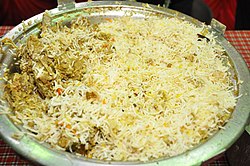 Best beef in the cityAvailable at a little restaurant even without a sign board. It is adjacent to Koyas Cycle Mart and Prabhakara Pharmacy at Poolakkadavu Junction near JDT, Vellimadukunnu. 9 km from the city. (1 pm to 9 pm)

phone: +91 495 2302819

address: Aradhana Lodge

phone: +91 495 2353616

address: Near State Bank

Good parking facility

Focus Mall Food Court

address: opp. new bus station

for snacks and fast food.

Major RestaurantBeef biriyani made this ordinary looking hotel make a mark of its own in the food map of Calicut. Major hotel, which is open from 7 am to 10 pm, on all days of the week is near Marcus complex, on Jafferkhan colony road. Afternoon hours, when they serve their biriyani items are the best time to visit this restaurant, which has easy accessibility from Mavoor road.

Medical College Coffee HouseGood ambience. ample parking facility

Pure South Vegetarian

address: Opp. Baby Hospital

for Masala Dosai, a fermented crepe made from rice batter, black lentils, potato and onions. ₹40. They also give Kerala style vegetarian lunch for ₹130

Rahmath Hotel

address: near Mathrubhumi

For very good beef biriyani.

Saravana Hotel Vegetarian

phone: +91 4952720621

address: Rajaji Road

Thripthi Restaurant

address: Devagiri Building back side, Medical College Junction

Cute niche restaurant with parking yard.
Mid-range
Malabar cuisine is quite popular among gourmands. The mild flavored, gently cooked Malabar Biriyani are a must eat when visiting Calicut.
Alakapuri Restaurant

address: Mohammedhali Road

Bombay Restaurant

phone: +91 4952366730

address: Silk Street, Mananchira

for Mussle Biriyani

Cafe Coffee Day

address: Nalam Gate

Upmarket place for coffee, pastry and snacks. Relaxed atmosphere. Popular hangout of foreign tourists. ₹59 for coffee and Punjabi samoosa.

Chiking Fried Chicken

phone: +91 4953266777

address: opp. Kalyan Silk, Medical College Road

Chilli Malabar

phone: +91 9645619007

address: Kovoor

Parking facility

Chunky Chicken

phone: +91 4954011555

address: Opp. Federal Towers

Cocoa Nut Restaurant

phone: +91 4952766726

address: Hotel Hyson, Mavoor Road Junction

Good ambiance, well set tables. Kozhikode style vegetarian lunch. ₹160.00

Dominos

address: Mavoor Road Junction

Eizen Berg`s Restaurant

phone: +91 4956999933

address: Near Mananchira Post Office

Fly Down Restaurant

phone: +91 81291 11333

address: Arayidathu Palam

No Parking facility

Garlic Routes

phone: +91 4954023888

address: Naalam gate

Open from 12 pm to 11 pm. This place is on Kannur Road, near to Fourth Railway gate. Chicken mandhi, roasted chicken, stuffed spinach cheddar grilled chicken, masala grilled prawns are some of the dishes you should try.

Ikkas Restaurant

phone: +91 495 310 6667

address: Red Cross road

Ivy-Nine Restaurant

address: Malaparamba junction

Parking space for big buses.

phone: +91 495 2767020

address: near KTC, Kannur Road

Famous for mutton biriyani. Extremely crowded during lunch hours. No Parking facility

Sagar Restaurant

address: Mavoor Road

famous for Biriyani.

Sana Restaurant

address: Devagiri College Road, Near Medical College

Good ambiance with view of a beautiful coconut grove. Parking facility available

phone: +91 4952700047

address: Jail Road

Thekkeppuram Food King

phone: +91 9895840757, +91 9897441819

This restaurant is works from 3:30 pm in the evening to 11 pm on all days of the week. Come in the evening to munch on the Pazham Nirachathu, Irachi Pathiri, Meenunda or Chicken Mammos and Unnakkaya- some of the special preparations of this restaurant.

Yara Restaurant

phone: +91 4952727535

address: opposite KSRTC bus station

Zains Restaurant

address: Convent Road

for Biriyani

Omkar Vegetarian Restaurant

address: Chinthavalappil

Vegetarian dishes with meat taste, onion rings, paneer rolls, etc.
Splurge
phone: +91 495-4088999

address: Malabar Gate Hotel

Serving buffet breakfast, à la carte lunch and dinner.
Mezben Restaurant, Rs. 800 per head average

Kadavu Resort Restaurant

address: Airport Road
Drink
Non-alcoholic drinks
Azad Cool Bar

phone: +91 9847823933

address: Opp. League Office

Baskin Robbins

address: S.K.Temple Road

for icecreams

Cafe Coffee Day

phone: +91 93490 07615

address: Naalaam Gate, 2 km

Upmarket AC coffee shop for snacks and pastry. Non-AC verandah seatings are also available.

Coconut Cafe

address: Metro Tourist Home, near KSRTC, Mavoor Raod.

Downtown Cafe

phone: +91 4954019037

address: Naalaam Gate

Youth hangout with private seats.

Escapo Coffee Shop

address: Everything supermarket, opp Bishop's House, Malapparamba.

Sixth Avenue Cafe

phone: +91 9020902096

address: Opp. Taj Hotel
Bars
Budget
Amrutha, Mavoor Road, near New Bus Stand. No Parking facility
Hotel Maria,Opposite National Hospital,Mavoor Road,Ph:0495-2722629, 0495-4021502.
Mid-range
Hotel Sasthapuri, M.M. Ali Road, near Palayam Bus Stand. Sasthapuri has a roof garden which opens from 5PM and is the only decent place (other than Sea Queen) that allows you to smoke while seated.
Sea Queen, Beach Road. Has a separate smoking area and is the one of the only decent places that lets you smoke while seated.
Splurge
The Captain's Cabin in Fortune Hotel, Kannur Road, +91 11-45566666.

phone: +91 495 6613000

address: P.T.Usha Road

address: N.H Bye Pass Road, Calicut
Night life
There is no night life in Kozhikode and nobody understands the word 'nightlife'. The city becomes deserted by 10 pm because of unknown reasons. Maybe the potential for political violence or the shortage of transportation to the villages may be the reasons for this. In bigger cities, the silence of midnight is achieved by 4 a.m., but in Kozhikode, midnight comes by 12.00 midnight sharp. That is a sort of
achievement
.
A very limited kind of nightlife is now visible in the Thondayad area. The 13-km road to Ramanattukara has 32 restaurants offering chicken, kada, beef, prawn, karimeen, aylahead and meenmutta. There are also many roadside stalls providing cheap items.
Sleep
Traffic snarls make day time travel very difficult in most parts of the Kozhikode city. It is advisable to take a room in a hotel near the beach where there are no traffic issues. The 18 km road between
Beypore
and Pavangad lies entirely on the beach and has very light traffic.
Budget
Apex Inn

phone: +91 4952360555

address: Beach road, near League House

Aradhana Tourist Home

phone: +91 4952302021

address: Near Rly Stn

Vegetarian restaurant is attached.

Delma Tourist Home

phone: +91 4952721858

address: Near KSRTC

Easwari Lodge

phone: +91 4952369039, +91 9447137177

address: Near Beach Hospital

Gulf Star Dormitory

phone: +91 4952727018

address: Gulf Bazar, Mavoor Road

Hibra Lodge

phone: +91 4952701293

address: Kamath Jewellery Road, near Railway Station

Hemlet Hotel

phone: +91 4952727535

address: opp.KSRTC bus station, Mavoor Road

Yara restaurant attached.

Imperial Lodge

phone: +91 4952701293

address: Palayam

Coffee house is attached.

Jaya Lodge

phone: +91 4952701557, +91 4952702286

address: Tali

Good parking facility

Metro Tourist Home

phone: +91 4952766029

address: Mavoor Road

Metro Towers

phone: +91 4952700571

address: Near Railway Station

N. C. K. Lodge

phone: +91 4952723530

address: Mavoor Road

Coffee house is attached.

Nalanda Hotel

phone: +91 4952366169

address: Beach area.

Conference facility.

Railway Retirement RoomShow your train ticket.

Safa Lodge

phone: +91 4952725730

address: Near New Bus Stand

Select Residency

phone: +91 4952725525

address: Near Railway Station, Oyitti Road

Shanthi Tourist Home

phone: +91 4952702246, +91 8592022669

address: Thali
Mid-range
Alakapuri

phone: +91 4952723451

address: Mohammed Ali Road, 2 km

phone: +91 495-4088000

address: Mavoor Road

Conference facility is available.

Beach Hotel

phone: +91 4952365363

address: Near Corporation Office

phone: +91 4952723202

address: Opp New Bus Stand

A favorite hotel of the Arab visitors. Mosque, Conference facility is available.. Crowded shopping area.

phone: +91 4954088999

address: Ram Mohan Road

phone: +91 4952366604

address: Beach Road

phone: +91 4952700037

address: Jail Road, Calicut 4

Khaleej Residency

phone: +91 4952744071

address: Near MIMS hospital

phone: +91 495-2723101

address: Taluk Road, Puthiyara, Calicut 4

phone: +91 4953015581

address: Town Hall Road

phone: +91 4952722339

Royal Palace Hotel

phone: +91 4952701610

Vinod Villa Homestay

phone: +91 495-2352916, +91 9847301916

address: Near Kommeri Service Bank

phone: +91 495 485 1588

address: 15/1907, S Beach Rd, Chappayil
Splurge
Connect
Area code international

address: +91 495

Area code national

address: 0495

Govt Information Office

phone: +91 4952370225

Govt Tourist Office

phone: +91 4952720012

Internet CafesThere is one air -conditioned internet cafe on the second floor of the Devagiri building, on Devagiri college road near Calicut Medical College. The speed is excellent and they charge ₹40 per hour.
Stay safe
Go next
Long distance buses originate from the KSRTC bus station on Mavoor road and it is better if you to reserve a ticket six hours before travel. Trains are available to all Indian cities if you can make an advanced reservation at least three days before travel. There is a
Silverline
bus from Kozhikode to Kottayam at 8.15 pm. It stops only twice before the destination and reservations can be made at http://www.keralartc.com/
Tourist Destinations
Nearby Places