Kozhikode District
Kozhikode District
or Calicut District is in
Malabar
, in Kerala, India. The population is 2.8 million and the density is 2,025 people per sq.km.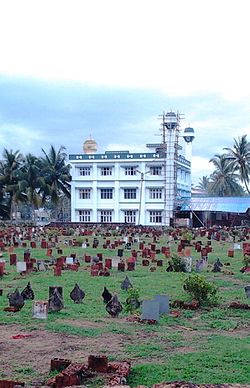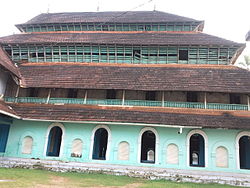 Other destinations
Kakkayam — forests, waterfalls, reservoir and an ideal place for rock climbing
Peruvannamuzhi (Kuttiyadi) — dam and gardens
Pulimoottu at Beypore — for 1km walkway into the sea
Understand
The people of Kozhikode District are generally peaceful and less politicized compared to the neighboring Kannur District. But religious conservatism and vigilante groups are issues of concern here and unmarried couples can be questioned publicly for holding hands or walking together in a park. Marriage is the beginning of any courtship in this part of the world. Recently a restaurant in the middle of
Kozhikode
city was razed by a vigilante group because they had observed young college couples coming together and having coffee together regularly.
Get in
Kozhikode Airport is in
Kondotty
, 29 km. Trains are available from all Indian cities. Buses are available from major south Indian cities. Government buses can be distinguished by the letters RTC or Road Transport Corporation at the end (eg. KSRTC,TNRTC,WBRTC). More expensive and comfortable options are the night buses run by private agencies. They originate from all Indian cities and offer aircraft type seating.
Get around
Autorikshaws are the popular option here because they charge only ₹15 per km. Autorikshaw drivers of Kozhikode have a reputation that they don't overcharge. They also behave very cordially to the customers. Buses charge ₹7 for three km. Minibuses are a little more popular because of their friendly attitude to the passengers but they are available only in the cities. Air-conditioned cars and jeeps are also available at ₹1,000 for one day's contract.

See
Beypore Pulimoott — for a seawalk
Chaliyam — village and beach
Elamaram jetty — on Chaliyara river
Mananchira Pond — in the heart of Kozhikode city
Mishkal Masjidh — Kuttichira
Peruvannamuzhy Dam — Kuttiady
Sarovaram Bio Park — Kozhikode
Tali Temple — Palayam
Tusharagiri Forest — Thamarassery
Eat
Only Kerala food cooked in coconut oil is available in most restaurants. North Indian food is a rarity. European food is available in expensive hotels and resorts.

Drink
Wine and beer are available easily but for stronger drinks you have to go to
Mahe
, 61 km. There is no nightlife and nobody understands what is nightlife.
Stay safe
Kozhikode District is safe to travel in the daytime. Cities and villages get deserted after 8 p.m. because of local habit of early retirement.

Go next