Krabi Town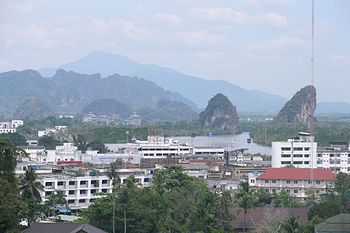 Krabi
(กระบี่), the capital of
Krabi Province
, sits a little upstream from the mouth of the Krabi River and is mainly visited
en route
to the nearby beaches of
Had Yao
,
Ao Nang
or
Rai Leh
(aka Railay). Krabi is 784 km south of Bangkok by road.
Understand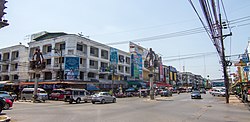 Krabi Town is, in reality, two towns. There is the dusty strip-mall of a town that borders Rte 4. And then there is the quite congenial and pleasant town of Krabi proper. The town's 50,000+ inhabitants see few of the droves of tourists that pass through on their way to the beaches. This is unfortunate, as those who stay find it a relaxed place that is worth exploring for a day or two, where they experience "the real Thailand", more so than in beach resorts.
Get in
Given its importance as a tourist hub, there are many direct connections by air, road and sea, but the nearest railway station arriving from the north is at
Surat Thani
, while arriving from the south it's
Thung Song Junction
.
By plane
Krabi International AirportBoth domestic and international departure taxes are included in the price of the flight and should not be payable at the airport.
Air conditioned buses link the airport with the town (90 baht), and also with Ao Nang and Noppharat Thara beaches (150 baht). Buses meet all arriving flights and will drop you off in front of the Krabi Provincial Court. The schedule to the airport is listed on the
Ao Nang
page.
Songthaews run from the town to the airport (30-50 baht). Going to the airport, they will drop you at the departure terminal. From the airport, you will have to walk about 400 m and catch them on the main road to Krabi.
Motorcycle taxis are available outside the terminal.
National Car Rental has a branch at the airport.
Domestic flights
International flights
Krabi has daily flights to the major regional hub of
Kuala Lumpur
via Air Asia
. In summer there is a smattering of charter flights to cities across
Scandinavia
and
Russia
.
By train
Krabi does not have a railway station.
Surat Thani
has a station and you can transfer onto buses to Krabi from there. From
Thung Song Junction
railway station, hourly Minivans are available.
By bus
Krabi Bus TerminalIn Krabi, buses use the bus terminal at Talad Kao, about 5 km north of town centre. It is one of Thailand's better bus stations: it's clean, has bilingual signage, a good cafe, many local transport options (motorbike taxi, songthaew, taxi, minivan), and free Wi-Fi.
There are several daily daytime and overnight buses from
Bangkok
's Southern Bus Terminal (tel. +66 2 4351199, 12 hours, 600-900 baht).
For a bus from Krabi to Bangkok there is a choice of either a private bus company or BKS, the government-supervised bus company. Entering the Krabi Bus Station's front entrance, the BKS ticket vendor is to your left. The private company ticket sellers are to your right. You will have your choice of Bangkok destinations: the Northern Bus Terminal (Mo Chit) or the Southern Bus Terminal (Sai Tai Mai). Mo Chit is the better choice if you are heading north immediately, say to Chiang Mai, as buses to the north leave from Mo Chit. Mo Chit is also marginally closer to downtown if you are staying in Bangkok.
Surat Thani
—a major east-coast bus, rail, and ferry hub—is about 3-3.5 hr away. Pantip Bus Company runs ten buses per day to Surat Thani from Krabi, the first at 04:30, then one just about every hour until the last at 16:00. Fare is 150 baht (2016). These buses stop frequently to let people on and off. A faster option might is a minivan. You will see a row of white minivans parked at the bus terminal. These travel to Surat Thani and other destinations regularly. Fare is 180 baht (July 2016. The journey will take 2-2.5 hr. Beware of a little scam that the minivans like to play with their taxi driving pals: when in-bound, the minivans frequently stop at a tiny restaurant about 75 m from the bus station proper. Here you will be besieged by taxi drivers offering to take you to Ao Nang (where 90% of in-bound Krabi passengers want to go) for 400 baht. If you walk to the bus station (look for the big buses) you can catch a songthaew to Ao Nang for 60 baht (songthaew service stops at night).
Phuket
airport has several buses direct to Krabi airport. There are also hourly mini-buses that make the two hour run (more likely to be 3 hours) from Phuket's bus station to Krabi town (120 baht).
Thung Song
bus station is just 200 metres from the railway station. Minivans leaving on the hour between 7 and 17 o'clock each hour (140 baht - February 2019). Travel time is about 2 hours.
Hat Yai
is just over four hours away by minibus (250 baht). Generally, they stop where you want.
Ao Nang
is well-served by white songthaews that run from the bus station and the 7-Eleven on Maharaj Rd in Krabi Town via Klong Jilard, Sai Tai, Ao Nang Junction Village, and Noppharat Thara Beach. (60 baht until 18:00, 80 baht 18:00–22:00). They run every ten minutes during the day and every 30 minutes from 18:00-22:00.
By car
Krabi is just off Hwy 4. It is 784 km south of
Bangkok
, 165 km by road to
Phuket
, and 80 km to
Phang Nga
.
By boat
Several daily ferries connect Krabi with
Ko Phi Phi
,
Ko Jum
and
Ko Lanta
, though most depart in the morning. Tickets can be purchased at the dock or from tourist offices and most local guesthouses and hotels. The normal passenger ferry does not start from the centre of town anymore, but from a new passenger port about 3 km outside Krabi. Free taxi transfer to the pier should be included in the price of your ticket. If your boat starts from the old piers in the centre of town (Chao Fah Pier or Phi Phi Pier), you are most likely on a more expensive and longer tourist boat ride. Also, make sure that when you arrive at the airport the taxi driver takes you to the correct pier. Many times they'll take you to a travel agent near the old pier and sell you additional accommodations or services. Only buy the ticket you need. Prices often get cheaper the closer you get to your next destination.
Ferry tickets to
Ko Phi Phi
are 300 baht (Jun 2012) when purchased at PP Family beside the pier in town. This includes the songthaew to the pier outside town. High season price is 400 baht, but it can be bargained down to 300 baht in the low season.
The large displayed time-tables in the many travel agencies are just for show and the times are not to be taken literally. Ask. As of July 2007, there were two ferries a day from Krabi to Ko Phi Phi at 09:00 and 14:30. They add additional ferries during high-season.
The pier at Klong Jilad, for ferries to and from
Ko Phi Phi
has a taxi desk with posted prices: 150 baht to Krabi Town, and 350 baht to the airport.
Get around
You can use either the songthaew or a taxi. From the bus station to town center a taxi will cost 100 baht as it is about a 4 km trip. To the Tiger Temple from town, pay 200 baht for a taxi.
With a songthaew, opposite and a couple of hundred metres up from the pier, opposite the police station, is a songthaew stop at Maharaj Soi 7. Blue ones go to Tesco Lotus and other out of town places: this is on the way to the airport and Tiger Temple. Brown ones go to the bus station and charge 30 baht. Blue with white/yellow/red stripe go to the airport.
To get to and from Ao Nang, in the centre of Krabi town on Maharaj Rd (main road) near the traffic lights where male statues hold them up is the Vogue Department Store. A white songthaew goes from here to Ao Nang and costs 60 baht. It will come into Ao Nang along Ao Nang Rd. These white ones also start from the bus terminal. Fare from Ao Nang is 60 baht before 18:00 (Feb 2016). With the songthaew, push the button to stop where you want to get off, then pay the driver.
phone: +66 75 612558, +66 81 6071494

You must post a "bond" (by credit card) in case someone who is uninsured runs into you or you are at fault. This is 10,000 baht and is returned to you at the end of the hire if no problems.
Renting a motorbike is the cheapest way to explore sites outside of Krabi town. A reliable bike for 24 hours costs 150-200 baht.
phone: +66 91 413 7811

Reliable motorbikes including small and big models, Click, PCX150, Honda Phantom and even tuk-tuks. Friendly owner, speaking English/Russian. Free delivery and cash deposit instead of passport.
See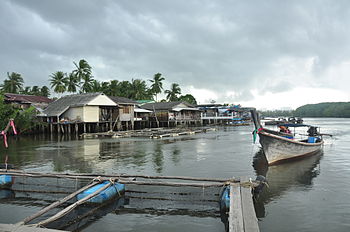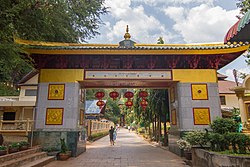 Contemporary Art Museum of Krabi

Khao Kanab NamThe symbol of Krabi, two karst rocks next to one other. A 15 min longtail boat ride takes you from the pier to the rocks, where you can walk up some stairs to the top.

Tiger Cave TempleOne of the most famous temples in southern Thailand, built into a mountainside about 3 km north-northeast of Krabi Town, and swathed by tropical forest.
The first thing you see as you walk into the temple compound is a huge stupa on the right (closed for reconstruction in late 2016), but this isn't the Tiger Temple. The temple itself is set into the base of the karst cliff which rises sheer from the forested plain: follow the ramp into the hall. Buddhas line the cliff overhang, then a few narrow steps lead into the cave shrine itself. The temple was only founded in 1975, yet already there are several contradictory explanations of how the tiger was involved.
If you have at least an hour and feel fit, the first stairway beyond the temple has 1,237 steps to the top of the mountain, where there are great all-round views, and another large Buddha shrine. (This too is sometimes mistaken for the "Tiger Temple".)
Otherwise, continue through the monks' village to the second stairway, which offers an easier climb into a scenic valley (called "Wonderland") with several smaller cave shrines.
Signs warn you against feeding the monkeys, right next to signs advertising monkey food. Follow the warnings not the adverts: the monkeys are cute from a distance but utter pests close-up, and if they bite you (often without provocation) then you need rabies vaccine immediately.}}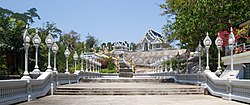 Wat Kaew KorawaramOne of the main temples in Krabi town. A new building, to some it resembles a shiny white wedding cake.
Do
Dhara Massage and Spa

address: 1/9 Ruamjit Alley

Go get a relaxing but powerful (and wildly inexpensive) massage, or couples massage here. The two women working here have real certifications and training, and they are very focused on their work.
Buy
Krabi Town is far cheaper than Ao Nang. This is reflected in the price of food and drinks especially. There are two night markets in Krabi Town that are worth a look, and on weekends there is the
Walking Street
market from 17:00-22:00.
phone: +66 75 810 411

address: 349 Moo 11 Krabi Noi

Large, two storey hyper-market. Food court, banks, and small retailers on the ground floor, Big C on the upper level. Big C sells everything from bicycles and TVs to toothpicks.

Makro

phone: +66 75 700 100

address: 119 Moo 1, Tambon Saithai

Bulk foods and household, restaurant supplies. Best selection of Western foods, including cheeses. Membership card is not required. There is a new Makro under construction in Ao Nang (Jan 2016). Should be ready in late-spring 2016.

Tesco-LotusHypermart, much like Big C, but with slightly better food department.

Vogue Department Store

address: 76/1 Maharaj Rd

A throwback to another era, the Vogue is a 3-level department store selling brand name goods and designer labels. The basement offers bargains. Has a KFC and Swensens on-site.
Eat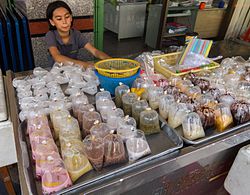 At night there is a charming night market close to the promenade next to the piers. Food is good and cheap, with Muslim influences. From time to time the town organizes shows on a small stage next to the market.
An even better market can be found on Maharaj Soi 10 in the centre of town. This market has plenty of fresh fruit and lots of authentic cooked food. Only a few places have menus, otherwise point and enjoy. This market does not sell alcohol. There is also the new
Walking Street
night market, between Vogue Department store and Vieng Thong Hotel, F-Su, 17:00-22:00 which sells food and general items such as clothes and handicrafts, and there is a largish seating area.
Not to be missed is the covered morning market (the biggest in south Thailand) on Maharaj Soi 9 (behind the Shell station). For early birds only. After 08:00 all the action is subsiding. Exactly at that time you can watch a show of national pride: the national anthem is played and almost everyone comes to a standstill for the duration. The best place to get all kinds of fresh fruit and vegetable, khao niao (sticky rice), Patong Khoo, cha rohn (sweetened Thai tea), or fresh hot soy milk. The section of fresh fish and meat sellers is for hardened stomachs only.
During low season very few restaurants open at all. The floating restaurant (RuenPae) is open as well as a couple near the tourist area towards the pier, but in the town very few at all. The floating restaurant does brilliant seafood at a reasonable price as well as providing mosquito coils to keep these pests away from your legs.
ArunGood breakfast place with decent Thai coffee. Closed during low season.

Le GateauCharming little French place that serves good coffees and desserts, Thai food, and a limited Western menu featuring steaks. Good place to take a date.

May & Mark's House Cafe & Restaurant

phone: +66 75 612562

address: 6 Maharaj Soi 10

The story of this restaurant is fascinating. Husband and wife Matee and Kittiya opened a small restaurant in 1990. It was named May and Mark after their two children. It offered a selection of pre-cooked curries to be served over rice. Travelers would stop and stare at the pots of curry, then move on. The owners did not know why. Later they figured out that farangs were unaccustomed to eating food that had been cooked and then left to sit. To lure farangs, the owners added pancakes to the menu. Things didn't improve much. To make ends meet they started renting out rooms above the restaurant. One boarder, a man named John Kean from New Zealand, stayed for two months. When he was not off exploring Krabi, he taught the owners how to bake bread and prepare farang food. The menu expanded and so did the customer base. Other travelers shared their favourite recipes. A woman from California taught the owners how to whip up some Mexican food. Soon they were serving food from Sweden, Denmark, Germany and elsewhere from an extensive menu. They also do Thai food, coffee, and serve beer. Free Wi-Fi. This is primarily a restaurant, but the friendly owners also keeps some rooms above the restaurant.

Relax CoffeeGreat Western and Thai breakfasts plus decent coffee.

Ruen Mai Restaurant

address: Marharat Rd

Nice atmosphere and very good local dishes from 100 baht. Open daily, but closes from 15:00-17:00.

Sin-O-Cha BakeryAlso does meals and is a good place for breakfast or to have coffee and cake. At night the pavement pancake stall outside the bakery is always packed with locals. The pancakes are larger than those at other stalls.

Tamarind Restaurant

address: Chao Fa Rd

Excellent thin and crispy pizza from 150-190 baht; french fries and the pricey, lacklustre tuna salad are disappointing.

31 KitchenFantastic Thai food.
Drink

There are a number of bars and cafe bars in Krabi town centre that cater to tourists, expats and natives. A few of them will have live bands at the weekend belting out cover songs, though Rocky Bar has live music every night. Stick to the main areas and it is most unlikely you will have anything but a pleasant time.

Sleep
Budget
A Mansion Hotel

address: 12/6 Chao Fa Rd

A modern place with free high-speed Wi-Fi that reaches most of the rooms.

Area 51

phone: +66 75 630257

address: 1/13-14 Soi Ruamjit

Nice little guesthouse close to the city, with a bar downstairs. Friendly staff and free Wi-Fi. The place is also a local radio station.

Blue Juice

phone: +66 75 630679

address: 1/1 Chao Fa Rd

A diving shop, bar, guesthouse and travel agent, all in one building!

Cha Guesthouse

phone: +66 75 630609

address: 45 Utarakit Rd

Budget place.

phone: +66 75 620952

address: 55 Utarakit Rd

A small, budget, centrally located hotel. Clean and well-kept. Air-con rooms also available.

Good Dream Guesthouse and Good Dream 2

phone: +66 75 622993

address: 83 Utarakit Rd

Centrally located budget guest houses with many foreigner options for food and drink nearby and free Internet/Wi-Fi for guests. All rooms have hot water.

Judy Guesthouse

address: Utarakit Rd

K Guesthouse

phone: +66 75 623166

address: 15/25 Chao Fa Rd

Rustic wooden exterior, Thai-style accommodation, different from the usual concrete buildings.

KR Mansion

phone: +66 75 612761

address: 52/1 Chao Fa Rd

Decent, well-priced fan or air-con rooms, good restaurant, travel services, a rooftop bar offering drinks with views and sunsets".

phone: +66 75 624037, +66 81 8922656

Guesthouse with travel services. Walking distance to the main part of town and night market. Friendly staff and free Wi-Fi.

Lipstic Guesthouse

phone: +66 75 612392

address: 20 Maharaj Soi 2

No. 7 Guesthouse

address: Khongkha Rd

Hostel-style accommodation, with central TV lounge where you can watch DVD movies. Also free book exchange on site. Free Wi-Fi, and one hour of Internet in the lobby for each guest.

phone: +66 75 624015

address: 12 Khong Kha Rd

Hostel-style accommodation.

Swallow Guesthouse

phone: +66 75 612464

address: 31 Maharaj Soi 4

One of the longest running guesthouses in Krabi, right in town, minutes from all markets, shopping, etc. Tickets and tours for all area destinations and beyond. Extremely clean. Friendly service. Free in-room Wi-Fi up to 6 Mb. Towels provided.
Mid-range
address: 15/2-4 Sukon Rd

Standard Western-style hotel, comfortable but not luxurious. Facilities include hot water and cable TV. Clean, although dated. No restaurant.

phone: +66 75 621456

address: 9 Chao Fa Rd

A big hotel on Chao Fa Rd, with on-site restaurant.

Greenhouse Hotel

address: 35 Maharaj Rd

Centrally located, some 200 m from the traffic lights and Vogue Shopping Centre. Breakfast is included in the price. Little English is spoken but this depends who is on duty at the time. Shower water is hot, no lift, and free Internet in the lobby. Reports of loud music late at night from from a nearby club.

phone: +66 75 611474-6

address: 7 Issara Rd

Standard Western-style hotel. Restaurant on the premises offers breakfast, lunch and dinner buffets.

Vieng Thong Hotel

phone: +66 75 620207

address: 155 Utarakit Rd

These prices are wishful thinking as it is barely adequate and has to be bargained down aggressively after looking at the rooms. A bit of a walk from Chao Fa Rd, close to the city-market. Some older rooms overlook the river and the Khao Khanab Nam rocks, the symbol of Krabi. The newer rooms have windows to a brick wall or to another room at just 2 m distance. There are conference rooms and an overpriced restaurant on the premises.
Splurge
Krabi Loma Hotel

phone: +66 75 611168

address: 20 Chao Fa Rd

Standard hotel, with a swimming pool and restaurant on premises.

phone: +66 75 660501

This garden resort is a 50-minute ride from downtown Krabi and the airport, and has a natural swimming pool and trekking opportunities in the adjacent Phanom Bencha National Park. This is an eco-resort.
Cope
Krabi Province ImmigrationKrabi's Immigration Office is great. It's modern, clean, comfortable, and well-staffed. The queue never seems to be more than 10 persons. Free Wi-Fi too.
Connect
Thailand PostAll the usual services. Sell boxes and limited packing supplies.
Go next