Kragujevac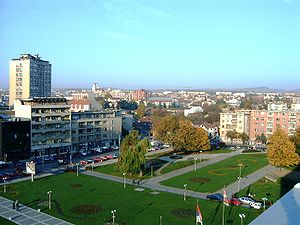 Kragujevac
is a city in
Serbia
. With the population of 180 000, it is the fourth largest city in Serbia, the industrial center of the country, the main city of the Šumadija region and the administrative centre of Šumadija District. It is situated on the banks of the Lepenica River.
Understand
phone: +381 34 332305

address: Dr Zorana Djindjica 11

You can also schedule city tours there and buy local souvenirs.
Get in
By plane
There is no commercial airport in Kragujevac. The closest ones are in
Belgrade
(150 km to the North) and
Niš
(150 km to the South).
By bus
Central bus station
address: Sumadijska st
This is the most recommendable option when visiting Kragujevac. The drive from
Belgrade
lasts for 2 hours and tickets can be purchased at Belgrade's bus station for about 10 euros round trip.
By train
Train stationThis mean of transport is not recommended, as it takes much more time than by bus and there is no direct connection from Belgrade, one would need to change train in Lapovo. Nevertheless, if you are arriving from the south of the country, train might be worth considering.
By car
Located in the center of the country, Kragujevac has good connection to highway E-75, leading to Belgrade and Niš. Parking is not a problem in the city.
Get around
Walk
City center is quite compact and is best explorable on foot. All the major tourist attractions are within the walking distance, except for the memorial park Šumarice, which lies on the northern border of the city and is preferably reachable by either bus or taxi.

Taxi
Taxi service is extremely cheap, even in comparison to Belgrade. Expect not to pay more than 4 euros, even for more distant destinations.

Public transport service
Kragujevac owns an extensive and cheap bus network. Tickets can be purchased at driver.

See
Šumarice - Memorial parkThis park dedicated to the memory of the victims of 21 October's shooting. All tombs in Memorial park are connected to 7 km long circular road. At the entrance of Memorial park, a monumental building of the Museum "21st October" is built in which architecture symbolic of Kragujevac's tragedy is emphasized.

The circle of Prince MilošCultural-historic complex that includes buildings that, with their architecture and function, maintain a historic image of the city, from the period when Kragujevac was the capital (1818–1841), until the beginning of 20th century.

Prince's arsenalArsenal complex comprises factory buildings and workroom that dates back to the end of 19 - beginning of 20 centuries.
Museum "Stara livnica"

phone: +381 34 33 77 86

address: Trg Topolivaca 4

It displays the history of the Kragujevac military factory in 1853 - 1973 years. There is an exhibition of modern weapons as well. The museum itself is located in the former building of the Gun Foundry build in 1882.
Amidža's LodgingsThe only one still preserved building from the complex of Miloš' court and it is a part of the National museum. It got its name after the headmaster of the Prince's court, Sima Milosavljević-Paštrmac called Amidža (uncle). Amidža's Lodgings was built in 1818 and it represents Balcan-oriental style. The lodgings served as a dormitory for the young men from Miloš's escort.
The building of Grammar School (Gymnasium)One of the most monumental school buildings built in Serbia in 19th century. It was built in 1887 and then the first grammar school in Serbia, found in 1833, got its building. It was built in academic style. The architect is unknown. During the WW2, on October 21, 1941, German soldiers took many of the school's students and professors to the execution. One of the classrooms was turned into the Memorial classroom, dedicated to this tragic event.
Old Church

address: (Кнеза Михаила)

Built in 1818 by Prince Miloš Obrenović. The church is dedicated to the Descent of The Holy Spirit on Apostles. The first bell from this church rang in 1829. The old church was first bishop's cathedral and court chapel in liberated Serbia. In the churchyard, almost all important decisions for the Serbian people were proclaimed. The First Serbian Constitution was adopted there in 1835.
phone: +381 34 333 302, +381 34 333 312

address: Vuka Karadzica (Вука Караџића) 1

Built in 1860. The building is European with one floor, built after the pattern of Austrian classicism, modest in its dimensions and ornaments. Directory of the National museum and museum's library are now placed in it.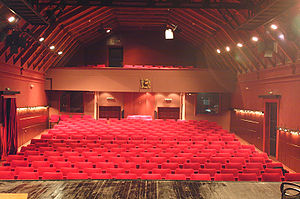 TheatreDating back to 1835, this is the first theater in Serbia. It is a one floor building with a pyramidal roof cupola. In front of the building there is a monument to founder Joakim Vujić.

City's MarketBuilt in 1928/29 as the most beautiful market hall in Serbia and one of the first market hall in Europe. It contains style elements of academism and secession.

City HallBuilt in a typical socialistic architecture, the building might be very interesting to someone used to Western culture.
Monasteries
Drača MonasteryBeautiful monastery with nice surroundings. It has the Church of Saint Nicholas which was erected in 1734 on the foundation of an older church.

Divostin MonasteryOne of the most popular monasteries in Sumadija region. Once it was destroyed by Ottomans and then much later in 1974 it was reconstructed again.

Grnčarica MonasteryBuilt in 13-14th centuries by a king. Present-day buildings are of mid-16th century when they were restored by Peć Patriarchy.
Do
Big or Upper Park

address: Kragujevackog oktobra

- the most favorite place for walk of Kragujevac's citizens of all ages. It was formed in 1898 and on its 110th birthday it was completely renewed. More than 10 hectares of verdure, thick treetops of the 100 years old trees, renewed foot-paths, newly benches make a perfect place for pastime, walk and relaxing. In the center of the park, there is a monument "Wounded soldier". It is also a good starting point for visiting memorial park Šumarice.

Eco - park "Ilina voda"There are several small lakes and a zoo with about hundred of inhabitants. There is also the biggest 3 m high Easter egg sculpture in Europe, and the second in the world.

Botanical gardenPlants from Asia, Europe and Balkans grow here. Park is equipped with information boards about trees.

Lake Bubanj ParkIt is an ideal spot for a pastime or walk by the water. Around the lake, in natural ambiance, the benches are set and there is also a restaurant with beautiful garden.

Jezero Sports Hall

address: (Лепенички булевар)

The venue where basketball, handball and volleyball local team Radnički performs in top divisions.

Stadium Čika Dača

address: Kragujevackog oktobra

The biggest stadium in Kragujevac with a seating capacity for more than 23 000 people, home to the top division football team FK Radnički 1923.

Aquarium "Kragujevac"

phone: +381 34 33 62 23

address: Radoja Domanovica No 12

The first public freshwater aquarium in Serbia with more than 400 species. It is suited in the rooms of the Faculty of Science. In the aquarium you can see the living beings from the Balkans, but also from the tropical areas of Africa, South America, Central America, Asia and Australia. Within the aquarium there is a hatchery where rare and endangered species are being bred and raised. There is also a laboratory for scientific, exploratory work related to hydrobiology and protecting water ecosystems.
Buy
Shopping areas are concentrated in the central streets
Kralja Petra
,
Kralja Aleksandra
and
Lola Ribara
and shopping malls.
Roda CentarA modern shopping mall in Kragujevac.

Kragujevac Plaza 2012A large modern shopping mall in Kragujevac with movie theatres, game center, bowling, pool tables, laser tag, rock climbing, target practice with paint ball/archery.
Eat
If you are looking for some Serbian specialties, like
pljeskavica
,
ćevapčići
or
Karadjordjeva šnicla
, Kragujevac is with tones of restaurants and fast food bars great choice.
Fast Food
Labud

address: Trg vojvode Radomira Putnika

Famous place for fast Serbian barbecue specialties.

Lepenica

address: Dragoslava Srejovića str. 44

Arguably the best pljeskavica in town.

Plavi Bik

address: Kneza Mihaila (Кнеза Михаила) 84

The place for Karadjordjeva šnicla.

McDonalds

address: Kragujevac Plaza

Yes, we have that. Go to second floor of Kragujevac Plaza for McDonalds.
Restaurants
There are of course restaurants all over Kragujevac.
Lovac Restaurant

phone: +381 34 336501

address: Svetozara Markovića (Светозара Марковића) 17

Very nice ambient and good local food.

Dvorište Restaurant

phone: +381 63 8090858

address: Save Kovačevića bb

the perfect opportunity to enjoy local specialties in a lovely and romantic surroundings.

Stara Srbija Restaurant

phone: +381 34 333262

address: Karađorđeva (Карађорђева) 7

specialized in local cuisine

Paligorić Restaurant

phone: +381 34 333019

address: Vojvode Putnika (Војводе Путника) 1

- also very central and suited for trying out local barbecue specialties.

Balkan Restaurant

phone: +381 34 334304

address: Kralja Aleksandra I (Краља Александра I Карађорђевића) ~94

You can try out national specialties and listen to live music.

Avala

phone: +381 34 302777

address: Internacionalnih brigada bb.

- if you can really eat a lot of Serbian barbecue specialties and still pay little, this is the place to be.
Drink
Kragujevac is a
young
and cheap city where socialising and parties are always high on the agenda. You can find a lot of pubs and bars in the main street
Kralja Aleksandra
and center, especially in
Lole Ribara
street. Many of them are opened until late in the night. Unlike Belgrade, there is no curfew in Kragujevac and the drinks are way less expensive.
Cafes & Bars
Srce, Kneza Miloša 3, famous for ice-creams.
Peron, Kralja Petra I bb., popular cafe in the train wagon.
Caffe "Novak", dr Zorana Đinđića 13, coffeeshop owned by tennis star Novak Djoković.
Cocktail bar "Buena Vista",'Kralja Petra I 46, passage Bezistan, good selection of cocktails.
Clubs
Gheto, Kralja Aleksandra I 81, famous night bar with no strict age groups. Opens at midnight, but gets packed usually at 3AM. Domestic and international pop & rock music.
Nemam Ve De, Kralja Aleksandra I 154, club with foreign rock music.
Twist, Cetinjska 14, popular place for live music and foreign pop & rock hits.
Tresor, Kralja Aleksandra I 73, pop music long in the night.
Akademija, Kralja Aleksandra I 134, a bit older crowd, selection of actual pop hits.
Rock star, Kralja Aleksandra I 75, nicely designed rock pub, live music and rock hits.
Casino, Kralja Aleksandra I 71, trendy place for younger generations, pop hits.
Gotham, Cara Lazara 18, alternative & indie pub.
Sleep
There are plenty of accommodation opportunities in Kragujevac and getting a hotel room is usually not a problem.
Hostels
Hostel Tri 'O

phone: +381 34353764

address: Vojislava Kalanovića 3??

phone: +381 60 3051600

address: 89 Kralja Aleksandra I Karađorđevica
Hotels
phone: +381 34 336254

address: Branka Radičevića (Бранка Радичевића) 22

11 single, 19 double, 2 apartments, 1 lux apartment

phone: +381 34 336180

address: Desankin venac bb

phone: +381 34 335811

address: Kralja Petra I 21

phone: +381 34 330605

address: Luja Pastera 19

phone: +381 34 300410

address: Gružanska (Гружанска) 17

phone: +381 34 6305935

address: Janka Veselinovića (Јанка Веселиновића) 52

phone: +381 34 330591

address: Karađorđeva 10

phone: +381 34 365461

address: Luja Pastera 13

phone: +381 34 372817

address: Beogradska 75

Accommodation 118

phone: +381 34 356600

address: II srpskog ustanka 41

phone: +381 34 357444

address: Gornjomilanovačka 54

Accommodation Merkur

phone: +381 34 387744

address: Balkanska 44

phone: +381 34 370785

address: Mirka Jovanovića 25
Stay safe

Kragujevac is generally a very safe city. It is one of the safest Serbian cities overall. Take the usual precautions and common sense (such as don't walk in parks alone at 3AM, don't leave your wallet, camera and mobile unattended) and you will most likely not encounter any crime at all. Do not get into conflict with locals after staying out late in the city, especially if they seem aggressive or drunk. Avoid sport fan groups of local team Radnički (djavoli or devils), they tend to be drunk and aggressive. Being a foreigner will not get you into any trouble, just do not show off, but try to make a local friendship instead.

Go next