Kraków
The city of
Kraków
(also known as
Cracow
) is in the
Lesser Poland
region in the southern region of
Poland
. It is the capital city of the
Lesser Poland Voivodeship
. It covers both banks of the Wisła (or Vistula) river. Uplands region at the foot of the
Carpathian Mountains
. It is Poland's second largest city, with a population of 760 000 in 2015 (1.4 million if including surrounding communities).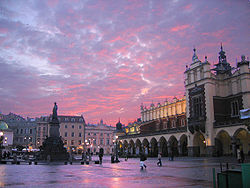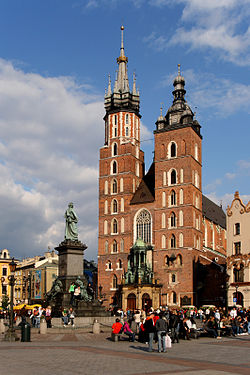 Understand
History
Kraków is one of the oldest cities in Poland, with evidence showing settlements there since 20,000 BC. Legend has it that it was built on the cave of a dragon whom the mythical King Krak had slain. However, the first official mention of the name was in 966 by a Jewish merchant from Spain, who described it as an important centre of trade in Slavonic Europe.
Through trade with the various rulers of Europe, it grew from a small settlement in 1000 AD to a large wealthy city, belonging to the Vistulans. However, through the 9th and 10th centuries, it fell under the influence of the Great Moravians, then the Bohemians, before being captured by the Piast Dynasty of Poland. In 1038, Kazimierz the Restorer made Kraków the capital of Poland.
In 1241, the city was almost entirely destroyed by Tatars. It was rebuilt to a design that remains largely unchanged to the present day. However, after more successful attacks by the Mongols in the late 13th century, Kazimierz the Great set about defending the city. Walls, fortifications, and the original Wawel Castle were added. The University was also established. King Kazimierz established the district of Kazimierz for Jews to live in free from persecution. This area remained mainly Jewish for centuries until the Nazi occupation.
The 16th century was Kraków's golden age. Under the influence of the joint Polish-Lithuanian Jagiellonian dynasty, Kraków became a centre of science and the arts. In 1569, Poland was officially united with Lithuania and as a result government activity started to move to Warsaw. King Zygmunt III officially moved the capital in 1609.
However, the 17th century was a return to troubled times for Kraków and Poland. After being invaded by Russians, Prussians, Austrians, Transylvanians, Swedes, and the French, it went through a phase of various forms of political control. These included being part of the Duchy of Warsaw, established by Napoleon, and becoming an "independent city". However, it mostly fell under the sphere of influence of the Austrian Habsburg Empire, in the province of Galicia.
In the
First World War
, Józef Piłsudski set out to liberate Poland and the Treaty of Versailles (1919) established an independent sovereign Polish state for the first time in more than 100 years. This lasted until the
Second World War
, when Germany and the USSR partitioned the country, with German forces entering Kraków in September 1939. Many academics were killed and historic relics and monuments were destroyed or looted. Concentration camps were established near Kraków, including Plaszow and
Auschwitz
; see
Holocaust remembrance
. After German withdrawal, the city escaped complete destruction and many buildings were saved.
In the Communist period, a large steel work factory was established in the suburb of Nowa Huta. This was seen as an attempt to lessen the influence of the anti-communist intelligentsia and religious communities in Kraków; see
Cold War Europe
. In 1978, UNESCO placed Kraków on the World Heritage Sites list. In the same year, the Archbishop of Kraków, Karol Wojtyła, was made Pope John Paul II.
The communist government collapsed in 1989 and Kraków has undergone another period of regeneration, with historic buildings being restored, but many of the dull post-war buildings still remain.
Climate
There are four definite seasons to Kraków - summer being hot and humid (average highs of 25°C) and winter always seeing Kraków under a blanket of snow with bitingly cold days (average lows of -3/-4°C). Due to little wind, Kraków suffers from high levels of air pollution from cars and coal stoves, which especially affects children and people with respiratory problems.
Economy
Kraków is the most popular tourist destination in Poland and this supports much of the local economy. However, the University and numerous local colleges mean education is an important employer as well.
The service and technology industry is strong, with many banks and IT companies, such as IBM, Cisco, Oracle, being located here. There is a large manufacturing sector as well, especially in steel (owned by Mittal), pharmaceuticals and tobacco, mainly as a legacy of the communist era.
Unemployment is lower than average (5%) for the rest of the country (9%) and it is considered an attractive investment opportunity, especially for those buying real estate. A new financial and business district is planned along with a new sporting complex in the Nowa Huta borough on the Vistula river. This is for the regeneration of the Nowa Huta area, the poorest district of Kraków.
Read
There is an English language monthly paper called
Kraków Post
available for free in clubs and culture venues throughout the city, where you can check the news, events taking place and new bars that opened in Kraków any given month.
Districts
Kraków consists of 18 districts. The historic Old City is situated in
District I Stare Miasto
. Even though the words Stare Miasto mean 'old town', it should not be confused with the historic old town of Kraków itself, as the medieval old town is only a small central part of District I Stare Miasto. Some of the communities around the edge of Kraków can show you real Polish life away from the tourist-focused economy of the centre.
The article for Kraków is divided into districts as follows:
Get in
By plane
Kraków AirportThe city's airport is in Balice, 12 km west of the centre. Ryanair are a major operator here, with an ever-changing list of European destinations; Easyjet, Lufthansa, Wizz and Norwegian are among others. Ukraine is well-served but there is only seasonal service from Russia, Turkey and North America. Beyond Europe, there are flights from Dubai, Tel Aviv, Eilat and Amman. LOT domestic flights link Warsaw, Gdansk and Olsztyn, while Ryanair fly from Szczecin. The airport often suffers from fog in winter, with cancellations and diversions. There is a single terminal, with arrivals and check-in both in the same hall at street level. The currency provider is ICE, with rates for major currencies 15-20% either side of bank rate - poor value but average for an airport. There's a ground-side cafe but much better facilities upstairs airside, after security. A litre of Polish vodka for an EU passenger might be 60 zł. For non-Schengen departures, don't go through passport control until about an hour before your flight, as there's not much in the lounge beyond. Gates 17 / 18 are always non-Schengen, while Gates 9-16 and their waiting areas are switched back and forth. A dozen car rental kiosks are in Arrivals, only needed if you're touring the region, you can't take a car into Old Town.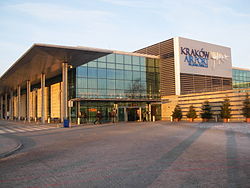 To and from the city:
Trains run between the airport (Kraków Lotnisko) upstairs hall and the main railway station downtown (Kraków Główny). They run daily every 30 mins between 04:00 and 23:40, taking 20 mins. A single ticket costs 9 zł (return 14 zł), unless you're crafty enough to decipher the Polish-only sign about half-price concessions. It's simplest to pay cash on board, otherwise you need to wrestle with the ticket machines on the platform or on board. But for a challenge: first pick your language, say English; the machine's output will still be largely in Polish. Next pick the train operator, which for the downtown route is "Koleje Małopolskie". (The other operators, PKP Intercity and Przewozy Regionalne (PolRegio), are only relevant if you're travelling beyond the city.) It should offer you Kraków Główny as a destination: choose the next train even if it's just about to depart, as your ticket will be okay on the subsequent one. These trains also call at the suburban stations of Kraków Olszanica, Zakliki, Młynówka and Łobzów; change at Główny for all other destinations.
Until 14 Dec 2019
, alternate trains are replaced by a bus "SKA 1". Join it at the same terminuses as City Buses 208 & 902 (below), which are unaltered. Pay as for the trains, cash on board is simplest. The SKA bus takes 30 mins and leaves 10 mins earlier than the corresponding train, to keep the same arrival time.
City Bus #208 runs between airport and the central bus & rail stations, daily and mostly hourly but with some gaps, between 04:20 and 22:30. It takes about 40 mins and is the better service for the north end of Old Town. Bus #252 runs from Osiedle Podwawelskie and the Grunwald Roundabout across the river south of Wawel, so it may be more convenient for south end of Old Town and Kazimierz. It runs daily every 30 mins 04:30-22:30 taking 40 mins. Night Bus #902 runs a similar route to the 208 hourly from midnight to 04:00.
The airport bus stop is just outside Arrivals. The downtown terminus for 208, 902 and SKA replacement is the forecourt that lies between the railway and bus stations outside the big
Galeria Krakowska
shopping mall - not the bus station itself. A single ride (day or night) costs 4.60 zł (2.30 zł for concessions eg ISIC/EURO 26 holders or age over 60). You need an "agglomeration ticket" valid for Zones I + II to cover the airport; city buses are now cashless so you can't buy on boarding. Buy from a newsagent or from a ticket machine at the bus stop, and validate it immediately on boarding. For other types of tickets, see the
ticket information of the operator MPK
, and "Get around" below.
Kraków Airport Taxi is the official taxi service, tel +48 12 258 0 258 or + 48 668 307 307 (open 06:00-22:00) or just rock up. There's a fixed fare per distance, posted on the airport website, reckon 90 zł to city centre. They're decent cars with decent drivers, and their big advantage is they can drop off and pick up within Old Town, which private cars can't.
Prebooked transfer: several internet platforms offer pre-booked cars from Kraków Airport. You know the price when you book, and often get a better vehicle.
Blacklane offer limousine transfers to town from about €40 / 180 zł one-way.
Other airports
- where you might end up if you're diverted - include Katowice, Warsaw and Rzeszów. Closest is
(KTW), 100 km west of Kraków. It's a base for Wizzair and has flights all over Europe, including Kutaisi and Tblisi in Georgia. KTW airport is 30 km north of Katowice town, but there are connecting minibuses to town and direct to Kraków. You can easily day-trip from Katowice to Kraków and to Auschwitz, and the accommodation is a fraction of the price, but it's a drab place that you'd be unwise to pick for a romantic weekend.

By train

Kraków has good rail connections. There are direct international trains daily from Berlin Hbf (11 hours overnight via Wrocław, and continuing to Przemyśl), Prague (7 hr), Vienna (6 hr 30 min) and Budapest (9 hr via Bratislava). Many other connections (eg from France, UK and Netherlands) can be made by changing in Berlin and Warsaw. There's also an overnight train from Lviv, but from Ukraine it may be more convenient to change at Przemyśl on the border.
Trains run every hour or two to Kraków from Warsaw Centralna, taking 2 hr 20 min, stopping only at Warsaw Zachodnia. (Some of these originate around Gdansk). Slower trains that stop along the way (eg at Radom) take almost five hours. Trains from Poznan run via Wrocław and Czestochowa to Kraków, continuing via Rzeszów to Przemyśl. Trains also run from Łódź (3 hr 30), Katowice (3 hr) and Oswiecim (2 hr), better known as Auschwitz.
Kraków Główny (Dworzec Główny PKP) is the city's main railway station. It's next to the main bus station and just north of the bastions of Kraków Old Town. There's a left-luggage service, waiting room, and a limited choice of cafes and shops. For food you'll do much better in the big adjoining shopping mall Galeria Krakowska. Station staff have limited English, although the international ticket desk are okay, and most young Poles are pleased to show off their English and be helpful.

By bus
Flixbus (which has taken over Eurolines) runs to Kraków direct from Vienna (7 hr), Budapest (8 hr), Prague (8 hr), Berlin (8 hr), Hamburg (12 hr), Munich (13 hr), Cologne (14 hr), Venice (15 hr via Zagreb) and Amsterdam (20 hr).
Ecolines run daily to Kiev (15 hr) and Odessa (15 hr), and occasionally to Kaunas, Riga, Tallinn, Moscow, St Petersburg and Athens.
Intercity buses within Poland are nowadays mostly run by Flixbus, which has also taken over Polskibus. From Warsaw there are about a dozen buses daily taking up to 5 hours. There are also direct buses from Gdańsk (9 hr), Szczecin (9 hr), Poznań (7 hr), Wrocław (3 hr), Łódź (4 hr), Katowice (hourly, 75 min), Przemyśl (4 hr) and Zakopane (hourly, 2 hr 20 min).
The central bus station is on the east side of the railway station. You'll struggle to find any information, in any language, about where to find your bus. However the airport buses don't depart from here but from the little forecourt at the shopping mall entrance.

By car
The main highway to Kraków from the west is the A4 motorway from the German border, where it meets Autobahns A4 from Dresden and A13 from Berlin. There's a 20 zł toll on the section between Katowice and Kraków, pay by card or cash.
From Warsaw (300 km) use the E77, passing Radom and Kielce, and reckon 5 hours. It's a modern highway but has yet to be upgraded to or replaced by a motorway.

Get around
On foot
Depending on your level of fitness, you can see the whole of the city centre without needing any transport. There are some beautiful walking routes, try the Royal Way or the Planty park that surrounds the old city all the way from Florian's Gate to Wawel castle. It is very relaxing. There is also a well cared for river banks next to the castle just to stroll around.
However, be aware that in winter snow is sometimes not removed from the sidewalks, resulting in a mixture of snow and mud. Be sure to bring waterproof shoes if you plan to travel by foot in the winter.
By bus and tram
During the day, there is an excellent system of public transportation consisting of trams and buses managed by
MPK
(
Miejskie Przedsiębiorstwo Komunikacyjne
). On their website you can check
routes or stops
and
find best connections
between them. The phone application
Jakdojade
is available to also route you around Krakow and other Polish cities. Rush hours are mostly between 7AM-9AM and 3PM-5PM and you can spend a lot of time in traffic jams.
It's best to
buy tickets
before you get on board in a kiosk or ticket machine on the tram/bus stop (these are present mostly in the city centre and provide help in few languages). Those trams and buses that are equipped with ticket machines are marked with large "
A
" sign above the entrance. If there is no ticket machine on board you can buy the 5 zł ticket from the driver but you have to pay him with
exact change
(the driver will
not
accept a higher amount than the ticket price). If buying a ticket after mounting the vehicle try to be fast. Ticket controllers are fairly common and fines are quite high (250 zł) and a hassle.
You can also buy tickets online but you need to register in advance in
Mobilet
or
Skycash
mobile services and download appropriate mobile application.
As soon as you get on,
punch the ticket in the validation machine
. Tickets need to be punched only the first time you get on, don't do it again after changing a tram/bus. You can use a single ticket for multiple rides as long as its time period hasn't expired.
Ticket prices
: single-fare/40-minute 3.80 zł, 20-minute 2.80 zł, one-hour 5 zł, 90-minute 6.00 zł, 24-hour 15 zł, 48-hour 24 zł, 72-hour 36 zł, 7-day 48 zł, family ticket (Sat-Sun only, unlimited daytime traveling) 16 zł.
ISIC
and
Euro26
student holders that study outside Poland can use 50% discount tickets which means: 20-minute 1.40 zł, single-fare/40-minute 1.90 zł, one-hour 2.50 zł, 90-minute 3.00 zł, 24-hour 7.50 zł, 48-hour 12 zł, 72-hour 18 zł, 7-day 24 zł.
When travelling to neighbouring villages or to the airport you need an
agglomeration (zone) ticket
. All buses that go outside the city limits have
2
at the beginning of their line number. Keep in mind you need zone ticket even if you have any sort of valid time pass mentioned above (as they cover just the city area). Zone tickets are slightly more expensive than city ones and follow similar time system.
Night bus and tram lines
start with
6
(or
9
when zone) at the beginning of their line number. Ticket prices during the night are the same. 24-, 48- and 72-hour tickets are valid on night buses.
Tram and bus stops show routes and most kiosks will be able to advise you on route numbers. Modern trams and some of the modern buses also display the route inside on the screens and announce each stop.
By car
Don't bother driving in the city centre. There's often a lot of traffic, parking spaces are scarce and can be expensive, and Polish driving takes a lot of getting used to. There are also rules around local 'driving zones', that ban non-resident's vehicles from entering them. Especially in the city center it's easy to enter such a zone without knowing - there are rectangle blue signs that mark the entrance to the zones. The taxis are cheap and it makes more sense to use them.
Taxis
, reliable and fair play taxi drivers from the airport or for a longer transfer should be booked in advance by the Internet. For instance, Kraków airport transfer to Kraków costs around 70 zł. During the day, most fares will be around 20 zł. All taxis should have a 'Taxi' sign on the roof and a sticker on the rear passenger window with prices. There is an initial charge of about 5-7 zł, plus 2-3 zł per kilometre. Price list should be shown on the passenger side door.
iCar
is one of the cheapest taxi companies and will quote you the prices in advance (based on the real distance between you and your destination). An 8 km ride will run you about 22 zł. Uber is also a great option as it can be cheaper than the local taxi services.
There are instances where drivers will overcharge tourists, especially those who don't speak Polish. Check on a map in advance how much it should be and if it goes much above that, debate the price.
If you really want to travel by car, you can use
Traficar
carsharing service, although if you're not a Polish citizen, you may need to register for a service in person on Rzemieślnicza 26 before the first use.
By bicycle
It is easy to get around the centre on two wheels, as there are some bike lanes, including through the 'Planty' that surround the Old Town. Some bike rentals also provide city and country tours.
Wawelo, extensive network of city bikes avaliable in Krakow. For 19 zl initial fee you can use bike for free for 60 minutes over one month time.

phone: +48 501 745 986

address: ul. św. Anny 4

They have a tandem.

phone: +48 12 312 60 20

address: ul. Basztowa 17

phone: +48 504 982 043

address: ul. Mogilska 51

phone: +48 12 421 57 85

address: ul. Józefa 5
See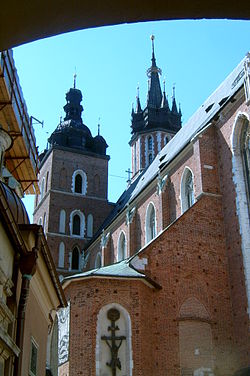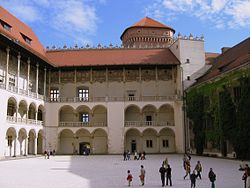 Wawel at the south tip of Old Town is a citadel perched on a crag. Within are the cathedral, and the Royal Castle which has several museum galleries and collections.
The Old Town centres around the Main Market Square, with St Mary's Basilica and the Cloth Hall (Sukiennice). The town walls have gone except for the bastions on its north flank.
Kazimierz was the Jewish quarter. The best of it is around Szeroka, with the Remuh synagogue and atmospheric old cemetery.
Museums are run by either the National or the City museum.
The
National Museum
main building is at the foot of Aleja 3 Maja in west Kraków, ten mins walk from Old Town. Other branches, all within Old Town, are Sukiennice Gallery, Czapski Museum and Pavilion, Matejko House, Szolayski House, Czartoryski Library though that museum is closed, Menhoffer House, Erazm Ciolek Palace, and the Europeum Centre.
The
Museum of Krakow
or City Museum runs Krzysztofory Palace, Old Synagogue, Oscar Schindler's Enamel Factory, Eagle Pharmacy, Pomorska Street, Hipolit House, Town Hall Tower, the walls (including Barbican, Florian Gate and Celestat), Nowa Huta, Nowa Huta underground, Zwierzyniec House, Rynek Underground, Theatre Museum, Thesaurus Crocovensis, Podgorze, KL Plaszow and Rydlowka.
These are all rich, fascinating collections. To pick one highlight from so many: the
Mona Weasel
is an authentic Leonardo da Vinci portrait, in Polish
Dama z gronostajem
. She's properly called "The Lady with an Ermine" but the beast she cradles is not zoologically accurate - it's an allusion to the nobility of her sugar daddy the Duke of Milan, who just happened to employ Leonardo. She's been shunted hither and yon across Europe but now resides in the National Museum main building on Aleja 3 Maja.
Nowa Huta was built in Communist times for the workforce of the colossal steelworks there. It's a monument to their crass central planning, with huge buildings surrounding green parks.
Auschwitz-Birkenau is a simple day-trip from Kraków - lots of tours go there, but you can easily do it independently. It had offshoots all over the region, including a concentration camp in Podgórze district.
The Polish Aviation Museum is 5 km northeast of the centre.
Do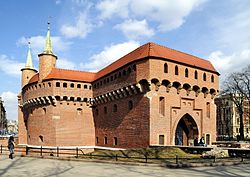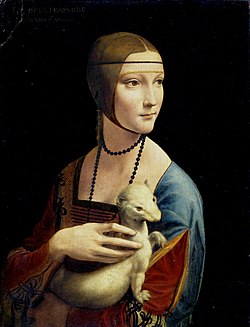 Walk the Royal Way from St. Florian's Gate down Floriańska, across the Main Market Square, then down Grodzka to Wawel.
Listen to the Hejnał Mariacki while sipping a coffee in the Rynek Główny. This trumpet signal is played on the hour from the tower of St Mary Church and is cut short in memory of a trumpeter slain in mid-toot by a Tatar arrow in 1241.
Walk around the Planty, the park that encircles Old Town.
Lounge and take in the sun on the banks of the Vistula river; at the foot of Wawel, a dragon breathes fire. Cross the footbridge Kładka Bernatka between Kazimierz and Podgórze.
Take a cruise down the river to admire Tyniec Abbey and Bielany Priory. In summer there are several ships harboured next to Wawel and there's also a city-owned water tram.
Early on Sunday, go shopping at the open air flea markets at Plac Nowy and Hala Targowa.
Participate in a Mass in St. Mary's Church. The church is impressive and the devotion of the believers will bring you inside of the real religious spirit.
Learn about life in Kraków under Nazi German occupation in the original Schindler's Factory building in Podgórze district.
Take part in a city game which combines sightseeing of the city with adventure, integration and fun. You'll find them advertised in hostels.
Foreign visitors can find locals eager to practice speaking English and other languages at the English Language Club on the second floor at ul. Sienna 5, Wednesdays 18:00-20:00.
Events
Jewish Culture FestivalA classic, one the biggest Jewish culture festivals in the world. A week of tours, concerts, workshops on cuisine, dance, music and calligraphy topped with a huge final show on Saturday evening. June/July

Bajit ChadaszJewish culture festival, organised by Jewish Cultural Centre in Kazimierz with concerts, exhibitions and lectures.

Krakow Film FestivalOne of the oldest film events dedicated to documentary, animated and short fiction films in Europe. In a week over 200 films are shown in around six cinemas (10 screens) around the city and in an open air one next to Wawel castle. May

Off CameraInternational festival of independent cinema. April

Etiuda&AnimaInternational film festival built around animations and short films. November

PhotomonthOne month long festival with around forty different photography exhibitions around the city. May

Live Music FestivalTypical summer open air music fest. Stars that appeared past years include: Kanye West, Muse, The Chemical Brothers, 50 Cent. second half of August

UnsoundWorld-renowned experimental music and art event. October

Sacrum ProfanumMusic fest with concerts of such stars as Steve Reich, Aphex Twin or Kraftwerk taking place in unusual places like churches, museums and factories. September

WiankiSt. John's Night (Midsummer) celebration. An evening of concerts finished with a fireworks show taking place on Vistula river banks next to Wawel castle. A booze-up. June

Independence Day on 11 Nov is celebrated throughout Poland, but is an especially big event here. There are grand parades, and Wawel is closed to routine visits.
Christmas Market: this is the oldest such market in Poland, held from the end of November to the end of December in Main Market Square.

Krakowskie NoceFive nights (one in each month from May to September): Night of Museums (free museums), Night of Theatres (free theatres), Night of Jazz (free jazz concerts), Cracovia Sacra Night (free concerts of church music) and Night of Poetry (free poetic evenings).

There are regular events at TAURON Arena (a large sports and concert arena) and ICE (a new congress centre).
Sports
See a football game. There are two first league teams in Kraków (and obviously their fans hate each other) -
Cracovia Kraków
and
Wisła Kraków
, both have finished new stadiums on two sides of Błonia park. To buy a ticket you must present a document with a photo (passport, driving license, etc.) There are discounts for women, school kids and students aged under 26. The Cracovia stadium is smaller, which also means that no matter which seats you choose, you will get a good view of the pitch. At the Wisła stadium, check the sector before you book - some seats are quite far away from the pitch.
Do not
display any team colours, jerseys, or the like. Rival gangs associate themselves with the
Wisła
and
Cracovia
teams. Of course, this is a minority of football fans, but it's best to be safe, especially as an out-of-towner.
You can also play on one of the golf courses located near the city:
Learn
Buy
Eat
Kraków's cuisine has been influenced by the cultures that have inhabited central Europe, as well as the Austro-Hungarian empire.
The most popular dish from Kraków is
obwarzanek
(bagel). You can buy it at many stalls on the streets. Typical for Kraków is also
maczanka
, long-roasted pork. A local speciality from the voivodeship is
oscypek
- cheese from the Tatra Mountains.
If you want to try Polish simple cuisine for outstandingly good value prices (a big lunch for one person for about 8 zł) then find a 'Bar Mleczny' (a
milk bar
- a kind of cafeteria very prevalent in Communist times so called because it serves no alcohol). You can find one on the right side of ul. Grodzka (if you are going from Rynek Główny). They're not very posh and decorations are rather humble, but they offer classic Polish home food such as 'krokiety' at it's best. An English-Polish dictionary is recommended when ordering.
Casual dishes:
Żurek is a soup based on fermented rye - it's sour and creamy and often has slices of kielbasa sausage or a hard-boiled egg added.
Barszcz is a soup made with beetroot—very savoury.
Kwaśnica is a soup made from pickled cabbage with a large proportion of sauerkraut and meat, usually eaten with potatoes or bread - while it's a less popular choice than barszcz and żurek, many visitors find it to be their favourite.
Chłodnik is another beetroot soup, served cold as a refreshing summer dish. It makes use of the beetroot greens as well as the roots and is flavoured with gherkins, dill and sour cream.
Pierogi are dumplings that are most often filled with "ruskie" ("ruskie" meaning "Ruthenian" - with curd cheese and potato), meat, cabbage, mushroom, bilberries, apples, and strawberries. The fruit Pierogi are usually served with cream and sugar.
You won't see this in most guides, but one of the true joys of a trip to Kraków is a visit to the
kiełbasa van
. Basically, it's these two gruff Polish men who, every night from 8PM-3AM (Mon-Sat), set up a fire grill outside of their van (parked in front of the market east of the Old Town near the train bridge) and grill kielbasa. For 8 zł, you get your sausage, roll and a squirt of mustard, stand at the perch nearby and chow down with the locals in-the-know. It is delicious, especially after a night of exploring Kraków's bars. A fun experience free of the usual tourist crush and off the main path (ul. Grzegórzecka, opposite ul. Blich)
By far the oldest street food in Kraków is
zapiekanka
which is a large open-faced baguette with baked toppings (traditionally cheese, mushrooms, and a lot of condiments like ketchup or garlic sauce). The most popular, location for
zapiekanki
is on the Plac Nowy market in Kazimierz. It is busiest at night on the weekends where you can purchase them until the early hours of the morning.
In Kraków you can also buy one of the best Polish sausages -
Lisiecka
.
Drink
Bars, pubs, and cafes in Kraków are one of its biggest attractions. Not just their number or quality, but close proximity. It has been said that there are more than 300 eating and drinking establishments in the
Old Town
alone.
Local drinks
A tatanka is a unique (and delicious) Polish beverage made with apple juice and a special kind of vodka called żubrówka, which is flavoured with bison grass. It is also often referred to as a szarlotka, or apple cake. Tatanka is a Native American term for bison.
Wódka miodowa is a honey vodka, often served chilled in shots. Some of the better Polish-themed restaurants will have house brands.
Śliwowica, a plum brandy, is worth watching out for. There are two main variants: an 80-proof (40%) yellow tinged one and a 140-proof (70%) clear variety. While the 80-proof variety is often smooth and flavorful, some have compared the 140-proof to drinking gasoline. A good way to drink it is to deal with it like with an absinthe. Take a small spoon with sugar, put some Sliwowica on it and fire it. Let the sugar melt down for a while (10–30 seconds). Then, mix the flaming sugar with the rest of the drink. Let it burn for 5–10 seconds, then blow it and drink it. Watch out and don't burn your lips! You can also let it burn longer, but then use a straw to drink it to avoid burning your fingers or lips.
Grzaniec, a sort of heated wine with cloves and other spices, very popular around Christmas when sold on Market Square.
Wściekły pies, a shot of plain vodka with tabasco and raspberry sauces in the bottom. Must be drunk in one gulp. The name can be translated as rabid dog. Definitely worth trying.
Kamikaze, a set of several shots of vodka-based alcohol sold usually in clubs. It usually contains equal parts of vodka, blue curacao and lime juice. Should be drunk in one gulp, one shot after another.
Warning
: If you party with Poles you should be aware that some of them consume bigger dosage of alcohol than you're used to. Don't try to keep up with your Polish friends and make sure you have plenty of breaks when drinking.
Bars
Thanks to their proximity to each other, Kraków's watering holes are ideal for bar hopping. Many locals and tourists have spent nights partying from the
Old Town
all the way to Vistula River at the end of Kazimierz. Walk down ul. Szeroka or head over to Plac Nowy for streets full of bars.
The newly-opened Tytano district offers a loft-style, London-like selection of coctail-bars, restaurants and clubs. It's based in the proximity of the city centre on the corner of Dolnych Młynów and Czarnowiejska streets. If you're looking for a place to relax, there is plenty of bars to choose from there.
In the warmer months, Kraków's nightlife moves outdoors into hundreds of sidewalk cafes and beer gardens. When winter comes around, it moves underground into cellars all around the city.
Cafes
Kraków is not only full of cosy cafes but is also said to be the place of the first cafe founded in Europe. Most cafes offer good espresso and something to nibble at a very reasonable price. As a rule, international-looking places are much more expensive.
Sleep
As the number of tourists to Kraków increases rapidly, accommodation prices are rising. Try to avoid hotels and hostels located in the
Nowa Huta
district; most of them are former shelters for part-time industry workers and the district is quite distant from the city centre.
Campsites
There are few campsites in Kraków, most of them closed in colder months. All provide some space for tents and caravans as well.
Hostels
There are plenty of decent clean backpacker hostels in the
Old Town
and
Kazimierz
.
Expect to pay 40-60 zł for a dorm bed, including breakfast (bread, jam, and cheese), laundry, sheets, lockers, and internet access.
Hotels
Kraków has lots of hotels located all over the city. Big corporate ones (Sheraton, Qubus etc.) are near the centre, most often on Vistula banks. In the
Old Town
there are some reasonably priced and some pretty luxurious and expensive. A good alternative may be booking a hotel in the far ends of
Kazimierz
District or in Podgórze, by the Vistula river.
Private accommodation
A good way to stay in Kraków is to rent private accommodation. You can usually get a one bedroom for €60-€90 a night, located in the Old Town. There are two agencies opposite the main railway station offering rooms. If you hang around the street outside the agencies for a while, some landlords will approach you and make an offer. This saves you the commission but may be a bit unsafe.
Stay safe
Like the rest of Poland, Kraków is generally a very safe city with strong police presence.
Violent behaviour is rare and if it occurs it is most likely alcohol-related. While pubs and clubs are generally very safe, the nearby streets may be scenes of brawls, especially late at night. Try to avoid confrontations. Women and girls are generally less likely to be confronted or harassed since the Polish code of conduct strictly prohibits any type of violence (physical or verbal) against women.
Follow standard city travel rules: don't leave valuables in the car in plain sight; don't display money or expensive things needlessly; know where you're going; be suspicious of strangers asking for money or trying to sell you something.
Pickpockets operate, pay attention to your belongings in crowds, at stations, in crowded trains/buses (especially to/from the airport), and clubs.
In any case, do not be afraid to seek help or advice from the Police (
Policja
) or the Municipal Guard (
Straż Miejska
). They are generally helpful, polite and in most cases speak at least basic English.
Racism
As a result of Nazi German and Soviet terror, modern Poland is a very homogeneous society. Even though quite a few Asian and African migrants have settled in the larger cities (including Kraków) in the last couple of years, it is still quite rare to see non-Caucasians on the Polish streets. If you are a non-white traveller do not be surprised (or alarmed) if some people (especially young children) stare at you with curiosity. The overwhelming majority of Poles is composed of warm, hospitable people who are often curious to learn more about other cultures. Racist incidents are extremely rare, but, just like anywhere else in Europe, have taken place. If you are unfortunate enough to experience racism or too much curiosity, it is important not to get yourself involved in a confrontation. Walk away instead.
Scams
As in any major tourist city, there are people trying to take advantage of travellers. Generally, use common sense and follow simple precautions. Below is a list of the most common scams:
Bar scam
In line with its reputation as an inexpensive all-male trip destination, Kraków is unfortunately notorious for the
bar scams
typical of many popular tourist destinations. The scam, in short, involves being chatted up by attractive women and invited to join them in a club for drinks. The bill for the drinks then turns out to run up multifold of what one might have expected to pay. Two establishments notorious for perpetrating this are Saxon Club and Hard Candy, but you may be asked to follow your newly acquired company to nondescript premises not appearing to be a public open club as well.
Hotel scam
A few Kraków visitors have been victim to the hotel scam. After a long day of travel, the victim is awakened when their hotel room phone rings. It's the receptionist apologising for the late hour but asking to verify credit card details. The victim reads them out and drifts back to sleep. As Kraków guides know, there is a growing black market for stolen credit card numbers, and the chances are that even before the victim remembers this late night conversation there will be high charges to contest, possibly even ending their vacation early.
Taxi scam
When using a taxi always ask for a price for your journey before you leave. Scam taxis have been found to operate near to the main railway station. They are legally registered as "transportation services" and charge €20/km. The prices of regular taxis are limited by law, and the price list is easily visible. It should be around 2.30 zł per kilometre, with an initial fee of 7 zł (first kilometre included in price). Reliable licensed taxi companies include Taxi Barbakan, Taxi Dwójki, Lajkonik Taxi and Taxi 19191. While it is legal for "transportation services" to charge people as much as they like, their prices must be clearly displayed and must be clearly stated when you ask the driver. If you do not agree with the price, do not use the service. The best way to get a reliable taxi is to call them by phone (you can do it by yourself or ask hotel staff to do it for you).
Currency exchange scam
Look very closely what the
buy
rate is when you exchange your currency into PLN, and ask for the exact rate
in writing
. Do not let the clerk point on the chart with rates; insist on their quoting the rate for you beforehand on a piece of paper. Very often the rate is displayed not on an electronic board, but with digits on small tiles; it may happen that a small tile with a zero is partially slid right under the comma in the "buy" rate, so e.g. instead of 3.45 zł the actual rate is 3.045 zł. This is difficult to notice and the clerks do not accept any complaints after you receive your money. Victims may lose up to 20% of the exchanged amount. This practice is definitely unfair and on the verge of legality. It has been described and condemned in the local press. However, if the tile with 0 is visible at least in half, the booth owner may escape responsibility, as your acceptance of the rates is assumed. Remember the rule of thumb - spread between the "buy" and "sell"rates should not exceed 2-3% of the "buy" rate on the main currencies (EUR, USD, GBP) and 5% on secondary currencies (CHF, JPY, SEK, NOK). Stick to banks (even if the rate is slightly worse, it is still perfectly acceptable) or large currency exchange points.
The currency exchange point at the railway station usually operates at rip-off spreads.
Avoid
at all costs, unless you are in a big hurry or selling złoty. Also
avoid
the exchange points at the airport, or exchange only the amount for the ticket to the city centre.
Best rates are available on Sławkowska Street, extending from the north-west corner of the Main Market Square.
Jaywalking enforcement
Jaywalking is enforced in Kraków. If you're jaywalking (crossing at a red light for pedestrian, outside of a zebra-crossing), even if it was perfectly safe (you looked on both sides, there was no car coming, etc.), there are chances that a police officer will wait for you on the other side of the street, and give you a 100 zł ticket for doing so: tourist or not, you will have to pay for it.
Cope
Consulates
As of Nov 2019, the following had consular services in Krakow:
France, ul. Stolarska 15, +48 12 424 53 00.
Germany, ul. Stolarska 7, +48 12 424 30 00.
Hungary, ul. Lubicz 18, +48 12 359 99 20
Russia, ul. Biskupia 7, +48 12 422 26 47, but the Visa Office is at Krótka 1.
Ukraine, ul. Beliny-Prażmowskiego 4, +48 12 429 60 66.
United States, ul. Stolarska 9, +48 12 424 51 00.
Go next
Getting there: Leave a whole day for this if you want to go. The Auschwitz camp and the much bigger Birkenau camp are a few kilometres apart. Frequent and inexpensive buses leave from the main bus station in Kraków, and trains leave approximately every two hours from the adjacent railway station. Most will let you out at the main Oświęcim station, a short walk from the camp (follow the signs to "Muzeum"). Alternately, a frequent PKS bus drops off and picks up directly in front of the visitor center—just check for destination "Oświęcim Muzeum." (You can buy a ticket from the bus driver.) You can find bus schedules at MDA and trains from rozklad-pkp. From Auschwitz, there is a free shuttle to Birkenau.
Tours and guides: There is no need to pay for overpriced organised tours from Kraków, which are heavily advertised. Travel to Auschwitz using local trains or buses is easy and inexpensive, and entrance is free of charge. The only thing you need to pay for when you get there is a guide (which is optional - English language tours cost 40 zł and run every hour between 10:30 and 15:30 Tours may be joined at the site without prior reservation. Auschwitz II-Birkenau is open to unguided visitors all day) they have official tours available in many languages for a modest fee. If you do want an organised tour from Kraków (which generally includes a bus there and a guide once there), they cost ~130 zł per person. Many hotels and travel agents in Kraków, as well as the Galicja Museum in Kazimierz, can direct you to reputable companies.
Wieliczka, 17 km from Kraków, is the location of ancient salt mines, one of the original 12 UNESCO World Heritage Sites and a definite must-see. Entrance to the mines (64 zł) is rather expensive compared to other tourist attractions in Poland. Bus 304 (4 zł, recognisable yellow buses, the first stop is in front of Galeria Krakowska) makes frequent trips to and from the mines. There are 4 Wieliczka stops; get off at Wieliczka Kopalnia Soli (look for a giant "SALT MINES" sign). The ride takes 40 minutes. There is also a train to Wieliczka that lets off a short (and well-marked) walk from the mine.