Kraków/Kazimierz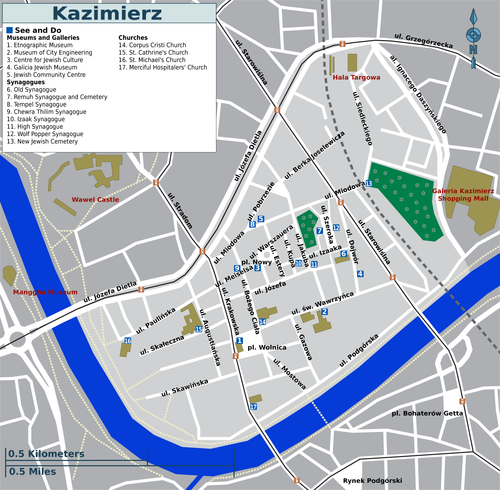 Kazimierz
is a part of Old Town district of
Krakow
in
Poland
. Before World War II, it was a Jewish district.
Understand
Kazimierz was a city founded in 1335 by Polish King Casimir III on an island on the Vistula river. In the 19th century the river branch between Kazimierz and Old Town was dried and built over. After the end of 15th century Jews became an important part of Kazimierz' population as they fled Krakow because of antisemitism. The division of Kazimierz is still visible, the western part with pl. Wolnica and St. Michael's Church (Skałka) was Christian and the eastern with pl. Nowy and ul. Szeroka was Jewish.
Kazimierz became one of Krakow's districts in 1791. In 1943 all Krakowian Jews were forced by the Nazi occupiers to move to the ghetto located in Podgórze and later transported to death camps. After the war uninhabited houses in Kazimierz were populated by a poor and sometimes criminal element, so Kazimierz gained the reputation of the 'bad neighbourhood' in Krakow.
In the 1990s, however, a popular annual Jewish Culture Festival started, the city renovated old synagogues, and new cafes, clubs and galleries opened. In the early 21st century, the district underwent a typical gentrification process and these days rents are really high and small galleries and eateries have started to give way to luxurious hotels.

Get in
From the
Old Town
head south with ul. Stradom or Starowiślna. Easily accessible also from
Podgórze
thanks to
Kładka Bernatka
, pedestrian and bike bridge.
See
Museums and galleries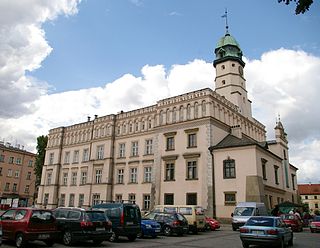 Synagogues and prayer houses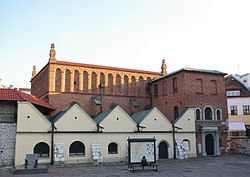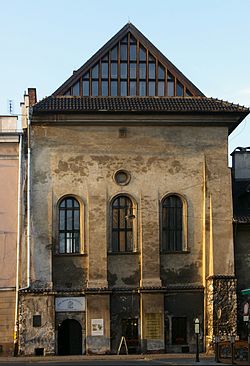 Before 1939 there were several dozen synagogues in Kazimierz. After the war most of them were destroyed or converted to residential or public use buildings and their previous function is, after remodeling, imperceptible. Some are still functioning as prayer houses or museums:
phone: +48 12 422 09 62

address: ul. Szeroka 24

Built sometime during the 15th century, the synagogue is the oldest still standing synagogue in Poland. It was ransacked by the Nazis during World War II and was renovated between 1956 and 1959. It is now as a museum documenting Jewish life in Kraków.

address: ul. Szeroka 40

The synagogue and adjoining Jewish Cemetery with the grave of Moses Isserles.

Tempel Synagogue

address: ul. Miodowa 24

Built in 1860 - 1862. Reform synagogue that is open to the public. Since it's an operational synagogue male visitors are expected to wear yarmulke and women should dress somewhat conservatively and have their shoulders covered. During the Nazi occupation, the synagogue was used as a horse stable, but was eventually rededicated to its religious mission. Inside, the synagogue is beautiful, it has a monumental example of Aron Kodesh made from Carrara marble and 43 stained glass windows.

Bne Emuna SynagogueThe building of Judaica Foundation – Centre For Jewish Culture.

Chewra Thilim SynagogueToday an exhibition space with rare, well preserved polychrome.

Izaak SynagogueBuilt in the 17th century. Was considered the most beautiful in Krakow, after the war it was a theater, warehouse and sculpture workshop. Since the 1980s it has been renovated and serves as Jewish Education Centre. Since 2007 it had also been used for religious purposes.

Kowea Itim le-Tora Synagogue

address: ul. Józefa 42

Built in 1810 and renovated in 1912 (these dates are written in Stars of David put on the facade). Devastated by Nazis the building became residential after the war.

Kupa Synagogue

address: ul. Warschauera 8

Also called Hospital or Poor Synagogue as these were the people it mostly served. After the war it was a warehouse and shoe factory, today it is one of the venues for religious ceremonies and cultural festivals, Jewish Culture Festival among others.

Mizrachi Synagogue

address: ul. Kupa 18

Built in 1930s right next to Izaak Synagogue. Since the 80s it serves as a Jewish Culture Centre.

Wolf Popper Synagogue

address: ul. Szeroka 16

Was one of the most splendid buildings in Kazimierz, devastated during the Nazi occupation. Today a cultural centre with workshops on dance, art classes, lectures, film screenings, etc.

High Synagogue

address: ul. Józefa 38

Called "high" because the prayer room is on the second floor (this is the only example of that kind in Poland). Third synagogue built in Kazimierz, in Renaissance style. It's in bad condition but conservators are working on the building. It is open to public and photo exhibitions are sometimes put there.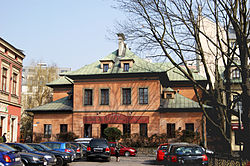 Great Mikveh

address: ul. Szeroka 6

Building from 1567 rebuilt at the beginning of 20th century, today Klezmer Hois restaurant and rooms. Ritual bath in the basements, around 40 steep stairs below ground level, can be visited.
Churches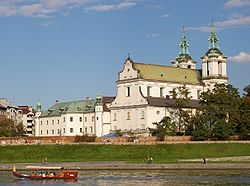 Bożego Ciała Church (Corpus Cristi Church) — corner of ul. Bożego Ciała and pl. Wolnica. Gothic Church erected by Kazimierz the Great in 1340. The greatest Italian artist of the Renaissance, Bartholomaeo Berrecci, is buried here. The interior is baroque with a marvelous, high baroque altar and maybe the most beautiful baroque stalls in Central Europe.
Katarzyny Church (St. Cathrine's Church) corner of ul. Augustiańska and Skałeczna — Gothic Church erected by Kazimierz the Great in 1363 for the Augustinian Order. There is a beautiful baroque altar and the Renaissance grave of bishop Spytek Jordan inside the church.

Michala Churchul. Skałeczna 15. With the monastery of the Paulins, one of the oldest in Poland. The defensive position of the "Church on the Rock" (Skałka) brought settlement already in the 9th century. Bishop St. Stanislaw is said to be killed there by King Boleslaw II in 1079. The garden pond is traditionally believed to have served for pagan sacrifices. Many famous Poles like Jan Długosz, Stanisław Wyspiański, Adam Asnyk, Karol Szymanowski, Józef Ignacy Kraszewski, Jacek Malczewski, and Czesław Miłosz are buried there.

Church of Holy Trinity (Church of Merciful Hospitalers) - ul. Krakowska 48. Constructed in 1741 by the Trinities friars in late baroque style, according to a project of architect Franciszek Placidi. The interior of the church was ornamented with rococo stucco decorations and illusion style polychrome.
Cemeteries
Remuh Cemetery

address: ul. Szeroka 40

Old Jewish cemetery of Kraków. Located next to Remuh Synagogue was established in 1535. It closed when the new cemetery at Miodowa was opened in year 1800. The most notable person buried at Remuh Cemetery is Rabbi Moses Isserles, others include rabbis of the Jewish communities in Vienna, in Prague and in Kraków and heads of Kraków Talmudic Academy. During Nazi occupation the place was destroyed and tombstones reused as paving stones (in Kraków-Płaszów concentration camp). After the war restoration of the cemetery was attempted, but not many tombstones could be found and today only small fraction of the monuments stands again.

New Jewish Cemetery

address: ul. Miodowa 55

Founded in 1800 and operational until around 1920 when it filled. Nazi Germans closed the cemetery and sold the most valuable tombstones to masons for reuse. After the war some of these were returned. Today cemetery has over ten thousand headstones, renovated brick mortuary, lapidarium and a monument dedicated to Holocaust victims. Many notable people are buried here: rabbis, tzadiks, Jagiellonian University professors, writers and painters (Maurycy Gottlieb).
Do
address: ul. Paulińska 28

Leftist cafe/bar/bookstore/culture house owned and managed by a cooperative, located in an old Jewish bathhouse (mikve). They organize many events: discussions, film screenings, exhibitions and book promotions. Prices at the bar are pretty low. Books they sell are only in Polish. LGBT friendly.

phone: +48 12 426 45 06

address: ul. Krakowska 41

Jewish Culture FestivalTen-day-long festival held since 1988 at the end of June.
Learn
phone: +48 12 370 5 770

address: ul. Miodowa 24

Jewish culture and language lessons, exhibitions, lectures.
Buy
On ul. Józefa several funny galleries and small shops with hand-made souvenirs are located.
In the mornings head to
plac Nowy
to buy fresh fruits and vegetables from stalls. On Sunday morning there will be a flea market. Another, bigger Sunday flea market is located next to
Hala Targowa
on ul. Grzegórzecka.
Galeria KazimierzA big mall next to Kazimierz district. Over a hundred stores with clothes, shoes, furniture, books, etc. Also in the complex food market and Cinema City multiplex.

address: ul. Mostowa 1

Bookshop/cafe.

address: ul. Bocheńska 7

Boutique with design, clothing, music, etc. Polish designers only.
Eat
Kazimierz has a place on Starowiślna street where
the best ice-cream in Krakow
are sold. ul. Starowiślna 83 (in summer you'll know the place by the queue standing outside).
Budget
Try typical Polish street fast food,
zapiekanka
. "Zapiekanki" sold from windows of
Okrąglak
building in the middle of Nowy square are the most popular in Kraków. In the evenings you will see queues of youngsters who just jumped out of bars for a quick bite. As an alternative you may go to
Judah Square
, ul. Świętego Wawrzyńca 16 to grab a burger or
maczanka
, local speciality in a street food form. Yet another place with food trucks is
Plac Izaaka
, corner of the streets: Izaaka, Jakuba and Ciemna.
Mid-range
Splurge
phone: +48 660 661 756

address: ul. Bocheńska 5/LU1

Classy fine-dining with huge selection of wines.

phone: +48 12 411 12 45

address: ul. Szeroka 6

Jewish cuisine, sometimes live music in the evenings.

phone: +48 12 432 50 83

address: ul. Szeroka 3

Polish cuisine with a twist.
Ariel: though they ought to call it Arielayim because there's two of them, at daggers drawn. The longer established (open daily 10:00-00:00) is the white one at Szeroka 18: decent food, drink and ambience, but you're paying for the setting and live music. Then along came his brother and set up the creamy-yellow one of the same name, right next door at number 16. No reports available on this one.

address: ul. Bocheńska 7

Steaks, burgers, fish and a good wine list.
Drink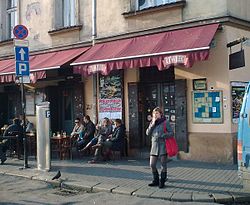 Two biggest clusters of drinking establishments are pl. Nowy and ul. Józefa, after opening of the footbridge to
Podgórze
ul. Mostowa is gaining momentum.
Cafes
phone: +48 12 430 62 02

address: pl. Wolnica 7

Great vegetarian food and a cozy bar, very good and one of the few veggie places to serve alcohol in a bar setting.

address: ul. Józefa 36

Traditional Jewish place. They have Israeli coffee and a Judaica library.
Bars
address: ul. Miodowa 28

"Kazimierz style" bar which looks like old flat. They serve unique drinks with absinthe.

address: plac Nowy

Very popular, they defined the "Kazimierz style" years ago which is so unmistakable that videoclips are being shot there. There are sometimes concerts or film screenings in the underground room.

phone: +48 515 010 565

address: ul. Świętego Wawrzyńca 22

An brewpub with an excellent selection of Polish craft beers.

Eszeweria

address: ul. Józefa 9

Old pub with a nice small garden in the back.

address: ul. Meiselsa 18

Located in the old house of prayer this place exactly presents "Kazimierz style".

address: ul. Józefa 17

Another example of Kazimierz style. A bar with concerts and film screenings perfect for an evening drink or an afternoon coffee.

address: ul. Miodowa 22

A bar with Cuban atmosphere, refreshing beer - juice cocktails, Hemingway's favourite drinks and some light snacks.

address: plac Nowy

A huge selection of drinks with a great atmosphere.

address: ul. Meiselsa 20

Typical Kazimierz place with chairs and tables found on the attic. Very nice courtyard beer garden in summer.

address: ul. Mostowa 8

address: ul. Kupa 3

Disregard the mafia theme, what matters is 13 types of beer on tap and dozens more in bottles! Hard to find a place in the evenings.

address: ul. Miodowa 20

A tongue-in-cheek preservation of Warsaw Pact-era ambiance, posters, and drinks.

address: ul. Szeroka 2

The best cocktails in Kazimierz, bar is located above Hamsa restaurant.

address: ul. Estery 20

The tables are actual sewing machine tables, one of the oldest bars in Kazimierz.

Stajnia

address: ul. Meiselsa

A whiff of gone times inside, a lively beergarden outside, and a lot of slacking students

address: ul. Wawrzyńca 12

Former tram depot, later go-kart track where Polish F1 driver Robert Kubica trained as a kid. Now a huge bierhalle with a restaurant with own minibrewery. Several types of beer and whisky and sport events transmitted on few big screens.

Ursa Maior

address: Plac Wolnica 10

Pub which offers craft beers from Ursa Maior brewery in Bieszczady mountains.
Clubs
This list includes places with designated dancefloors (dancing between tables in bars happens as well though).
address: ul. Gazowa 21

The biggest and most well-known gay club in Kraków, opening up to straights too these days.

address: ul. Bożego Ciała 9

Third installment of probably the most legendary bar/club in the city, opened at the end of 2012 after moving from Old Town.
Sleep
Budget
Mid-range
phone: +48 12 424 01 00

address: ul. Miodowa 11

Friendly convenient place, good value for money.
Splurge
phone: +48 12 384 00 00

address: ul. Szeroka 12

Comfy hotel of character in heart of Jewish quarter.

phone: +48 12 429 11 88

address: ul. Szeroka 20

Great little hotel in Jewish quarter, with good restaurant.