Krka National Park
Krka National Park
is one of the
Croatia
national parks, named after the river Krka that runs through it.
Understand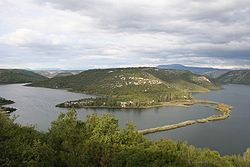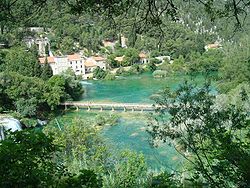 The park is located along the middle-lower course of the Krka River in central
Dalmatia
, in Šibenik-Knin county, downstream Miljevci area, and just a few kilometers northeast of the city of
Šibenik
. It was formed to protect the Krka River and is intended primarily for scientific, cultural, educational, recreational, and tourism activities.
History
Krka National Park is the seventh national park in Croatia and was proclaimed a national park in 1985.
Landscape
Flora
The Krka National Park belongs to the Southern European (Mediterranean and sub-Mediterranean) region. Due to its special position and the mosaic distribution of various types of habitats, it is characterized by exceptionally rich and varied flora and fauna.
860 species and subspecies of plants have been identified within the Krka National Park, including several endemic Illyrian-Adriatic species.
Fauna
Eighteen species of fish inhabit the Krka River, among which ten are endemic, making the Krka a natural landmark of the highest category. Brown trout and Dalmatian Barbelgudgeon are a couple of fish that can be found in the ecosystem.
Patches of reeds, lakes formed along part of the river and swamped meadows abound in amphibians and birds, while thickets and stone quarries are home to reptiles.
The abundance of various species of birds (222), the structure of the bird communities and the great significance of the Krka for spring and autumn migrations make it among the ornithologically most valuable regions of Europe. There are numerous carnivorous birds in the area, notable ones are: Osprey, Short-toed Eagle, Golden Eagle, Bonelli's Eagle, Lanner Falcon and the Peregrine Falcon. Other birds of interest are Eurasian Eagle-owl, European Bee-eater and Griffon Vulture.
Among the mammals, there are 18 species of bats, which are generally endangered or near extinction in the rest of Europe, Long-fingered Bat, the Daubenton's Bat, and the threatened European Otter.
Climate
The climate of Krka national Park consists of warm to hot summers, and mild to cool winters. The climate is quite variable with the hottest month being July and the coldest being January. Spring and autumn are quite mild.
Get in
By bus
SkradinPerhaps that's a better option than Lozovac as Skradin is a nice-looking town and a trip to the park will include a short journey by a ferry.

LozovacOut of season there is no public transportation from Lozovac down to the park's waterfalls.
By car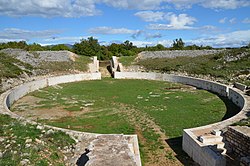 LozovacThe main entrance for tourist groups and individuals traveling by car. In season the park provides a shuttle service from there down to the waterfalls at Skradinski buk. Out of season cars are allowed to descend down up to the parking lot near the Skradinski buk.

Roški slapFor a waterfall and tripper boats to Krka monastery, and fortresses of Trošenj and Nečven.

BurnumFor the archeological site of Burnum.

KistanjeFor Krka Monastery and tripper boats to Roški slap waterfall and fortresses of Trošenj and Nečven.
Fees and permits
address: Šibenska ulica, Skradin
Get around
On foot
The core of the park,
Skradinski buk
in particular, is easy to be explored on foot.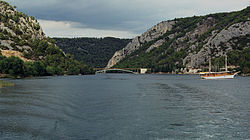 By boat
Skradin ferryPark's ferries run between town of Skradin and the pier at the . The boats run every hour from 08:00 (09:00 late autumn or early spring) till 18:00 in summer (finishing earlier other times). Returns are scheduled at 30 min past every hour. The last departure from Skradinski buk is 1.5 hour later than the last boat from Skradin.

Tripper boats to Visovac, Roški slap, Krka monastery and the Trošenj fortress (see #Boat trips).
Boats Stinice - Visovac - Remetić (see #Boat trips).
By bus
Shuttle bus between Lozovac entrance (see above) and Skradinski buk (see below).
See
Skradinski bukConsidered the major attraction of the park. It is a pleasant cascade of lakes and waterfalls which is close to the both main entrances.

VisovacIt's a beautiful island with a Franciscan monastery on it. The monastery is a place of pilgrimage.

Burnum archaeological siteRemains of Roman amphitheatre and some other excavations.

Burnum - Manojlovac waterfalls
Do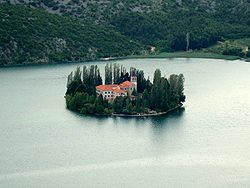 SwimIn the lower lake at the Skradinski buk. Despite being a designated swimming area, it doesn't have any special facilities, such as changing booths, and the access to the water isn't quite safe. Otherwise, that's a wonderful experience. Swimming only is allowed at this designated place. Swimming is not allowed between 1 October and 31 May. This is only posted once you get to the ticket booth, where they claim it's due to high water, and advise to leave swimming gear and towels in the car. However, once you get down to where the swimming takes place, you can actually still go swimming, even though it's forbidden. Staff do not care.

Hike the trails
Cycle the cycling trails, but bear in mind that cycling is not permitted on the walking trails
Boat trips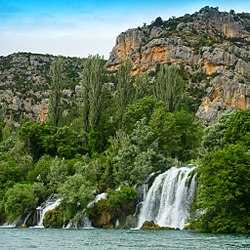 Apr-Oct only:
Skradinski buk – Visovac island2 hours, including 1/2 hour at Visovac

Skradinski buk – Visovac island – Roški slap4 hours, including 1/2 hour at Visovac, 1 hour sightseeing of Roški slap

Stinice – Visovac35 min, Visovac (30 min)

Remetić– Visovac35 min, Visovac (30 min)

Roški slap - Krka monastery - Trošenj - Nečven2.5 hours, Krka monastery (30 min) and view from the boat of Trošenj and Nečven fortresses.
Buy
Souvenir shops at the both sides of Skradinski buk and at the entrance at Lozovac.

Eat
Buffet KalikušaThe location is very touristy. Quality of food and service is rather moderate, but the setting is magnificent: at the site of an old mill next to a small waterfall which used to feed the mill.

Buffet Stari mlin
Drink
There is no nightlife in the park.

Sleep
There is no accommodation inside the park, but there are plenty of options for accommodation in the town of Skradin and village of Lozovac, and there is also a hotel close to the Roški slap.

Stay safe
It's prohibited to wander and swim in the river outside the clearly designated area. Casual swimming is dangerous and also destroys fragile travertine (calcium carbonate) structures along the river, its waterfalls and rapids.

Go next
And nearby towns: