Kruger National Park
The
Kruger National Park
(KNP) lies in the north-east of
South Africa
and runs along the border of
Mozambique
in the east,
Zimbabwe
in the north, and the southern border is the Crocodile River. The park covers 20,000 km² and is divided in 14 different ecozones, each supporting different wildlife. It is one of the main attractions of
South Africa
and it is considered the flagship of South African National Parks (SANParks).
Understand
History
The park was established in 1898 with the help and blessing of the Zuid-Afrikaansche Republic's president Paul Kruger as a protected area for wildlife and it first opened its gates to the general public in 1927.
The park is run by SANParks and is probably the best managed
African National Park
. Wildlife conservation, education and tourism are the main objectives of the KNP. Effective measures to prevent poaching are in place and as a result of this cars are generally inspected upon entering and leaving the park.
The Kruger National Park has now been combined with the Limpopo National Park in
Mozambique
and the Gonarezhou National Park, Manjinji Pan Sanctuary and Malipati Safari Area in
Zimbabwe
were merged into a new transfrontier park, called
the Great Limpopo Transfrontier Park
, although border restrictions at crossings still apply, and border posts are not open all day.
Landscape
Flora and fauna
The southern part of the park along the Sabie and Crocodile river is rich in water and has a lot of game viewing opportunities. Here you can see the best of
African flora and fauna
such as lion, leopard, elephant, rhino and buffalo, often referred to as the
big five
, but there are plenty of others to see as well. Driving around the Sabie River will always result in seeing some interesting animals. The vegetation around the Sabie River can be very dense forest and thicket and it gets a little bit more open driving down south to the Crocodile River. The northern part of the park supports less flora and fauna and is often referred to as the birding paradise.
If you choose to self-drive, and aren't experienced in African animal tracking, you will still inevitably see elephant and buffalo, and a big variety of antelope. Impala are ubiquitous. Rhino are less common, but big enough to be seen by the untrained eye. Leopard are commonly seen by the experts, but are camouflaged and in trees, so to present a challenge to the untrained. Everything else is down to your luck of the day.
If you have limited time, and want to
do Kruger
, go in the dry season, stay at a camp like Olifants, and confine yourself to the south of the park along the southern rivers.
Climate
South Africa is located south of the equator and has therefore a reverse order of summer and winter than Europe and North America.
Generally the KNP boasts a dry and hot area, regardless of summer or winter. The South African summer (September -April) in the KNP is hot and sunny with occasional showers and temperature in the shadows range from 18-30°C. The winter (May–August) is warm and dry with temperatures ranging from 8-22°C. September–April: Hot and sunny with sporadic thunder showers. Average temperature 18-30°C.
Get in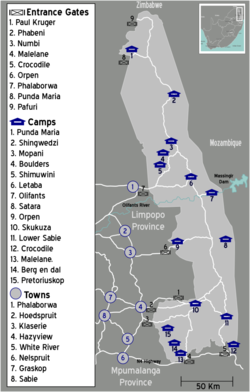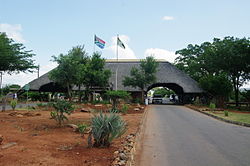 By car
From
Mbombela
you will have to choose to which park gate you want to go. Nearest gates are: Malelane (south east), Numbi (south west) and Kruger Gate (south west, slightly north of the Numbi gate). The N4 is a toll road and you have to pay for its use. Depending on which gate you want to reach, add one or two hours from Mbombela to find out how long your journey will be. The KNP gates are closed after sunset and visitors are not permitted to drive at night in the park.
The distance from
Johannesburg
to the 9 different gates of the KNP are approximately:
Numbi Gate: 411 km
Malelane Gate: 428 km
Phabeni Gate: 430-440 km
Crocodile Bridge Gate: 475 km
Paul Kruger Gate: 460-470 km
Orpen Gate: 490 km
Phalaborwa Gate: 490 km
Punda Maria Gate: 550 km
Parfuri Gate: 600 km
Driving in darkness is considered to be dangerous outside the park especially if you are not used to driving in Africa. Pedestrians walk along the roads as well as local taxi/minibus services and both of them are difficult to spot at night. The area of the Numbi Gate had a number of incidents involving barriers on roads and South Africans blame the proximity to
Mozambique
for this.
By plane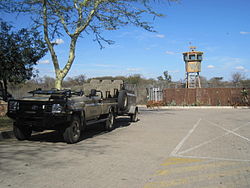 There are three airports with commercial scheduled flights near Kruger National Park. From south to north, they are Kruger Mpumalanga at Mbombela, Hoedspruit Airport, and Phalaborwa Airport.
Kruger Mpumalanga International Airport (MQP) at Mbombela receives flights from Johannesburg International Airport, Durban, Cape Town and Vilanculos. It is the largest airport, with the most facilities and also is visited by some discount airlines. Fares to here from Johannesburg can be half the price of the other Kruger airports. Car rental is possible via: Budget, Hertz, Europcar, Imperial Car Rental and National. If you are staying at one of the northern camps, this airport can be 4 or more hours from your entrance gate.
Distances to KNP gates are
*Kruger Gate 82 km
*Malelane Gate 63 km
*Numbi Gate 40 km
*Phabeni Gate 76 km
Eastgate Airport at Hoedspruit has a couple of flights a day to Johannesburg with South African Airways only. Avis has a car rental desk there. There is a bar and small shop selling chocolate bars, as well as a souvenir shop, but no serious cafe to speak of. It is listed on the SAA website as Hoedspruit airport, however the airport isn't signposted from Hoedspruit, and to get there you have to go through a gate onto a private reserve. If you are flying out of here, make sure where you are going. Hoedspruit has another grass landing strip near the centre of town. This airport has no scheduled flights.
Phalaborwa Airport is located 2 km from the Phalaborwa Gate of the KNP and serves as an entry route for the northern camps such as Letaba, Olifants, Punda Maria and Shingwedzi. The airport is well connected to Johannesburg's OR Tambo International Airport with two flights per day during the week and a single flight on Saturday and Sunday. The airport has car rental services. Again, there is only a single carrier operating.
Malelane Regional Airport near the Malelane Gate is only used for private and charter flights.
Fees
The KNP is
not
open all day and night. Entry gate and camp gate opening and closing times are strictly enforced, and are as follows:
November–January - open 04:30 (camp gate) and 05:30 (entry gate), close 18:30
February - open 05:30, close 18:30
March- open 05:30, close 18:00
April - open 06:00, close 18:00
May–July - open 06:00, close 17:30
August/September - open 06:00, close 18:00
October - open 05:30, close 18:00
November–January - open 04:30 (camp) and 05:30 (entry, close 18:30)
If you are late on returning to the camp or found driving around at night,
you will be fined very heavily
. So make sure to be out or back in the camp before closing time!
Fees apply to access the park. If you are not a resident of South Africa, you can choose to either pay daily conservation fees or buy an international visitors wildcard (valid for entry to all SANParks parks). The break even point is about 4-days conservation fees equal to a wildcard. You can purchase a wildcard or pay conservation fees when you are booking your accommodation, or you pay on admission (if you are not staying in the park) or at your camp. If you are visiting other parts of South Africa, you may want to consider the discounts available for Table Mountain and other parks before making your calculation.
When you enter the park you will be given an admission permit. It is very important to retain this, as you have to present it on the way out of the park to be permitted to exit.
Conservation fees valid to 31 October 2019:
South African citizens and residents (with ID): R93 per adult, R47 per child, per day
SADC nationals (with passport): R186 per adult, R93 per child, per day
Foreign visitors: R372 per adult, R186 per child, per day
Get around
By car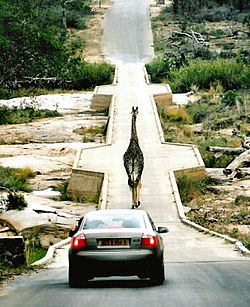 The infrastructure of the park is outstanding by African standards and roads inside the park are of very good quality and potholes on the main roads are rare. Smaller sidetracks are close to the original landscape, but manageable with a normal car, although a 4x4 offers probably a better comfort on this type of terrain. KNP roads have speed limits, ranging from 20 to 50 km/h and it is not wise to go much faster, because game tend to cross the roads out of nowhere.
Make sure you have an up-to-date map, enough to eat and drink, cameras and binoculars, reference books and a litter bag with you, a litter bag is normally issued by the park's staff when you enter the park, but feel free to ask at camps and picnic spots.
Take care when approaching animals
. They are wild and unpredictable. If you have the feeling that animals get angry, leave! Elephant and rhino can be very dangerous to you and your car!
It is custom to share information about animal sightings with other park visitors. This happens casually and information is exchanged when two cars from the opposite direction meet and stop for a short chit-chat, there are also sightings boards at all the camps, showing where recent sightings were made.
Avis
is the only car rental company with an office inside the park at Skukuza Camp, but other companies from Mbombela and at the two above mentioned airports are happy to provide you with a car as well. You may want to consider an air-conditioned car in the hot climate of the KNP.
Petrol stations within the park
do accept payment by most bank cards
.
The maximum speed limit is 50 km/h on tarred roads, 40 km/h on gravel roads and 20 km/h in rest camps, and is generally obeyed. However lower speeds afford greater safety and better sightings. It takes roughly 10 hours to cross the KNP in south - north direction. Distances between camps sites are on average 1-2 hours in the south and a little bit more in the north. Consider the distances between camps when planning your trip and remember that you are not allowed to leave your car once you left a camp site. Toilets are present at all the camps and picnic areas, but not at the hides. A road can be blocked by buffalo or elephant crossing, adding 20 minutes unexpected journey time to your trip. Leave some slack in your travel time calculations to enjoy the scenery.
By foot
It is possible to go on guided walking tours, which you can arrange through the camp reception, or in advance with SANParks. However, the rangers in Kruger National Park have a policy of not surprising animals, which means you are going to be walking briskly through bushland with a couple of armed guides ahead of you, rather than stealthily moving through the bush to get a glimpse of an animal that hasn't seen you. The reality of this is that most animals will well have truly gone from the area before you get there, and the chances of wildlife spotting are dramatically reduced over what you might see by game vehicle or by car. Still, you might be lucky.
Unauthorised walking is not allowed and also extremely foolish.
See
Crocodile River view point is nearby the Crocodile Camp travelling north on the main road direction Lower Sabie and then following the sign to the Crocodile River view point on a dirt track for a couple of kilometers. As a reward you can get out of your car and go with a park guide down to the river to watch hippos and crocodiles from a few meters distance.
Masorini is a restored Iron Age village about 10 km from the Phalaborwa gate. It is probably the most accessible of the remnants of stone and Iron Age life within the park. There is a picnic area and toilets near the bottom of the hill. You need to be accompanied by the guide to tour the village itself. The huts are reconstructed and show the process the civilisation went through to forge iron. These people were not just forging iron for spears and hunting, they had an entire economy based on selling and trading the iron they forged. Brochures say the guided tours are free, and leave at scheduled time. The reality seems to be that tips are required to the attendant who runs the tours, and if you are interested in taking the tour then the attendant will guide you.
Do
Wildlife experiences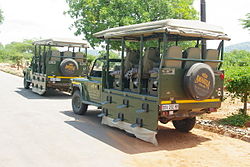 The basic way to see the wildlife is to tour the park by car during the daylight hours when the park is open. This is a very effective way of seeing wildlife, even for first timers. There are many other wildlife experiences on offer.
Bush drives First time visitors may want to consider to book a guided tour through the KNP with local park guides. Bush drives are available from Berg-en-Dal, Letaba and Skukuza camps and some other camps, and cost R280-390 per adult (50% less for children) (Aug 2017). Experienced rangers will take you in a 4x4 car to the KNP and explain to you and your party the finer details of game spotting.
Night drives Discovering the KNP on your own is a great adventure, but there are a few things that you can not do without a ranger. One of them is to have a night drive through the park to see nocturnal creatures such as lions, leopards and hyenas. Tours take a couple of hours and leave usually shortly before the main gates close at night.
Wilderness trail Discovering African flora and fauna on foot is an unforgettable lifetime experience and only few places in Africa offer such tours. You can join a group of up to 8 mates and 2 rangers on a hiking tour that lasts for 3 days and you learn a lot of things about South African wildlife. There is no way that you could see animals closer than on this tour. Imagine seeing lion, elephant or rhino only a few meters from you. This is a breathtaking experience. Trails follow circular routes and you return each evening to the safety of your camp where dinner awaits. The duration of the trails is three nights and two days, either from Sunday to Wednesday, or from Wednesday to Saturday. Hikers meet at the designated rest camp at 15:30 on Sundays or Wednesdays from where they leave by vehicle for their trail camp after a short briefing.
Bushman trail Berg-en-Dal camp offers the Bushman trail around the Berg-en-Dal camp which is surrounded by granite rocks. Expect to see elephant, white rhino and buffalo.
Metsimetsi trail Is best enjoyed during the South African winter, check in at Skukuza camp and you will travel north to the N'waswitsontso river nearby the Satara camp.
Napi trail Check in at Pretoriuskop to enjoy the Napi trail and you may see white rhino, elephant, lion, leopard, cheetah and in the past you saw wild dog which are rare nowadays.
Nyalaland trail Check in Punda Maria camp in the north of the KNP to spot crocodile, elephant and hippo as well as bird watching is going to be on your agenda. Buffalo also frequent the area. Birdlife is prolific.
Olifants Trail Check in at Letaba Camp. The trail crosses the Olifants River as well as the Letaba River which supports a variety of wildlife, including large predators, elephant and buffalo. Also listen out for the call of the African fish eagle.
Sweni Trail Check in at Satara Camp. The Sweni area is popular, in that, there is a high density of both predator and prey, and a trail experience here give hikers the opportunity to observe lion and even cheetah.
Wolhuter Trail In the southern part of the park (white rhino country), between the Berg-en-Dal and Pretoriuskop.

Olifants River Back Pack Trail42 km, 4 days, from Olifants to Letaba, no frills, no trace camping, no camps provided, sleep in your own tent out in the park with the wildlife.

Landrover Lebombo Eco-Trail
The 3 brand new 'Transfrontier Trails do Limpopo'
The Shingwedzi 4x4 Eco-Trail
The Machampane Wilderness Trail
The Massingir Hiking Trail
Other than wildlife
Play golf at the 9-hole golf course in Skukuza, designed for the local personnel it has been opened to the public. Please bring your own golf clubs with you and enjoy this very special golf course. Considering the average temperature in the KNP this is one of the toughest 9-hole golf courses in the world.
Buy
Bigger camp sites such as Lower Sabie and Skukuza have comfortable shopping facilities and you can buy drinks, foodstuffs, souvenirs, as well as some other travel items you may have forgotten. The range is more limited at the smaller or more remote camps. It is easy for them to run out of particular items, so you have to make do with what is available. Fresh milk particularly can be in short supply.
Artistic wood carvings can be bought as well and is usually of reasonable quality and cheaper than in Johannesburg and
Cape Town
. Carvings can be found in and around the gates to the Kruger National Park as well.
Animal skins and rugs are available as well.
Eat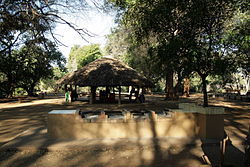 For self-catering, there are designated picnic areas in the camps, as well as some picnic areas away from the camps (with an armed attendant). The picnic areas have barbecue (braai) facilities, tables and hot water.
The camp shops sell food to barbecue and drinks at quite reasonable prices, as well as firewood. They only sell take-away alcohol to those who have proof they are staying over in the park.
Many of the camps have cafeterias and restaurants, but don't plan on any variety between the camps. The menu is the same at each camp, with a range of only 10 or so dishes. Most visitors familiar with the park are self-catering in their lodges or at the picnic areas.
Lodges in the private areas of the park and outside the park will cater food, often arranged in well-sheltered outdoor restaurants with open fireplace, and barbecue South African specialties such as:
wart hog sausage
springbok tenderloin
ostrich steak
biltong (dried meat) made of game, like kudu, impala or zebra.
Drink

Alcohol may not be brought into the park. Take away alcohol cannot be bought from the park shops, unless you are staying over in the park. The camp restaurants and bars sell beer, wine and spirits.
The bars in camp are visited in the evening by guests recalling tales of wildlife seen during the day. Generally people aren't visiting Kruger for the nightlife, but are more likely to spend the early evening with a braai, and retiring to bed for an early start the following day.
Sleep
Camps inside the KNP
Several camps inside the KNP provide accommodation and shelter to visitors and are the only places inside the park where you may leave your car safely. The level of service depends on the camp size and can range from a tent site with a picnic area and bathroom facilities to a small town with swimming pool, library, restaurant, cafeteria, filling station, supermarket and golf course. Most accept payment by credit card. Travel from one site to another takes on average 2 hours, whereas distances in the south are shorter and northern camps can be a little bit further apart.
The SANParks website allows bookings online for all parks, with instant confirmation and availability checks. You will need to register before you commence your booking, and the registration process can take around half an hour to be confirmed before you can commence booking. The SANParks site is not the first site returned by most search engines when searching for accommodation in Kruger, but it is the only site where you can book accommodation directly. All other sites will only take "provisional bookings", and are just agencies.
Getting a response from email sent to the reservations email address seems next to impossible. There are options to book activities (such as drives) online when booking accommodation, but your accommodation is booked the website does allow you to add or incorporate additional activities with your reservation. However, you can book them on arrival in camp (subject to availability) or in advance by phone.
Main camps
Berg en Dal, +27 13 735-6106, - a medium sized camp located on the banks of Matjulu-Dam. Visitors of the camp can rest in the local cafeteria or prepare food in the communal kitchen, buy fuel in the petrol station, have a picnic, use public telephones, enjoy a good dinner in the restaurant and cool down in the swimming pool. The camp offers accommodation ranging from tent sites with power points to caravan sites, three bed bungalows and bigger facilities such as 6 and 8 bed houses. Activities from this camp include the Bushman and Wolhuter Wilderness Trails (see also Do section), morning drive, night drive and the Rhino trail camp walk.
Crocodile Bridge, +27 13 735-6012 - The third smallest camp of KNP and located close to Crocodile River, Crocodile Bridge is in the southernmost part of KNP and is a camp as well as an entry gate. The proximity to the SA civilisation one stone throw apart from the camp means that there is no wilderness romantic, but it serves you well if you are a late comer and the KNP gates are about to close. Facilities include a small shop and laundry service. There is a great amount of game around this camp / gate, consider yourself very unlucky if you do not spot any lion in this area. Lions are also known to be "hanging" out in trees in this area, the only place in KNP where this can be seen.
Letaba, +27 13 735-6636 - One of the more beautiful camps, Letaba is in the central section of KNP next to the Letaba River in the middle of elephant country. Accommodation ranges from tents to huts catering 2-4 persons per accommodation. The camp is known for its elephant sightings and has a permanent exhibition about the elephant life cycle. Camp facilities include: cafeteria, fence perimeter, guided game drives, laundry, restaurant and a swimming pool.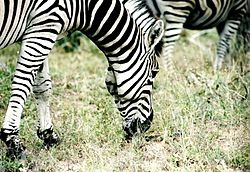 Lower Sabie, +27 13 735-6056 - The most luxurious camp, renovated after it was destroyed by fire a few years back. Lower Sabie is in the south east of KNP on the banks of the Sabie River, and offers superb game viewing. Therefore it is one of the most wanted camps by the locals. You can often spot white rhino, lion, cheetah, elephant and buffalo around the camp, because these animals come down to the river daily to drink. Accommodation is superb in Lower Sabie, there are campsites available with ample shade, as well as some of the best safari tents in Kruger as well as equipped huts and chalets.
Mopani, +27 13 735-6535 - The newest and most comfortable rest camp in the KNP. Mopani has been built next to a dam that attracts a lot of wildlife into the monotone northern mopani-dominated shrub veld vegetation. Wildlife spotting from the camp is superb and you would have to drive for hours to see more game from your car than in this camp. Enjoy a splash in the swimming pool after a game drive and be prepared for dinner in the local restaurant which is far better than in other camps as it offers dinner à la carte. Accommodation in this camp offers fully equipped kitchens and accommodates up to 6 persons in a chalet.
Olifants, +27 13 735-6606 - Probably the best known camp among South African tourists. Olifants is in the centre of the KNP on top of a hill overlooking the Olifants River. You can see Africa unfold from your terrace as Olifants Camp has the best settings from all camps. You can see kudu, elephant, lion and giraffe from your room when they come to the Olifants River to bath and drink. A must visit for astrology enthusiasts, with amazing star gazing, this is the only Kruger camp that offers drives at night focusing on stars instead of game viewing.
Orpen, +27 13 735-6355 - the smallest camp in the park, situated at Orpen Gate. Orpen offers basic accommodation for 2-3 persons in a hut without bathroom. Consider to stay there if it is too late to reach another camp before darkness.
Pretoriuskop, +27 13 735-5128 - A large and luxurious rest camp close to the Numbi Gate located in the southwest of KNP. The landscape consists of rocky mountain and steep ridges supporting klipspringer, reedbuck, rhino, giraffe and wild dog in the surrounding shrubs. Accommodations are traditionally thatched rondawels for up to three visitors without bathroom. Other camp facilities include a swimming pool, laundry, shop, filling station, restaurant and cafeteria.
Punda Maria, +27 13 735-6873 - the most northerly camp, also the second smallest of KNP. Punda Maria camp sits on top of a hill and whitewashed thatches are arranged in terraces. The camp offers a rich flora and famous for its huge variety in birds. The camp facilities include a restaurant.
Satara, +27 13 735-6306 - A bushveld camp that is situated centrally in the park, surrounded by hot plains that offer good grazing opportunities and attracts a lot of game and predators. It is the second biggest camp in the KNP and offers various accommodation, restaurant, cafeteria and laundry facilities. This also big cat country, so expect busy roads and crowded sightings during South African holidays.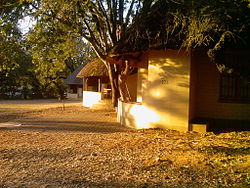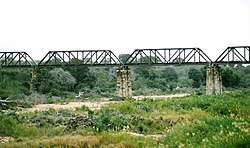 Shingwedzi, +27 13 735-6806 - a nice quiet camp in the far north of the park. Shingwedzi lies in the middle of the mopani shrub veld and benefits from the proximity of the Shingwedzi River and the Kanniedood Dam which attract most of the game in this area. The camp facilities include accommodation, park shop, restaurant, swimming pool, cafeteria and laundry. Nyala country!
Skukuza, +27 13 735-4152 - Located in the southwest of the KNP and serving as the Headquarters of KNP, Skukuza is located 20 minutes from the Kruger Gate and is the biggest camp inside the KNP. It has more than 140 huts/chalets and some 100 camping sites available. It offers a gas station (pump), library, post office, car rental, grocery store, a-la-carte restaurant, youth hostel, 9 hole golf course (the hottest one in the world) and swimming pool. Skukuza is situated directly on the Sabie River and animals often come here to drink.
Tsendze, The newest camp in the park, opened to visitors in November 2006. Rustic layout offering very basic camp sites in a natural environment. There are no shops nor electricity, and visitors are requested to check in at Mopani. Hot water in the bathrooms are provided by gas geysers with open-roofed showers to gaze at the night sky. No electricity available, also no generators allowed, to keep to the tranquility of the bush.
Satellite camps
Balule - A satellite camp of Satara, Balule is a rustic bush camp with little luxury, but a lot of bush romantic. It is in the centre of the KNP near Olifants Camp where you have to check in and then drive 11 km to get to Balule camp. The camp is on the banks of the Olifants River and it suits you best when you are prepared for self-catering and if a you are happy to share a communal kitchen and bathroom.
Malelane - A satellite camp of Berg-en-Dal, situated near the Malelane entrance gate on the very southern border of the park. A very nice camp with basic chalets and camp sites, but the view of sugar plantations opposite the river is a bit of a spoiler.
Maroela - A satellite of Orpen, the camp is situated on the banks of the Timbavati River. This is the only camp in the park that solely caters for caravans, camper-vans and tents.
Tamboti - A satellite of Orpen, Tamboti is a tented camp situated on the banks of the seasonal Timbavati River where you can see the beasts from your tent coming to the river. Facilities include tented accommodation, communal ablution and communal kitchen without cooking utensils. Some units are accessible for wheelchairs.
Pionier - A tented camp, administered by Letaba.
Bushveld camps
Bush camps provide smaller accommodation varieties than the main camps. They do not have full shops or restaurants in them and only some (Talamati, Biyamiti and Bateleur) will allow you to use electrical equipment like hairdriers.
Bateleur - A camp in the northern area of the park. It has 4 and 6 bed cottages, a mini shop and cottages have basic television facilities.
Biyamiti - In the southern area of the part, this camp has a mixture of 1 and 2 bedroom cottages. It has a mini shop and offers game drives and walks.
Shimuwini - This camp is in the middle of the park. Its name means "Place of the Baobab" and is situated along the banks of the Letaba River which is lined with these trees.
Sirheni - In the northern areas of the park, this camp is situated near the Sirheni dam.
Talamati - Located in the "lower-middle" area of the park, it offers 2 and 1 bedroom cottages, a mini shop, a bird hide and a game hide.
Bush lodges
Boulders - one of the larger private camps
Roodewal - another small private camp.
Luxury lodges
Outside the KNP
phone: +27 13 790-2503

address: R570, Malelane Gate

Luxury accommodation, from the apartments you have a nice view over the Crocodile River bordering the KNP.

phone: +27 13 790-3304

address: R570, Malelane Gate

Luxury accommodation next to the Malelane gate into the KNP. It is well situated next to the Crocodile River and close to the most attractive game viewing opportunities in the KNP. Its facilities include 9-hole golf course, tennis, swimming pool, restaurant, car park and bar. It has a high viewing deck onto the Crocodile river, from which one can often see hippos, elephant, crocodiles, antelope and other wildlife.

phone: +27 13 735-5671

address: On the Sabie River at the Kruger Gate

Elegant lodge in front of the Kruger gate situated in the banks of the Sabie river offers good access to the most attractive part of the KNP, apartments are designed as tree huts and are connected by raised wood walkways. Facilities of the lodge include play area for kids, swimming pool in scenic area, spacious car park, electric security fence, several bars, pool service an enormous park like garden with some kind of wildlife such as green monkeys, springbok, bush babies and occasional visitors such as a rhino and cheetah have been spotted. Dinnertime is announced with a traditional African drum and it sound like "tam-tam" and a fabulous display of exquisite South African food is then waiting for you. You have the choice between a big salad buffet supplemented by barbecued meat. The service is generally very good and staff is very friendly and charming, nevertheless sometime slow by hectic European/American standards and order can be delivered by piecemeal, first the scones, 15 minutes later the coffee, 20 minutes later the bill, 20 minutes later collecting the money for the bill, 30 minutes later bringing the change.

Mvuradona Game Lodge

phone: +27 83 326-2835

Nestled on the Crocodile River and only a few minutes from either Malelane and Crocodile Bridge Gate. The Lodge has its own population of giraffe, zebra, lion and other animals. Transfers from the surrounding airports and game drives can be arranged. They four-star lodge offers breakfast, lunch and dinner. All rooms are equipped with satellite TV and MNet and coffee/tea facilities.

phone: +27 84 565-5916

address: Korhaanlaan 2907, Marloth Park

Located in Marloth Park Conservancy Area, which borders Kruger National Park to the South, this wildlife lodge offers luxury four-star self-catering accommodation for up to ten guests . Marloth Park is home to a wide variety of African wildlife, including a range of bird species and many different small animals, ranging from Zebra and Warthog, to Giraffe and Kudu. Animals roam free within the park, and come right up to the lodge's veranda. The Krokodilbrug Kruger National Park gate is less than half an hour's drive from Marloth Park.
Many people also prefer to sleep at nearby towns, such as Komatipoort (8 km from the Crocodile Bridge Gate), Mbombela (for Numbi Gate), Malelane (for Numbi Gate), Sabie and Hazyview (for the Phabeni Gate) and Hoedspruit (for the Orpen gate). All of these have a wealth of accommodation of every standards, are easily accessible for the Park for self-drive guests and tours in can be arranged via private tour operators.

phone: +27 82 563-3323

address: Maroelalaan, Balule Nature Reserve

Ideally situated in the 40,000 hectares Balule Nature Reserve, part of the Greater Kruger National Park. A bush lover's paradise within this 'Big Five' Conservation area, the lodge is surrounded by Fever trees and evergreen African date palms creating the perfect oasis. The lodge overlooks the water hole, is safe and fenced-in, providing protection against unwanted animal intruders. Masodini is exclusive and intimate, able to provide guests exclusive use of the camp and facilities for up to 12 guests. Ideal for honeymooners, singles or families with children of all ages. Awesome game walks, Game drives in open 4x4 Game drive vehicles and wonderful birding opportunities in and around Masodini with friendly and experienced Nature Guides. There are many places to visit using Masodini as a base, such as the Kruger National Park, Khamai Reptile Park, Moholoholo Rehabilitation Centre, the Cheetah Project, the Panorama Route, local villages and so on.
Private game reserves and lodges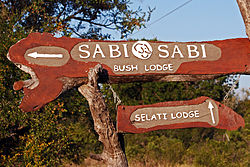 Mainly located in the northeast of the
Mpumalanga
Province and often sharing a border with the south-western part of the KNP. Most fences between the KNP and private game parks have been dismantled and animals can freely move about.
phone: +27 11 431-1120

Idube is a quiet treat nestled in the savanna and is arguably one of the best places in Africa to see the big five up close in the wild. Idube is a 20-bed boutique hotel offering luxury accommodation, tasty African cuisine and the best of South African hospitality.

phone: +27 11 886-4382

Mala Mala is famous for easily spotting the big five and has been operated for nearly 40 years. It is often the relaxing place for celebs and industry tycoons who can afford the hefty price tag that comes with superb service. Mala Mala is split into three different sites, all of which are booked through the above contact details.
Main Camp is a luxurious place in the middle of Mpumalanga with elegant rooms. Each room has two bathrooms, a telephone and things you would expect in an upper class hotel, but not in the middle of the bush. Other parts of the hotel demonstrate its history as a hunting camp as was the fashion some time ago by presenting animal skins, heads and massive elephant tusks.
Harry's Camp is the budget version of Mala Mala and shares the same wildlife experience as the main camp for less money. Facilities include bar, swimming pool and of course a private air-strip.
Kirkman's Camp is an ex-cattle farm in a colonial style house near the sand river. Decoration reminds the visitor of past times and the reception looks like an exposition of old weapons, animal skins and other hunting trophies. Facilities include swimming pool, bar and private airstrip.
phone: +27 11 483-3939

Sabi Sabi is among the most famous and pricey game lodges around the KNP. Together with Mala Mala they pioneered private game reserves and this is partly because of their much favoured location near the Sand River as a source of permanent water. Game viewing is absolutely superb and you stand good chances of seeing many highlights. Bookings for the different lodges should be made through the above contact details.
Selati Lodge is a charming place decorated in colonial style from the nineteenth century and has therefore no electricity and receives a maximum of 16 guests in 8 rooms and has bar and pool facilities.
Bush Lodge is located close to a water hole and some of the rooms overlook it. The lodge is tastefully decorated with African art and accommodates 54 guests in chalets and 5 suits. Facilities include bar and pool.
phone: +27 15 793-9051

address: Timbavati Private Game Reserve

luxury tented guestrooms and thatched chalets equipped with private game viewing deck, coffee and tea area and toiletries. Some of its facilities and services are splash pool, lounge and viewing deck.
phone: +27 21 683-3424

Constantly wins awards for Best Hotel and Safari.
Ebony Lodge
Boulders Lodge
Lebombo Lodge
Sweni Lodge
Castleton Camp
Stay safe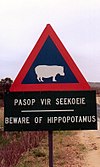 Respecting speed limits inside the KNP is mandatory. Big game crosses the roads in the park without any warning and an upset elephant is not easy to deal with - the same applies for rhinos and giraffe bulls. Speed limits are 50km/h on tarred roads and 40km/h on gravel roads.
You must not get out of your car inside the Kruger National Park unless you reach a designated place like viewpoints or between the yellow lines on high water bridges. These are camps, picnic spots and designated view points.
You are not allowed to drive at dark through the park (the gates normally close and open in daylight). Please be careful when driving outside the park at night, especially in rural areas.
Firearms must be declared and sealed at the entrance gate.
No pets of any kind are permitted in the KNP
Do not feed animals for you own safety as well as for the animal well-being.
KNP and surrounding areas in the eastern part of the country are in a seasonal malaria zone. Consult a physician regarding appropriate precautions given the time of year you will be travelling. The most important defenses against malaria are: using DEET-based mosquito repellent; covering your skin, especially around dusk; and using mosquito nets while sleeping. South African pharmacies also offer a range of malaria tablets, which you can take a few days prior to arrival in a malaria zone and that are by far cheaper than in other parts of the world.
Go next
Pilgrim's Rest and the Blyde River Canyon are often visited in the same trip as Kruger.
Johannesburg (the biggest city south of the Sahara) and Pretoria in the Gauteng Province are busy cities of banks and government institutions and are 4 hours drive from the park.
Cape Town is one of the largest cities in South Africa and is in the south-west corner of the country near the Cape of Good Hope. Cape Town is a stone's throw from South Africa's world-famous Cape Winelands around Stellenbosch and Paarl.
Durban is primarily a holiday/resort city at the Indian Ocean but also boasts South Africa's busiest container port.
Drakensberg Massive and spectacular mountain range. Peaks exceed 3000 meters above sea level. Climbing, hiking, wilderness trails, mountain biking, fly fishing, and more.
Lesotho -- real Africa right on South Africa's doorstep.
The border crossing into Mozambique within the greater park isn't really practical for overseas visitors. Rental cars are not permitted across the border and there is no transport to or from the border post to speak of. There are no facilities, apart from customs and immigration, at the border post. The customs, immigration and (Mozambique) tourism officials at the crossing are busy doing a range of activities, none of which actually involve processing people across the border.