Kuala Lumpur International Airport
Kuala Lumpur International Airport
(
KUL
; Lapangan Terbang Antarabangsa Kuala Lumpur) is more than 50 km (30 mi) from the Malaysia capital city of Kuala Lumpur.

Understand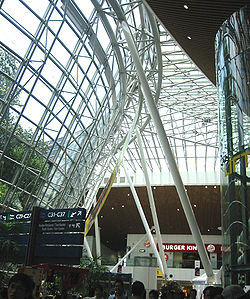 KLIA is the primary airport serving Kuala Lumpur and the surrounding Klang Valley region. Yet, despite its name, KLIA is actually some 50 km south of Kuala Lumpur in the
Sepang
district of
Selangor
.
The airport opened in 1998 and superseded
Sultan Abdul Aziz Shah Airport
in Subang, which is now only used for charter and commercial turboprop flights. KLIA was voted in passenger surveys to have the "World's Best Immigration Service" in the 2013 Skytrax World Airport Awards. Low-cost carriers now use the separate
KLIA2
terminal, which replaced the old, perennially congested LCCT (Low Cost Carrier Terminal, which was 20 km away) in May 2014, and is connected to the main terminal by a free shuttle bus.
Flights
Over 50 airlines call at KLIA and it is the hub for flag carrier
Malaysia Airlines
and the low cost carrier
Air Asia
. Although much larger in the past, financial problems have forced Malaysia Airlines to scale back dramatically on its long-haul operations, the result being that long-haul destinations are now limited to London and Auckland.
Due to the highly competitive prices of these two carriers you will find surprisingly few well-known world carriers serving this airport, although there are carriers from many Islamic countries around the world. An additional reason for the lack of carriers is the relatively close proximity of
Singapore Changi Airport
.
The main terminal has a satellite building ("Satellite Terminal A") containing the C gates, which is connected to the main building by the free Aerotrain. The separate newer terminal ("KLIA2"), confusingly sometimes also called the "satellite building" or "satellite terminal", is only connected landside.
Main terminal (KLIA) – A and B (domestic); C, G, and H (international)
Malaysia Airlines, Malindo Air, and most others
KLIA2 – J and K (domestic); L, P, and Q (international)
Air Asia (and affiliates), Cebu Pacific, Jetstar, Scoot
Ground transportation
KLIA has excellent connections to
Kuala Lumpur
. It's possible to land and get to Sentral Station in the city within 28 minutes with RM55
KLIA Ekspres
. You can then quickly get a taxi to your specific destination in the city.
By train
In Town Check In
When flying with Malaysia Airlines, Emirates, Cathay Pacific or Royal Brunei and taking either an Ekspres or a Transit train to the airport, you can
check in
your baggage at the
Kuala Lumpur City Air Terminal
in KL Sentral. This can also allow you a few extra hours to explore Kuala Lumpur without having to carry your baggage around.
KLIA Trains link the Main Terminal and KLIA2 to KL Sentral, the main transportation hub in Kuala Lumpur. Non-stop KLIA Ekspres trains (RM55 one way) take 28/33 min from KLIA/KLIA2 and run every 20 min or 15 min during peak hours (05:00-09:00 and 16:00-21:00). KLIA Transit trains (also RM55 one way) take 36/38 min and stop at Salak Tinggi, Putrajaya, and Bandar Tasik Selatan en route. Transit and Ekspres tickets are not interchangeable and the trains leave from different parts of both the airport and KL Sentral, so make sure that you do not confuse them. From the airport, the first train (an express) leaves at 05:00; the last (a transit) leaves at 01;:03. From KL Sentral, the first train (a transit) leaves at 04:33; the last (also a transit) is at 01:03. It may not be possible to purchase a ticket late at night, however you can just get on the train and buy the ticket when you arrive at KL Sentral.
The KTM Komuter station Nilai (1h, RM5 from KL) has frequent connecting buses to KLIA operated by Airport Coach and Sepang Omnibus (1.5 hr, RM3.50). This is the cheapest option to the main terminal but takes much longer than the direct train or bus (allow 3 hr for the whole journey).
By bus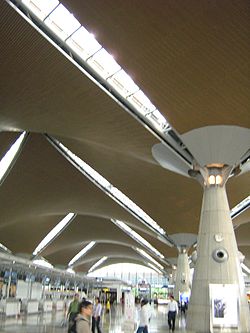 Main Terminal
The is on the ground floor of car park C.
Airport Coach runs an express bus between KL Sentral and KLIA. Every half hour 05:00-23:00 from Sentral, and 05:30-00:30 from KLIA. RM11 one way, or RM18 return. The travel time is approximately 1 hour.
Star Shuttle bus runs from KLIA to Kota Raya and Pudu Raya (both are near the Chinatown), RM12.50 one way.
Sepang Omnibus runs local bus services directly to Seremban in Negeri Sembilan, Banting in Selangor and Sepang town where you can get connecting buses to/from Port Dickson, Negeri Sembilan. The buses may be a little basic and uncomfortable, and do not follow a timetable (at least, not one that is publicly known).
KLIA2
Several bus operators run services to KL and other cities from KLIA2 Level 1,
SkyBus and Aerobus run direct services (RM12, children RM6) every half hour or so to and from KL Sentral. SkyBus can be pre-booked with an AirAsia ticket during the initial flight booking for RM7.20 one way - but beware, that if you miss your flight or change your mind and decide not to travel it, the SkyBus fare, as well as other additional services on that booking, will not be refunded.
Star Shuttle (Tel: +60 3404 38811) has direct buses (RM12) to the Pekeliling Bus Terminal, Chinatown in central KL, Batu 3 (3rd Mile) Jalan Ipoh in Kuala Lumpur and also direct connections to other towns such as Ipoh, Teluk Intan, Bidor and Setiawan. They also serve direct line to several hotels in the city.
By taxi
Taxis at the main terminal operate under a two-tiered system with the choice of
coupon-based
Airport Limo taxis or the
meter-based
standard city taxis. If travelling with a party of 3 or 4 people taking a taxi can be a cost effective option over the airport rail link, but is not as fast.
City taxis depart from level 1 outside the main terminal. Look around for signs saying Teksi Bandar or City Taxi. Before catching a city taxi you must first purchase a RM2 coupon (per taxi) and then join the queue. When entering the taxi you will be given a slip to keep and are charged according to the meter, usually costing around RM55-60 to KL Sentral. Keep hold of the slip in case of any complaints, particularly overcharging, as it can be used to trace the offending taxi driver.
Airport Limo taxis depart from level 3 of the main terminal and operate budget and premier taxi options. Insist on a budget taxi (RM74.30 to Kuala Lumpur), as the misnamed "premier" cars (RM100) are no better in quality. To purchase a coupon heard to the Airport Limo counters just before you exit the international arrivals gate, or outside the domestic arrivals gate.
While touting is no longer a common occurrence at the main terminal keep in mind that you should avoid taxi drivers that hang around the terminal away from the designated areas mentioned above or approach you asking where you want to go. In most cases they will inflate the price and say that other transport options are not available.
Heading
to KLIA
by taxi can be a bit of a challenge at times as drivers are reluctant to use the meter. If you fail to get them to use the meter, make sure you agree on a price before setting off (this should cost no more than RM70-80 in total). Airport Limo operates from Kuala Lumpur to KLIA by bookings only at a rate of RM64.40 for a budget car.
By road
If you have your own wheels, KLIA is well connected to Peninsular Malaysia's expressway network. The airport is directly linked with the North South Expressway Central Link (known by its Malay abbreviation "Elite") about 70km or nearly 1h away from Kuala Lumpur city centre. Exit the expressway at
KLIA
interchange for both the Main Terminal and KLIA2.
Get around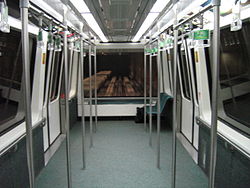 KLIA is a large, expanding airport. If you are only concerned with the main terminal (KLIA 1), then getting around is straightforward, with air-side being split into two buildings, the main building and a secondary building (containing the C gates), connected by the free, fast Aerotrain.
To transfer between KLIA and KLIA2, take the free shuttle bus (every 10 minutes, 24/7), the RM2.50 Airport Liner bus (early morning to late evening), or the RM2 Inter-Terminal Transfer train (more limited hours). The journey takes about 10 minutes by bus or 3 minutes by train. All of these options are landside, so you will have to clear immigration if coming on an international flight. You may find the airport map
here
.
Wait
The main terminal is well designed with facilities for long waits. Alternatively, the centre of
Kuala Lumpur
is very accessible if you have a few hours to spare.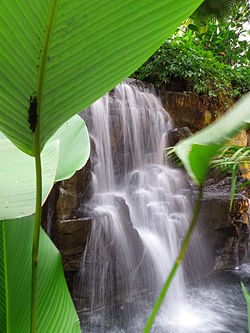 There is a piece of Malaysian jungle in the middle of the satellite terminal building. You can have a walk around on its boardwalk.
Eat and drink
There are quite a few restaurants and cafes in the satellite terminal building. In the main terminal there isn't a great deal.
address: Main terminal air-side

A chain of Malaysian style food. Note that the Malaysian coffee is served sweet.

McDonalds

phone: +60 3 8787 3852

address: Concession 18B, Level 5 (Departure Level), MTB, Kuala Lumpur International Airport, 43909 Sepang

Located just before immigration, this special McDonald's outlet has extra menu choices and a larger range of foods to choose from. It is at the last point at which non-passengers can access.
In the international section of KLIA2, there's a food court with half a dozen mediocre restaurants upstairs between the P and Q gates. You can get a simple meal for under RM20. Downstairs is a restaurant called "
Nooodles
" which is a modest step up in terms of both taste and price.
There are lots of machines to fill up your water bottle with hot or cold water.
Buy
KLIA has a lot of shops for western products, and not much for local goods.
HarrodsA small version of the London department store next to immigration. Small cafe.
Lots of duty-free shops in the international area in KLIA2.
Connect
There is free (if somewhat unreliable) Wi-Fi named FreeWiFi@klia2 and AirportWifi throughout the airport. Email registration is required for the former before using.

Cope
Prayer
Muslim Prayer Room: There are many prayer rooms (Surau) for Muslims throughout the airport. In the main terminal every floor has such a prayer room, as well as one close to gates B2-B10, in the satellite building near to gates C11-17 and another near gates C21-C27.
Silent Room: This room is provided for meditation for members of any faith. Level 5 in the departure hall in the Main Terminal Building.
Showers
In the international area in KLIA2, there are showers on the lower level between the P and Q gates.
Smoking
It is very hard to smoke at all at the airport, even outside the terminal entrance doors. There are smoking rooms available near gates B2, C11 and C31.
Left luggage
If you want to visit the city during a long layover, left luggage is available in the arrivals areas: on level 3 of the main terminal and level 2 of KLIA2.
Sleep
This lists only accommodation on airport grounds; for nearby hotels that require a shuttle bus, see
Sepang
. Taking the KLIA Ekspres to town and staying near
KL Sentral
is also a viable alternative, especially if you're staying overnight and have the time to explore a bit.
Budget
Tune Hotel KLIA2200 m from KLIA2, accessible via covered walkway. Owned by Air Asia so expect low prices, young smiling staff, clean rooms, great bed and extra charges for even minor luxuries (air-con, thick towel, breakfast). Prices, as with Air Asia itself, vary depending on when you book.
Splurge
phone: +60 3 8787 3333

address: Jalan CTA 4B, KLIA, Sepang

Large hotel next to the main terminal building and connected by a sky bridge. Pricy, but the best option in the immediate vicinity by a long shot.

phone: +60 3 8787 4848

address: Mezzanine Level, Satellite Building, KLIA, Sepang

Airside hotel; you can sleep without having to actually enter Malaysia. Very useful if you have a long stopover. Additionally they offer shower services for RM30 if you are not sleeping there. One branch in the satellite building of the main terminal (KLIA), and one branch in KLIA2.
Nearby
The Malaysian capital of
Kuala Lumpur
is a quick 28 min away on the KLIA Ekspres, dropping you at KL Sentral where the
Little India
district of
Brickfields
awaits. For some history, visit the
Old City Centre
where you can check out
Chinatown
or the old
colonial administrative area
. The
Golden Triangle
is the place to be if
shopping
is your calling.
If you like shopping for luxury and designer goods, you can head down to Mitsui Outlet Park which is about 6 km away from the airport.
The federal administrative capital of Malaysia,
Putrajaya
, is even closer to the airport than KL. A city that did not exist 25 years ago, the city is filled with
colossal buildings
to showcase the future of Malaysia.
If you really have the better part of a day,
Malacca
, a former
Portuguese
,
Dutch
and
British colony
is 2 hr south of the airport. The city attained
UNESCO World Heritage Site
status in 2008 for its
historic city centre
.