Kuala Perlis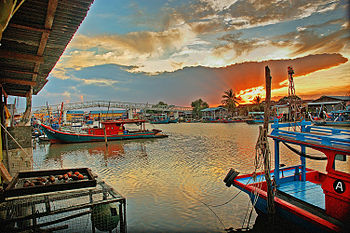 Kuala Perlis
is a port town in
Perlis
,
Malaysia
.
Undertand
Kuala Perlis is only a couple of kilometres from the Thai border and very close to the Thai town of
Satun
. However, national parks on both sides of the border create a green barrier and there is no a direct road between the two towns.
Get in
The nearest legal border crossing from Thailand by road is about 45 km north of Kuala Perlis.
The nearest train station is at
Arau
, the stop before the border station of
Pedang Besar
. It is on the line north from
Butterworth
and south from
Hat Yai
in Thailand.
Consider crossing the border by boat: boats run between Tammalang pier near
Satun
in Thailand and Kuala Perlis. You can also take a boat from
Langkawi Island
.
Get around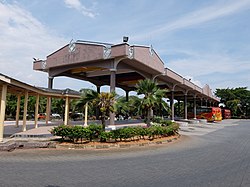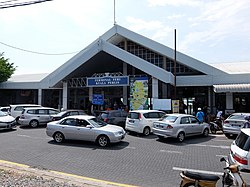 Buses and taxis are available.
See
phone: +60 4-977 0027

An archaeological and Perlis royal family gallery.

Masjid Terapung Al-HussainBeautiful floating mosque.
Eat
Kak Su Laksa Beras (Kuala Perlis style of laksa)
Medan Ikan Bakar Kuala Perlis (seafood in front Putra Brasmana Hotel)
Shah'rin Corner
T Restaurant
Drink

Nightlife is non-existent. Beer can be purchased at all 7-Eleven convenience stores.

Sleep
Putra Brasmana Hotel
T Hotel, Kuala Perlis
Kuala Perlis Seaview Hotel
Pens Hotel
Respect

Avoiding overly revealing clothes goes a long way towards blending in. Many mosques and temples require covering up, and you will get more respect from officialdom if you dress up a little. Many places of worship including all mosques will require you to take your shoes off before entering. When eating with hands rather than cutlery, do not eat with the left hand in public as it is considered impolite. If you can speak just a few words of the four main local languages, namely Bahasa Malaysia, Chinese (especially Cantonese), Tamil and English, it will ingratiate you a lot with the locals.

Stay safe

Perlis is relatively a safe place for travellers, but take the common precautions against snatch-thieves and scams and don't accept rides from Kereta Sapu (passenger car / unlicensed taxi) at night.

Go next