Kuala Tembling
Kuala Tembling
is the starting point for the boat ride to reach
Taman Negara
.
Get in
Kuala Tembling is a 20 minute drive from
Jerantut
. Most tour operators in Jerantut offer jeep rides to Kuala Tembling.
Boat Times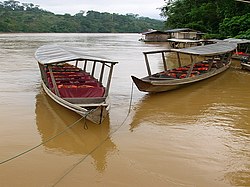 As of January 2013, there were 2 boats a day from Tembling to Taman. The morning boats leave around 9.00 am and the afternoon boats depart around 2.00 pm (except on Friday, when there is boat at 2:30 instead of 2). The cost was RM 50.00 per head.
The boat ride takes almost 2 hours and can be uncomfortable as the boats are narrow wooden boats, so it is advisable to try and sit in the front so that you can stretch your legs.
See
Whilst on the boat, try and take your mind off the tight situation by taking a look at the ocean around you.

Do
Most people decide not to admire the town, instead moving on to the national park.

Buy
There are souvenirs around from the national park.