Kuala Terengganu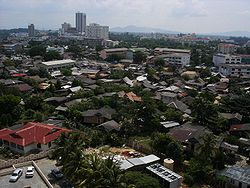 Kuala Terengganu
is the state capital of
Terengganu
, on the
east coast
of
peninsular Malaysia
.
Get in
By plane
By bus
The
long distance bus station
has buses to all main Malaysian cities outside
Terengganu
:
Kuala Lumpur
(7 hours Rm43),
Penang
(7-8 hours),
Johor Bahru
(8 hours Rm48),
Kota Bharu
(3 hours Rm17),
Malacca
, (8 hours),
Kuantan
(3 hours Rm17).
Transnasional
also runs buses direct to
Singapore
(10 hours, 54RM/S$68, to/from Singapore).
The
local bus station
has buses to most places in the city and in the rest of the state:
Merang
(for
Redang
),
Kuala Besut
(for the
Perhentians
),
Dungun
, etc.
From Kuala Besut the bus timetable is erratic: approximate timetable is 07:00, 08:30, 10:30, 13:00, 14:00 and 16:30. The bus stop in Kuala Besut is located in the village near the market square (around 1 km from the jetty). The yellow bus (SP Bumi) can actually be picked up along the main road from the jetty. Turn left at the end of the jetty and walk to the end of the main road, bus will stop on the corner just before the bridge. Service is limited on Friday, usually one in the morning and another at lunch time.
By ferry
In season (March-October), there are two ferries a day from the central
Shahbandar Jetty
direct to
Redang Island
(75 min). These are operated by and intended primarily for guests of the Berjaya Redang Resort, but they'll take non-guests on board (for a price) if there's space.
Most travellers to Redang, however, will go via the main jetty at
Merang
, 45 min north of town.
Get around
The only way you can get to the town from the airport is by taxi
The local municipality provides buses that roam around the town up to Kuala Ibai , Taman Tamadun Islam and a few other attraction areas.
The market jetty has ferries to Seberang Takir (70 c) and Pulau Duyung (70 c).
The Seri Malaysia jetty has a ferry to Pulau Duyung (1RM).
See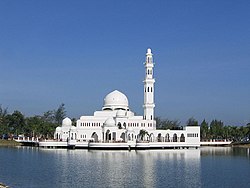 Terengganu State MuseumThe largest museum complex in Malaysia, with detailed exhibits on textiles, the history of the petroleum industry and nature. It contains a park by the river with maritime exhibits. The museum also houses the Batu Bersurat Terengganu (Terengganu Stone), which contains the oldest example of classical Jawi Malay writing.

Pulau Duyung, in the middle of the estuary, has some interesting shipyards and an old wooden mansion (kota lama). This is also a fishing village.
Seberang Takir, across from the market jetty, has some interesting cottage industries ranging from keropok lekor to batik.
Bukit Puteri (Princess Hill), is a hill fort behind the Bazar Warisan. It played a key role during the Terengganu civil war between competing sultans (1831-1876). The hilltop contains a bell, several keramat, a 'throne' and cannons facing the sea. Good for a view of the waterfront. Entrance fee: 1 RM (but normally not enforced).
Chinatown, along Jalan Kampung Cina. Look for beautiful rows of old Chinese buildings where you can try tasty local Terengganu and Chinese food in the small, cheap but cozy restaurants scattered around.

Taman Tamadun IslamIs the recently-completed Islamic-themed recreational park located near the state museum. Models of famous mosques around the world are built here in smaller size. The famous 'Masjid Kristal' is also here. Entrance fee: 30 RM (to the park), free (to Masjid Kristal)

Masjid Tengku Tengah Zaharah (also known as the 'floating mosque'), is located around 10 km from the city centre on Jalan Batu Buruk. This beautiful, simple white mosque built on the created lake flowing from the Ibai river attracts locals, especially in the late afternoon and weekends, for family activities.
Istana Maziah, or Maziah Palace is a well known palace, standing strong at the foot of Bukit Puteri. One of few palaces owned by the Terengganu Royal Family, this beautiful palace is now used for royal occasions such as Royal Raya Open House or the installation of a new king.
Do
Go to the Pasar Payang (Big Bazaar) and the covered open-air market across the street and buy some delicious fresh fruits.
Ride a special bus called Bas Bandar, beautifully designed mirroring a moving traditional house
Take a short small boat trip from Kuala Terengganu jetty to the fishing village of Seberang Takir, which will cost you RM1. The jetty is located beside the floating restaurant in front of Terengganu Tourism office at Pasar Besar Payang.
Catch some local foods in one of the Night Markets in the city:
At the park near Dataran Shahbandar jetty on weekend nights
On Pulau Warisan behind Jalan Kapung Cina
In front of the City Hall (MBKT) along Jalan Sultan Ismail on Friday nights
Buy
Malls & Supermarkets
Giant Hypermarket & Kuala Terengganu Mall

address: JL Padang Hiliran

phone: +60 9-6225399

address: 218/1-10 JL Bandar

Supermarket & department store.

address: JL Sultan Mohamad

Known in the area as a discount store.
Eat
Keropok lekor, a kind of fish sausage served with sweet chili sauce, is a must-try.
Many traditionally prepared Malay cakes (kuih) are sold in Kuala Terengganu - among other places, in the Pasar.
Laksa Terengganu, the state's version of the pan-Malaysian spicy noodle soup
Nasi dagang, the most famous dish in Terengganu, is often served as breakfast or lunch at small stall and restaurants. This is a dish of delicious sweet and spicy sauce with glutinous rice.
Drink

You can find locally popular fruit juice in a big mug known as "air buah gelas besar". Many choices of fresh fruit juice are available. You can find it in Seberang Takir (about 5 km from KT on the road heading to Kuala Terengganu airport). It operates from ~ 17:00 to midnight.
You can also buy a variety of different fresh fruit juices, coconut water, etc. from vendors outside the Pasar Besar in Kuala Terengganu.
There are reportedly no more than 10 bars in the city. Kris n Cheng, near the waterfront, has pleasant owners and is good for darts, drinks and light singing.
Locals are mostly made up of Muslims, but you can find alcohol supplies in the most chinese restaurants around Chinatown. Do not drink publicly as this will often offend locals. You can drink at restaurants or back at your hotel room.

Sleep
Budget
In Kuala Terengganu, you will find all types of hotels from top range to small Chinese basic places.
Awi Yellow House (or "Rumah kuning") in Pulau Duying. Visitors stay in a wooden bungalow on the river (stilt house) and have a shared kitchen. The place is very quiet, friendly and you live with flowers, boats, etc. There is a night market near the bridge every Friday.

The Space Inn

phone: +60 12-3182678

address: 12E 2nd Floor Jalan Engku Pengiran Anom 2

Air conditioned 13- and 16-bed dorms. security lockers. Free wifi. Self catering facilities. Double room has a shared bathroom.

DJ Citi Point Hotel

phone: +60 9-6309909

address: 16 Pusat Niaga Paya Keladi

Air conditioned double room with own bathroom and cable TV. Free wifi

Jen's Homestay

phone: +60 19-9578368

address: Jln Kampung Tiong 8-12 Pangsapuri Kampung Tiong

Single/double rooms. Shared lounge.
Go next
Kota Bharu 3 hour bus ride north.
Kuantan 3 hour bus ride south.
Pulau Redang - one of the most beautiful islands in Malaysia and a scuba diver's paradise.
Pulau Perhentian - cluster of islands known for their excellent scuba-diving, snorkeling and jungle trekking.
Pulau Kapas - Just an hour's trip from Kuala Terengganu, this is where locals go to relax and unwind. Great place to unwind with few backpackers and no parties.
Lata Cemerong (Cemerong waterfalls) - Remote, very tall waterfall in a (near) pristine forest at Pasir Raja. Only accessible after an hour's trekking through difficult terrain, the waterfall is located at Hutan Lipur Cemerong (Cemerong Recreation Park). One trail at the park leads to Cemerong; the other leads to the 1108-metre Gunung Berumbun. Park contains shower, camping and lodging facilities. About 100km (2 hours by car) south of Kuala Terengganu & 40km (an hour) from Dungun.