Kuantan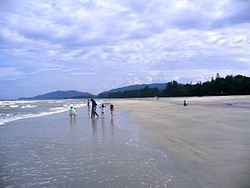 Kuantan
is the state capital of
Pahang
, on the
east coast
of
Peninsular Malaysia
.
Understand
With over 500,000 people, Kuantan is the largest city on the East Coast of Peninsular Malaysia. There are a number of places in and around Kuantan that are worth visiting.

Get in
By plane
Sultan Haji Ahmad Shah AirportThe airport is served by Malaysia Airlines and its subsidiary Firefly. Flights to Kuantan come from Kuala Lumpur (KLIA), Penang and Singapore.
By bus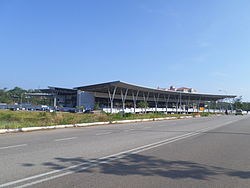 (Kuantan's long distance bus station, new in August 2013) is several kilometres from the city centre, at Bandar Indera Mahkota (basically, in the middle of nowhere). A rapidKuantan bus (#303, RM2) will bring you to the city local bus terminal (), or taxis to the city centre will cost about RM20.00.
To/from Kuala Lumpur: Kuantan is about 3.5 hours from Kuala Lumpur by bus. Fares are around RM22.
To/from Cherating: Catch a Sihat Bas or Mira heading for Kemaman and get off along the main road at the Cherating turn-off. The journey may take about an hour. In Kuantan, catch the buses at the local bus station on Jalan Besar. From Cherating, walk out onto the main road and wait for any Kuantan-bound (south-bound) bus.
To/from Singapore: Transnasional operates a twice-daily bus service from its Beach Road office (as of May 2014) Travel time is 6 hours, with a stopover in Larkin terminal (JB). For a cheaper alternative, go to Larkin and book the bus from there instead.
By car
The Karak Highway and East Coast Expressway connect Kuantan to Kuala Lumpur, and the distance of approximately 250 km can be covered in 3-3.5 hours. The East Coast Expressway is served by evenly distributed stop-over areas that are equipped with toilets, sundry shops and food stalls. You may exit at either the Gambang or Kuantan exit. Both expressways are toll roads to travel the entire journey via the expressways costs RM27.60 for a car.
Federal route 2 also links Kuala Lumpur to Kuantan. As it is an ordinary road, it has no toll. However it is a somewhat slower route than the expressway as there are traffic lights along the way and a lower speed limit.
Get around
Rapid Kuantan, the local bus service, was established in December 2012, and has an expanding network of about 13 routes. The central hub is at Terminal Makmur (the old long-distance bus terminal). Important routes for visitors include 200 (to Teluk Cempedak Beach), 303 (to Terminal Sentral Kuantan), 400 (to
Pekan
) and 500 (to Sungai Lembing). Most routes operate approx. hourly.
See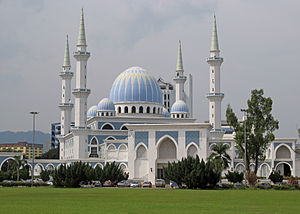 Beaches
Teluk Chempedak, 5 km northeast of Kuantan, is a lovely beach with facilities for watersports, including boating and kayaking. The Kuantan Hyatt Hotel is located on Teluk Chempedak itself. On the left side of Teluk Cempedak beach, there is a long boardwalk (built over rocks and boulders) that connects to a second beach.
Beserah, around 7 km from Kuantan city, is a village that is famous for fresh fish every day! You can buy fresh fish at wholesale prices here. A well-known local product, salted fish, is also available for sale here.
Balok, a beach that is famous for wind surfing, is 13 km north of Kuantan. Swiss Garden Resort & Spa is located on Balok Beach. The resort delicately embraces traditional features with the incorporation of "anyaman" style décor in its fittings creating a unique atmosphere and perfect balance between luxury and homely familiarity.
Batu Hitam is a special beach where all the stones are black or dark in colour. It is still under development.
Others
Taman Teruntum, a mini zoo, is near Taman Teruntum next to the Kuantan golf course. It also offer Nite Zoo.
Pulau Ular- There is a legend associated with this island. It is about how snakes helped the villagers to keep pirates away (Pulau Ular means Snake Island in Malay). Nevertheless, they were conquered by the pirates eventually. These events are believed locally to have happened during the 11th century. There is a village called Sungai Ular (Snake River) on the mainland, between Cherating and Balok.
Sungai Lembing town is where one of the world's largest underground tin mines (now closed) is situated. Approximately 40 km northwest of Kuantan, you can get here by bus, taxi or by car. There is a good museum which has lots of information pertaining to tin mining. The building in which the museum is located used to be the residence of the manager of the tin mining company. There is an interesting "hanging bridge" (jambatan bergantung) located north of the Tin Museum. You can reach this bridge - which is a little difficult to find - by going north on the narrow, winding road at the base of the entrance to the Tin Museum. Locals and tourists alike trek up Bukit Panorama (Panorama Hill) for a glimpse of sunrise and a magnificent view of the natural surroundings in the early morning hours.
Panching Caves (also known as Charah Caves) are located in a limestone mountain on the Kuantan-Sungai Lembing road at the small village of Panching. There is a large statue of a Sleeping Buddha here. Entrance fee: adults RM2, children RM1, parking fee of RM2 for cars.
Pahang Buddhist Association Temple is just outside Kuantan town on the Kuantan-Sungai Lembing road. It has a large statue of the Buddha and a park with a pond, fish and tortoises at the rear.
Berkelah Falls (also known by locals as the Ninth Mile Waterfall) is located near the Kuantan airbase of the Royal Malaysian Air Force or TUDM (Tentera Udara DiRaja Malaysia) and 14 km away from Kuantan on the Kuantan-Gambang road. To get to the waterfall, turn right at the traffic lights at the Kuantan-Gambang road just after the airbase (if you are coming from Kuantan). The waterfall is located in the Hutan Lipur Sungai Pandan (Pandan River Forest Reserve). Entrance fee RM1 for adults.
The State Mosque is in the heart of Kuantan.
The Kuantan River Esplanade - this small esplanade is located just behind the offices of the Kuantan Town Council building next to the Kuantan River.
Do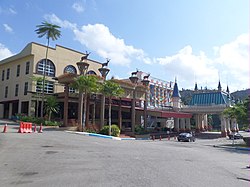 Taman Gelora, about 3 km from Kuantan along the way to Teluk Cempedak, is a beautiful park called Gelora Park. Various sport activities can be carried out here including jogging, aerobic dance, tennis, beach volleyball,etc. You can admire lotus flowers here too.
Teluk Chempedak beach night stroll
Cherating - Sunrise on the beach
Cherating - Turtle sanctuary. This is seasonal. Head towards Club Mediteranee and it's just at that resort's entrance.
Kuantan River Cruise. There are several a day.
Fireflies tour. Done at night with a battery powered boat down the river. You'd need to organise this through one of the local travel agents.

Learn to Kitesurf at Balok BeachPossible all year round but best from Dec - Mar.

Water Park The biggest water park at East Cost at Bukit Gambang Water Park.
Buy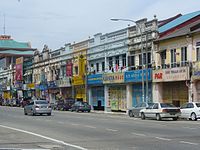 Malls & supermarkets
Eat
Akob Patin House

phone: +60 12-9577057

Serves a variety of river fish like kerai, tengalan, and patin.

Crocodile Rock Pizza & Grill

phone: +60 9-567 5707

address: Lorong Dato Mahmud 1

Perhaps the best Western restaurant in Kuantan, set in an old colonial-style bungalow in a wonderful garden setting. Live music & jamming on Thursday nights. Reservations advisable for larger groups.

Little Croc Deli Cafe

phone: +60 9-516 5707

address: No 47 Jalan Telok Sisek

Excellent Western breakfast or local favourite of "nasi lemak" at reasonable prices. The lunch menu includes pizza, spaghetti, salads, sandwiches.
Sleep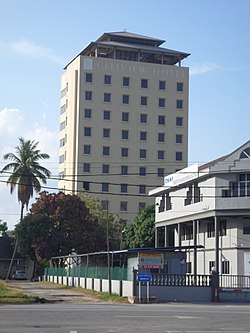 Budget
Kosma Hotel, 59 Jalan Haji Abdul Aziz, right in the middle of town. Rooms have air-con, TV, prayer rug and attached bathroom with hot/cold shower, free Wifi available. Double room RM 50, triple RM 60 and family room (two double beds) RM 80.

phone: +60 9-515 9966

address: No. 60-62, Jalan Bukit Ubi, 25300

Hotel with all new beds and facilities. In middle of town. Rooms are RM94 and up, and have new air-con and attached bathrooms.

phone: +60 9-5133830

address: No. 39, Jalan Tun Ismail 5

No-frills hostel by a row of shophouses opposite the Pasaraya The Store supermarket, one block away from the Stadium bus station. 10 bed dorms and private rooms (bunk bed). Has shared bathrooms with hot/cold shower, free Wi-Fi, open kitchen with free tea, coffee (and snacks sometimes!)

Y B House

address: A 6322 Lorong Seri Kuantan 19

air-con double room with shared bathroom. free wifi

New Golden Hotel

address: 47 JL Besar

air-con single room with own bathroom and cable TV.

Apple Boutique Homestay

address: A67772 Lorong Seri Kuantan 28

air-con double room with shard bathroom. Free Wi-Fi.
Mid-range
Vistana HotelBusiness hotel.

Grand Continental, Jalan Gambut.

phone: +60 9-557 9000

address: 152, Sungai Karang, 26100 Beserah

The beds can hold 2 adults + 2 children. The rooms are big. Breakfast is included. Rooms cost from RM130.

Mega View Hotel KuantanIn central Kuantan, next to the bank of the Kuantan River.

Duta Sand Beach ResortWhite sandy beaches and beside fish village. It's at Jalan Berserah, on the way from Kuantan City to Balok Beach. Reasonable price by walk in RM188 and below (wooden chalet)

address: No. 47 Jalan Telok Sisek

A small hotel providing comfort in a friendly guesthouse in the centre of town. Room rates from RM138 net.

phone: +60 95118888

address: Lot 5 & 10, Lorong Gambut, Off Jalan Beserah

A large 4-star, class hotel in the centre of town opposite the Berjaya Mega Mall with big rooms including breakfast. Multilingual staff with English spoken, all facilities including Wi-Fi, swimming pool, restaurants, exercise centre.
Splurge
phone: +60 9 518 1234

address: Telok Chempedak Beach, 25050

Designed in the style of a traditional kampong (Malaysian village), the resort has 330 rooms and suites featuring: garden or sea views, patio or balcony, high-speed internet access. Facilities: Bayou Spa, pools with poolside bars, tennis courts.

Swiss-Garden Resort & Spa Kuantan

phone: +60 9-544 7333

address: 2656-2657, Mukim Sungai Karang,Balok Beach, 26100 Beserah

On Balok Beach, this is an international class beach resort offering an idyllic retreat for the urbanite traveler.

phone: +60 9-5659595

address: Jalan Putra Square 6, Putra Square

The largest hotel in Kuantan. Opposite East Coast Mall and next to the Sultan Ahmad Shah International Convention Centre.
Go next
Kuala Terengganu 3/4 hour bus ride north.
Pekan, the royal town of the state of Pahang. The Pahang State Museum is located here. You can also catch a glimpse of the palace of the Sultan of Pahang in Pekan.