Kudus
Kudus
is a city in northeast
Central Java
in Indonesia.
Understand
Kudus has two main claims to fame. The first is as the cradle of Islam in Java. It was in the, what were then, port towns of Kudus and Demak to the west, that the nine religious leaders arrived, who were to successfully introduce Islam to Java. They are now referred to as the Wali Songo, and are revered as saints.
The second claim to fame is as Indonesia's capital of the clove cigarette, kretek. The town is home to one of the biggest brands,Djarum, employing 75,000 workers.

Get in
The nearest airport and railway station are in Semarang, 1-2 hours to the west.
A Semarang taxi should be willing to take you to Kudus if picking you up either at the airport or railway station in Semarang.
If travelling in by bus from the west, the buses depart from Terboyo bus station on the eastern side of Semarang.
Road travel from
Surabaya
to the east will be around six hours.
See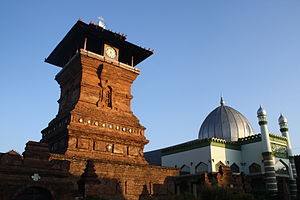 Masjid Menara KudusBuilt by Sunan Kudus in 1549 AD/956 H. The architecture is an amalgam of Islamic and Hindu styles.

Old Town - also known as Kauman
Kretek (clove-scented cigarette) factories
Kretek (clove-scented cigarette) Museum
Tomb of Sunan Kudus
Buy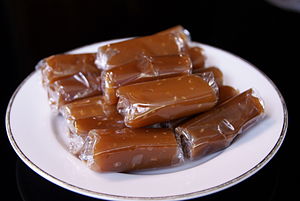 Jenang — this palm sugar and coconut milk confection is the gift of choice for visitors wanting to take something back for family or friends. There are a plethora of small stalls clustered around the mosque, selling religious paraphernalia, but also jenang
Soto Kudus spices — if you wander in to the maze of streets to the side of, and behind the mosque, you may see signs offering the spices for Soto Kudus, for sale. You'll get a little twist of paper with enough ground spices for one dish. Sauté onion and garlic in a splash of oil, add the contents of the wrapper and cook til smelling delicious. Add meat or vegetables of your choice, enough stock to cover, and simmer til done. That's probably how the recipe goes. Grease it up with some coconut milk if you have any. Remember, no beef please, but buffalo is OK if you have it.
Eat
The dish which bears the town's name is
Soto Kudus
, a soup served with rice. This is the local version of the generic dish that is found across the archipelago in a myriad of local varieties. In Kudus the meat tends to be chicken of buffalo. There seems to be a local presumption against eating beef from cows, perhaps in recognition of the town's pre-Islamic Hinduism. The spicing for the soup is heavier with the warm notes of cinnamon, nutmeg and cloves, reminiscent of the curries of south Asia.
Opor Sunggingan

phone: +62 291 441125

address: Jl Nitisemitro Kios 10-12

Pindang Kudus Pak Sulichan

address: Kompleks Taman Bojana Simpang 7

One of the local speciality, like most food in Kudus, it contains no bovine meat (which considered sacred).
Drink
rumah makan kenari

phone: +62 291-439932

address: jln sosrokartono 31a

family restaurant

kenari omah penyet

address: jln diponegoro 18 kudus
Go next