Kufstein
Kufstein
is city in the
Austria
state of
Tyrol
, with a population of ca. 18,000 inhabitants, making it the second largest city in Tyrol after its capital
Innsbruck
. Most travellers visiting the Austrian Alps pass through Kufstein either by train, coach or car as it is the first city south of the
German
border at the end of the Inn Valley.
Get in
By train
Kufstein can easily be reached by train, with the
Kufstein railway stationbeing a local railway hub. The station is served by local, InterCity, ICE and Railjet trains.
By plane
phone: +43 5372 63833
address: Kufsteiner Str. 42, A-6336 Langkampfen
This airfield accommodates gliders, motorized gliders, ultralight and single engine airplanes up to 2,000 kg.
By bike
The Inn Valley cycle path passes through Kufstein, leading from the upstream Tyrolean valleys down to the Danube where it connects to the Danube cycle path.
Get around

Kufstein is fairly small, and all tourist attractions can easily be reached by foot.

See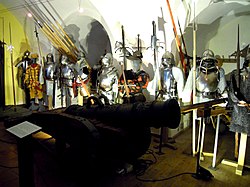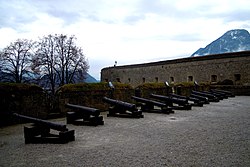 phone: +43 5372 66525

address: Festung 2

The main landmark of Kufstein, its 13th century fortress sits on a hill overlooking the city 507 m above sea level. In its early history it was controlled by the Bavaria, first under Bavarian Duke Ludwig and the bishop of Regensburg, from 1415 onward by Duke of Bavaria Louis VII. The strategic importance of the fortress made it a frequent battleground throughout history between Bavarian and Tyrolean armies. Ironically, Kufstein transitioned peacefully from Bavaria to Tyrol when the son of Bavarian emperor Ludwig gifted the city to his newly wedded wife Margarete, Duchess of Tyrol, in 1342. The peace didn't last long however, and in 1363 the Bavarians attacked the city and took control of the fortress from the Tyroleans. Control switched back to Tyrol after emperor Maximilian I besieged the city in 1504, and expanded the fortress with the addition of the massive round tower constructed between 1518 and 1522. The increased defensive capabilities of the fortress successfully held back the Bavarians until 1703, an occupation that lasted little over a century until the Austro-Hungarian Empire finally regained control in 1814. It then served as prison for Hungarian political prisoners. Since modern times the fortress houses the City Museum of Kufstein, and is frequently used for concerts and other cultural events.
Eat
phone: +43 5372 20690

address: Kinkstraße 30

Restaurant Batzenhäusl

phone: +43 5372 62433

address: Römerhofgasse 1
Drink
phone: +43 5372 62433

address: Unterer Stadtplatz 3

phone: +43 5372 64507

address: Oberer Stadtplatz 16
Sleep
Go next
— between Innsbruck and the
— the largest alm in Europe and one of the most remote settlements in the Alps
— historic salt mining city with the best preserved old town centre in western Austria
— home of the Swarvoski Crystal Company and their museum, the world famous
— famous for its silver mine