Kujawsko-Pomorskie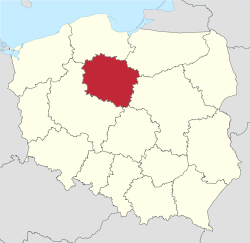 Kujawsko-Pomorskie
is a province (
voivodeship
) in
Poland
. It is situated in mid-northern Poland, on the boundary between the two historic regions from which it takes its name:
Kujawy
(sometimes rendered in English as
Cuiavia
or
Kuyavia
or variations thereof) and south-eastern part of
Pomorze
(or
Pomerania
, also
Pomerelia
).
For centuries, the area of the present-day Kujawsko-Pomorskie has been under the political and cultural influence of both Poland and various
German
states, resulting in unique heritage. It has also historically been quite prosperous, while also becoming a front line for many conflicts in the Middle Ages. As a result, it boasts a number of medieval castles, fortresses and impressive old towns, most of which survived the subsequent wars relatively unscathed.
The picturesque landscape also makes the Kujawsko-Pomorskie Voivodeship a good destination for nature lovers, and the traditions and concentration of the foodstuffs industry in the region makes the visit delightful to the palate as well.
Understand
The area is a borderland between various historical, ethnographic and natural regions.
Kuiavia
is to the south of the Vistula river, with cities like
Bydgoszcz
,
Włocławek
, and
Inowrocław
. It is known for good lands for agriculture and salt. Located to the north-east, across the biggest Polish river, there is the
Land of Dobrzyń
that was under Cuiavian control for centuries. With no big cities, it is a land of fields, idyllic hills, small towns, and villages.
Pomeranian
is the northern part of the voivodeship with the south of historic
Eastern Pomerania
known also as
Pomerelia
and the
Land of Chełmno
. Both areas were in the 19th century part of West Prussia province and are linked by the medieval history of Teutonic Order State that began in the 1230s. This is why there are many medieval monuments across this part of the region, including world heritage old town of
Toruń
. Additionally, the western part of the voivodeship historically belonged to
Greater Poland
. The area in the northwest is known as
Krajna
which meant a borderland, as it is a part of lands separating Pomerania from Greater Poland. It is an agrarian, hilly land with many idyllic landscapes around small towns of
Sępólno Krajeńskie
and
Nakło
. To the south, there is an ethnographic region of
Pałuki
centred around
Żnin
, popular among tourists due to many historic sites from prehistoric and early medieval times. Also, the area around the town of
Mogilno
is a part of historic Greater Poland, being for centuries a part of
Gniezno
district.
History
In the early Middle Ages, south-western part of the region was in the core of newly forming Polish state. In the 11th century, a bishopric was established in
Kruszwica
and later transferred to
Włocławek
. Poland was divided into several duchies from 1138 and the area became more and more divided. When the reunited Kingdom of Poland took back Kuiavia, the area retained its traditional division into two separate parts, The Inowrocław Voivodeship and the Brześć Kujawski Voivodeship.
In the meanwhile, Masovian dukes invited Teutonic Knights to the Land of Chełmno, to help them fight pagan Prussian tribes to the north. Mostly German-speaking monks-soldiers not only conquered the area known later as East Prussia but also turned against Polish dukes and series of fierce wars continued for over two centuries. Teutonic State conquered also Polish-controlled East Pomerania in the 14th century, and briefly controlled Kuiavia and Land of Dobrzyń too. During the 15th century the Kingdom of Poland, now entering its golden age, finally crushed the power of knights and regained control over East Pomerania and the Land of Chełmno in 1466, since then known also as
Royal Prussia
.
Until 17th century Vistula river was an important trade route for Polish goods to the major international harbour of
Gdańsk
and many towns along the river flourished. During the 16th century also came reformation, popular mainly among German-speaking citizens. Because Poland was the most tolerant country in Europe, many religious groups learned to live together. During the 17th century, Dutch, Frisian and German Mennonite colonists founded numerous villages along the Vistula river. They developed independent village communities and brought their agricultural knowledge to the region, specializing in the cultivation of lakes and rivers in moorland and fallow land. Also, many Jews and Catholic refugees from Scotland settled in the area.
Golden Age of Poland ended with the economic stagnation and wars of the 17th century. The Kingdom, since 1569 a member of democratic Polish-Lithuanian Commonwealth, gradually collapsed and was partitioned by its absolutist neighbours of Prussia, Russia, and Austria. Following the First Partition of Poland in 1772, the northern part and following the Second Partition of Poland in 1793 also the southern part of this region was annexed by the Kingdom of
Prussia
.
Between 1807 and 1815 the region was a part of the Duchy of Warsaw and later split between Prussia and the Russian Kingdom of Poland. After more than a century, in 1918 it became part of the Second Polish Republic. In 1938, after administrative reform, Kuiavia was added to the Pomeranian Voivodeship, which capital was Toruń. After Nazi German occupation during World War II, this administrative unit was restored, although without its northernmost part around Gdańsk. The voivodeship received for the first time borders similar to modern ones. Also, in 1945 the capital was moved to the bigger and more proletarian Bydgoszcz, and in 1950 the name was changed to
Bydgoszcz Voivodeship
. In 1975 another reform divider the region into three smaller ones.
At the time of the fall of communism in 1989, and regaining the full independence by Poland, the economic crisis hit hard, especially rural areas. Luckily, economic reforms and later joining the EU in 2004 by Poland helped to overcome the most difficult period. Another administrative reform created the current voivodeship in 1999 in the shape similar to the post-war territory.
Talk
The people of Kuyavian-Pomeranian Voivodeship speak standard Polish with little if any local dialect. Due to its history, many inhabitants have at least cursory knowledge of German. As in the entirety of Poland, English knowledge is on the rise, particularly among the younger generations. The region sees a fair amount of tourist travel and thus many service-sector employees have reasonable fluency in English.
Get in
By plane
The only airport in the region with scheduled passenger service is the
Bydgoszcz Ignacy Jan Paderewski Airport
(
BZG
) , with a growing but a limited number of connections. One may also use the more major airports in the cities close to Kuyavian-Pomeranian Voivodeship - Poznań, Gdańsk, or Warsaw (the latter offers intercontinental connections).

By train
With a well-developed railway network, travelling into Kuyavian-Pomeranian Voivodeship by train is a good choice. There are good train connections with most of the major cities in the country, as well as with Berlin.

By bus
There are several bus companies offering connections with other major cities in Poland and Europe. Major ones are PKS Bydgoszcz, FlixBus, Sindbad.

Get around
Majority of tourist sites are easily accessible by train or bus. Most cities and towns have a train and/or bus station offering long- and short-distance connections. Unfortunately, information about bus connections is often Polish-only and sometimes hard to find on the internet.
By train
A train is a good option to travel around the region. Many local trains are new and comfortable. All major cities are well connected to each other, and many towns and villages along the major routes too, so one can get to sites like Brodnica, Mogilno, Tuchola Forest. Still, the majority of interesting towns and villages is reachable only by other means of transport. The service is provided by
Polregio
and
Arriva
. The train schedule for all train companies in Poland can be found
here
(the site is available in Polish, English, German and Russian).
By bus
A bus is the best way to get to many interesting towns and villages in the region if one is using public transportation. The density of the network and quality may vary, and there are many companies providing their offer. Schedule for most of the buses is provided
here
.
Urban transport
Public transport in major cities is usually of good quality. Bydgoszcz, Toruń, and Grudziądz have tram lines, while these three plus Inowrocław, Włocławek, Brodnica, and Świecie have public bus lines.
By bike
Biking is a great way to discover the region, especially during warmer days. There are many bike trails prepared, although sometimes it is better just to use your own creativity while looking on the map. The area is rather flat, and there are no denivelations bigger than 100 meters. There is
a map of biking and hiking trails
, created by the community, although only in Polish.
On foot
There are many hiking paths across the region, although the density and state of preservation may vary. They are signed with Polish standard, with three rectangles: two whites and one colourful in the middle. There are five colours (red, black, green, blue and yellow), and two trails of the same colour cannot cross. The longest hiking paths are: blue
Brda Trail
from Bydgoszcz to Konarzyny in
Pomeranian Voivodeship
along Brda river through
Tuchola Forest
, and yellow
Drwęca Trail
from Toruń to Radomno in
Warmińsko-Mazurskie Voivodeship
. Additionally, there is
Camino Polaco
, a Polish section of
St. James pilgrimage route
to
Santiago de Compostela
in Spain and also many smaller educational paths.
By car
Sometimes it may be simply the easiest way of travelling around the region. The road network is dense and mostly of good quality. In some more remote areas, there are still gravel local roads, for example in Tuchola Forest region.
By kayak
Kayaking is a popular form of recreation along Brda, Drwęca and Wda rivers and may be considered as an interesting way to discover some parts of the region.
Cities
Kuyavian-Pomeranian Voivodeship is unique in that it has a fairly distributed population and many medium-sized cities and smaller towns spread across the region, so there is plenty to visit and see besides the region's capitals. Capitals in the plural, as the region is governed from two of its largest cities:
— often called "Little Berlin" because of the beautiful Art-Nouveau, Neo-Baroque and Eclecticist architecture
— one of the most historic cities in Poland with the biggest amount of gothic architecture buildings in the Baltic Sea region, famous for its well-preserved old town, being the birthplace of Nicolaus Copernicus and delicious gingerbread called katarzynki
Other cities and major towns:
— historic town surrounded by the natural Brodnica Lake District region
— gothic and renaissance old town surrounded by almost intact city walls
— brick Gothic town on the Vistula River - and the smallest tram system in Poland
— known for its saltwater baths and historic churches
— third largest city of the region with a beautiful gothic cathedral and a dam on Vistula river
— gothic water castle ruins on the Wda river
Other destinations
— unique late Bronze-Age and early Iron-Age settlement recreated at the archaeological site where it was discovered, with a lively open-air exhibit. It is located along the Żnin heritage railway
— small town, one of historic capitals of Cuiavia known as the birthplace of Ladislas III, a king that successfuly reunited Poland in 1320
— village on a historic border between Kuiavia and Krajna between two lakes with a beautifull rococo church
— historic town with gothic cathedral and a beach on the Chełmża Lake
— small village with one of the best preserved and open to the public mennonite houses
— popular spa town close to the Vistula River
— strict nature reserve protecting the largest natural concentration of old-grown yews in Europe
— village along the Żnin heritage railway and a historic town, famous for baroque wooden church with beautifull wall paintings
— charming little town rife with historic architecture
— small town on the lake close to forests protected by the Górzno-Lidzbark Landscape Park
— in the vicinity of this small town there are the biggest neolithic structures in Poland, long for up to 130 m Kuyavian Megalithic Graves in Gaj, Sarnowo and Wietrzychowice
— Kuyavian village open air museum
— town north to Bydgoszcz, located in the Brda valley known for gothic-baroque monastery and popular in summer reservoir lake
— town of old Polish legends on the Gopło lake with medieval castle ruins and one of the oldest existing church buildings in the country
— small village with well preserved and open to the public palladian-style palace
— historic town with well preserved baroque-romanesque monastery, that has the oldest surviving complete chamber structure in Poland
— small historic town on Vistula river
— baroque and new classical palaces in a pictoresque landscape park
— baroque monastery and second oldest in Poland calvary
— beautiful wooden baroque church
— village and historic town on a hill with a renaissance church and ruins of a castle with beautiful panorama over Ciechocinek and Vistula river
— small town with ruins of medieval castle and a historic church
— village with ruins of a palace and beautifull small renaissance church
— baroque monastery and pilgrimage site
— a town close to Bydgoszcz where one can visit dinosaur museum and theme park
— with a monastic complex of romanesque-baroque churches with one of the best preserved sets of romanesque sculptures in Central Europe
— cultural and economic centre of the southern part of the Tuchola Forest region
— small historic village along the Żnin heritage railway is famous for railway museum, ruins of a gothic castle and the name meaning "Venice" in Polish
— small town by the Więcbork Lake in the middle of Krajna Landscape Park
— historic town surrounded by two lakes is the centre of ethnographic Pałuki region. A heritage railway links it with several historic sites in the area
See
Old Town in Toruń brick gothic town hall and churches form a unique medieval panorama at the Vistula shore. Nicolaus Copernicus was born in one of the fine Gothic houses. This picturesque and academic city is listed as a world heritage site.
Old Town in Chełmno with nearly intact city walls, six gothic churches (incl. relics of St. Valentine), renaissance city hall, and the best view in the world (a Polish wordplay meaning also the best view on the neighbouring town of Świecie pronounced the same way as the World in this case)
View from the Mice Tower in Kruszwica on the Gopło Lake
The largest graduation towers in Europe in the famous spa town of Ciechocinek
Do
Ride the Żnin heritage railway
Kayak along Brda or Wda rivers
Take a "water tram" boat on the Brda river in Bydgoszcz
Eat
Stay safe
The region is relatively safe. Standard caution is always advisable though, as petty crime does occur.

Go next
Kuyavian-Pomeranian Voivodeship
borders five other
Polish
voivodeships: