Kumasi
Kumasi
is the main city of
Ashanti-Kwahu
region of
Ghana
.
Understand
Prior to the British colonisation, Kumasi was the capital of the Ashanti Empire, one of the great civilisations of Africa.
Kumasi is considered the home of the Ashanti King, the current one being Otumfuo Osei Tutu II. Kumasi is widely regarded as the cultural cradle of Ghana as the vibrancy of Ghana's culture is more evident here than any part of the country. The Asantehene still sits in state as Ashantis from all walks of life pay homage. He even presides over traditional courts and some residents use this instead of the judicial system. The traditional Asante buildings in the region are on the
UNESCO World Heritage list
.
Kumasi was established by the King Osei Tutu I with guidance from the priest Okomfo Anokye. It is said he planted two Kuma trees at two locations. One died and that place was called Kumawu (thus the Kuma tree died) and the one at Kumasi flourised and was named Kumasi (Kuma tree has flourished). Once one of the most impressive pre-colonial cities in Africa, it was largely destroyed by the British in a series of wars towards the end of the 19th century, and little remains today of its former glory.
Population of about 2 million, the language is predominantly Akan Twi.
Get in
Kumasi is a cosmopolitan city with a good road network and one can travel on local buses which ply predetermined routes or charter/hire taxis to take one to his preferred destination.
By plane
Flights from
Accra
to Kumasi are in the morning and afternoon on the three carriers: Fly540Africa, CitiLink and Antrak. The flight is about 45 minutes long, limited on luggage allowance. Excellent way to get to Kumasi, preferred by most. Small planes, yet short trip. The cost on CitiLink is +-$90 USD one way, and $95 on Antrak as of June 2011 and $86 with Fly540Africa as of March 2012.
From May 2012 star bow airlines are flying this and other routes from Accra. Morning and afternoon flights, 100 seated planes and standard 20kg luggage, costs vary but typically around $60.
By train
Railroads connect Kumasi to Accra and
Takoradi
; however, as of October 2010, all passenger trains to Kumasi have been suspended.
By car
Car rental in Kumasi is available at the lowest cost of about USD $75-100 per day.
By bus
To travel by road to Kumasi from Accra you will need to allow 6 hours travel time. The STC bus service does not seem to be running anymore, or very sporadically; however private bus companies like VIP Jeoun (a Korean company) have taken over this route. Price is 25 cedis for a very comfortable and luxury bus (every row contains three seats; two on one side and one on the other), or 16 cedis for regular touring bus (4 seats in each row).
Get around
The tro-tro station in the city centre offers the widest range of destinations. The disadvantage of this tro-tro station is that it is extremely chaotic and that it is right in the city centre: getting out of the city is often problematic due to a plethora of traffic jams. If you can't find your tro-tro, ask one of the tro-tro mates or one of the ticket sellers. The destinations are posted on signs above the bus station.
Another alternative is to catch a tro-tro from the ring road instead. This saves you the hassle of navigating through the Kumasi traffic jams.

See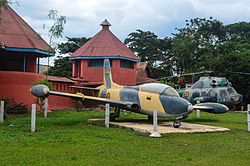 Asantehene's PalaceA visit to this former king's residence is a most worthwhile activity.

Prempeh II Jubilee Museum

phone: +2335122822

Features artifacts and personal belongings of former Asante kings including a reproduction of the golden stool.

Manhyia Palace MuseumBuilt in 1925 by the British as the residence of King Asantehene Prempeh I, this museum is also a palace. Walking through the museum, you will learn about the function of each room when it was used by the kings, as well as seeing artwork and artifacts from the Asante kings.

Ghana Armed Forces Museum

phone: +2335123103

address: 22 Steward Ave

The museum buildings once served as Kumasi Fort, built by the British in 1896 after they destroyed the Asante Fort that originally stood here. The museum predominantly features information and artifacts related to the British-Asante War, but also includes many artifacts from World War I, World War II, and information about modern Ghanaian military history. Tour guides are friendly and very knowledgeable. Highly recommended.

National Zoological GardenAll of the animals from the former Accra Zoo were transferred here a couple years ago, so there is now more to see. However, the conditions are not good for the animals, so visiting is not encouraged.

Kumasi MarketLargest market in West Africa

Tafo Kumasi
Fort Kumasi built by the British in 1896 to replace an Asante fort and now a museum
Kumasi Hat Museum
Do
A tour of the Palace grounds explains the history of the Ashanti people and the significance of the Ashanti cultural history.
The Adae Kese Festival is a very important, albeit rare, celebration of the Ashanti's. It is held in a large open space in Kumasi. The festival is normally well attended and embraced by Ashanti's from all walks of life. The Adae Kese celebrations are magnified forms of Sunday Adae festivals, celebrated every six weeks in accordance with the Akan calendar which is based on a cycle of 42 days and nine months in a year. Invariably, the last Akwasidae festival is set aside for the celebration of Adae Kese.The public celebrations take the form of a colourful durbar of chiefs and queen mothers presided over by the Asantehene. It involves the display of cherished regalia and paraphernalia accompanied by traditional drumming and dancing as well as firing of musketry amidst pomp and pageantry.
The Adae festival is a continuous demonstration of faith in the vision and heritage of the Asante Kingdom, which has existed since the introduction of the Golden Stool in 1700. The festival is also to commemorate and re-enforce the independence of the Ashanti people and an occasion to re-affirm each state's loyalty to the confederacy instituted in the aftermath of the Ashanti war of independence fought against the Denkyeras between 1697–1699. It provides a platform for the King to meet and share his thoughts with his sub-chiefs and subjects and also reward deserving ones.
Only a 45 minute drive from Kumasi is Lake Bosumtwe. It's a meteor-formed lake about 270 feet deep and 8 km in diameter. It's a must see if in the Kumasi region. Paradise Resort is recommended lodging for $50 per night and up. It can be reached by tro-tro or private taxis. The private taxi price should be about 50 cedis (September 2013).
A 30-45 minute drive from Kumasi is the Owabi Wildlife Sanctuary. It can be reached by tro-tro to Esasie (ask for Owabi Wildlife Sanctuary), which is close to Akropron. From the Esasie tro-tro stop it is about a 1-2 km walk, or you could get a private taxi for the last mile. At the Sanctuary it is compulsory to get a guide, who will take you on a 2 hour walk on various trails through the park. The Bamboo Temple is very pretty and worthwhile. The entrance fee to the park is 6 cedis per person and you pay the guide separately (no fixed price, you determine this at the end of the hike; a reasonable price could be 10-15 cedis per person).
Eat

The Noble House Hotel serves excellent Indian and Chinese food. Prices are higher than the average Ghanaian restaurant: expect to pay between 30-40 cedis for a curry, some rice and a drink. Noble House has the same owners as the Heritage Restaurant in Osu, Accra.

Mid-range
Splurge
O'Neills/Shields Irish Bar

Drink
Vic Baboo's (Prempeh II Rd) is not the most atmospheric place in town, but it had an impressive cocktail menu. It is a place to meet backpackers, expats and volunteers. The menu features a variety of different Indian, Chinese, Continental, and fast food dishes. The lassi and milkshakes are especially good, staff are friendly and it has a homely atmosphere.

Sleep
Budget
Guestline Lodge

address: Adum Street.

Guestline lodge is a great backpacker joint located right next to the STC bus station. The same owner as Vic Baboo's Cafe offering the same friendly service and many like-minded travelers. Reasonable selection of books for sale at reception for 2GH¢ or you can exchange for free. Balcony with view over street below open to all residents. Electric shower with warm(ish) water. Lower priced rooms share shower and toilet which are both clean. Some breakfast option available: tea/Instant coffee 2GH¢, toast and butter 3GH¢, Cornflakes 4GH¢ or an omelet 4GH¢. Beers (3GH¢) and "minerals" (2GH¢) available throughout the day. Staff range from mildly indifferent to extremely helpful and also provide the services of car rental.
Mid-range
Bek Egg Premier Hotel & Conference Centre

phone: +233 51-35031

address: T.U.C. Estate, Behind C.A.C. Fankyenbra

The Bek Egg Premier Hotel & Conference Centre is a family operated hotel and business situated in the heart of town, about five miles from the local (national) airport.

phone: +233 32 202 2682
Friend Garden- South Suntreso
Mothi Mahal
Cumba Delight
Hotel Rexmar
Splurge
Stay safe
There are safe guides in hotels.