Kumgangsan
Kumgangsan
(금강산 or formally romanized as
Geumgangsan
), literally the
Diamond Mountains
, is in
North Korea
.
Understand

Kumgangsan is the second tallest mountain in North Korea with its highest peak (Pirobong) at 1,638 meters. The area is famed for its scenic beauty, and in 1998 became the first part of North Korea that could be visited on organized tours from the South. The tours stopped in 2008 after the shooting of a South Korean tourist, and there is no sign that they will resume. North Korea is still looking for ways to develop the tourism potential of the facilities, and they are used for Chinese tourists and for the infrequent family reunions of relatives separated during the Korean War.

Get in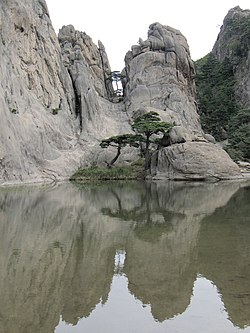 Independent travel to Kumgangsan is not normally allowed. Joining a tour group is generally the only possible way of getting there, although it is unclear which tour operators could take you there.
From South Korea
Visiting from
South Korea
is
not possible
. Until 2008, special cross-border group tours were possible to Kumgangsan and
Kaesong
in North Korea, but they were suspended after a South Korean tourist was shot dead by a North Korean guard in July 2008. Since South Korea cannot assure the safety of its citizens, all tours are indefinitely suspended.
From Yanji, China
The northeastern Chinese city of
Yanji
is three hours by road from the North Korean port city of Rason. North Korea had been using sea travel between Rason to Kumgang as a means to circumvent restrictions on direct travel to Kumgang by South Korea. As of 2012, North Korea had established air connections from Yanji through
Pyongyang
to the eastern port of
Wonsan
, with sea connections onward. The primary market for these tours appears to be citizens of the People's Republic of
China
.
As Kumgangsan is close to the demilitarized zone (DMZ) separating the two Koreas, this diversion through China substantially lengthens the trip; the only access is therefore a four or five-day guided tour at a cost of 4,500
Chinese yuan
per person.
From Rason, North Korea
There is a cruise ship that travels between the North Korean port of
Rason
in the country's northeast to Kumgangsan. It mostly serves Chinese travellers, although Western tour operators can potentially offer this as well.
Get around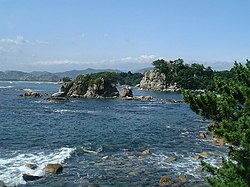 Independent travel is not allowed. You will be bused around with your tour group at all times.
See
The Diamond Mountains are considered the most dramatic scenery in North Korea. It boasts waterfalls, lagoons, mineral springs and Buddhist temples, and hermitages. Park officials provide maps that help you choose between the many attractive sites. The area is divided into Inner, Outer, and Sea Kumgangsan.
Pyohon TempleEstablished in the year 670. One of the most important Zen monasteries in Korea. Once the temple contained several treasures and valuable cultural assets, however these have been either lost or taken to Japan during Japanese colonial rule.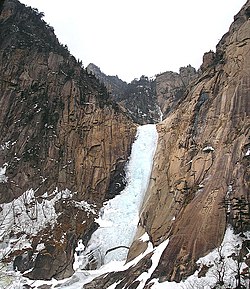 Kuryong Falls4 metres wide and with a drop of 74 metres, the falls are an impressive experience. There is a platform, the Kuryong Pavilion, offering a good view. The pond below is called Kuryong Lake. According to the myth, once upon a time nine dragons were there to defend the Kumgang Mountain. From the lake you can walk down a bit, cross Ryondam Bridge and then climb for 700 metres to Kuryong Rock: from here is a spectacular view of a deep valley and several lakes.

Manmulsang AreaFantastically shaped cliffs and rocks, about a 10-km drive from the Kumgangsan Hotel. Among the peculiarly shaped rocks are Samson (three-fairy) rock, consisting of three rocks standing side by side behind Mansang pavilion at the entrance to Manmulsang. There's also the Kwimyon (Demon-faced) rock, which consists of a small rock standing on a larger one, and the Chonson (Fairies-from-heaven) rock which serves as an observatory. Ten people can stand here and look out at the peaks. According to the myth fairies came here to play. Northwest of the rock, is the Fairies Lake, where the fairies washed themselves before returning to heaven.

Samil LagoonAccording to legend, a king once visited the lake for a day but was so amazed by its beauty that he stayed there for three days; hence the name Samil (three days). You can rent a boat and make a trip on the lake. By the lake is Tanpung Restaurant, where you can rest and have a meal afterwards.
Do
Make sure you listen to your guides, if they have not told you where you can photograph then ask. It will save you any uncomfortable moments.

Buy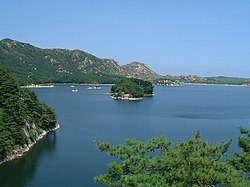 There are many shops selling a wide range of goods from international duty free items to North Korean products which allow the visitors to bring home a little bit of North Korea back south. Jewelry, alcohol and cosmetics are of high quality. Also, there is a shop selling health care supplements, cosmetics, a variety of vitamins and health foods. Souvenirs are also available.
Eat and drink
Visitors must book with approved travel agents and remain in their guide's company throughout. It is therefore not permitted to leave the group to sample the local cuisine or nightlife.

Sleep
Kumgangsan Hotel

address: Onjong-ri, Kosong

A first class hotel, opened in 1958. There are 240 rooms and a few bungalows. Facilities are a shop, dance room, bar, and a bathhouse that derives hot water from a spring.
Stay safe
On 11 July 2008, a South Korean tourist was shot dead by North Korean guards after she walked onto a beach at sunrise. North Korea insists that she had wandered into a restricted military area at 04:30 in the morning.
Since nothing really changed in North Korea after this event, if you do get to visit then make sure you follow your guide's advice very carefully and do not wander around by yourself.

Go next
As of 2012, direct travel between the two Koreas is not possible in this region. The only way out is to leave with the group in the same manner in which you arrived, presumably to
China
.