Kunitachi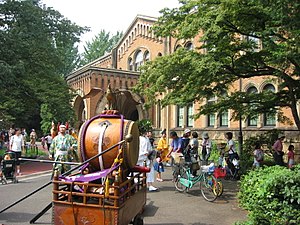 Kunitachi
(
Kunitachi-shi
) is a city in western
Tokyo
. The naming of Kunitachi comes from its location: sandwiched between Kokubunji (国分寺) and
Tachikawa
(立川), the first kanji in each city was combined to create a new name.
Kunitachi is known for its posh, high class neighborhood, and for its many schools. There are many public and private schools and two universities (Hitotsubashi University and Kunitachi Music University).
Some Japanese TV dramas have been filmed here; for example, "Antique" (2002) starring Hideaki Takizawa as a patissier, and "H2" (2005).
Get in
Kunitachi has 3 train stations. Kunitachi Station of JR Chuo Line, Yaho (谷保) and Yagawa (矢川) Station of JR Nambu Line. From
Shinjuku
, you can take the JR Chuo line to Kunitachi Station (about 35 minutes. if on the express train, change to local train at Kokubunji Station). You can also take Keio Line from Shinjuku to Bubaigawara, then change to JR Nambu Line (towards
Tachikawa
direction) for Yaho Station (The trip costs 400 yen and about 25 minutes).
Get around
It's not a big city, so walking around is the best. Take the South Exit of Kunitachi Station, and explore Daigaku dori (University Avenue).

See

Kunitachi is famous for its cherry blossoms in late March to early April. Daigaku Dori (University Avenue) that runs southward from Kunitachi station and Sakura Dori (Cherry blossom Avenue) that runs East-West makes an excellent stroll.

Sleep

Kunitachi has few hotels. You had better use a hotel in neighboring Tachikawa.

Go next