Kunming Prefecture
Kunming Prefecture
is in
Yunnan Province
. It borders
Sichuan Province
to the north, Qujing Prefecture to the east, Honghe Hani and Yi Autonomous Prefecture to the southeast, Yuxi Prefecture to the southwest and Chuxiong Yu Autonomous Prefecture to the west.
Regions
Dongchuan district – area with many red fields
Jinning County – the county seat, Kunyang, has a large memorial park dedicated to Zheng He
Cities
– the main city in the prefecture
Chenggong – Kunming's future city center (under construction), 20 km southeast from the present-day downtown Kunming
Other destinations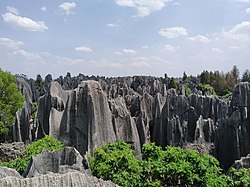 Dian Chi Lake – a gigantic lake on the Yunnan-Guizhou Plateau near Kunming. Its nickname is the "Sparkling Pearl Embedded in a Highland" and it was the model for the Kunming Lake in the Summer Palace in Beijing.
– the Stone Forest, a national park full of spectacular stone pillars carved by erosion
– Jiaozi Snow Mountain and natural area
Understand
Kunming Prefecture is comprised of 14 county-level units (counties and districts, including the 4 districts making up Kunming City proper). Most travellers who visit this prefecture only stop in Kunming or Shilin, but there are other places to be visited.