Kuopio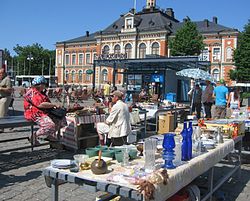 Kuopio
is the largest city of
North Savonia
.
Understand
Kuopio is one of the many Finnish towns founded under Swedish rule. The town was established as a village in the 1500s and incorporated as a city in 1782. Kuopio is surrounded by lakes from three sides, which supplies loads of beaches and the feeling of water being always close. Part of the wooden houses arranged as a grid have been preserved in the centre which makes it a nice place to visit. Kuopio has a population of around 100,000.
Tourist office
address: Haapaniemenkatu 22

Kuopio Regional tourist information
Get in
By plane
Kuopio AirportKuopio is a one hour flight away from Helsinki. Most flights are met by a bus connecting to the city centre. Fares €5 adults, €2,5 children. Taxi to city centre costs €18. As with most Finnish passenger airports nowadays, the only flights are to Helsinki by Finnair (depending on the day 3-6 daily flights).
By train
About 4–5 hours from Helsinki. Tickets and timetables information:
VR
By bus
Good connections from all directions. Timetables, fares and tickets information:
Matkahuolto
By car
National highway 5 from Helsinki and highway 9 from
Turku
. Kuopio is about a five hour drive from Helsinki.
Get around
Kuopio has a good system of public transport. You can ride from one part of the city to another with a single ticket of €3.3, kids €1.7. Kauppatori is the center of Kuopio's public transport system, but be aware that many bus lines just pass through and continue somewhere to the other side of the city.
single ticket workdays: €3,3 adults/€1,7 children 7–16 years
single ticket during the night (11PM-4AM): €5 adults/€2,6 children 7–16 years
Information about local buses can be found
here
. You can use
route planner
to seek local bus routes between given locations and addresses.
See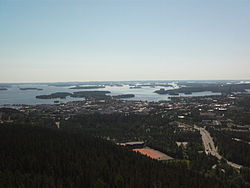 The Puijo Panorama TowerLurks over the city on the highest hill far and wide. From here you have a stunning view over the neighbouring lakelands.

address: Karjalankatu 1

Is a leading museum of Orthodox Churches in Europe.

The Old Town CentreSouth east from the main square and you can just walk around following your feet.

The Minna Canth HouseThe original house where the famous first Finnish female writer Minna Canth lived. Most noticeable it contains a replication of the Minna Canth room where she is said to have written some of her work.

The Kuopio Quarter-Block Museum

address: Kirkkokatu 22

In the old town has plenty of old buildings done up in their original style 150 years ago containing also a pharmacy museum and most enchantingly a little history of Wonderous Healers in Eastern Finland of which still two or three exist and offer their service to believing people today!

The Kuopio Market HallOver 20 local stallholders.

The Victor Barsokevitsch Photographic Centre

phone: +358 17-261 5599

address: Kuninkaankatu 14–16, 70100

The VB Photographic Centre is dedicated to display high-class Finnish and foreign photography. The Centre is housed in an idyllic wooden building that is more than 100 years old and located in the heart of the Old City of Kuopio in Eastern Finland. The VB Photographic Centre is regarded as one of the major photographic galleries and research centres of the country. During the summer, the Centre organizes well-known international exhibitions.
Do
Festivals and events



Around the year

address: Katiskaniementie 8

Offers large indoor and outdoor swimming pools, a jacuzzi, an ice-cold pool, a children's pool, a waterslide, saunas and a steam room.




Do in the summer time

Passenger Boat Cruiseson Lake Kallavesi are worth trying during the summer season (June–August).




Winter sports



Buy
Artiko

address: Haapaniemenkatu 12

Art handicrafts, gifts and utility items.

DaigaDaigaDuu

address: Puijonkatu 12

Handmade clothes, records, comic books, 60s and 70s second hand shop, minigallery.

Daxhund Ceramics

address: Itkonniemenkatu 25

Pentik

address: Kauppakatu 32

Stoneware.

Hallin käsityökammari

address: Market Hall

Local handicrafts and gifts

Pikku-Pietari Market AlleyThree blocks from the Market Square is the idyllic Pikku-Pietari Market Alley, lined by old stables. The log buildings of the alley house a cafe with a terrace, art exhibitions and small boutiques. Handwork demonstrations weekly.

Sauna NestorSpecial shop for sauna products in the Market Hall.
Alcohol
Alko
is the national alcoholic beverage retailing monopoly in Finland. Essentially, it is the only store in the country which retails beer over 4.7% ABV, wine (except in vineyards) and spirits. Alcoholic beverages are also sold in licensed restaurants and bars to ages 18 and up. Alko is required by law to sell drinks with lower alcohol content than 4.7% and non-alcoholic alternatives, but in practice carries a very limited stock of low alcohol beer, cider and non-alcoholic drinks and mixers as supermarkets sell the same products at a lower price.
Alko Kuopio Kolmisoppi

address: Kolmisopentie 3

Alko Kuopio Petonen

address: Jalkasenkatu 5

Alko Kuopio Prisma

address: Savilahdentie 10

Alko Kuopio Päiväranta

address: Päivärannantie 18

Alko Kuopio Sokos

address: Haapaniemenkatu 24-26
Eat
Kalakukko fish pie, The best-known speciality in the province of Savo is probably the 'kalakukko' fish pie, a type of rye bread pie stuffed with fish (the name literally means "fish rooster"). Once you have tasted warm 'kalakukko', it is hard to resist. The best places for shopping for a genuine 'kalakukko', consisting vendace or perch and bacon baked inside a rye crust, are the Market Hall and the Marketplace.
You should also try fried vendace (muikku, a fresh-water fish) at local kiosks and restaurants.

Kalakukkoleipomo Hanna Partanen

address: Kasarmikatu 15

The bakery shop Kalakukkoleipomo Hanna Partanen boasts a long tradition in kalakukko baking.

Muikkuravintola Sampo

address: Kauppakatu 13

Tasty fried small whitefish in a pub-like atmosphere, a real classic in Kuopio.

Restaurant Musta Lammas

address: Satamakatu 4

"Black Sheep" in English, the best restaurant in town, fine dining, pretty expensive.

address: Satamakatu

address: Minna Canthinkatu 44

A restaurant in the city centre, popular among adult people.

address: Tulliportinkatu 44

address: Väinölänniemi

Wooden lakeside restaurant and terrace since 1902. Beautiful and peaceful scenery.

phone: +358 50 411 9445

address: Käsityökatu 25

Steak restaurant.
Drink
Cafes
Trube Markethall-cafe

address: Markethall

Burts Cafe

address: Haapaniemenkatu 20

Café Fado

address: Puijonkatu 15

Cafe Houkutus

address: Kauppakatu 36

Cafe Kaneli

address: Kauppakatu 22

Café Kolibri

address: Kauppakatu 16-18

Cafe Sektori

address: Puijonkatu 23

Coffee House

address: Haapaniemenkatu 24-26
Bars & pubs
Ale pupi

address: Kauppakatu 16

Beerhouse Pannuhuone

address: Kauppakatu 25

Gloria

address: Kauppakatu 16

Intro Bar & Grill

address: Kauppakatu 20

A bar and a restaurant in central Kuopio.

Malja Beer and Wine Restaurant

address: Kauppakatu 29

Restaurant Albatrossi

address: Makasiininkatu

A storehouse-restaurant in Kuopio harbour.

Restaurant Apteekkari

address: Kauppakatu 18

A pub and club restaurant for adults in the city centre.

Henry's Pub

address: Kauppakatu 18

A pub in the city centre. Rockmusic, live bands.

K-Klubi

address: Vuorikatu 14

More alternative pub in Kuopio center, has for example punk and prog gigs.

phone: +358 17 385 1500

address: Laituritie 10, 71310 Vehmersalmi

Bar and restaurant by the sea, accessible by boat, also offers boat rentals.
Nightclubs
Sleep
address: Haapaniemenkatu 22

address: Sammakkolammentie 2

address: Snellmaninkatu 23

address: Puijonkatu 32

Hotel Puijon Maja

address: Katiskaniementie 8

Offers rooms and a swimming pool department (indoor and outdoor pools, a jacuzzi, an ice-cold pool, a children's pool, a waterslide, saunas and a steam room).

Holiday Centre RauhalahtiHas nice cottages or holiday homes (11 also for winter use). The holiday centre is situated very near to Rauhalahti Spa.

address: Tarhakuja 1

address: Majaniementie 2

address: Satamakatu 1

address: Minna Canthinkatu 16
Cope
Press
Locally published newspapers include:
Religious services
Local international churches:
Kuopio church international International friendship group provides activities: learn English, bible study groups, camps and sport events.
Go next
KymppiareenaThe only ski and multipurpose sports hall in the world built into rock lies below the Spa Hotel Vesileppis. The skiing, biathlon and curling facilities are available 12 months a year. For children there is also a snow play area. Services: hotel, spa, restaurant, pub, cafe, meeting rooms, gym, squash, indoor ice rink, physiotherapy, Kymppi Areena

TahkoTahko is a popular Finnish tourist center, both during winters and summers.