Kurama
Kurama
is in
Kyoto prefecture
,
Japan
.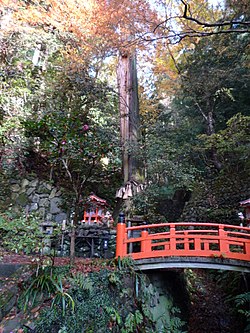 Understand
The small, quiet village of Kurama lies a short distance north from
Kyoto
. Tourists come to Kurama mostly because of the
onsen
(Japanese natural hot spring), which is the closest one from the popular tourist destination of Kyoto. The Buddhist temple of Kurama-dera will also draw some attention from the visitors. Kurama will make a good daytrip destination from Kyoto - you will have time to visit both the onsen and the temple easily during one day.
Get in
Kurama is connected to
Kyoto
with Eizan Railway. Trip from Kyoto's Demachi-Yanagi station costs ¥420 and takes a little more than half an hour. Some like to stop one station earlier at Kibune and walk to Kurama along a beautiful hiking trail, which passes the Buddhist temple of Kurama. The train will pass some quite beautiful scenery before arriving at Kurama, so get a window seat and keep your eyes open in the train.
Get around
Kurama is a rather small rural village, you can reach most of the interesting sights by foot.

See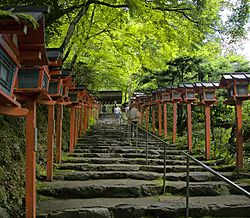 Kuramadera TempleA Buddhist temple overlooking the valley from the hills. There is an elevated railway from the village to the hills, but in order to see all the temples you have to walk either up or down. If you have been doing temple-hopping in Kyoto, Kurama-dera will be a pleasant surprise - even during the peak season, it doesn't get crowded here. If you like a 30 minute to 1 hour hike, it also provides a scenic mountain experience for only 200 yen that is much more expansive than the very quick and expensive visits to many of the World Heritage temples ringing Kyoto.

Fire Festival This festival is held every year in October. It's a fascinating festival that few would have likely have seen in their home countries. The date tends to be around the 20th but might change from year to year. Find out when it is and go early for the area gets very congested the closer to dusk it gets. A tip for the return home is to walk down the road to the next station. It's a bit easier to get on the train there and is a nice walk downhill.
Do
Kurama onsen or hot spring is located just a short walk from the station. There's also a free shuttle bus going every now and then, but you're recommended to take the walk (at least on the way back, which is downhill) and see some Japanese countryside. There are both inside and outside baths, but if the weather permits do take the outside bath (rotenburo). Lying in the hot water, while admiring the green and hilly scenery is wonderfully relaxing. There are separate pools for men and women.
Eat
There are several noodle shops in the vicinity of the Kurama station.

Sleep
You can also find more accommodation from the nearby village of Kibune.
Kurama onsenThey have also accommodation available. Usage of both indoor and outdoor baths are included.
Go next