Kurashiki
Kurashiki
(倉敷) is one of Japan's great old merchant towns, with around half a million citizens today. Sitting along a scenic canal at the foot of Mt. Tsurugata, Kurashiki's white-walled storehouses are beautifully preserved and open for exploration.
Understand
During the Edo period, Kurashiki did heavy trade with
the capital
in rice, sugar, and other goods. Later, during the Meiji Restoration (i.e. after 1868), the city became known for textiles. Kurashiki escaped
World War II
largely unscathed, and as a result, many of the original storehouses, mills, and shops remain in beautiful condition, open to visitors in the
Bikan Historic Area
.
The effect is delightful — storehouses (倉
kura
) with lattice windows share space with weeping willows along the banks of the old canal, which is illuminated at night. The canal has led some overly optimistic tourist associations to call Kurashiki "the Venice of Japan". If not that — the city surrounding the Bikan area is as much a concrete jumble as any other in the country — Kurashiki is still a rare piece of old Japan, one that gives a sense of where people lived and worked, not merely the temples at which they worshipped.
Tourist information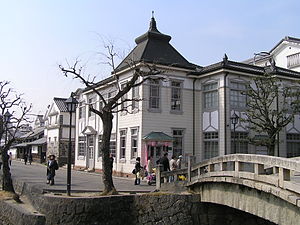 JR Kurashiki StationExit the train station to the south (left from JR ticket collection), overlooking the bus depot. Stay on the upper level, and you'll find the office among the shops to the right (west).

Bikan Historic Area

address: 1-4-8 Chuo-dori

JR Shin-Kurashiki Station
Get in
By plane
A shuttle bus will take you from the
Okayama
airport to JR Kurashiki Station in approximately 45 minutes (¥1130). Tickets can be purchased from a vending machine outside of the airport. Large luggage is okay; the driver will stow it underneath the seats. Staff at the information booth just beyond baggage claim are very helpful, and will go outside with you to purchase the ticket and get you on the appropriate bus.
Connections can also be made with the
Hiroshima
airport, via shuttle bus to Okayama (2 hours, ¥2100).
By train
Kurashiki is on the San'yo Main Line between Okayama and
Fukuyama
.
The best way to reach Kurashiki from the San'yo Shinkansen is to transfer to a local train at Okayama; the ride takes about 15 minutes (¥320). The few express trains between Okayama and Kurashiki are more than twice as expensive, and will only save you a couple of minutes. However, if you have a Japan Rail Pass, you can take either a local or a limited express; on the latter, hop onto any non-reserved car and simply flash your rail pass to the conductor, declaring Kurashiki as your destination.
The Shinkansen stops at
Shin-Kurashiki
Station (新倉敷), another 10 minutes down the San'yo Main Line, but only with the all-stops
Kodama
trains. It's about 10 minutes on the local train from JR Kurashiki Station to Shin-Kurashiki Station.
By bus
Several companies run daytime and overnight bus routes from
Tokyo
,
Osaka
,
Kobe
,
Matsuyama
,
Tokushima
,
Kochi
,
Fukuoka
, and elsewhere. Operators include
Chugoku JR Bus Company
(+81 86-236-1123). Buses arrive and depart outside the north exit of JR Kurashiki Station.
Get around

Most of the sights in Kurashiki are in and around the Bikan area, which is easily reached on foot from the south exit of JR Kurashiki Station — about a ten-minute walk down Chuo-dori or the Ebisu-dori covered arcade.

See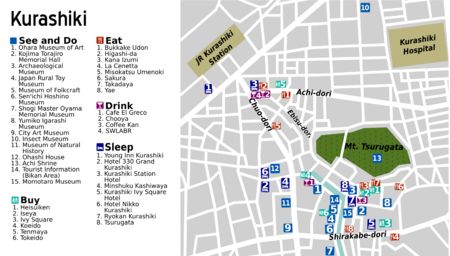 Bikan Historic Area
Even if you're not interested in the subject of a certain museum, the chance to explore inside these old warehouses and mills might be worth the price of admission. Virtually all of the museums (and many of the stores) are closed on Mondays, which does at least mean fewer crowds and photo hounds competing for that perfect shot at the foot of a bridge.
For a terrific view of the entire Bikan area, head up the granite stairs on
Mt. Tsurugata
to the
Achi Shrine
, and have a wander around the park at the top.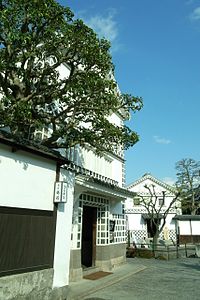 Near the Bikan area
Copenhagen in Japan
For many years, the second most popular tourist attraction in Kurashiki (after the Bikan area) was
Tivoli Park
, a collection of trees, flowers, and rides. It was closed at the end of 2008, and has been replaced by the Ario shopping mall.
Tamashima Area
Although the Bikan Historic District is the most popular area to visit in Kurashiki, the Tamashima area is the most easily accessible, with Shin-Kurashiki Station, accessible by Shinkansen, as the main station.
Entsuji TempleEntsuji Temple is famous as the site where the famous poet Priest Ryokan wrote many of his most famous poems. From the temple grounds, there is an impressive view of the factories in the Kojima area (which is quite beautiful, despite how it may sound), as well as the Seto Inland Sea. This temple is also the seventh temple along the Chugoku 33 Kannon Temple Pilgrimage route.

Saisou-tei

address: 3 Chome Tamashima

This is one of Kurashiki's true hidden gems. The Saisou-tei is where local clan leader, Kumata Ataka committed seppuku, which prevented a war from breaking out in the Tamashima area. What makes it so fascinating is that the building has been preserved so that the actual blood stains from the seppuku remain visible on the ceiling; a rare sight. When you enter, you will be given a short tour in Japanese only however, after reading this, you should be able to follow along and see what they are showing you when they point towards the ceiling.
Kojima Area
The Kojima area is located along the
Seto Inland Sea
, served by JR Kojima Station, and offers many great views of the Seto Ohashi Bridge. If you choose to travel from the Bikan area to the Kojima area by train, you can only reach it via
Okayama
. Take the
Marine Liner
from Okayama to Kojima Station. Bus #6 from JR Kurashiki Station runs to JR Kojima Station, if you prefer a street-level view while travelling between the two locations. Rentacycles are available and make the region more accessible for those who want to see the Shimotsui area at their own pace and for much less than a taxi ride.
phone: +81 86-472-2001

This building was constructed in 1833 as the home of Buzaemon Nozaki, a wealthy salt farmer. Not only can you roam about the residence, there are also storehouses on site that contain information and tools related to salt farming.

Betty Smith Jeans MuseumThe Kojima area of Kurashiki is known throughout Japan for its high-quality jeans, and the museum displays items made in the factory and the history of Kojima jean production. You can also buy or order custom jeans.

phone: +81 86-473-2111

A museum showcasing the history of school uniforms and their development through the years. It's located here because the Kojima area produces a large percentage of the school uniforms worn nationwide.

Yugasan Rendai-jiA unique complex composed of both a shrine and a temple. The torii gate is made of Bizen pottery. The shrine is a sister shrine to the famous Konpirasan in Kotohira. It is also the 6th temple along the Chugoku Pilgrimage Route.

Tsusenen GardenA garden that features over 3,000 azalea bushes that bloom during the spring. Like much of the area's attractions, there is also a great view of the Seto Inland Sea from the garden grounds.

phone: +81 050-6865-2539

address: 1-3-9 Fukiage

A museum showcasing young artists on the first floor and artists from the prefecture on the 2nd floor in one of Shimotsui's historic buildings.

Shimotsui Castle RuinsBuilt as a fort in the late 16th century, it was expanded into a proper castle in 1603. It lasted until the one castle per province edict was implemented in 1639 when the castle was torn down. Today the ruins of some of the castle walls are all that remain. There is also a great view of the Inland Sea and Seto Ohashi Bridge from the castle grounds.

Washuzan HillA popular place for locals to picnic and relax while enjoying one of the best views of the Seto Ohashi Bridge and the Seto Inland Sea.
Do
address: 303-1 Shimotsui Fukiage

A fun Brazil-themed amusement park, with a variety of rides (including the pedal-powered, electricity free SkyCycle), karaoke, roller skating, ice skating, a swimming pool, and live performances. There are two hotels attached: the Washu Highland and Washuzan Shimoden.

phone: +81 86-463-7070

A large sports park with a variety of facilities for those interested in getting in shape (or just for fun), such as tennis courts, a fitness center, park, and more. Inside its precincts is Muscat Stadium, the biggest baseball stadium in Okayama, established in 1965. Entrance to the stadium is only permitted when events are being held there. The 1500-m running/walking course around the perimeter is popular with locals.

phone: +81 86-424-9192

address: 2458 Shinden

An excellent 50-m swimming pool within easy cycling or walking distance of Kurashiki's Bikan historic area, close to the City Office. There's a separate 25-m pool for splashing about in. Like many public pools in Japan, everyone is required to get out of the water for 5 minutes each hour (at this pool, between 25 and 30 minutes past the hour), so check the time before going in if you want an uninterrupted swim.
Events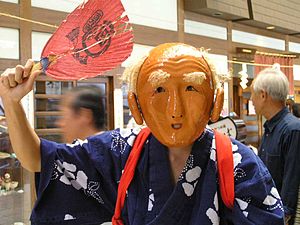 Since the Edo Period, Kurashiki has had an interesting mascot known as
Suin-kyo
(素隠居) that appears at Achi Shrine's May and October festivals. The Suin-kyo are people wearing masks of an old man and woman carrying fans. If they touch your head, it is said to bring good luck. The masks look jovial and most people approach them for luck, but there are always a few terrified children crying as their parents carry them over to grant them begrudging fortune.
Kurashiki Hina MeguriA display of Hina Dolls for the Girls' Festival from late February to mid-March. The dolls can be viewed in historic buildings in the Bikan area, as well as other areas of the city, such as the Kojima, Tamashima, Mizushima, and Makibi areas.

Tenryo Summer FestivalA big festival with drums and events during the daytime and a large evening parade to kick off the start of summer and the end of the rainy season.
Learn
Kurashiki Language Academy (Kurashiki Gaigo Gakuin) offers Japanese language courses at all levels to foreign students. Short and long-term programs are available.
Buy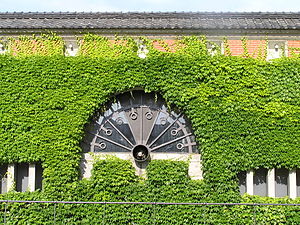 If you have enough money to spend, you'll find some
gorgeous
traditional souvenirs to buy in Kurashiki. The city has been producing high-end textiles for more than two centuries, but locally-made blown-glass (ガラス) and the famed
Bizen
-yaki (備前焼) pottery are sold as well. Cheaper souvenirs and knick-knacks are available in the
Ebisu-dori
covered shopping arcade, which runs part of the route between the station and the Bikan area.
address: 8-8 Hon-machi

The Food of Life is stocked at this store of delicacies from all over Japan, sold in gift sets. The headquarters of the Morita Shuzo sake brewery (森田酒造株式会社) is on the premises as well.

Iseya

address: 4-5 Hon-machi

If you enjoyed the Toy Museum, stop here for a mix of European wooden toys from the cheap & nifty to the expensive & hand-crafted.

Ivy Square

address: 7-1 Hon-machi

There is some historical charm in this old cotton mill, built of red bricks and covered in green ivy, but it's mainly here to sell high-end art, fabrics, and other traditional wares.

address: 1-1-18 Chuo-dori

The favorite sweet of Okayama (and Momotaro), kibi dango (吉備団子), is sold here.

address: 1-7-1 Achi-dori

Directly adjacent to JR Kurashiki Station, this branch of the department store chain has a fair amount of space set aside for local merchants.

address: 1-4-18 Chuo-dori

Even if you're not planning to buy, you're welcome to visit for this store's regular exhibitions of bizen-yaki pottery by different sculptors, and looking is free. There are small pieces for sale as low as ¥630, though.

Jeans StreetThe Kojima area is one of the largest producers of jeans in all of Japan. All of the local jeans producers have shops located somewhere along the street where you can buy or order their jeans. The "street" is actually two streets. It starts where our marker is located on the map but when the road ends, it continues down towards the Nozaki House.
Eat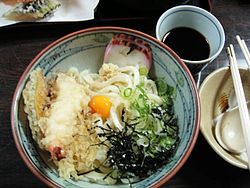 Bukkake UdonThe Kurashiki brand of udon carries influence from Edo-period Tokyo, courtesy of the local business magnates who did trade with the shogunate. Today, Kurashiki natives will tolerate no other noodles. The sauce is served separately, so customers can pour it (bukkakeru) onto the noodles themselves. This popular chain has eight locations in the city, including four surrounding JR Kurashiki Station; hours vary, but the HQ at 2-3-23 Achi-dori (07:00-21:00) is the easiest to find. Look for the distinctive yellow and black logo.

phone: +81 86-427-5515

A sandwich shop that is known for its crackers and jellies. It's a good place for a quick, light meal. The crackers and jellies can also be purchased independently if you'd like to take them home as souvenirs.

La Cenetta

address: 1700 Funagura-cho

Japanese pizzerias are famously creative (and sometimes bizarre) with their choice of pizza toppings, but La Cenetta is an exception; chef Sekizen Kohara serves authentic Neapolitan-style pies, made in a small wood oven.

address: 2-19-3 Achi-dori

Umenoki serves a Nagoya specialty: breaded, fried (without oil) pork cutlets with a thick, miso-based sauce, usually served over shredded cabbage or noodles.

Takadaya

address: 11-36 Hon-machi

A smoky yet fantastic little yakitoriya (grilled chicken kebab joint) in the back alleys of the Bikan Area. Prices are reasonable and the food is fantastic. No English spoken.

address: 5-14 Hon-machi

Always packed with locals, Yae serves good seafood and sake, and the talkative staff will be happy to make recommendations.

Yasunoya

address: 1-9-33 Shimotsui

This is the first restaurant in the Shimotsui area to start serving dishes featuring the locally caught octopus that has since become so famous in the region.

Atchan

phone: +81 86-472-9108

address: 1-88 Kojima Ekimae

Famous for its octopus okonomiyaki which uses the fresh, locally fished Shimotsui octopus.
Drink
Plenty of bars are clustered around the south exit of JR Kurashiki Station. In the Bikan area,
Ivy Square
(see
Buy
) has a nice beer garden.
address: 1-1-11 Chuo-dori

A nice coffee shop next to the Ohara Art Museum — look for the red awning, and the building covered in ivy. Coffee and blueberry pie is the house specialty. It's named for the Spanish artist, whose The Annunciation is among the major works in the Ohara's collection.

Chooya

address: 2-9-10 Achi-dori

Food, local microbrews and inventive food (very Japanese) at this friendly pub/drinking hole.

phone: +81 86-424-5516

address: 4-1 Hon-machi

Get educated and caffeinated in this beautiful, atmospheric coffee shop, managed by people who are serious about their beans. Brewed by French press, the coffee is served straight or mixed with honey and liquers to make their house "Queen of Amber" concoction.

SWLABR

address: 2-18-2 Achi-dori

A cozy pub/coffee shop/clothing store (named for a Cream song) located two minutes south of JR Kurashiki Station — look for the green building. The friendly staff serves good food and desserts until 8PM and drinks until late.
Sleep
Although Kurashiki is an easy day-trip from Okayama, it's worth staying overnight to enjoy the late evening and early morning atmosphere of the Bikan area (without the daytime crowds).
Budget
Mid-range
address: 2-2-26 Chuo

Warm, pleasant rooms with business hotel amenities but American-style decor. Buffet Western or Japanese-style breakfast available (¥1100).

address: 2-8-1 Achi-dori

Five floors and 111 small rooms slightly more pleasant than the average business hotel. They offer steep discounts for online booking; buffet Japanese breakfasts are available for ¥1000.

Kurashiki Setouchi Kojima Hotel

phone: +81 86-473-7711

A nice hotel located near Washuzan Highland with a large onsen area to enjoy.
Splurge
Go next
Within Okayama Prefecture there are many worthwhile places to travel:
Outside of Okayama Prefecture, one can easily take daytrips to: