Kuro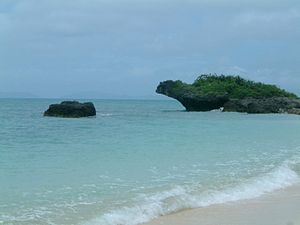 Kuro Island
(黒島
Kuroshima
), often referred to by its full Japanese name
Kuroshima
, is one of the smaller of the
Yaeyama Islands
of
Japan
.
Understand
This island is famous for cattle and there are about 3000 cows in this island in spite of the fact that there are only 200 people. This island is completely away from modern life. for example, there are no convenience stores, no DVD rental stores, no signal on the street, etc. There is just one very small general store and a few cafes. What the island does have is a
beautiful beach
, arguably more beautiful than those on
Okinawa Island
, as well as some pretty good snorkeling. Plus, as there are few people on the beach, and it will be rather private.
Get in
By boat
There are five to six daily departures from
Ishigaki
, depending on the season, and the travel time is about 25 minutes.
Get around

Bicycles are the recommended way of getting around the island, letting you get from one side to the other in less than half an hour. Bicycles and motorbikes can be rented at the port. Walking is possible, but takes a lot longer.

See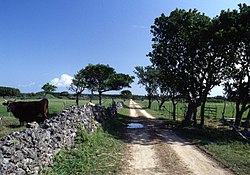 To begin with, there are
cows
. Cows, everywhere. If you're from a big city and haven't been around them much, this will get you excited.
Nishi no HamaNot much in the way of a beach, but it's a spawning ground for sea turtles during summer nights. The turtles are a protected species, of course, so viewing them is possible only under strictly regulated conditions.

phone: +81 980-85-4341

address: Kuroshima 136

Studies mostly sea turtles, and plenty of juvenile specimens can be viewed in tanks. There's also a fearsome coconut crab in a cage, as well as coral and shells on display. Nighttime excursions to view the sea turtles are available for ¥1,500.

Iko PierWalk far out over the beautiful blue lagoon and see views of Iriomote across the water.
Do
Nakamoto BeachDoesn't have turtles, but the reef is a quite good snorkeling spot. It seems to only be officially open for swimming during low tide, when the lagoon becomes completely separated from the sea. During other times there can be strong currents, so be careful.
Buy
There is one very small general goods store with a small selection of snacks and produce, located at the north end of the village in the middle of the island. You can find it labeled on some of the tourist maps as just "Store". Locals take the ferry to Ishagaki to do most of their shopping.

Eat and drink
There are at least a couple small cafes scattered around the island, but not many. You will probably come across one if you're cycling around.

Sleep
phone: +81 980-85-4304

address: Kuroshima 412

phone: +81 980-84-6811

address: Kuroshima 31

A minshuku with a surprisingly modern building (opened in 2003). WiFi, transportation to/from the harbor, and awamori (up to a point) are free.
Go next
Unless you have your own boat, the only place to go from here is back to Ishigaki!