Kusadasi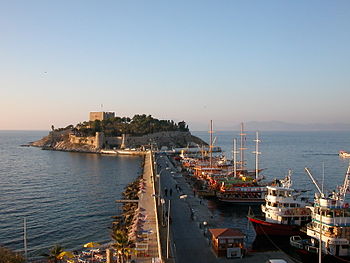 Kuşadası
is a coastal resort town in the
Aydin Province
of
Aegean Turkey
. It has become a popular holiday resort, especially for visitors from Northern and Western Europe.
Understand
Kusadasi takes its name from the Turkish for 'Bird Island', a reference to Pigeon Island, which is connected to the mainland of Kusadasi by a short causeway.
The permanent population is approximately 50,000 residents, although that number grows significantly during the high season months of May to October.

Get in
Visitors can arrive by highway (from north, south, and east), ferries (from
Samos
) or
cruise ships
, which ply the Eastern Mediterranean. Docks are right downtown, and terminals offer a good selection of stores including a duty-free shop.
Get around
By taxi
Taxi drivers in Kusadasi tend to be helpful and are normally happy to give you recommendations for restaurants, et al. But you must be careful and guard against fake taxis and scammers; make sure that the identification plate of the taxi starts with
09 T
.
Do
Beach life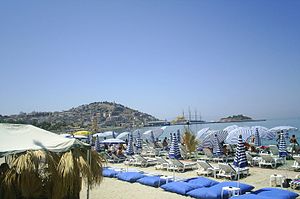 There are some good beaches both south and north of Kusadasi. All beaches are commercialized with hotels surrounding them. South of Kusadasi is
the ladies beach
,
lost paradise beach
and
the long beach
The World's Most Beautiful Clean Beaches in KusadasiThe Kusadasi Beaches are world-famous beaches. Kusadasi beaches have received Blue Flag for clean sea and unique sand. Caretta Caretta sea turtles prefer lay eggs to Kusadasi Davutlar Beach. All Kusadasi beaches have sand and After 50 meters the depth be 160 centimeters.
Buy
The "downtown" area near the waterfront is quite modern, with many stores and an open air bazaar. Offerings range from typical souvenirs to fine jewelry and Turkish rugs. Hawkers frequently implore passersby to come inside, but with patience, visitors can find quality items at prices often somewhat better than in large cities. Bargaining is expected, and essential in the bazaar.
Mosaic Rugs

phone: +90 256 612 82 82

address: Mahmut Esat Bozkurt Cad. No:8

Located next to the Port, a showroom displaying traditional Turkish handmade silk and wool carpets with an exhibition area where staff happily explain the rug making process. Learn about silk production, natural color dyes and the art of traditional carpet weaving. No obligation to buy, but should you wish to purchase a traditional Turkish rug to adorn your home then world wide delivery is available.
Eat
Avlu Restaurant & Cafe

address: Cephane Sokak 15

Tasty Turkish food at a reasonable price. Friendly staff and relaxed atmosphere. Vegetarian options available upon request. Finish your meal with an excellent cup of Turkish coffee served in style.
Drink
Kusadasi nightlife can get very busy during the summer and offers many entertainments to nearly every age group. Much nightlife in Kusadasi centers around the Bars Street, which is well known to vacationers.

Sleep
Dias Hotel

address: Tarhan Candan Blv.

Family run 3-star hotel, friendly and clean. Englsh speaking staff, always friendly and helpful.

phone: +90 256 614 66 19

address: Kıbrıs Caddesi 14, Hacı Feyzullah

Hotel Panorama is a cheap, convienent backpacker hostel to stay located just a minutes walk from the port in central Kusadasi. The owner/manager Ali is extremely welcoming and eager to help travelers with any of their plans and even has some inside contacts (ask about Ali Baba for tours to Ephesus). Furthermore, pick up is provided from the port along with a free drink upon arrival to the hostel. The rooms are clean and adequate with en-suite bathrooms and air-con and the hostel throws events at night for free such as Turkish spoon dancing and belly dancing and, if you are lucky, Ali's mother may invite you to a home cooked meal!

Sezgin Hotel

phone: +90 256 614 42 25

address: Aslanlar Caddesi 68

A guesthouse in old town owned by a former traveller. Rooms with en-suite bathrooms, balconies, and air-con. Staff can reportedly speak English, German, Japanese, and Korean.

phone: +90 256 622-31-01

address: Yeşilvadi Sokak No: 9

Placed on a hilltop, the hotel offers a nice view with great sunsets. Not a bad choice if you are looking for a low price living. The hotel is located 20 minutes walk from Lady's Beach. To Kusadasi center you need to take a car. What's good is that you get free rides wherever you would like to go as long as it's close to Kusadasi. Don't expect too much and you will be happy with this hotel. Standard Turkish breakfast is served every morning.
Connect
Kuşadası falls within the area code (+90)
256
, which is also shared by some nearby inland cities and towns, such as
Aydın
.
Go next
Ephesus, one of the major and best preserved Greco-Roman sites in Turkey, is located nearby.
Dilek Peninsula National Park — about 20 min south of Kuşadası, this park with its lush forests, hiking trails, and quite secluded beaches is exactly the opposite of what Kuşadası represents, and is therefore a great get-away.
Greek island of Samos, just southwest of Kuşadası, makes a great side trip (or even day-trip for those not needing a Greek visa), thanks to daily boat connections, which depart more than once daily during high season.