Kushimoto
Kushimoto
(串本町
Kushimoto-chō
) is a small coastal town in
Wakayama Prefecture
in the
Kansai
region of
Japan
. It is a useful base for exploring and enjoying the activities of the prefecture's extreme south. In relation, the town sits on the southernmost point of Japan's main island of
Honshu
, which serves as tourist attraction itself.
Get in
By Train
The town is served by Kushimoto Station (串本駅
Kushimoto Eki
).
From
Kyoto
,
Osaka
, and
Wakayama
, the quickest way to reach Kushimoto is via limited express train, either on the
Kuroshio
(くろしお),
Super Kuroshio
(スーパーくろしお), or
Ocean Arrow
(オーシャンアロー) services. Cheaper but slower train service is also available and will require one or more transfers. Both express and local services go via the JR Hanwa Line (阪和線), directly connecting to the JR Kinokuni Line (きのくに線), which is also sometimes labeled as the JR Kisei Line (紀勢線). Total fare from Wakayama City via limited express is ¥4170 (about 2hr 10min) and via local is ¥2520 (about 3h40m).
Insider's Tip: on Kushimoto bound trains, ask for a seat on the right side (右側 migi-gawa) of the train to ensure unobstructed views of the coast. Moreover, a viewing car open to all passengers is available on all Ocean Arrow trains.
From
Nagoya
, the best way to reach Kushimoto via train is through the limited express
Nanki
(南紀) leading to Kii-Katsuura Station (紀伊勝浦駅), then transferring to a local train bound for Kushimoto or Kii-Tanabe Station (紀伊田辺駅). This costs ¥9470 and takes about 4hr 30min. Local train travel from Nagoya is not recommended.
Train services run roughly once per hour from the big cities. All lines are run by JR, and Japan Rail Pass holders are covered when riding them.
By Car
Driving is a viable (and highly recommended) option, and it will be very useful to have a car when exploring the area. From Wakayama City onward, take the tolled
Hanwa Expressway
(阪和自動車道) southbound for Shirahama (白浜). Exit at
Nanki-Tanabe Interchange
(南紀田辺IC), which is the last exit, and get on
Route 42
bound for Shingu (新宮) following it all the way to Kushimoto. Driving time from the exit is about 2½ hours.
From Nagoya, follow the Higashi Meihan (東名阪自動車道) and Ise Expressways (伊勢自動車道) to get to the
Kisei Expressway
(紀勢自動車道). Exit at
Omiya-Odai Interchange
(大宮大台IC), which is the last exit, and get on
Route 42
bound for Shingu (新宮) following it all the way to Kushimoto. Driving time from the exit is about 6 hours.
Once off the expressway, the route has many winds and turns and follows the coast very closely, and at some points it's quite a steep drop to the ocean, so use extreme caution when driving especially in bad weather. During the summer months, the expressways and Route 42 are heavily traveled by beach-goers coming from the Osaka area, particularly on weekends and holidays. this causes lengthy delays, as the roads are not meant for heavy traffic.
By Air
The nearest airport is Nanki-Shirahama Airport in the town of Shirahama (白浜) about 2 hours away. There are daily flights to/from Tokyo-Haneda Airport, but international routes are not served. Take a bus to Shirahama Station (白浜駅) take one of the limited express trains mentioned above to get into town.
The nearest international airport is
Kansai International Airport
. Take a train or limousine bus to Wakayama Station (和歌山駅) and transfer onto one of the limited express trains mentioned above to get into town.
Get around
Anything in Central Kushimoto is easily accessible by foot, however the more interesting attractions outside town will not. Taxis are available at Kushimoto Station.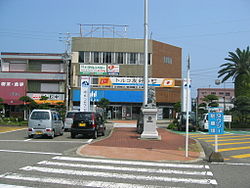 Local road conditions in town vary widely; steep, narrow, windy, unpaved, or all of the above combined are common traits. Car-navigation is highly recommended, if not necessary. Major roads are:
Route 38 - main road for Koza, follows the Koza River. Starts off of Route 42 and eventually connects to Route 371.
Route 40 - branches off of Route 41, crosses the Kushimoto Big Bridge, eventually ending at the Turkish Memorial Museum and Kashino Lighthouse.
Route 41 - starts/stops on Route 42, loops around Cape Shiono-Misaki.
Route 42 - main business thoroughfare and the primary route for getting in and out of town. Stay on this and you won't get lost.
Route 227 - parallels Route 38 opposite the Koza River
Route 371 - mountain road for getting to the Koza River, Shichi-kawa Dam, and eventually to Tanabe City.
Talk
Though the local Kushimoto dialect (串本弁
Kushimoto-ben
) shares many traits with the bigger, regional Kansai dialect (関西弁
Kansai-ben
), it naturally has its own unique peculiarities. Locals claim that their dialect remains very close to the language spoken in Nara- and Heian-period Japan. If you have a decent command of Japanese, you might consider using some of the following phrases to score some laughs, brownie points, or maybe even a free beer with the locals:
あがら (標準:わたしたち) we
あたんする (標準:八つ当たりする) get angry suddenly
いくで (標準:いくよ) I'm going... (で can be used with most verbs you would use よ with)
かいだるい (標準:疲れた) tiring, tired
がい (標準:ですよ) You know...!
がいに (標準:強く) strongly
くらんし (標準:ください) Please...
まいせー (標準:やめておけ) Don't do that!
Other standard Kansai phrases should also get some smiles out of people.
See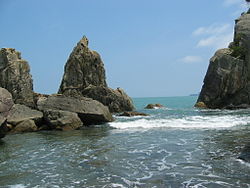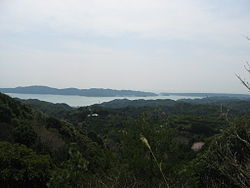 Hashigui Beach

Hashigui-Iwa Rock FormationsA legendary set of rock formations that stretch out sea for about 850 meters, and is pretty much ingrained into the town's identity to both locals and visitors.

Turkish Memorial and MuseumAs the signs outside Kushimoto JR Station proclaim, Kushimoto is the official "Town of Japanese-Turkish Friendship." This proud history began in 1890, when the Turkish frigate Ertugrul crashed on the rocks off O-shima Island during a typhoon, after visiting Yokohama to conduct talks between the rising Empire of Japan and the declining Ottoman Empire. The museum is small and its information is only in Turkish and Japanese, but there is a good collection of artifacts and photographs and from an outdoor terrace, you can see the rock which sent more than 500 Turkish sailors to a watery grave. Don't miss the nearby Turkish souvenir stand, which serves delicious Turkish ice cream and boasts (probably) the only Turkish person in Wakayama Prefecture!

Japan-US Friendship HallA museum commemorating the first actual arrival of an American ship in Japan—the USS Lady Washington in 1791—taking place decades before Commander Perry's more famed 19th-century landing. Also houses a small collection of memorabilia of the town's American Sister City (Hemet, California). Exhibits have English-language recordings and materials.

Kashinozaki LighthouseJapan's oldest stone lighthouse and is still in use. Also known for being the home of an Englishman who tended to the area, planting daffodils that continue to bloom to this day.

KozaThis town was independent until 2005 and continues to maintain its own identity. The scenery along the waterway that bisects the town, the Koza River, is quite picturesque.

Kuroshima and Taijima

Kushimoto Big Bridge ParkSmall park with a wooden overlook structure allowing for views of Kushimoto Harbor and the channel between Cape Shiono-Misaki and Oshima.

Kushimoto Marine ParkSee the local sea life through its underwater exhibit built underwater and through a glass bottomed boat ride.

Mt. KasaneA high peak. The park at the summit has a playground and has a breathtaking overlook of Kushimoto Harbor, the Kushimoto Big Bridge, Oshima Island and more. A popular destination for day-hikers and BBQ parties.

Okyoro Art MuseumThis art museum prides itself as being Japan's smallest. Houses a fine collection of "India-ink" paintings.

Oshima PortThe site of the annual Boat Race Festival is not much to look at itself, but it offers an amazing view of Kushimoto Harbor and the rest of the mainland, and the mountains that background everything else. The road to get here is semi-treacherous.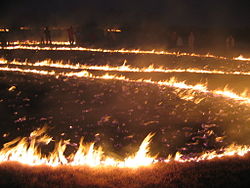 Shiono-Misaki Southernmost Point ParkA grassy area that denotes the southernmost point of Honshu and serves as the festival grounds for the annual Fire Festival. Nearby watchtower offers views of the area.

Shiono-Misaki LighthouseBuilt in 1873 and at 19.55 meters, this Meiji-era lighthouse served as an important marker for ships entering Osaka Bay.

Shichikawa DamRecreational area popular during the cherry blossom viewing season with spectacular views.

Umikongo Rock FormationsRock formations taking on strangely recognizable shapes, such as pyramids and lion masks. Declared in 1983 by Asahi Shimbun newspaper as one of Japan's 100 Most Important Natural Treasures for the 21st Century.
Do
Diving
The Kushimoto Coral Communities, designated as a protected wetlands by the 2005 Ramsar Convention, encompasses 574 hectares (3.4 sq mi) and is home to numerous species of coral and waterfowl. Numerous dive shops along Route 42 offer dive tours and rentals.
Hiking
Oheji TrailOheji is a coastal branch of the bigger Kumano Kodo Road (熊野古道), a Heian-era pilgrimage road linking the 3 Grand Shrines of Kumano (熊野三山): Nachi Taisha (那智大社), Hongu Taisha (本宮大社), and Hayatama Taisha (速玉大社).

Mt. Kasane Trail
Kayaking
Koza Sightseeing Association Canoe RentalOffers kayak + gear rentals for use on the Koza River. Be sure to plan ahead in the warmer months as reservations fill up quickly. Courses available: 5km/hr (¥1500), 8km/2hr (¥2000), 12km/3hr (¥3000), 16km/4hr (¥4000). Taxi fare to starting area not included. Seasonal. Reservations Tel. 0735-72-0645 (Japanese only). Reservation window located inside Koza Station, rental pickup located outside Koza Station.
Events
Buy
Money
As with most small Japanese towns, many businesses (especially restaurants)
do not
take credit cards. Be on the safe side and secure enough cash
before
heading into town.
That said, people with cards issued in Japan may be able to use ATMs these local banks:
Daisan Bank

Kinokuni Bank

Kiyo Bank
Major international currencies may be exchanged at the
Kushimoto Post Office
(串本郵便局
Kushimoto Yūbin Kyoku
), located just off of Route 42 near the Lawson Convenience Store in Central Kushimoto. They may not be able to exchange large sums of money (over ¥50,000).
As the case with the rest of Japan, most local post offices have ATMs that take major international cards and have English menus.
Shops
A-Coop Supermarket (Aコープ) - Chain supermarket, good selection of bento boxes and fresh sushi to-go. On Route 41, across the street from Kushimoto Junior High School.
Eiden - Electronics. On Route 42 just before Hashigui-Iwa.
Matsuda Souvenir Shop (松田土産物店) - Convenient location and good selection of food and non-food gifts. Outside Kushimoto Station.
Okuwa Shopping Center (オークワ) - 24-hour grocery store. Biggest selection of clothing, housewares, and 100-yen goods in town. On Route 42 just after Kushimoto Station
Tsutaya - Books, music, and movies. On Route 42 across from the Okuwa Shopping Center.
Wakamatsu-ya Bakery (若松屋) - local bakery with the good selection of pastries and desserts. On Route 42 just after Tsutaya
Eat
Local Delicacies
Awabi (アワビ) - abalone
Ise-ebi (伊勢海老・イセエビ) - Japanese spiny lobster, highly prized.
Katsuo (鰹・カツオ) - bonito (aka skipjack tuna) caught through local "kenken" style fly fishing. One of Kushimoto's more important exports.
Kinkan (キンカン) - kumquats, abundant in late winter.
Mikan / Ponkan (ミカン・ポンカン) - relative of the mandarin orange and tangerine, found anywhere and everywhere during colder months.
Maguro (鮪・マグロ) - tuna
Sazae (サザエ) - sea snail
Tobiuo (飛魚・トビウオ) - flying fish
Zori-ebi (ゾウリエビ) - Japanese mitten lobster
Restaurants
Daikichi (大吉) - Branch of the fairly well-known yakitori chain. Across the street from Kushimoto Station. ¥1500 per person up.
Kuroshio Sushi (黒潮寿司) - Kaiten (conveyor belt) sushi restaurant, fairly cheap prices and good selection. Safe bet for tourists who don't speak Japanese. Down the street from the Okuwa Shopping Center toward Hashigui-Iwa. ¥130 per sushi plate up.
Hikochan (彦ちゃん) - Local izakaya that takes advantage of the local seafood. Known for Ochazuke Rice & Tea Porridge (お茶漬け), Miso Yakisoba (味噌焼ソバ), Minced Bonito (鰹たたき Katsuo Tataki), and of course various kinds of sushi. Down the street from Kushimoto Station. ¥1500 per person up.
Oak (レストランオーク) - Fairly drab and uninspired family restaurant chain serving typical Japanese and Western meals. Next to Tsutaya. Full meals ¥1000 up.
Sun Doria (サンドリア) - Locally owned family restaurant. As the name states, they specialize in Japanese-style doria (casseroles), but also carry standard Japanese and Western fare. Down the street from the Kushimoto Cultural Center (串本文化センター Kushimoto Bunka Senta). Full meals ¥1000 up.
Udon Hashigui (うどん橋杭) - Serves a full selection of udon. Shrimp Tempura Udon is probably the best in town. Across from Hashigui-Iwa. ¥600 up.
Yakiniku Juju (焼肉樹樹) - Tabletop charcoal grills, serves kuroge wagyu beef (黒毛和牛). On Route 42, near the turnoff for A-Coop and Kushimoto High School. ¥1500 per person up.
Sleep
Kushimoto Royal HotelSet atop a hill overlooking the harbor, this is the best bet in town in terms of size, amenities, location, and convenience. Rooms are modern and available in Western and Japanese styles. Be sure to get a room that faces the harbor. Pool, hot springs, arcade, karaoke box, banquet halls, and restaurants on hotel grounds.

Kushimoto JR Station HotelIf you arrive at Kushimoto JR Station late or tired, this hotel can't be beaten for convenience or price, as it is actually located in the station. The rooms are clean and cheap, but don't expect luxurious surroundings and be aware that it can sometimes feel like passing trains are actually right there in the room. Train schedules are posted in the hallways of the hotel.

Hotel Submarine

phone: +81 735-62-3770

Hotel San Marin

Urashima Harbor HotelAs the name implies, this hotel is right by the water. The exterior seems utilitarian and almost jail-like, but interior is a little more welcoming. Be sure to get a room that faces the harbor. Pool, hot springs, restaurants, and banquet halls on hotel grounds.
Go next
The following towns can be easily explored as day trips from Kushimoto: