Kutaisi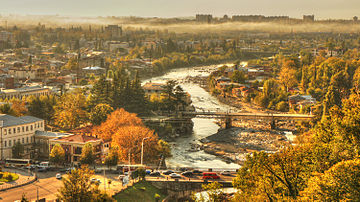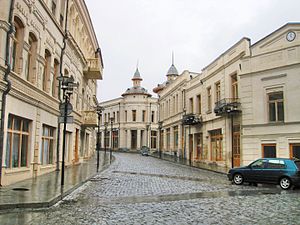 Kutaisi
is a city in the
Rioni Region
of
Georgia
.
Understand
Kutaisi is the traditional rival of
Tbilisi
for capital status. Since the days of the Golden Fleece, Kutaisi has been considered the capital of Western Georgia (then Ancient Colchis). It is Georgia's second largest city, but, to the irritation of the proud locals, it does not come even close to Tbilisi's present size and wealth. Nevertheless, Kutaisi is more respectful of pedestrians than Tbilisi. Its sidewalks are generally even and flat with very few cars parked on them, whereas in Tbilisi pedestrians are often forced into the streets because of cars sitting on sidewalks. Kutaisi drivers generally stop in front of crosswalks to let pedestrians cross, whereas in Tbilisi pedestrians have to be in the middle of the street to get a car to slow down for them.
Since the Georgian Parliament moved to Kutaisi in 2012, there has been a lot of work on restoring streets, buildings, parks and monuments in the city, and it has become much safer. There seems to be a bit more variety in the materials, facades, and designs of the buildings along Kutaisi's streets. In both Kutaisi and Tbilisi a look up to the second floor can reveal balconies of elaborate ironwork. Kutaisi's central park is a nice (and safe) place to sit and watch people. In addition, a visit to Kutaisi is near mandatory to see the Bagrati Cathedral and Gelati Monastery, which are both
UNESCO World Heritage sites
and offer views from the mountain slopes over the city and the Rioni River.
Get in
By plane
King David the Builder International Airport

address: Kopitnari, 14 km west of Kutaisi proper on the main S1 highway

Relatively small airport that has second terminal in construction. It has around 160 flights per month during low-season and 240 during high-season. The airport services domestic flights to Tbilisi and several international flights.
There is a space where you can lie down underneath the inclined windows right after the arrival exit inside the terminal. This can be good for spending the hours (sleeping) before or after an early/late flight.
There is a money exchange bank counter at the airport, but the ATMs also give small notes down to 5 lari. Bank of Georgia charges a 2 lari fee for some cards without indicating beforehand.
Specific destinations:
The Hungary-based, low-cost carrier Wizz Air provides low-cost, low-quality no frills flights to/from Budapest, Hungary; Berlin Dortmund Memmingen, Germany; Kiev, Ukraine; London Luton, England; Warsaw, Krakow, Wroclaw, Gdansk, Katowice, Poland; Larnaca, Cyprus; Athens and Thessaloniki, Greece; Bari and Rome and Milan, Italy; Riga, Latvia; Vilnius, Lithuania; Tallinn, Estonia; Prague, Czech Republic; Basel-Mulhouse-Freiburg and Paris, France; Copenhagen, Denmark; Vienna, Austria.
SkyUp Airlines flights to Kharkiv.
Ural Airlines flies to Moscow Domodedovo, Russia.
There are also occasional flights to Baghdad, Iraq, on Iraqi Airways.
Getting there/away
Marshrutka – Many go by the airport, heading east to Tbilisi (by Kutaisi), or west to Zugdidi, Batumi, Poti, Samtredia, etc. The prices for theses more distant destinations are pretty much like from Kutaisi itself (see prices below). Most marshrutkas will not go into the airport lane, so just head to the highway, 100 m from the airport, and hail them there. From the airport to Kutaisi it is 2 lari, not more!
Those from Kutaisi bus station towards Batumi, Poti, Zugdidi or Samtredia will also drop passengers off at the airport. But it depends on the mood of the driver, whether he is will take any short-distance passenger. Nevertheless, there are always more than enough marshrutkas going this way. Just wait at the , where they come out of the station and go west. Here you will also find the ones that come from the east and do not enter the bus station but directly continue after a short stop. It should not take longer than 10 min to find a ride.
From Tbilisi, a marshrutka from the Didube bus terminal to the airport is 20 lari. It is also possible to walk out of the airport onto the highway and hail a marshrutka if headed to a particular destination.
Having said that, at night the options become more sparse and you might have to resort to the shuttle buses. Ask the tourist information or your hotel or hostel beforehand.
Shuttle Bus – Georgian Bus and Omnibus Express provide bus service between the airport and Kutaisi city center, Tbilisi and Batumi, with bus schedules following flight arrivals. Shuttle buses to Tbilisi (20 lari, 4 hr) terminate at Freedom Square, while shuttle buses to Batumi (18 lari, 3 hr) terminate at the Radisson Blu Hotel. Shuttle buses to Kutaisi city center (5 lari) will stop at any address within the city. Tickets may be purchased online or upon arrival with cash or bank card at the Georgian Bus counter located near the exit, and when returning to the airport, may also be purchased directly from the driver. If you're riding the Georgian Bus service from Kutaisi, you must e-mail them with the name of the hotel from which you will be picked up from.
# (several times per day) Kopitnari railway station is 2 km away. Walk east along the main road. Only regional trains stop here (Direct destinations: Kutaisi, Batumi, Zugdidi). The station has a very friendly countryside climate with staff always positively surprised to see foreigners. Expect to be greeted with local stuff. Tickets are very cheap, 2 lari to Batumi as of March 2019. However, the trains are old Soviet trains (worth the experience but as a rule of thumb they're twice as slow as the road). The new station at the airport was expected to be built in 2019 or 2020.
# (several times during the day and 1 overnight) A way via Samtredia train station which is 13 km away (or Rioni, which is 30 km away). Hail marshrutka (couple of lari) or taxi (20 lari) to Samtredia. Overnight train to Tbilisi (departs around 01:00, arrives to Tbilisi 06:30), 20 lari. Besides overnight train, there are daytime trains (around 10:00, 13:00, 20:00 and takes 3-4 hr). Buy train tickets beforehand, because there might be no free beds/seats.
By train
Kutaisi I

address: Tamar Mepe St

This is the main station in the east of town, but away from the main bus station in the west. It serves Tbilisi, Tkibuli (1 lari no matter where you get on/off, but the marshrutka is faster), and Sachkhere (for Chiatura).
Train 633 – Kutaisi I-Sachkhere – 05:30-08:55, return: Train 634 – Sachkhere-Kutaisi I – 10:10-13:30
Train 635 – Kutaisi I-Sachkhere – 16:05-19:25, return: Train 636 – Sachkhere-Kutaisi I – 20:05-23:25
Train 6323 – Kutaisi I-Tkibuli – 09:25-12:20, return: Train 6324 – Tkibuli-Kutaisi I – 13:05-16:26
Train 6325 – Kutaisi I-Tkibuli – 18:15-21:10, return: Train 6326 – Tkibuli-Kutaisi I – 05:30-08:51
Kutaisi II stationTrain from Tskaltubo are running to Kutaisi II station.

Rioni station

address: Kutaisi-Baghdati-Abastumani-Benara Road

This is the preferred train station to get to/from Kutaisi—also the one you should use for searches on the Georgian Railway Webseite or with the app. There are many more trains (day and night) from here than from Kutaisi I, and also the ones from/to Kutaisi I generally stop here.
All trains from and to
Tbilisi
Station Square (which is next to the Station Square metro station) leave from and arrive at the Kutaisi I station. There are three daily departures to Tbilisi, and the journey takes five-and-a-half hours.
All Georgia Rail Timetable
A ticket with a reserved seat costs 9 lari (Apr 2016); a passport is required to purchase the ticket and to board the train. From and to Tbilisi the train also stops in
Mtskheta
(the old capital of Georgia and Orthodox heart of the country),
Gori
(the birthplace of Stalin and home of the Stalin Museum) and
Zestafoni
. It is a relatively comfortable journey because passengers can stand and stretch and walk the length of the wagon) but slow due to long, intermediate stops, including one at Rioni, right outside Kutaisi. There are bathrooms on board (but bring tissue, just in case). There is no cafe or dining car, so bring water and snacks, too.
A local but "fast" train runs from Kutaisi I to
Batumi
(listed
Makhinjauri
in the timetable — the name of the station about 8 km north of Batumi), leaving at 09:00, arriving three hours later. The cost is 4 lari, payable on the train. Trains to
Kharagauli
leave every day (4-10 lari, 3½ hr). While private drivers and transport from Tbilisi are available (Mtskheta and Gori are day trips from Tbilisi), the Tbilisi-Kutaisi train route offers a good backbone for a tour of Georgia (with a look at its snow-capped mountains even in May) with leisurely overnights in Mtskheta, Gori, Kutaisi, and on to Batumi and the Black Sea.
By marshrutka
Kutaisi central bus stationThe official city's website has most correct departure times and prices.

Kutaisi IServes nearby destination to the east, like Tkibuli, Tuzi and Oni. Timetable for leaving Kutaisi this way see at the end.

Red bridge stationRegional marshrutkas, marshrutkas to Racha. The official city's website has most correct departure times and prices.
From specific destinations:
Get around
The interesting parts of the town are walkable. To visit the monasteries in the mountains nearby booking a day-tour may be a time-saving option.
By bus
No. 1 city bus is a useful circular route (both clockwise and anticlockwise direction) linking the main city square, Kutasi I (main train station), and Kutaisi II (bus station). 0.40-0.50 lari, pay the driver at exit, change given.
From Kutasi II (bus station), clockwise direction (to the left, cross the road from McDonald's) is the faster route to the city centre. Note each direction takes slightly different route on the centre of the city (east side of the river). The clockwise direction does not go in front of Kutasi I but goes south on Tsereteli St. along the river. The anticlockwise direction stops in front of Kutaisi I then goes uphill on Solomon Piveli Street and downhill on 26 Maisi (May) Street towards the main square.
Local
marshrutkas
ply the city but it can be difficult to find the route for average tourists. Nonetheless, bother enough locals with a map and some broken Russian, and eventually one will take pity and frog march you to the right bus stop.
By train
Schedule of Georgian railways is
here
.
See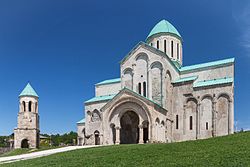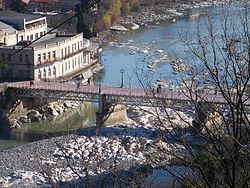 Bagrati Cathedral (UNESCO World Heritage site)

address: Bagrati Street

Ancient church that was built in the 11th century by King Bagrat III, a symbol of a unified Georgia. Foundations of an earlier building have been found. Blown up by marauding Islamic invaders in the 18th century, then carefully restored over the last 100 years; the interior is also almost completed. The difference between original and replacement is clearly obvious. The ongoing reconstruction aimed at returning Bagrati Cathedral back to its original state as a religious space has led ICOMOS to recommend that it should be left as a ruin and added to the list of UNESCO World Heritage Sites in danger.

Uqimerioni Fortress

Synagogue

address: 57-59 Boris Gaponov St

St. Thekla church

address: Daniel Chonkadze St

St Elijah the prophet church.

address: Chekhovi Street I

St. Cyprian and Justina church

address: David Agmashenebeli Ave,

address: Irakli Abashidze St

Completed in 2012. It was one of the most prestigious projects of President Mikheil Saakashvili to relocate the parliament from Tbilisi to Kutaisi. However, the relocation of Parliament is cancelled by the new government Ivanishvili. In what way this new €50 million building will be used is still unclear.

White BridgeOver the river Rioni, known by the bridge Springer scene in the movie "Neobyknovennaja Vystavka"

Soviet MuralAmazing.
Museums
Small Local History museum

address: Rustaveli Ave. and Tesereteli St. corner

with English signs like "pottery shreds" offering very little in-depth information

Kutaisi Museum of Sport

Kutaisi Museum of Martial Art

Museum of Zakaria Paliashvili

David Kakabadze Fine Art Gallery

address: 8 Shota Rustaveli Street

Houses collections of the 19th and 20th century artists
Further afield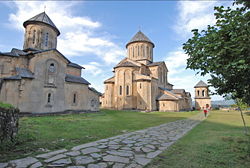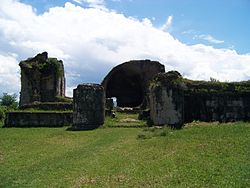 Motsameta MonasteryA 11th-century monastery richly decorated with frescoes. On a ridge in between a impressing mountainous region. Has far less tourists than Gelati, but often considered the more beautiful one, due to its interesting location. From along the train tracks you might be able to get a better picture with the hills around the monastery than from within the monastery itself.

address: 7, Nazarishvili str

Geguti Palace

address: Geguti village

One of the few secular monuments of the medieval Georgian kingdom, located on the banks of the River Rioni. It is well preserved and developed for tourism. It's not protected anyhow and thus it's free to enter.

Vani archaeological siteone of the most important cities of antique Colchi, from 8th-6th century BC have been discovered. The city was destroyed in the 1st century AD.

Sataplia Nature ReserveThree main attractions of the reserve - a pavilion with well-preserved dinosaur footprints, karst cave and glass balcony - an observation deck on top of the mountain Sataplia (highest point of the reserve). However, the guides are unsatisfactory since they either only speak Russian or give little information. Read the online reviews before heading here.
Do
Do as the locals do: Sit in the city centre park (Central Garden) and watch the world pass by.

Torpedo Kutaisi F.C.

address: Giorgi Brtskinavale

See the local football team in a match at the Givi Kiladze Stadium.

phone: +995 599-091610

address: 23, Rustaveli ave., Tskaltubo

Besides the decaying old building of the old sanatorium, there is this hotel which offers spa and mineral treatments, sauna and massages. Probably a good option when it's raining in Kutaisi.
Theatres
address: Gelati Street

Puppet Theater
Parks
Botanical Garden "Kolchuri"Rather small but still nice botanical garden. Some trees has signs in English. There is also interesting chapel built inside the tree.

Park of Culture and Rest

address: Vazha Pashavela St

Central Garden

address: Rustaveli Avenue

A great central location to rejuvinate, observe, meet, and plan.

Kharazov Park

address: Solomon Pirveli Street

Youth Park

address: Tbilisi-Senaki-Leselidze Rd.

Kikvidze Park

address: Zviad Gamsakhurdia St
Buy
What
The homemade wine in the bazaar in Kutaisi is apparently not that good, because more than often they mix with sugar and other stuff. This is at least what some locals are saying.
Where
Bazaar

address: off Zakhira Paliashvili (Paliashvili V Aly) St

In addition to fruits, vegetables, and whole chickens, natural, homemade red wine is sold in Kutaisi's market, bottled in re-used plastic soda pop containers (from 2 lari a bottle). Look for a row of sellers in the first floor of a shabby building not far from the sellers on the street; the wine seller is on one end of this building in a walk-up stall.

Regular stores

address: along Tsereteli St.
Eat
Kutaisi has quite a number of decent restaurants. They are mainly in the city center, but a bit spread out, so just walk around to find what you're looking for.
Chinese RestaurantTrue Chinese cuisine. Owners are obviously Chinese. Offer huge variety of national dishes. It's a bit pricey, however tea comes for free. It's a big surprise to find it in Kutaisi.

Club Almano

address: On Alexander Pushkin Street between Tamar Mepe and Tsereteli Sts

theculturetrip.com says Almano "offers Georgian food in a charming European atmosphere. This is a great place to try ojakhuri, a Georgian dish that often appears on the supra (the special Georgian feast) table. It involves meat and potatoes that are roasted and mixed together. You can't go wrong with the other options on the menu, however, like shashlik, another form of roasted meat, or, of course, the ubiquitous khachapuri. If you want something green on the table, try their starter salads with the delicious Georgian bread". American favorites like club sandwiches and potato wedges are also served. Salads include lettuce.

El PasoSpecialising on Khinkali, but also has other Georgian dishes. Does not seem to charge the 10% service fee.

El Depo

phone: +995 431244273

Seems to be the same owner as El Paso, hence similar dishes. But more like a pub for the evening though.

KhvichaFor an authentic experience, where only locals eat, try to go to this place. Do not expect much — it is a dukkan. There is no menu. You can order a tasty soup or khachapuri. Portions are really big. They speak only Georgian and Russian.

phone: +995 598 29 06 95

address: Clinda Nino st. No. 13

Authentic Russian cuisine from the owners who know how to cook it right. Food tastes good, big portions, nice personal, Russian music as an accompaniment. Note this place doesn't have English sign on the entrance so just look for a wooden sign (saying სუდარუშკა Сударушка) or a window with a Russian girl in a national costume in it.

Tea House Foe-Foe

phone: +995 577577533

address: Rustaveli St. 5

Free Wi-Fi. Menu: Speciality teas, and Georgian, European, and Mediterranean dishes (main courses, soups, salads, crepes, sweets). This is one of the Althaus-brand tea houses, similar to the two in Tbilisi. It appears that this cafe is in the wide lobby of what was once an office building with multi-tier seating on the steps leading up to the office's main entrance. Floor-to-ceiling windows make watching passer-bys easy. Hip music, hippy vibe, tasty tea, decent food.
Drink
Kutaisi does not have a great bar or club culture like Tbilisi, but you can checkout the following:
El GaleonSpecialising on Rock Music.

ReflectorAssociates itself with Bassiani.

Bude RecordsHip but not posh, if existent.
Sleep
Budget
phone: +995 598 36 26 36

address: 108 Tbilisi street

Meet the small family that runs the hostel. Spacious and quiet house. Residential area near a park and a shop. Accessible on foot from the main square. Minibus 34 passes close to the hostel.

phone: +995 591031030, +995 593442611

address: 92 Tbilisi St.

Inexpensive hostel with great reviews. Near the center, colors bridges and just 25 min to the Bagrati Cathedral. Try Whatsapp for the best rates.

Hostel Kutaisi

phone: +995 431 253873, +995 551 471100 (mobile)

address: 14 Solomon I (Solomon Pirveli St) Street

In the hostel Kutaisi you will be served by experienced people (English spoken). Amenities include free Wi-Fi, internet, linen, towels, shampoo, coffee, tea, cable TV, maps, different guide books, advice about Kutaisi and Georgia in general.

Medico & Suliko Guest House

phone: +995 431 243007

address: Tbilisi Street 3rd Lane #6

Run by a retired couple, a large room of their house serves as a dorm, two smaller private rooms are available. Theoretically one may stay to sleep only, alas one is very likely to be treated to the excellent fare the lady of the house serves up as well as the homemade wine the husband produces, i.e., if they like you, you are likely to be treated to one of those infamous Georgian welcomes, heavy on your liver. They will give you as much chacha, Georgian wine and Georgian food as you can handle. The food is all hand-made and freshly prepared. It is amazing, the hospitality is unparalleled and only the modesty of the facilities leaves anything to be desired. The beds are clean and the house is good by local standards, and the new bathroom was completed by summer 2011 in this friendly homestay. Free WiFi Internet is available, and there is a computer available for use.

Temi Hostel

phone: +995 551 44 47 74

address: Tamar The Queen Street 60, II floor

Small, social hostel in a great location in the city. The owner is friendly and helpful. The hostel has a kitten (May 2018) and a balcony which is great for relaxing and meeting other guests. All facilities are kept very clean. Book in advance! A year on since it opened it is now very popular.
Guesthouses
Gelati Guest House

phone: +995 597 986222

address: 26 May Street, (Vtoraya Liniya 4), Second Turn.

5 rooms, 12 people.

Guesthouse Zelimkhani

phone: +995 431 222441

14 comfortable rooms for 28 people.

Guesthouse Beka

phone: +995 431 246923

address: 26 Debi Ishkhnelebi Street

16 comfortable rooms for 30 people.

Guesthouse Gora

phone: +995 431 252170, +995 599 574625

address: 22 Debi Ishkhnelebi Street

43 comfortable rooms for 100 people.
Mid-range
Hotel Kolkha

phone: +995 597 731056

address: Axalgazrdoba Avenue 38

Hotel Oazis

address: Mari Brosse St.

Small hotel in the center. Clean, cozy rooms with narrow beds; wifi, A/C, heating. One of the few budget options in central Kutaisi.

phone: +995 592 961515

address: Zviad Gamsakhurdia Str.45

31 air-conditioned guestrooms with separate bathrooms. Room service 24 hr. Complimentary full breakfast in the breakfast area. Multilingual staff, laundry facilities, free car parking, free wireless Internet access in all areas of the hotel.

Hotel Rcheuli Palace

phone: +995 431 292900

address: 21b Gr. Khandzteli St

28 comfortable rooms, 50 people.

Hotel Imperiali

phone: +995 579 191939

address: 28 Mchedlidze St

9 comfortable rooms, 18 people.

Hotel Aieti's Sasakhle

phone: +995 431 253533

address: 34 G. Tabidze St.

13 rooms, 26 people

Hotel Dzveli Kalaki

phone: +995 431 251451, +995 599 51 60 56

address: 3/4 Ioseb Grishashvili St.

10 rooms for 24 people.

Hotel Bagrati

phone: +995 431 25 55 55

address: 2a Tsereteli St

16 comfortable rooms with a maximum capacity of 32 people.
Connect

The tourist office kiosk between the two main bridges is staffed during the summer season only. Rest of the year it is located in the annex building left to the city hall at the ground floor. (It is a bit hard to find since the mayor don't want to have signs to it. Ask in the city hall if you cannot find it.)
Dingy post office on Tamar Mepe St. Previously existing Internet cafés have closed due to numerous freely available hotspots.

Go next
From Kutaisi I station by marshrutka to the east
Tkibuli (ტყიბული) – 08:00, 11:00, 13:00, 14:00, 15:00, 16:00, 16:40, 17:40. 3½ lari.
Chkhari (ჩხარი) – 08:00, 12:10, 16:25. 2½ lari.
Tuzi (თუზი) – 10:25, 17:30. 3½ lari.
Zeda Alisubani (ზედა ალისუბანი) – 13:40. 2.70 lari.
Tavasa (თავასა) – 10;00, 15:20. 3 lari.
Oni (ონი) – 16:25. 10 lari.