Kutch
Kutch
(also spelled Cutch, Kachh, Kachch, and Kachchh)
is a district in the state of
Gujarat
,
India
.
Situated in the North-West of Gujarat, Kutch is largest district in India with more than 45,000 km².
Cities
— headquarters and major city of Kutch


— famous for handicrafts and bandhni, ajaqakh


— one of the oldest cities of the area. Famous for legendary Jesal-Toral


— city that was the center of the 1956 and 2001 earthquakes.


— a 4000-year-old site with forts, monuments, dams, natural beauty and the world's oldest culture, society, handicrafts


— important town and commercial hub 12 km away from Kandla port


— one of the important ports of India


— famous for Sea Beach and wooden ship-making industry


— a major port


— an old fort, now a ghost town

Other destinations
White deserts from Chobari to Dholaveera.
— largest (4594 km) wildlife sanctuary in India for an endangered sub-species of Indian Wild Ass

Understand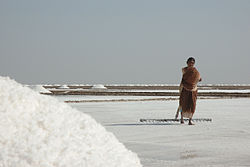 Kutch is the largest district of Gujarat wherein as many as 18 varied tribes live harmoniously, in spite of their distinct language, culture and customs. This is what makes it a paradise for cultural tourists worldwide.
Kutch Mahotsav
or the great Kutch festival is organized during December - January every year near the days when Shivratri is celebrated in Gujarat. It offers access to the interior and beautiful recesses of the dessert district. Colorfully attired dancers, music concerts, Sindhi Bhajan performances, Langa Desert Music and shops selling traditional Kutchi embroideries and jewelry are to be enjoyed.
The desert-like
Rann of Kutch
occupies a big part of the region. Mostly marshy, the Rann runs into the horizon. During summer it is dry and has a white coating of salt. In India's monsoon, the flat dessert of salty clay and mudflats, averaging 15 meters above sea level, fills with standing waters, interspersed with sandy islets of thorny scrub, breeding grounds for some of the largest flocks of greater and lesser flamingos. The Rann Of Kutch is home to a wide array of flora and fauna. Migratory birds deem it an abode during diverse weather conditions.
The Rann is also famous for the
Indian Wild Ass Sanctuary
, the Little Rann of Kutch, where the last of three species of Asiatic wild ass (Equus hemionus khur or khar) still exists along with wolves, foxes, jackals, chinkara gazelles, nilgai antelope and blackbucks as well as 13 species of lark.
Kutch is famous for its handicrafts, hills, white deserts, beautiful virgin sea beaches, various forts and above all Dholaveera, one of the five largest Harappan sites and among the most prominent archaeological sites in India belonging to the Indus Valley Civilization.
Bhuj with a population of more than 150,000 lakh (2011) is a major city of the region. Mandvi and Pingleshawar are famous for sea beaches. The Black Hills (Kalo Dungar), 25 km north of Khavda, are a good vantage point to see the vast expanse of the white desert. The top of the Black Hills is the highest point in Kutch, at 462 m. From here, the entire northern horizon vanishes into the Great Rann, the desert and sky often becoming indistinguishable.
Get in
By train
Kutch Express (Daily) and Sayaji Nagri Express (Daily) from Mumbai via Surat, Ahmedabad and Gandhidham to Bhuj.
Ala Hazrat Express(Daily) from Delhi via Jaipur, Ajmer and Palanpur to Bhuj.
By bus
State transport and private buses available for Mumbai, Ahmedabad, Rajkot, Bhavnagar, Jamnagar and Jodhpur.
By plane
Air Deccan flies daily to Mumbai from Kandla Airport near Gandhidham town.
See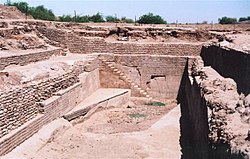 Aina Mahal
Greater Rann
Bird Sanctury
Mandvi Beach
Narayan Sarovar
Hajipir
Dholavira.
Mata na Madh
Jesal Toral Samadhi (near Anjar Railway Station)

Rudramata Dam
Do
An interesting feature for adventure lovers is a jeep or camel safari in and across Rann of Kutch with tented camps on the baits. These trips add more thrill as they last for about a week. If you are a photography enthusiasts, make use of the special rides and camouflaged boats provided.
A trip to a typical Saurashtra village and an insight into the art of hand loom weaving and dyeing Units can be enticing due to the vibrantly colored dyes and the exquisite craftsmanship. The age old craft of pottery can also be viewed from close quarters.
Tribal life is best experienced with the tribal people and there is no substitute for a stay at the typical tent. These camps are organized between July and September.
Bird watchers can see rarest kind of birds.
Experience the probable magnetic zone en-route to Kalo Dungar near Khavda village
During winter "Rann Utsav" (Desert festival) is organized by Tourism department of Gujarat.
White Rann Festival "Rann Utsav" or Kutchutsav "Rann Utsav" is organized by government of Gujarat every year in early November. It's a unique festival where you can feel a full white moon on the full white dessert.
Buy
Kutch is also famous for exquisite crafts like embroidery, applique work bed sheets and cushion covers. The ever so popular Bandhani (tie and die) fabrics, enameled silverware and other handicrafts are also found here and are a thing of interest for tourists.
Around the Wild Ass Wildlife Sanctuary, you may shop for Patola Silk Sarees, Bandhanis, Ghagra-cholis and marriage costumes. You will also find interesting wall hangings, embroidered quilts, cradle clothes, cloth toys, embroidered footwear, lacquer furniture and curios.
Kutch is very much spread over west-south of Rann, and it is difficult to go without escorts.

Eat
Hotels and vegetarian food is available. Mostly food is made out of milk, bajara and wheat. Kutch's staple diet does not include rice but pulses (dal) are available.

Drink
Alcoholic drinks are prohibited in Kutch. Tea is the most popular drink in this regions irrespective of gender or caste. Black tea is considered as a sign of mourning and is not given to guests. For personal use, foreigners are allowed to bring one-two bottles of alcohol with them.
Mineral water bottles are available at cheap rates.