Kymenlaakso
Kymenlaakso
is a region in
Southern Finland
named after the valley of river Kymijoki.
Other destinations
Get in
There are no passenger airports in Kymenlaakso but frequent connections both to Kouvola and the coastal cities by bus from Helsinki. Trains from Helsinki to all parts of Eastern Finland and Russia pass through Kouvola, and so do many bus lines going in that direction. If you're coming by road from St.Petersburg and are heading for Helsinki, you will likely cross the border at Vaalimaa, east of
Hamina
.
Get around
Trains of national operator
VR
are possible to use for travelling inside province.
Matkahuolto
has a dense bus network covering most of the province.
Onnibus
offers discount bus service by few routes.
See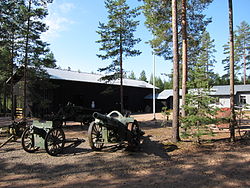 phone: +358 40 585 0166

address: Virolahden kunta / Bunkkerimuseo, PL 14, 49901 Virolahti

The exhibition is located inside a wooden building built to resemble the style of the war period in Finland. Outdoor part surrounding the museum building includes fortification sites in the forest. Fireplace is nearby.

Salpa Line Museum in Miehikkälä

phone: +358 40 585 0166

address: Miehikkälän municipality / Salpa Line Museum in Miehikkälä, Yhdystie 2 B 4, 49700 Miehikkälä

Indoor exposition and an extensive outdoor exposition (guided tour included in the entrance fee, as well as a short film). Cafeteria and a museum store. Fireplace & BBQ grounds behind the museum.
The old town of Hamina
Kymi river and the dam near Kouvola.
Verla Groundwood and Board Mill in Jaala, Kouvola; a former paper factory that now is an UNESCO World Heritage Site.
Do
Salpa TrailThe Salpa Trail is a 50 km long one-way hiking route between Virolahti and Miehikkälä. It follows a part of the Finnish WW2 defense line (Salpa line). Along the route there are numerous remains of bunkers, dug-outs and other fortifications and several rest-stops. They are equipped with a compost toilet, compost, a fireplace and a firewood shelter and some of them with a lean-to for an over-night stay. The Bunker museum in Virolahti and the Salpa Line museum in Miehikkälä are part of the route.

Have fun at Tykkimäki amusement park in Kouvola
Sleep