Kyotanabe
Kyotanabe
(京田辺市,
Kyōtanabe-shi
) is in
Kyoto Prefecture
,
Japan
.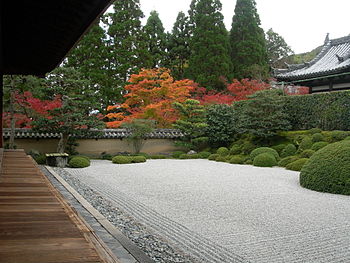 Get in
By train
Both Kintetsu Railway and JR Railway have lines running through Kyotanabe. From
Kyoto
, it takes about 25 minutes by express train to reach Shintanabe Station on the
Kintetsu Kyoto Line
. From Nara, it takes about 23 minutes to reach Kyotanabe.
The
JR Gakkentoshi Line
runs from
Amagasaki
through
Osaka
to Kizu Station in
Kizugawa
. Some of the trains originate from even further away in
Takarazuka
and
Sasayama
in
Hyogo Prefecture
.
By bus
Most travelers will find the trains to be the most convenient way to reach Kyotanabe. Nevertheless, there are buses connecting Kyotanabe to other cities.
Keihan Bus
has buses that come and go from Kyoto Station and Osaka's Namba Station to
Matsuiyamate Station
in the northern part of Kyotanabe.
Uji Bus
has buses serving from
Kuzuha Station
in
Hirakata
.
By car
Get around
There are car rentals available near Shintanabe Station.
Biking is a good way to explore Kyotanabe since the sites are spread out. Bike rentals are available near Shintanabe Station for ¥300 per day (electrical assistance bikes for ¥500). The bike rental is open from 08:00 to 20:00.
For those only going to Ikkyuji, the Ikkyu Sanchi Road is a nice walking course. The road is an attraction itself with 15 Ikkyu karuta cards with interesting facts about Ikkyu scattered along the road, so you can learn about Ikkyu as you walk to his temple. They're only in Japanese, but non-Japanese may still enjoy the images and they are good indicators that you're going the right direction.

See
Buy
Kirara ShotengaiThe Kirara Shotengai is dedicated to the city's mascot, Kirara-chan, a cheerful girl with rainbow pigtails. Along with restaurants and other shops, the shotengai has the Kirara no Eki, which is where you buy Kirara-themed souvenirs. You can also get some information about the town and purchase other local souvenirs. Across the street at the butcher shop is where you can buy the Kirara Croquette, as well.
Eat
Kyotanabe is known for its eggplants and
takenoko
(bamboo shoots). The Kyotanabe Roll is a popular dessert that showcases the local tea.
In addition, there are a few snack foods inspired by Kirara, the town mascot. They are the Kirara Croquette and Kirara Bread, both of which can be found along the Kirara Shotengai.
address: 35 Tanabekudo

A famous local sweets shop known for the Ikkyu Roll and Kyotanabe Roll featuring the local gyokuro (tea). The shop has been operating here since 1932.

phone: +81 77 464-0376

A high-quality Italian pasta restaurant offering spaghetti dishes with various meat, tomato, and white sauce dishes. They also have a nice variety of pizzas and soups.

Dining Room Jo

address: 5 Tanabechūō

An authentic Thai restaurant with friendly staff.
Drink
Kyotanabe is famous for gyokuro, a high-quality type of green tea.

Sleep
Due to its position between the large tourist cities of
Kyoto
,
Osaka
, and
Nara
, there are no hotels in Kyotanabe itself. If you do not want to stay in those cities or you want to be closer to Kyotanabe,
Joyo
has a couple hotels as does
Uji
.
The only overnight option here for visitors is
Kaikatsu Club
, an Internet-Manga Café in the "Station Park" walkway across the street from Shintanabe Station. You can stay from 20:00 to 16:00 for ¥1543 or for 10 hours for ¥2057. You can shower for about ¥400.
Go next