Kyoto/Higashiyama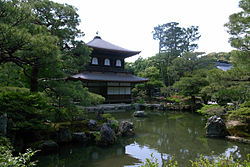 Some of the most picturesque parts of
Kyoto
are located in
Higashiyama
(東山, lit.
eastern mountains
), the
eastern
region of the city, across the Kamo River (鴨川
Kamogawa
). Visiting the main tourist attractions of eastern Kyoto will fill a full day - a suggested itinerary is to work north from Kiyomizu-dera to Ginkakuji, passing through Gion, and visiting Yasaka Shrine and Nanzenji before following the Philosopher's Walk to Ginkakuji.
Get in
By train
Keihan Railway
serves the entire area of Eastern Kyoto, offering easy access to every part of the area. It also connects the Eastern region to
Northern Kyoto
at Demachiyanagi Station, from which Shimogamo Shrine is in walking distance, or cross the street to
Eizan Railway Demachiyanagi Station
to go as far as
Kurama
. Keihan Railway travels south to
Southern Kyoto
, extending as far away as
Hirakata
and
Osaka
, and offering easy connections to
Uji
at
Chushojima Station
.
By subway
Travellers staying in
Central Kyoto
can easily reach the Higashiyama area using the municipal subway system's
Tōzai Line
. For tourists, the most convenient stops on this line are probably
Higashiyama Station
(north of Gion) and
Keage Station
(near Nanzen-ji). The subway is also convenient for those travelling onward to
Otsu
and
Lake Biwa
.
By bus
Numerous
Kyoto City Bus
routes traverse the neighborhood, particularly along the major north-south thoroughfare, Higashioji-dori. Route 100 is the most convenient for tourists: it runs from Kyoto Station to Ginkakuji, stopping only at major attractions. Useful local routes include #5, Kyoto Station – Shijo-Karasuma – Gion – Ginkakuji, and #206, Kyoto Station – Sanjusangendo – Gion – Chionji – Kitaoji (in
northern Kyoto
).
See
phone: +81 75-551-123

address: 1-chome, Kiyomizu, Higashiyama-ku

This temple complex, with its spectacular location overlooking the city, is a deservedly popular attraction, approached by either of two tourist-filled souvenir-shop-lined streets, Kiyomizu-zaka or Chawan-zaka. Highlights include:
The main hall's wooden veranda, supported by hundreds of pillars and offering incredible views over the city.
The love-themed Jishu Shrine sells countless charms to help you snag the one you love, and features two "love stones" positioned around 18m apart. The lovelorn must walk between them with their eyes closed to confirm their loved one's affection.
Otowa-no-taki the temple's waterfall, which gives it its name (Kiyomizu literally means 'pure water'). Visitors stand beneath the waterfall and collect water to drink by holding out little tin cups.
Mountain hike. If you're up for a mountain walk, steer to the right-hand pathway instead of taking the left toward the Jishu-jinja. The path leads through a gate and winds up onto the mountain. You can walk up for a good hour and not reach the end of the path. Has lovely forest and great scenery, and makes for a nice short excursion out of the city traffic.
Okazaki area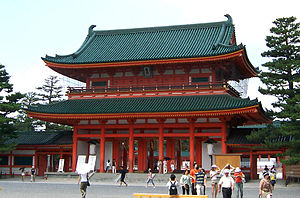 Maruyama Park area
address: 625 Gion-machi, Kitagawa-ku

One of the most popular spot for cherry blossom viewing in Kyoto, and can get extremely crowded at that time of year. The park's star attraction is a weeping cherry tree (shidarezakura), which offers an ethereal vision lit up in the night. Outside of the season, a nice spot to rest yourself during travelling around the Higashiyama area. Main entrance to the park is through Yasaka Shrine.

phone: +81 75-561-9966

address: 526, Shimogawara-chō, Kōdai-ji, Higashiyama-ku

This temple was built for Toyotomi Hideyoshi's widow by Tokugawa Ieyasu and is located right next to the Ryōzen Kannon temple on the Higashiyama mountain. If you really like temples this is a very nice one. It's got a nice bamboo grove that you walk through on the way out. It was established in 1605. The remaining buildings survived a fire in 1789.

phone: +81 75-531-2111

The head temple of the Jodo sect of Buddhism. The Sanmon gate at the entrance to the temple is the largest of such gates in the nation. Visitors can walk freely around the complex and inside the buildings, except for those that house the temples "Seven Wonders".

phone: +81 75-561-2345

address: 69-1 Sanjōbō-chō

Once associated with the head Tendai Buddhist sect temple, Enryaku-ji on Mount Hiei, Shōren-in is considered to be one of the top five Tendai sect temples. During the Tokugawa period, it served as temporary lodging for a retired emperor after the Imperial Palace burned down. Those who come during November may be able to practice a tea ceremony (See "Do" section of the guide).

Higashi Ōtani MausoleumLocated in a cemetery, tourists typically visit this site accidentally however, because some of the ashes of Shinran, the founder of Jōdo-Shin Buddhism, are contained inside the mausoleum, it is a popular place for Buddhists to come to pay their respects.

phone: +81 75 561 2205

address: Kōdai-ji Shimokawarachō, Higashiyama-ku

A memorial to the unknown Japanese soldiers who died in World War II, with a 24-meter-tall statue of Kannon.

address: 1 Ryōzen-chō Seikan-ji

A museum dedicated to displaying artifacts and information about the Meiji Period.

address: 605 Seikan-ji Ryōzen-chō

This shrine was built to house the souls of all those who died in the Pacific War, from the Meiji Restoration uprisings and the Russo-Japanese War to the end of World War II. It is the first shrine in the nation to be officially recognized as a shrine for war dead.
Gion district (祇園)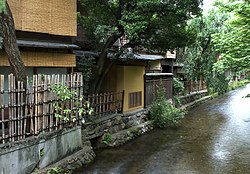 Gion Photography Bans
As Gion becomes more popular with tourists, there have been complaints in recent times about "nosey" foreigners entering private property without permission, or interfering with geiko or maiko walking to their engagements. In October 2019, one part of Gion went as far as enacting a photography ban on certain privately-owned alleys off of the popular Hanamikōji Street. Signs posted in the area warn of ¥10000 fines for violators, though some news media report it is unclear as to how the photo ban and fines would be enforced.
The flagstone-paved streets and traditional buildings of the Gion district, located to the north-west of Kiyomizu-dera, are where you're most likely to see geishas in Kyoto, scurrying between buildings or slipping into a taxi. The area just to the north of Shijō-dōri, to the west of Yasaka Shrine, is especially photogenic - particularly around Shinbashi-dōri and Hanami-kōji. Sannen-zaka ("three-year-slope") and Ninen-zaka ("two-year-slope"), two stepped streets leading off from Kiyomizu-zaka, are also very picturesque - but watch your step, slipping over on these streets brings three or two years' bad luck respectively.
phone: +81 75-561-6155

address: 625 Gion-machi, Kitagawa-ku

At the eastern end of Shijō-dōri, at the edge of Gion, is the shrine responsible for Kyoto's main festival - the Gion Matsuri, which takes place in July. The shrine is small in comparison with many in Kyoto, but it boasts an impressive display of lanterns.

phone: +81 75-561-0190

address: 584 Komatsu-chō, Higashiyama-ku

Japan's oldest Zen temple, has handsome halls and sand and moss gardens, and is of particular interest to art lovers. Sōtatsu's famed Edo-period screens of the Wind and Thunder Gods are on display. And on the high ceiling of the Hatto Dharma Hall writhe Koizumi Junsaku's splendid Twin Dragons, painted and installed in 2002.
Philosopher's Path
The Philosopher's Path runs from Ginkakuji down to Eikando, with many travellers choosing to end their journey at Nanzenji (or begin, should you choose to walk towards Ginkakuji). The sites are listed in the order you will pass them if you start from Ginkakuji.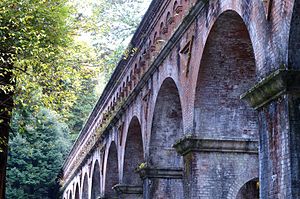 address: Fukuchi-cho, Nanzenji, Sakyo-ku

with its distinctive two-story entrance gate (sanmon) and aqueduct, is another popular temple in Kyoto, but its larger size means that it doesn't seem as crowded as many of the others. Nearest bus stop: Nanzenji, Eikando-michi. Nearest subway station: Keage. Open daily, 08:30-17:00. Walking around the temple complex is free, including the unusual Meiji-era aqueduct that wouldn't look out of place in Italy. There are three regions of Nanzenji that you can pay to enter: Sanmon - the two-story main gate to Nanzenji Temple charges ¥500 for admission, and offers pleasant views over the surrounding area of the city. Nanzen-in Zen Temple - a small, but relaxing temple and moss garden behind the aqueduct, dating back to the 13th century, charges ¥300 for admission, and is probably only worth it if you have a particular interest in Zen Buddhism. Hōjō - the abbot's quarters, is a more interesting building, with a small raked gravel garden and some impressive paintings on the sliding doors of the buildings.
Do
During warmer months, Japanese and foreigners alike gather on the banks of the
Kamo River
to drink and make merry. The area around the Sanjo Bridge is the most popular. It's a friendly, welcoming scene. In summer months, on Fridays and Saturdays, a group of fire dancers and drum players occasionally hold free performances.
Geisha and Maiko
Geisha Walking LectureIf you're interested in the world of the geisha, you shouldn't miss the walking lecture by Peter MacIntosh. The walk will have you tour the Gion district where Peter will give you an insider's view into the past, present and future of this unique and exotic world. If you're lucky you might see a Geisha walking by to one of her appointments. Reservation is to be made by phone: +81 090-5169-1654

phone: +81 75-661-0858

address: 4F Ouka Bldg., 576 Gion-cho Minamigawa Shijo-tori Hanamikoji Nishi-iru Higashiyama-ku

If you are interested in having a photo session dressed up as a Maiko or Geiko (geisha) or, for men, as a samurai, several studios in Kyoto provide this service at affordable price. The session includes full make up and dress in a kimono and normally lasts for 1½–2 hours. Options include indoor or outdoor shots (strolling in Gion dressed up as a geisha!), plus at Yumekoubou they will take a few photos with your own camera while they dress you up, for free. It is recommended to select a plan and make reservation online - in some studios they speak very limited English. More links: ,
Buy
Rakushisha Paper Crafts

address: 549-2 Nishinomon-cho

A great souvenir shop with some more original and less tacky souvenirs. In particular, for those looking to purchase nice paintings or copies of famous Japanese paintings, this shop offers a variety of paintings on paper that are attractive and more sophistocated-looking than those that you will find along Shijo, near Kiyomizu-dera, and other high-traffic tourist areas. There are also authentic Kyoto-made paper fans. Many of the items in this store are difficult to find elsewhere, so if you're interested, it's best to buy them here.

Honke Nishio YatsuhashiThe best store to buy raw yatsuhashi, it offers the largest variety of flavors, including seasonal varieties.
Eat
Budget
Kick-up Bar is a tiki-themed bar & grill outside the Keage Tozai line subway station (nearest Exit 1) and on the opposite side of the street from the Westin Miyako Hotel. They have the best meatball sandwich in Japan for ¥800 and loaded pizza made from homemade dough (medium for ¥1500). It's a small place, but the food is good, and the owner and his son are American and speak English.

TorikizokuTorikizoku is the most popular yakitori chain in Kansai. There are several locations in Kyoto - most convenient for travellers is in Kawaramachi/Shijo, just before the bridge, or between sanjo and shijo, on kiyachou-dori. The yakitori is delicious, comes in generous serves and is very cheap. It's very popular with both locals and expats, and is always busy. Try to come before 19:30 to secure seats. Look for the Japanese characters on the distinctive yellow and red sign.
Mid-range
Il PappalardoOne of Kyoto's best Italian restaurants. Dishes tend to be pricey, but the food tastes delicious. Pizzas are sold at more affordable prices.

address: 573-3 Minami-gawa, Gion-cho

Famous for its matcha (grean tea) parfait, this restaurant is quite popular among Japanese tourists. It is not uncommon to wait 30 minutes just to get inside. Mainly ice cream is served, and most of it is grean tea flavored, as it is a Kyoto specialty. It's a nice experience for those who like to make eating part of their travel experience, but for those on a budget, there are plenty of vendors selling cheap macha ice cream cones. A branch is also at Kodaiji in Higashiyama and other regions in Kyoto.

address: 392 Komeya-cho, Chukyo-ku (Koto Cross Hankyu Kawaramachi, 6th Floor)

Sweets Paradise is the famed all-you-can-eat cake and dessert restaurant. While they do offer some main dishes, no one comes here for anything but the sweets! After you pay, you can eat as much as you want for 90 minutes.
Splurge
phone: +81 75-531-0970

address: 京都市東山区八坂新地末吉町88−1

Not the cheapest, but really great Italian food in a very hospitable environment, with friendly staff, nice music and great dessert.

phone: +81 75-561-0015

address: 459 Shimokawara-cho, Yasakatoriimae-sagaru, Shimokawara-dori, Higashiyama-ku, Kyoto-shi

One of Japan's most famous ryotei, serving kaiseki using the finest regional seasonal ingredients. Very expensive for dinner, but lunches are much more reasonable. Bookings essential well in advance. Staff don't speak much English, but the restaurant does publish English books with descriptions of some of their dishes.
Drink
Pig & Whistle: a stylish whiskey bar and a drinks bar. This is a popular spot, located right above the Sanjo Keihan subway station. If you hear live music, go on up; though it probably won't be great music, it will draw a crowd. Food here is also mediocre.

phone: +81 75-531-1112

address: Higashiyama-ku, Sueyoshichō, 八坂新地末吉町77

An izakaya (Japanese-style pub) where you can see them preparing the food in front of you, popular with both international tourists and Japanese customers. Try the sweet plum liquor. English menu available.
Sleep
The small size and historic preservation of this district leave little room for hotels – most people will stay in
Central Kyoto
instead. There are a few exceptions:
Budget
Hostels
Mid-range
address: 91 Enshojicho, Okazaki, Sakyoku

One of the few hotels in eastern Kyoto, near the giant concrete torii of the Heian-jingu shrine. The building is divided into two sections, with Japanese-style and Western-style rooms; the former are often booked solid by groups during the school year, but are preferable if you're OK with a futon instead of actual bed. Free Wi-Fi in the lobby.

address: Jodo-ji, Nishida-cho, Sakyo-ku

A traditional Japanese house with three tatami rooms, each sleeping 1–2 guests. Shared bath. Western breakfast. Free wifi throughout the building. A family residence. No curfew.

Hana-Touro Stay Miyagawa-cho Residence

phone: +81 75 532 4080

address: Miyagawasuji 3-291-5

A modern apartment building in a convenient location between Gion and the center of the city, with quiet spacious (for Japan) en-suite rooms, including kitchenettes with utensils, perfect for self-catering. In a bit of a compromise, you get actual beds and linens, but they are really low off the floor. English spoken. There's no key; just punch in code (the last 4 digits of your phone number, if you gave it at reservation - and you should) into the pad by your door. The rooms facing the river come with a beautiful view but also with the (muted) traffic noise from the street. The proprietors close the front desk and go home at 18:00; if you are planning on a late arrival, e-mail them and they'll send you your room number and the access code to enter the building.
Splurge
Go next