Kyoto (prefecture)
Kyoto Prefecture
(京都府
Kyōto-fu
) is in the
Kansai
region of
Japan
. It contains both a coastal region to the north, and broad, more densely populated basins in the south. The Tanba Mountains cross the center of the prefecture, dividing the areas and causing their different climates.
Cities
- Japan's ancient capital
- famed for producing the best, or at least the most expensive, green tea in Japan
- northern port town surrounding a natural inlet
Other destinations
Get in
See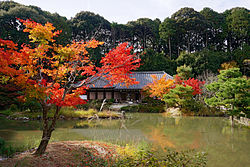 Kyoto is unquestionably the single best place in the country for those interested in traditional Japanese culture; no other city can compare in terms of number or importance. As the former capital of the nation, many head temples, important shrines, and imperial palaces and villas were built in
Kyoto
. While many of the nation's cultural sites were destroyed by bombings in World War II, Kyoto was fortunate enough to have been spared so many of the buildings are quite old.
Outside the capital,
Uji
is a popular destination. It is most famous for Byodoin Temple, featured on the ten yen coin, and being the site of the final chapters of the Tale of Genji. It is much smaller than Kyoto and most sites are within walking distance of one another or one of the train stations.
Beyond these areas the prefecture is quite rural. Foreign visitors rarely venture outward but those that do will see that the capital is not all that Kyoto has to offer. From
Amanohashidate
in the north down to the stone Buddha trail in the south, there is a lot more to Kyoto Prefecture than just the capital.
Go next