Lörrach
Lörrach
is in the southwest of
Baden-Württemberg
, right in the south of
Germany
.
Get in
By plane
Euro airport
(
BSL
; MLH ; EAP) near Basel (but on French soil) has flights from many cities in Europe including from budget carriers.
Travellers from further away may find it cheaper to fly to Zurich and take a train from the airport there to Basel SBB and thence to Lörrach by train.

By train
Get around

There are train services from the central station every half hour to Basel (leaving at one minute past the hour and half hour). Trains can also be used to get to the southern suburb of Stetten or the northwestern suburb of Steinen. There is also a bus service around Lörrach but buses are not as frequent as trains. However, most areas are within walking distance of the central city.
From Stetten, the Swiss border is in easy walking distance and the number 6 tram runs from the border into Basel.

See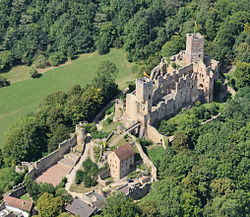 phone: +49 7621 56494

address: 79541 Lörrach-Haagen

The fortification was one of the most powerful in the southwest, and today is the third largest castle ruin in Baden. The outer bailey is free and open year round. The inner bailey and museum is open each day in summer and on weekends at other times. In the outer bailey there is a café and a beer garden.
There are views over Lörrach, Basel in Switzerland, and parts of France from Obertüllingen on a hill directly west of the Lörrach suburb of Stetten.
Further afield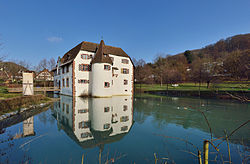 Holzen is 13 km north and has large stork nests on top of several buildings, most picturesquely on a narrow church spire. Look for a witch's house (marked with 'Hexe') - if you put 50 cents in the slot the shutters will open and a mechanical witch appears to tell you (in German) about her life.
Inzlingen is a neighbouring town which can be reached walking through the Black Forest. It has its own castle, Inzlingen Castle (Wasserschloss Inzlingen).
Do
Go for a walk through the
Black Forest
, which surrounds the town.
Buy
There are market days on Tuesday, Thursday and Saturday, with the latter being by far the largest.

Sleep
Stadt Hotelis central and comfortable.

Jugendherberge Lörrachcheaper, and close to the Black Forest, but is about half an hour's walk or a bus ride from town.

There are other hotels. There are a number of apartments catering to travellers, but no central website for booking them.
Go next