Læsø
Læsø
is the largest island in Kattegat, some 20 kilometres east of Frederikhavn on the
Jutland
peninsular in
Denmark
, roughly half way to
Gothenburg
in
Sweden
.
Understand
It measures roughly 120km² and has population of around 2000 inhabitants. Along with the Island
Anholt
to the south, it is part of the Danish "desert belt" which sees substantially less rainfall than the rest of the country during the summer months, and streams and ponds have a tendency to dry up during these months.
Get in
The most common way to reach the island is by ferry from
Frederikshavn
, which usually sees 4-5 departures a day, and takes approximately 90 minutes. But the islands airfield also sees scheduled taxi flights from
Roskilde
airport, near
Copenhagen
, although for any budget traveller these flights tend to be prohibitably expensive; but varying slightly depending on the season, and when you book.
phone: +45 98 49 90 22

address: Havnepladsen 1

phone: +45 46 19 11 14

address: Lufthavnsvej 34, Roskilde
Get around
While there is a free scheduled bus (line 840, connects with ferry arrivals) that runs across the island from the western port; Vesterby to the eastern village; Østerby, and a cheap 4 hour guided roundtrip of the island, probably the best way to see the island is by bike, which can either be brought on the ferry, or rented on the island. Finally a more exotic way is to see the island by horseback (
more details in the Do section
)
phone: +45 98 49 94 44

address: Vesterø Havnegade 29
See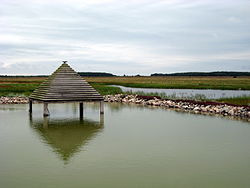 phone: +45 9849 1355

address: Hornfiskrønvej 3

A company making salt, from seawater, in an old and traditional fashion. There is also an open workshop where it is possible to watch while salt is being made.

Læsø Tower

phone: +45 9839 1062

address: Thorvald Hansensvej 5

Built in 1927, 17 meter high.
Do
Læsø on horseback
Seeing the island on the back of Icelandic horses, is a fun and unique way to see the island, and there are several ways to this;
phone: +45 98 49 16 01

address: Fædrelandsvej 2

Mainly short trips and horse drawn carriage tours.

phone: +45 98 49 14 39

address: Egegårdsvej 4

Full weekend packages, including accommodation 1900 DKK, or 3 day around the island trips 3200 DKK

phone: +45 98 49 15 05

address: Storhavevej 8

Mainly short trips (1-4 hours) and horse drawn carriage (2-4 hours) tours.
Eat
Hvidkålssuppe
Læsø Sydesalt (to spice)
Sleep
Go next