Lützen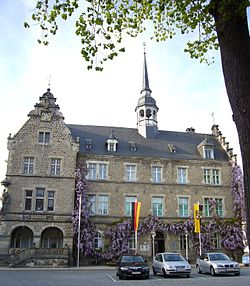 Lützen
is a town with about 3600 inhabitants in
Saxony-Anhalt
in
Germany
.
Understand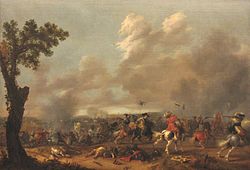 Two great battles has been fought near the town.
The 1632 Battle of Lützen was part of the
Thirty Years War
. King Gustavus Adolphus led
Sweden
to victory against the Habsburg army, but died on the battlefield.
The 1813 Battle of Lützen was part of the
Napoleonic Wars
.
Get in
The train line to Lützen has been suspended, so you can take the bus from nearby
Leipzig
or get to Lützen by car. To get there by bus from Leipzig, take a train or bus 65 to
Markranstädt, Bahnhof
and change there to bus 165.
Get around
The town is quite small, so it is easy to get around by foot.

See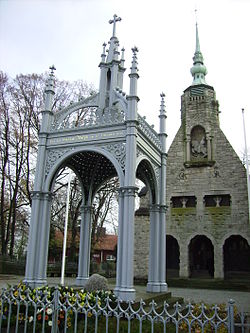 address: Gustav-Adolf-Straße 42

The Swedish king Gustavus II Adolphus died in the battle of 1632, therefore most of the tourists visiting the town are Swedes. Initially the memorial just consisted of a granite boulder placed at the place where the fallen king's body was found. During a revival of veneration for Gustavus Adolphus in 19th-century Protestant Prussia, a baldachin designed by Karl Friedrich Schinkel (architect of many representative buildings in central Berlin) was added in 1833. The neighbouring Gustavus Adolphus chapel was endowed by the Swedish consul to Germany in 1907. There was an urban legend in East Germany that the memorial was an extraterritorial enclave of the Kingdom of Sweden, but there is no truth in it.

Lützen castle

address: Schlossstraße 4

13th-century castle built for the bishops of Merseburg. It hosts a museum of local and regional history, focusing on the two battles.

The town hall

address: Markt 1

Built in 1884/1885, Renaissance revival style.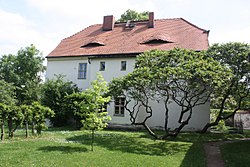 Friedrich Nietzsche's birthplace

phone: +49 34444 169705

address: Röcken, Teichstraße 8

World-famous philosopher Friedrich Nietzsche (1844–1900) was born in the parsonage of Röcken (as his father was the Lutheran pastor of that village). The father died when young Friedrich was five and the family moved to nearby Naumburg where there is a more comprehensive Nietzsche museum and archive. The memorial complex consists of the birth house, the church where Nietzsche was christened, his tomb and a modern group of sculptures ("Bacchanal"). The small exhibition (three rooms) was modernised in 2003 and deals with his childhood, his relationship with Christianity, and the history of his tomb.
Buy
There are no souvenir shops in Lützen.

Eat
phone: +49 34444 23332

address: Ernst-Thälmann-Straße 9
Sleep
Hotel Pension Köper

phone: +49 34444 3060

address: Ernst-Thälmann-Straße 25
Nearby
Central German lake district, recultivated landscape of former lignite open-cast mines turned into lakes: Kulkwitzer See is 10 km northeast, Zwenkauer See 13 km east, Raßnitzer See 15 km north of Lützen
Go next