La Crosse
La Crosse
is a city in the
Coulee Region
of
Southwest
Wisconsin
on the Mississippi River. It is the county seat of La Crosse County. It's nestled between the river and picturesque bluffs that rise behind it. With a city population of around 50,000 and the metropolitan area just under 100,000, La Crosse offers visitors plenty of activities to do and sights to see, without the overwhelming hustle and bustle of bigger cities.
Get in
By plane
phone: +1 608 789-7464

The airport is on French Island, to the north of the city. American Eagle offers flights from Chicago, while Delta Connection offers flights from Detroit and Minneapolis/St. Paul.
By train
address: 601 St Andrew St

La Crosse is served once daily in each direction by the Empire Builder route, which runs between Chicago and Seattle/Portland. Checked baggage is offered at this station and there is a ticket office.
By bus
Two Greyhound Bus stations are in La Crosse. One is connected to the Amtrak Station on the city's North Side, and the other is near the University of La Crosse on the south side. La Crosse has Jefferson Lines and is on Jay Street.
Get around
Several taxi companies are found throughout the city and metro. Also biking or walking is an option. La Crosse is one of the most disabled-friendly cities in the USA.
By bus
phone: +1 608 789-7350

address: 2000 Marco Dr

An excellent choice for transportation. They are always on-schedule and the staff is extremely helpful when you need assistance whether it is boarding the bus with disabilities or simply finding your route. The route consists of La Crosse and some surrounding suburbs including La Crescent and Onalaska. It is very affordable as well. Ridership of the La Crosse MTU is at it's highest with almost 1,000,000 riders per year.
See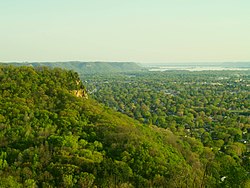 DowntownLa Crosse has rejuvenated its downtown, which features a collection of bars, restaurants, high-end hotels and shops presented with an old-town feel. There is also the La Crosse Center, a large civic center with ongoing events almost daily.

Riverside ParkAn expansive walkway and park straddles the river with excellent views of the Cass Street Bridge, Pettibone Park, and Minnesota.

The BluffsNumerous trails of varying difficulty levels course through the many bluffs behind the city, with magnificent views at the top.

Myrick ParkThis park adjacent to UW-La Crosse is great for having a picnic and relaxing. It features an eco-park (under construction) and connects to a trail that runs under Highway 16 and climbs up the bluffs. This is the best place in town to go with younger kids: it features an expansive cooperatively built playground for all ages and abilities.

Pettibone ParkOn an island in the Mississippi, this park has a beach and a free Frisbee Golf Course (don't forget your disks).

King House
Do
Local activities include pub crawls downtown, where there's an abundance of bars and nightclubs. Downtown La Crosse is rarely quiet at night, especially on weekends. Alternatively, relax on a riverboat ride. La Crosse has various watercrafts, including two old-fashioned paddle boat, that voyage up and down the Mississippi, and can include dinner, lunch or breakfast. Golf enthusiasts can enjoy a round of golf at one of the beautiful golf courses throughout the metro. There are also many other ongoing annual events occur downtown such as Riverfest, or Oktoberfest. Many also in surrounding suburbs.
Learn
Buy
Many specialty shops, and high-end stores are found throughout Downtown La Crosse. Numerous strip malls are located throughout the city including retail shops, coffee shops, office shops, and specialty shops.
Eat
Hundreds of restaurants are scattered throughout the La Crosse Metro area. You'll find anything within the city and suburbs like fast food such as McDonald's, Wendy's, Checkers, or Burger King for example. Also you can find a higher end setting like the Waterfront, the Freight House or Piggy's, which are all downtown. Gloria Jeans, Starbucks, and Caribou Coffee can also be found in La Crosse.
The PearlAn old-fashioned ice cream parlor where the ice cream is homemade and you can find elusive flavors such as bubble gum, superman, and even blue moon. They also offer a vast variety of old-fashioned candy. A great place for kids!

Yoko's HouseA popular Japanese restaurant on Main St. The sushi bar is upstairs and features excellent sushi. They have a small bar downstairs, which has a nice selection and stays at a comfortable noise level. Their main feature is the hibachi tables, which take up that main floor of the restaurant. Service is good and the decor is quite charming. This is a favorite dinner and drinks spot for college kids and young professionals.
Drink

Many bars and nightclubs are found throughout Downtown La Crosse, and the city itself. At one time, La Crosse broke a Guinness Book record with the most bars/nightclubs on one street, which was Third Street in downtown.

Sleep
Stay safe

Downtown La Crosse is relatively safe at night for a college town. The downtown area has several bars which cater to college age customers. As with any area populated by bars, you may encounter intoxicated and/or obnoxious individuals. Generally, you can negotiate this area without any significant problems. If you are looking to avoid the younger crowd, it is recommended that you avoid the downtown area after 10PM.

Go next