La Fortuna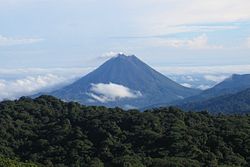 La Fortuna de San Carlos
is a small town in the north of
Costa Rica
.
Understand
La Fortuna is mostly famous for the nearby Arenal Volcano (1,633 m). The Arenal Volcano is a destination for scientists and tourists. La Fortuna was called "El Borio" before the day of a huge eruption in 1968, when the volcano erupted to the east and destroyed all in its path, including two villages. El Borio (La Fortuna) is located on the west side of the volcano and was untouched. After the eruption of the volcano, El Borio was renamed "La Fortuna", which means "the fortunate", referring to the town's luck during the eruption.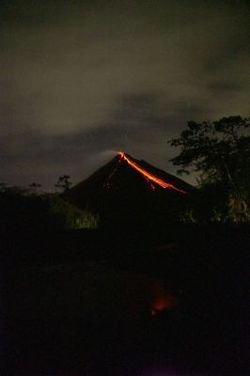 Get in
By bus
There are direct buses from
San José
or with transfer in
Ciudad Quesada
(San Carlos). Also, buses from
San Ramon (Costa Rica)
. There is one local bus per day from
Tilaran
. From Peñas Blancas (Nicaraguan border) take San Carlos bus (US$8) and alight at Tanque, take bus or taxi to La Fortuna (7 km away).
When leaving
La Fortuna, bus schedules seem to be highly arbitrary and unreliable. The more often you ask, the more departure times they will tell you. Some touts will try to exploit this situation. It is best to approximately have a bus departure time, arrive a little earlier and plan for 1 hr waiting or so.
By private shuttle
The cost of a private transportation with a Costa Rican driver is not much if you compare it with the benefit of a direct safe drive to the destination. Available from San Jose to Arenal and other destinations.
By car
It is a 3½-hour drive from San José, but the junctions are not very well marked, so bring a good map.
By plane
Domestic flights are available with
Aerobell Airlines
or Sansa Airlines. Costs around US$90 for flights to/from San José (SJO) or Quepos (Manuel Antonio National Park). Airport charges US$7/person departure tax.
Get around
By road
The are just one or two buses that go around the volcano. Generally, most tourists rely on taxis or their own cars (everywhere you will have to pay for parking).

By thumb
Hitch-hiking is actually a reasonable option and quite easy if you are travelling on a tight budget. This way you can reach the park entrance, trails or hot springs time independently and fast.

See
Arenal VolcanoThe photos at the right of this articles are views from the village of El Castillo, on the southwest side of the Volcano, about 25 km west of La Fortuna and about 4 km up the road from the Arenal National Park entrance. There are great views of Lake Arenal and the Monteverde Cloud Forest from road up above El Castillo. In October 2010, the volcano ceased its activity and the famous flowing lava has been gone since. Seeing some smoke during the day is possible, however, do not expect to see lava/eruptions in the night, regardless of clouds. This could change at any time. Tours to the National Park usually start out in the early afternoon and include walking for about an hour through lava rocks before reaching El Mirador, the best place to view the eruption of the volcano. There are also possibilities of skipping the lava rock walking and go straight to El Mirador. Most tours state that they will stay for 1-1½ hr at this place, but if there is nothing to be seen, probably a lot less. It might be chilly, so bring a jacket.
Lake ArenalJust west of the Arenal Volcano and can be seen as you drive over the dam on the main highway to Tilaran. Much better views of the lake and volcano can be seen from the hills above the village of El Castillo, which is located 9 km from the main highway on the Arenal National Park road. Activities on lake include boat tours, fishing, kayaking, and wind surfing.
phone: +506 24799515

Stone steps lead to the bottom. Take a swimsuit for the pool in the lovely stream below. The entrance is accessible by road, so a cab works fine too. Once you pay to go in, you are free to stay as long as you'd like. It's about a 10-min hike down to the waterfall and 20 min back up.
Do
River poolTake a dip in the refreshing waters of Río Fortuna and use the El Salto Rope Swing to jump into the water.

phone: +506 2479-1149

address: El Castillo Village - Arenal Volcano

A visit to the Butterfly Conservatory offers a practical educational experience about nature with diversified exhibits of how butterflies, frogs, insects, and plants are reproduced in this natural environment. There are six large atrium habitats that provide representation of the plants, trees, butterflies, and frogs that live within the four micro-climates surrounding Lake Arenal; the lowland habitat, highland habitat, edge of forest habitat, and inside of forest habitat. You will also see laboratories, reproduction greenhouses, the exotic frog habit, host plant gardens and orchid atrium. If you want more adventure, then take the Rainforest River Walk along Quebrada Mariposa, the creek running through the primary forest on the property, where it's often possible to spot animals such as sloths, tayras and monkeys; or toucans and parrots. Or, just take time to reflect at the Volcano View Gazebo, overlooking the botanical gardens, with views to the Arenal lake and volcano beyond.
Canyoneering (Waterfall-Rappelling) – In the Lost Canyon.
Horseback ride to Monteverde– Travel the old fashioned way by horse US$75. This is a gorgeous 2½-hour horseback ride along the beautiful Lake Arenal on wonderful, and hopefully healthy horses.
Fishing, kayak, etc. at the lake – For entertainment a boat navigates around the Arenal lake, so that you can appreciate the unparalleled views. Also, kayaks and other water activities can be done at the lake. Of course the main attraction is the fishing. The lake has many species of fish but the "Guapote" Bass is most prevalent; this fish is a close relative of the peacock bass and is just as strong. Other fish like the Mojara are also prevalent, think 'kin to the piranha but fruit eaters'.
River cruises – On the Peña Blancas river, costs around US$45.
White water rafting – On the Mighty Río Toro (Class 3-4), with over 45 exciting and continuous rapids that move through 16 km of deep-canyon gorges passing waterfalls in a tropical canyon. Another option is the Beautiful Río Balsa (Class 2-3).

FlyZone Wakeboard Center on Lake Arenal

phone: +506 8339-5876

address: Lake Arenal

Lake Arenal is starting to develop into the wakeboard center of Costa Rica. Here you can learn how to wakeboard while the monkeys are watching you from the shore; an unforgettable experience. Always calm water to be found, and year round good air- and water temperatures.
Hot springs
Hiking
In spite of expectations, all hiking opportunities are just at the foot of the volcano with often not very great views of the volcano. Of course, the journey is the reward, but if you really want to see a volcano, head to Poas. Otherwise, great views (and pictures) of the volcano are from the southwestern side near the lake.
Cerro Chato HikeThis hike takes you through very dense primary forest toward the Cerro Chato. There is a crater lake where you can swim, take pictures and explore the surroundings. After that you continue the descent through the rainforest with occasional views over the San Carlos Valley and the Arenal Volcano. The trek ends at La Fortuna Waterfalls, where you can take a swim. 4-5 hr return. 20-30 on the trail on a weekday. Bring proper boots, the trail is ofter muddy, and it's difficulty can be rated medium—meaning not easy!
Arenal Volcano Night HikeAround a two hours hike through secondary rainforest which contains lots of habitat of monkeys, spiders, congos, some cariblancos and not leaving behind the tucans, turkeys, and the big quantity of different flora that's in the outskirts of the volcano. There are some emerald green hot springs, colored from copper deposits.
Buy
Standard souvenirs, photos of the erupting volcano, machetes at the hardware store, Costa Rican coffee.

Eat
Que Rico Arenal

phone: +506 2479-1020

6.4 km toward the lake from the Catholic Church of La Fortuna. Italian and International menu. Great location for viewing the volcano with an excellent meal!

phone: +506 2479-9997

A welcoming break from traditional Costa Rican food. International cuisine, extensive menu, fantastic ambiance.
La Choza de Laurel is 3 blocks away from the park. Fantastic menu selection. Tasty food, cheerful service, open to the breeze.
Los Nenes, not a very attractive setting one block from the main street and two blocks from the park (when entering from east), but reasonably priced food (but not as good or big portions as Lava Rocks). The nachos with everything is really good.

Lava Rocks Café

phone: +506 2479-8039

Good food, generous portions. Try the Casado de pollo (₡2950).
Lava Lounge is on main street just getting into town before the park. Good food, a break from typical Tico food.
Travelers looking for more local and inexpensive food can go to any of the numerous 'Soda' restaurants. A large plate of rice, beans, salad, meat, and a drink costs ₡3,000-4,000.
Sleep
Budget
phone: +506 2479-7000

Air-conditioned rooms, hot water, restaurant and a really nice pool.

phone: +506 2479-9111

Gated parking is available.

address: Calle 468, Provincia de Alajuela

Family-run, decent, very modern, tiny but comfortable double room with balcony & bath & breakfast, friendly hosts, good view of volcano from landing, occasional iguanas.
Mid-range
Arenal Manoa Hotel & Hotel Resort

phone: +506 2479-11-11

address: La Fortuna

Volcano views from all rooms. The hotel includes a swimming pool, Jacuzzi and a nice restaurant. Also, free farm tour. Spa service.

phone: +506 2479-90-00

address: La Fortuna

Volcano views from all rooms.

phone: +506 460-5333

Each room has a small patio and offers a view of the volcano as well as double bed, tv, fridge, coffee pot, hot water. There are also 14 hot springs pools on the hotel property The hotel also has a famous canopy tour on the property which costs $45 and lasts about 3 hours.
Arenal Springs Resort Modern hotel with volcano views from $87.

phone: +506 2479-1122

15 rooms. The deluxe rooms feature two queen size beds, mini fridge, a/c, private bathroom with hot water, coffee maker and safety deposit box. Every room has its own private terrace with direct view to the volcano. The hotel has swimming pool,a small spa for body treatments and a very good Italian/international restaurant.

phone: +506 468-0352

Organic/biodynamic certified ginger and turmeric farm with rustic lodgings on the edge of the rainforest. Steven, the farm manager is a walking encyclopedia of medicinal plants, sustainable farming and rainforest ecology. They have a variety of lodging options from individual cabins to air-conditioned master suites. All have overwhelmingly comfortable beds and nice views. The food is all organically grown on the site (including the meat) and is alone worth the trip. They have a natural pool and solar jacuzzi, wireless internet, rainforest hikes, options for day-tours both on and nearby the farm.

phone: +506 2479-9197

A five-story hotel in downtown. Good views from the upper rooms. Several rooms and most of the hotel are wheelchair accessible. On site restaurant, sports bar and offers "No Limits Tours" for senior and physically challenged and disabled tourists.

phone: +506 479-9728

15 rooms, all with AC and fan, 1 double and 2 single beds. A typical breakfast with gallo pinto, egg, ham, cereals, fruit, bread, coffee and juice is included. The owner Hernán Blanco can help you order tours to the surrounding attractions, and if you're lucky, he might give you a free ride to the volcano (and back). He can also get you shuttle service to or from San José for $15 (one way) leaving Fortuna at 06:00 and returning at noon. Friendly and helpful staff.
La Mansion Arenal La Mansion Arenal overlooks the vast Lake Arenal and is located just minutes from the volcano and hot springs. The hotel includes an infinity pool, wireless internet and free canoes for your enjoyment. Rates start at US$180 a night.

La Roca VirgenLa Roca Virgen is a surprisingly cheap yet clean and comfortable place to stay. Off the beaten path but only a couple minutes walk to the center of town. 6? rooms with private baths for $9pp, rooms with shared bath cheaper. Off season discounts. Wireless internet. TV, fan, and refrigerator in rooms. Tours arranged. Property patrolled/inhabited by friendly dogs.

Volcano LodgeThe lodge has 65 rooms with two double beds, a/c and private bathroom with hot water. One of the better views of the lava flow of the Arenal Volcano, also features an open air jacuzzi with a magnificent view of the volcano and swimming pools.

Arenal Oasis Eco Lodge & Wildlife Refuge

phone: +506 2479-9526

address: La Fortuna, Arenal Volcano.

Located at the base of Arenal Volcano and managed by a local family. Rooms are rustic fancy cabins in the woods. The lodge has its own wildlife refuge where you can walk in flat trails inside the rain forest, visit a butterfly garden, frog ponds and terrariums with local reptiles, insects and poison dart frogs.

phone: +506 2479-7246

address: La Fortuna

A Colonial Modern Hotel, facing the Arenal Volcano. Scenic location provides visitors with a stunning view of the volcano.

phone: +506 2692-8012

address: Nuevo Arenal

A few meters from Lake Arenal. Features Swiss chalets, a rotating restaurant and a small railroad track.

Arenal Country InnIn the foothills of the Arenal volcano, it has 20 rooms with view of the volcano. The rooms have air conditioning, safety deposit boxes, hot water, flat screen cable TV, phone and private terraces. The hotel has swimming pool, beautiful gardens, restaurant service and conference room. Tropical breakfast included in the room rate.

phone: +506 2479-1000

phone: +506 2479-1700

phone: +506 2479-7055
Splurge
Tabacon Grand SpaEntrance to the hot springs and spa is included in room rate, one of the top spas in Costa Rica.

phone: +506 2401-3300

One of the newest resorts in Costa Rica and one that has incredible views of Arenal Volcano. The hotel premises includes hot springs, three restaurants, a wildlife preserve, a fitness center and a casino. Easily one of Costa Rica's most extravagant hotels.

phone: +506 2479-2201
Stay safe
As of Feb 2019, those of you who catch the 8AM bus to Tilarán, be aware that every morning at the bus station there is a man talking nicely to the tourists and getting on the same bus. 4 km before the National Park's bus stop, this man shouts "Parque Ecológico" and some tourists, who are confused, get off with him. He works for a private park that has nothing to do with the real National Park! This "fake" park also demand US$15—for a walk of just one hour! This is a scam that happens every morning. Do not fall for it, just wait another 4 km more, when the bus driver announces "Parque Nacional". Spread the word and if you are on the bus while this happens, don't be afraid to inform the others tourists loudly that Parque Ecológico is not the National Park. Or if you are keen, also inform the authorities/police.
In general, La Fortuna is very touristy, and everyone is trying to make money off it. There are some touts, especially near the bus station. Just be cautious and do not believe everything.

Cope
All of the so called "tourist informations" or "tourist centers" are actually tour agents. Remind yourself, they will always try to sell you something, even tough you could just organise it yourself for way less money. But you can sometimes get information for free from them.
Fortuna is often called the tout capital of Costa Rica. There is not really much to see here except a beautiful lake, volcano and rivers. Still somehow dozens of different tours are on sale, giving the impression this place is more special than the rest of Costa Rice. Most of the tours are rather dull and just include service you can organise by yourself. At the waterfall and river (hot spring) pools tour, where they serve beer and snacks, it is not really worth spending a full day and even less paying US$50 or more. You can organise such trips by yourself, for around $5-10 if you rely on hitch-hiking and buses.
If you are travelling on a shoestring it might not be worth it coming here, just to swim in a river, hike a 3-4 hr trail and do some average white-water rafting. Yes, definitely there are good views of the vulcano, but this town is just making money of nothing—not a very authentic Costa Rica.

Connect
There are two internet cafes in the main street, by the park. At Destinytours (+506 479-9850) 50 m north of Banco National you can download pictures from your digital camera and burn to CD.

Go next
From Fortuna you can go to
Monteverde
with a combination of jeep and boat or horse. Or you could take the bus to
Tilarán
, and from there to
Santa Elena
, Monteverde, or down to the Interamericana that takes you north to
Guanacaste
or south in the direction of
Puntarenas
. You can get to
Los Chiles
and
San Jose
via
Ciudad Quesada
. And of course there's the direct bus back to San José, at an approximate cost of US$6.50.