Labrador City
Labrador City
and
Wabush
are a pair of towns in
Labrador
West on the
Québec
border. Dedicated primarily to iron ore mining, their burgeoning population of 9,350 people makes them the largest metropolitan area in otherwise sparsely-populated
Labrador
, rivalled only by
Happy Valley-Goose Bay
(with 7,750 people). The bulk of this population is in Labrador City, with Wabush (established 1955) as a
de facto
suburb of 1,860.
Understand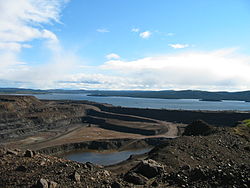 Established at the end of the 1950s as "Carol Lake", a mining community, Labrador City is the largest town and the primary overland point of entry into Labrador, a vast and largely-unpopulated territory. (It's also possible to enter Labrador from a ferry crossing which runs from Newfoundland's
Great Northern Peninsula
to
Blanc Sablon
, near Forteau; the road at that point dead-ends at Vieux-Fort, Quebec, instead of continuing westward toward Sept-Îles.)
The town's fortunes have largely risen or fallen in lock-step with global demand for iron ore; reaching a peak in the 1970s, declining in the 1980s (an era when Schefferville, Quebec, at one point ceased all mining activity) and staging a comeback in the 21st century as demand from
Chinese
industry pushed the world price of iron ore to US$190/tonne at its peak in 2011. As of 2017-2018, the ore sold for US$60-75/tonne and local jobs were once again in jeopardy.
An enclosed indoor mall houses Labrador's only Walmart; Labrador City is also home to Labrador's only McDonalds and one of Labrador's two
hospitals
(the other is in Goose Bay). The gravel road to Manic 5 and
Baie-Comeau
opened in 1986, with a road from Labrador City to Goose Bay in 1992. The
Trans-Labrador Highway
made overland travel from Labrador City to Forteau possible by 2009. The last section of Route 500 eastward from Labrador City to Goose Bay was paved in mid-2015.
Labrador City, Goose Bay and Cartwright use Atlantic time, the same time zone as
New Brunswick
and
Nova Scotia
.
Get in
By car
Labrador City is just across the Québec-Labrador border, 25km from Fermont, Quebec, on the
Trans-Labrador Highway
. From
Baie-Comeau
, take
Quebec Route 389
. Quebec 389 is a poor-quality gravel road from the Manic 5 hydroelectric dam to the provincial boundary at Fermont (
Caniapiscau
), with only one intermediate point (Relais Gabriel) to stop for fuel or lodging. The road improves on becoming Route 500 in Labrador, continuing as asphalt to Goose Bay. Route 510 beyond Goose Bay to
Port Hope Simpson
returns to poor-quality gravel, improving from
Red Bay
to Forteau.
It is 243 km to Churchill Falls, which has a gas station, hotel and some services, and another 288 km beyond there to Happy Valley-Goose Bay, which is the next city with a hospital.
By plane
| name=Wabush Airport | alt=
YWK
| url=http://www.wabushairport.com | email=
| address= | lat=52.922778 | long=-66.864722 | directions=located in Wabush, a mining town adjacent to Labrador City
| phone= | tollfree=
| hours= | price=
| wikidata=Q3502288
| content=It handles flights by Air Canada Express], PAL Airlines, Pascan Aviation and others to other airports in Labrador, and the Island of Newfoundland and cities in Quebec.
}
Wabush is across Little Wabush Lake from the rest of Labrador City; hire cars are available at the airport.

By rail
A train from Sept-Îles passes through the tiny waypoint (not even a hamlet) of Emeril. There is no population, no onward public transit and no services at this point, which is about 45 minutes from Labrador City by road. This is the last passenger rail service in the province. The line is isolated from the rest of the North American system; there are no onward rail connections at Sept-Îles. The service is kept in operation by native groups as the only means to reach Schefferville, a community on the Québec side with no road access.

Get around
Taxis in Labrador City are metered; as of 2013, fares start at $5.50 plus $1.85/km or $0.48 per minute of waiting time:
CJ Cabs

phone: +1 709 944-7757

address: 74 Avalon Dr

Twin City Cabs

phone: +1 709 944-6500

address: 210 Humber Ave
See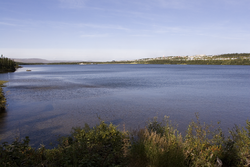 Basilica of our Lady of Perpetual Help

phone: +1 709 944-2289

address: 1 Sutton Way, Labrador City

Roman Catholic minor basilica and former cathedral dedicated to the Blessed Virgin Mary, completed in 1962. Labrador City–Schefferville was its own diocese before being merged to the "Diocese of Corner Brook and Labrador" in Sept 2007, making this small church a cathedral from 1980-2007.

phone: +1 709 944-5399

address: 1365 Route 500

Exhibit hall with artefacts of fur trading and mining describe the history of Western Labrador, its culture and people. The same log structure houses the Labrador West Heritage Shop, Labrador West Tourism Corporation and Labrador Wilderness Connections.
Royal Newfoundland Constabulary display exhibits, Wabush airport, depict the history of the Royal Newfoundland Constabulary from 1871 to today.
Do
Arts and Culture Centre - Labrador West

phone: +1 709 944-5412

address: Hudson Dr.

Live performance venue.

address: 411 Booth St

phone: +1 709 944-5842

address: Smokey Mountain Road

Cross-country skiing, lodge with canteen, meeting rooms, waxing facilities, showers, indoor barbecue pit, licensed bar, ski lockers and rental skis.

phone: +1 709 944-2129

Downhill skiing in the Wapusakatta Mountains, 5km from Labrador City. 19 groomed runs, a 1000 ft vertical drop and all natural snow. Snowboard park, double chair, three pommel lifts, base lodge, ski/snowboard rentals, lessons and canteen and bar services.

phone: +1 709 944-3007 (clubhouse)

address: Duley Lake

Lakefront golf course with snack bar, pull cart and club rentals. Only 18-hole course in Labrador.
Walking trails: Jean Lake Walking Trail (Grenfell Drive, 5km trail around Jean Lake), Menihek Interpretive Trail (Smokey Mountain Road, 5 km of Menihek Nordic Trails) and Tanya Lake Walking Trail (Badden Powell Road, 3km trail around Tanya Lake).

phone: +1 709 944-7401

Trail passes for 450km of groomed trails, which connect to the 300km Fermont Snowmobile Club trails and 200km of groomed trails to Churchill Falls, are available from the Club and various local outlets in the area.
Events
phone: +1 709 944-5011

3300km cross-Labrador snowmobile run over extremely rough terrain in sub-zero temperatures from Labrador City to Labrador's south coast, then to the north coast and back to Labrador City. March.

phone: +1 709 944-3602

Week-long festival with ice sculptures, snowmobile parade and bonfire, fireworks display, sports tournaments, dog-sledding, winter tubing and skiing.
Buy
phone: +1 709 944-3773

address: 500 Vanier Ave

Labrador City's only fully-enclosed shopping centre; 31 stores including Walmart, Canadian Tire and Mark's Work Wearhouse.

Carol Lake Shopping Centre

phone: +1 709 944-5443

address: 208 Humber Ave

Strip mall with a grocery store and a cinema.
Eat
Eileen's Country Kitchen

phone: +1 709 282-3310

address: Wabush Plaza

Hilda's Funfood

phone: +1 709 944-7959

address: Labrador Mall, 500 Vanier Avenue

phone: +1 709 944-4179

address: 118 Humphrey Rd

Terrace Dining Room

phone: +1 709 944-2661

address: Avalon Drive
Drink
Corby's Pub

phone: +1 709 944-3711

address: 301 Humber Ave

The K-Bar (Kaboulo Bar),

phone: +1 709 944-3876

address: 118 Humphrey Road.

Labrador City's only Discotheque & Nightclub.
Sleep
phone: +1 709 944-7736

address: 215 Drake Ave

Jordan's Family Restaurant, Drake's Return Pub and Eatery, banquet/meeting facility, catering, business services, souvenir shop. Kitchenettes, laundry, wi-fi.

phone: +1 709 944-2661

address: 96 Avalon Dr

54 rooms, computer station and fitness centre. Steak/seafood restaurant open 6:30AM-10PM daily.

phone: +1 709 282-3221

address: 9 Grenfell Drive, Wabush

Chalet-style hotel built in 1960 as Sir Wilfred Grenfell Hotel; 65 rooms and three suites, Grenfell Restaurant, Canadian/Chinese dining room/lounge, meeting and banquet facilities, barber shop, massage clinic, fitness room, high speed Internet.
Go next