Ladysmith (British Columbia)
Ladysmith
is a tourist town of about 8,500 people (2016) on
Vancouver Island
in
British Columbia
,
Canada
. A heritage town, it boasts restored buildings and beautiful Transfer Beach. It is known for its annual Festival of Lights during the third week in November. It was voted one of the top ten towns in Canada by
Harrowsmith Magazine
.
Understand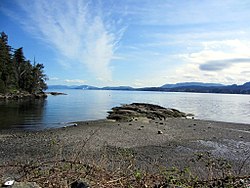 The local economy is based on forestry, tourism, and agriculture. A hillside location adjacent to a sheltered harbour forms the natural characteristics of the community.
In 2017 Ladysmith's historic First Avenue was named the best street in Canada by the Canadian Institute of Planners.
Visitor Centre

phone: +1 250-245-2112

address: 33 Roberts Street
History
James Dunsmuir founded Ladysmith about 1898, a year after he built shipping wharves for loading coal at Oyster Harbour (now Ladysmith Harbour) from the mine at Extension, nearer Nanaimo. Dunsmuir, owner of coal mines in the Nanaimo area, needed a location to house the families of his miners. He chose to build the community at what was then known as Oyster Harbour, some 32 km south of his Extension mines. Many buildings were moved from Extension and Wellington by rail and by oxen.
In 1900, Dunsmuir renamed the town in honour of the British lifting the siege of Ladysmith in South Africa (28 February 1900) during the Second Boer War. (The original town of Ladysmith in turn took its name from Juana María de los Dolores de León Smith, known as Lady Smith, the Spanish wife of Sir Harry Smith, the British Governor of the Cape Colony and high commissioner in South Africa from 1847 to 1852.)
Dunsmuir also chose to name the streets of the community after generals who fought victoriously in the Boer War. Included in this honour are Generals Buller, Kitchener, Baden-Powell, Methuen and Symonds. In addition, the town has left intact much of its original architecture, from the time of its founding. Surrounding features also bear the names of this era, such as Majuba Mountain.
Ladysmith has been notable in the history of the labour movement with significant unrest and violence during the major strikes of the 1913–1914 era. During this time militia were dispatched to put down unrest and protect property.
Get in
A common way to get here is to drive from nearby
Nanaimo
. Ladysmith is 26 km (16 miles) south of Nanaimo and 85 km (53 miles) north of Victoria on Highway #1.
Salt Spring Air
flies to nearby Maple Bay from
Vancouver
harbour, from Vancouver International Airport in
Richmond
, or from any of the Gulf Islands.
See
The town's main street (1st Avenue) features vintage Edwardian buildings, many erected circa the town's founding in 1900 and now occupied by independent merchants: baker, butcher, restaurateurs, artisans, coffeeshop proprietors, shopkeepers, book dealers, and numerous antique and vintage shops.

Ladysmith Waterfront Arts Gallery,Housed in a vintage railway machine shed on a plateau of land above the community marina.

phone: +1 250-924-0658

address: 4985 Christie Road

The Ladysmith Players Society presents dinner and lunchtime shows at the Ladysmith Little Theatre and performances at the Transfer Beach's waterfront amphitheatre and the Agricultural Hall.
Do
The annual Arts on the Avenue festival showcases works of the creative community in late August.
Pleasure cruising and kayaking are year-round options in Ladysmith's sheltered region of southeastern Vancouver Island. Rent a kayak or Stand Up Paddle (SUP) board from Sealegs Kayaking Adventures at Transfer Beach Park, and push off from the curving cement steps mere metres/feet from its beachfront eco-adventure centre. Join a tour, take lessons, upgrade skills, or purchase a kayak after taking it for a sea trial.
Hiking: The Holland Creek Trail offers beginner-intermediate hiking trails that run from the water's edge at the southeast end of Ladysmith to viewpoints high above town. Hikers can also venture beyond the trail for more advanced treks.
Birdwatching and wildlife viewing are excellent in the Holland Creek area and townsfolk are active players in the BC Purple Martin Stewardship and Recovery Program. (Learn more about this vital initiative at the entrance to the community marina.)
Golf: The nine-hole Ladysmith Golf Club (380 Davis Road) is a low-cost par-three course. More serious players can pick and choose between many fine courses in the region, such as Duncan Meadows, 20 minutes south of town off the Lake Cowichan turnoff, or the Cottonwood Golf Course 10 minutes north of town.
Bungy jump: WildPlay Elements Park (35 Nanaimo River Road, about 20 minutes north via the Trans Canada Highway). This Cedar-area amusement zone also offers a fun zipline ride across a river canyon, a high-speed "king swing" ride and a unique tree-top obstacle course suitable for various age groups and fitness levels.
Buy
address: 12 Roberts Street

Vintage collectables including glass, china, art, tools, lamps, mirrors and clocks, and a selection of new items including hooks, knobs, signs and chinaware.

Post Office Antique Mall

address: 340 Esplanade (Trans Canada Hwy)

A heritage superstore: 3 floors of antiques and collectibles.

Coronation Mall

address: 341 Trans-Canada Hwy

20 tenants anchored by Save on Foods, Rexall Drugs and BC Government Liquor Store.
Eat
Renee's Soup & Sandwich

phone: +1 250-245-4198

address: 720 1st Ave

An old school local cafe on the main street.

Old Town Bakery

phone: +1 250-245-2531

address: 510 1st Ave

Soups and sandwiches, but people rave about the cinnamon buns in a variety of flavours.

Wild Poppy Bistro

phone: +1 250-924-8696

address: 541 First Avenue

Breakfasts, lunches and gluten-free choices.

Spice Hut Indian Cuisine

phone: +1 250-924-8222

address: 510-A Esplanade Avenue

Canadianized Indian food.

phone: +1 250-924-1300

address: 18 Roberts Street

The best of Spanish and Mexican cuisine, especially tacos, tapas, and tequila.
Drink
phone: +1 250-924-1747

address: 11 High St.

British comfort food and 16 imported and local beers on draft.
Sleep
Beck Lake Luxury Guest House & B&B

phone: +1 250 716-9993

address: 2183 Caledonia Ave.

Private guest house with deck, and house rooms with private bath.

Estuary Estate Bed and Breakfast

address: 302 Roland Road

Set on the oceanfront. Three rooms in the main house, plus a separate cottage with full kitchen. Ample birdwatching. Free wireless internet.

phone: +1 250 245-0633

address: 920 Colonia Drive

Three rooms. Wireless internet available.

phone: +1 250 245-5794

address: 248 Bayview Avenue

Two guest rooms, with private baths. Ocean views.

address: 4901 Brenton Page Road

A suite with full kitchen, bath, and laundry. Wireless internet access. Breakfast available.

Hawley Place Bed and Breakfast

phone: +1 250 245-4431

address: 302 Hawley Place

A large Victorian replica home with three guest rooms. Wireless internet available, along with free computer use.

phone: +1 250 245-7882

address: 3842 Fearn Way

On a south-facing waterfront location. Three large rooms. Features home-made bread. Wireless internet available.
Go next