Lafayette (Indiana)
Lafayette
is the county seat of Tippecanoe County,
Central Indiana
. It is located 2 hours southeast of
Chicago
and 1 hour northwest of
Indianapolis
. The Greater Lafayette metropolitan area consists of the cities of Lafayette and West Lafayette. The combined population is 97,000. Neighboring West Lafayette is home to Purdue University, a large, prestigious public university.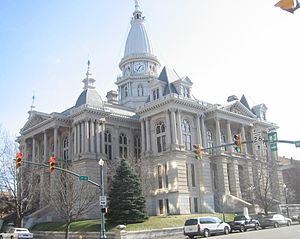 Get in
By train
Amtrak
serves the Lafayette with two services, the
Cardinal
service between
Chicago
and
New York City
three times a week. On days the Cardinal does not run, the daytime
Hoosier State
runs between Chicago and
Indianapolis
. Journey time from Chicago is about 3.5 hours. is located at 200 N 2nd St.
By bus
ExpressAirCoach shuttle bus from Chicago O'Hare International Airport, 3 hours, $50.
Lafayette Limo shuttle from Lafayette to the Indianapolis Airport, $27 one way, $50 round trip, around 1.5 hours.
Star of America shuttle from Lafayette to the Indianapolis Airport, $19 one way, $38 round trip, around 1.5 hours, free wi-fi on shuttle.
Suburban Express bus service between Purdue and the Chicago suburbs. Goes Purdue->Chicago on Friday, Chicago->Purdue on Sunday. $25 each way.
By plane
Get around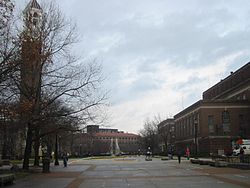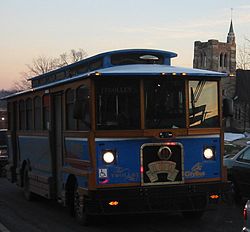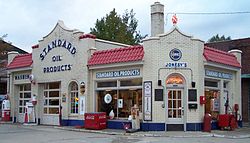 The area is divided by the Wabash River. To the east of the river is Lafayette and to the west is West Lafayette. Lafayette is broken down into several neighborhoods. Starting at the river and heading east is downtown. Here you will find numerous shops and restaurants as well as most of the museums and theaters. North of downtown is the Historical Centennial Neighborhood. South of downtown is the Ninth Street Hill Neighborhood. Most of the shopping and hotels are either downtown or along one of the main arteries. State Rd 26 runs east and west bisecting both cities. State Rd 52 curves around the East side of town and crosses the river into the Northern side of West Lafayette. On State Rd 52 near the Southeast side of town you will find the Tippecanoe Mall. Interstate 65 marks the eastern edge of Lafayette. From South to North there are 4 exits for Lafayette, St Rd 38, St Rd 26, St Rd 25, and St Rd 43 (for West Lafayette).
The John T. Myers Pedestrian Bridge connects downtown Lafayette with West Lafayette. Starting at the river and heading west into West Lafayette is the Levee area and Wabash Landing. This area is fairly new with several shops, a multiplex theater, a park, and an outdoor ice skating rink. Continue west up the hill on State Rd. 26 to the Chauncey Hill and Village area. There you will find most of the college bars and several restaurants. Continue west on Hwy. 26 to pass through the main campus of Purdue University. To the north and east of Purdue is the main residential area of West Lafayette.
Bus, There are 15 bus routes around the cities. Tickets are $1, 10 tokens for $7.50 (you can ask for one free transfer ticket), $28 for a calendar month pass, free for students and staff at Purdue. There is a free trolley bus going from downtown Lafayette to West Lafayette/Purdue and back every 15 minutes. Some bus lines do not run on weekends, in the summer, or anytime when classes are not in session; check schedules for details. Lafayette and the surroundings areas are suburban and relatively spread out; a private automobile is recommended.
See
Go for a walk in the historic downtown, Main St. from 2nd to 9th St.
The Standard Oil station, 627 South St, one of only seven left, is a walk-by museum.
Do

address: 609 Main St.

Go see the finest art Lafayette has to offer or take a class in Lala Gallery's ceramics studio.
Buy
address: 5th Street

On Tuesday and Saturday mornings, and Thursday evenings from May to late October. Saturday markets feature a much larger set of vendors than the weekday markets.

Von's Records, Comics, Gifts, Books

phone: +1 765 743-1915

address: 319-325 W. State St, West Lafayette

4 semi-separate stores but all next to each other and the place to find odd gifts, used books, comics, music, etc.

JL Records

address: 380 Brown St., West Lafayette

Independent music store in the best sense of that tradition. Lots of hard to find vinyl and cds.

LA Village Food Mart

address: 208 South St

In the Village, Groceries and Indian specialties.

address: Win Hentschel Blvd just past the West Lafayette Wal-Mart

Lots of really cool kitchen and gourmet cooking goodies. One of a kind.

Discount Den

address: Chancey Hill Mall, the Village

Tippecanoe Mall
Eat
Lafayette
address: 2200 Elmwood Ave.

This pizza place has been around Lafayette for over 40 years, it is expanding throughout the state now, but it all started here.

address: 3305 South St.

Amazing homestyle slow cooked meals. Very reasonably priced, definitely worth a stop for casual lunch or dinner.

Frozen Custard

address: Next to Columbian Park

This Custard restaurant started in the 1930s and still serves the same hand dipped custard.

Spageddie's Italian Kitchen

address: 3990 E. State Rd. 26

Right off the highway makes this restaurant perfect for road weary travelers that are looking for a nice chain experience in Italian food.

address: 3000 S 9th St.

A fun and welcoming atmosphere makes you feel like it's a second home. Great indoor smoking and smoke-free facility.

phone: +1 765-742-7378

address: 6 N 2nd St
West Lafayette
Triple XXXIndiana's first drive-in restaurant. Known for biscuits and gravy and a famous "Dwayne Purvis" hamburger with peanut butter. Great root beer too.

Silver Dipper, River Market (corner of River Rd and State St). Hand-dipped ice cream and ice cream treats. Locally owned with a loyal customer base.

phone: +1 765-746-4782

address: 119 Howard Ave

A little slice of Ireland right here in West Lafayette. Family-owned traditional Irish pub. Warm atmosphere, live music, unique draft selection, great appetizers (try the Irish Pizza), and of course your traditional Irish entrees. Second location is in Lafayette, adjacent to Tippecanoe Mall (3520 State Rd. 38 E).

Green SproutAuthentic Korean/Japanese cuisine in Chauncey Village (southeast of WL Library). The sushi salad is amazing. Daily specials offered. Menu: $2-10. Also offers authentic Korean baked goods. Dine in, takeout, and delivery.

Hookah!

phone: +1 765-743-3636

Chauncey Hill Mall, Best Mediterranean food on campus. You can enjoy a fine hookah smoke, though non smoking section is available. People tend to dance to the exotic music that is typically played after 11PM. Must be 18 years or older to enter on weekend. All ages welcome before 10PM. Good atmosphere. Full bar with international drinks as well as American favorites.

Khana Khazana

address: 108 Northwestern Ave

Good Indian food, buffet for lunch and dinner, take out available. Pricey.

Bombay Indian Restaurant

address: 111 South River Rd

Buffet available but is a bit more pricey (~$9-10). Definitely worth a visit.

Kibu Cafe

address: 101 South River Rd

Suite D. Delicious and authentic Korean + Japanese food, larger restaurant than Joo Joo. Offers various popular menu from Korea and Japan including their signature hand-made noodle made fresh daily. Also available a business meeting room for reservation.

Captain Gyro's

address: 132 Northwestern Ave

Great gyros at a decent price.

Cafe Vienna Expresso Bar and Bakery

address: 208 South Street

Good sweet treats and coffee, and an eclectic mix of sandwiches named after jazz and blues artists.

Basil Thai

phone: +1 765-743-3330

Chauncey Hill Mall. Smallish menu, but good Thai food and spicy curries. Great mango salad. Also sells bubble tea.

Joo Joo Korean Restaurant

phone: +1 765-743-5566

Chauncey Hill Mall. Authentic Korean food, small restaurant. They have a larger restaurant on Hwy 52 (go west past the Wal-Mart) which also has billiards.

Boiler Market

address: 320 W State St

Salads, sandwiches and some of the best pizza in town. "Pitcher and pie" specials.

Parthenon

phone: +1 765-743-6778

Chauncey Hill Mall. Authentic Greek food in a spacious dining area.

Olive House

address: 200 South St

A small Mediterranean restaurant featuring an authentic menu.
Drink
Lafayette
Alley-Oops

address: 1701 Schuyler Avenue

Ben Hur Tavern, 1002 S 4th.
Biltmore Tap Room, 1202 S 4th.

Black Sparrow

address: 223 Main St

Located right down town across from the Red Seven restaurant. Smaller lunch / dinner menu with unique items. The closest Lafayette comes to a hipster bar. Bands often play on Friday / Saturday nights and sometimes there is a cover charge.

Checkerboard Tavern

address: 1521 Kossuth St

careful, they don't seem to change their fryer oil often enough.
Chumley's, 122 N 3rd. On the courthouse square. Lots of different beers on tap make it a very popular late night alternative to the campus bars. Monday and Thursday nights are "Schooner Nights" with especially good drink specials, mostly involving the eponymous 32 oz. goblet. Lots of TVs showing all major sporting events. Smoking is permitted.
Clubhouse Bar and Grill, 827 N 6th. Sports oriented, some live music.

Danzer's Show Club

address: 3481 McCarty Ln

Strip club.

DT Kirby's

address: 605 Main St

Delicious (greasy) food that will stop your heart, great liquor selection, friendly dive bar atmosphere (as long as you're a Bears fan.)
Filling Station, 2603 Greenbush.

phone: +1 765 463-7785

address: 1092 Sagamore Parkway, West Lafayette

Jerilee's Pub

address: 2100 Elmwood Avenue

NorthEnd Grille

address: 1016 Main Street

Great restaurant in Killer Beans Coffee's old spot, probably one of the best in town. Upscale for Lafayette (but that isn't hard to do)

Kooler Keg

address: 1035 N. 6th Street

address: 113 N 5th St

Founded in 1835, billed as Indiana's oldest bar. Note that the bar itself is the oldest in Indiana, but it was moved to this location. Tons of live music, sometimes jazz or other local bands. Cover is charged when bands are playing.

phone: +1 765 742-2591

address: 622 Main St

One of two Lafayette breweries (do not ask for a bud light here, only beer made on site served). Brew pub with very good selection of beers. Also has good food and a second floor stage with live music and open mic nights.
Linwood Tavern, 1244 N 14th.

address: 648 Main St

Mom's Place, 1301 Union.
Myers Pub, 176 SR 25

Overtime Tavern

address: 2511 US HWY 231 S

phone: +1 765 714-2777

address: 2006 N. 9th St

The second of Lafayette's own brewing companies. Their beers can be found on tap at some local bars. There is a small on-site bar that serves only the People's brews.

The Tick Tock Tavern & Eatery

address: 1816 N. 9th Street

Sgt. Preston's of the North, 6 N 2nd.
West Lafayette
address: 135 S, Chauncey Ave. West Lafayette

Ultra Lounge with big city feel, Bottle service, Specialty martinis. Unique top shelf drinks. Largest dance floor on campus with state of the art sound and lighting. Live DJs Th.Fr.Sat open till 4AM Latin night on Thursdays, House Eurotechno and world on Fridays and Saturdays. Tapas appetizers served till 4 AM on weekends

Brother's Bar & Grill

address: 306 W. State Street

Brother's always has specials and hence makes it a fairly cheap alternative to Harry's or Yacht Club. Much more relaxed atmosphere compared to other bars on campus.

address: 329 W State St

Harry's is a campus classic and has been around since the times of prohibition. It used to be a soda fountain but don't expect any chocolate to be served in this drinking mainstay. The vast majority of Purdue's campus will probably say Harry's is their favorite bar since it has a little of something for everyone. Strong drinks.
Jakes Roadhouse, 135 S Chauncy. Garage style place, serves food in daytime hours. Gives out free hot dogs on Friday and Saturday nights after 11PM. Known as the GDI bar.

address: 360 Brown St

Dance club and piano bar. On Thursday nights it is mostly frequented by college students as there is a $5 cover and $0.50 32-oz beers/$1.75 32-oz well drinks.

Nine Irish Brothers Traditional Irish Pub

phone: +1 765 746-4782

address: 402 Brown St

An impressively authentic Irish pub, with above average food—plenty of Irish cuisine such as shepherd's pie, Guinness beef stew, fish and chips, Connemara chicken, andof course--corned beef and cabbage. It would be a great little Irish pub just for the atmosphere, but the big attractions are the bar and the entertainment. Nine Brothers has great draught beer, and a full bar with an impressive selection of Irish whiskeys, which are surpirsingly affordable. On weekends, the menu and booze are complemented by live Irish music; otherwise you can stop in to watch European sports (football, rugby, Gaelic football, hurling) on the telly, as well as the obligatory Purdue, Cubs, Bears, and Colts games.

Where Else? Bar

address: 304 State St

Dance floor in the back, students tend to gather here at the end of their bar crawl. Featured in Sports Illustrated as #7 College Tailgate Location in the Nation. Featured on Big Ten Network for being the home of "BREAKFAST CLUB".
Sleep
Bed and Breakfast
Hotels
Tons of hotels on Route 26 near Interstate 65, $–$$: Holiday Inn Express, Best Western, Comfort Inn, Day's Inn, Red Roof Inn, etc.—pick your favorite chain. These are outside of comfortable walking distance from West Lafayette (and therefore Purdue University), but only about a 20 minute drive from the heart of campus. If you're driving into town anyway and don't need pedestrian access to campus or downtown West Lafayette, these are a good (and often cheaper) choice.

Super 8 West Lafayette

address: 2030 North Gate Drive

Located on the Interstate 65, seven miles away from Purdue University, Wolf Park and a little away from the Columbian Park. Secure Online Reservations.

Econo Lodge West Lafayette Hotel

address: 200 Brown Street

The closest hotel to the campus of Purdue University - located on the Northeast corner of State Street (Hwy 26) River Road (Hwy 231), near the banks of the Wabash River.

phone: +1 765 494-8913

address: 101 North Grant Street

Right on Purdue's campus, inside of the Purdue Union building. Good restaurants downstairs in the Union itself, and it is within walking distance to downtown West Lafayette and Lafayette. Has secured online reservations. If you are looking to stay here during a major Purdue home game or campus event, make sure you make your reservations early because it does fill quickly.
Connect
Internet access
All the public libraries have wired Internet computers available for use by anyone for limited time periods.
Airimba
have commercial wireless access at four apartment sites at very affordable rates especially for short stays. Other locations offering Internet access include:
Vienna Espresso Bar & Bakery. Offers open wireless Internet access.
Cafe Royale. Offers open wireless Internet access.
Union Building, (at Purdue). Requires a free temporary account.
Buffalo Wild Wings, (at Levee Plaza). Offers open wireless Internet access.
Panera Bread. Offers wired and splash wireless Internet access.
Barnes and Noble, (at Tippecanoe Mall). (note: there are only two power outlets in the whole building for your laptop. They are directly adjacent to the handicap access ramp. If you attempt to move a table there to use the outlets, they will ask you to leave.)
Java Roaster's and K Dee's Coffee in downtown Lafayette
West Lafayette Public Library, .
Tippecanoe County Public Library: all branches, , login with a valid or guest library card.
Ivy Tech Branch of Tippecanoe County Public Library, .
Cope
Tan and Laundry at Levee Plaza, just north of Wabash Landing
Go next