Lagos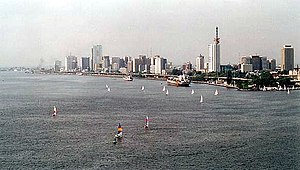 Lagos
(
Yoruba
:
Èkó
) is the most populous city in
Nigeria
. With an estimated population of 8.8 million inhabitants in the city, or 16 million in the metropolitan area, Lagos ranks second only to
Cairo
as the most populous city in
Africa
.
Districts
The main districts are the mainland, Greater Lagos and the Islands. Three major bridges join the island to the mainland. They are the Carter Bridge which starts from Iddo Island, the Eko Bridge (formerly called the Second Mainland Bridge), and the Third Mainland Bridge, which passes through densely populated mainland suburbs through Lagos lagoon.
The Mainland holds a greater percentage of inhabitants and industries. Lagos Mainland districts include Ebute-Meta, Surulere (site of two stadiums and National theater), Yaba (location of the University of Lagos) and Ikeja, site of Murtala Muhammed International Airport and capital of Lagos State.
Greater Lagos includes Mushin, Maryland, Somolu, Oshodi, Oworonsoki, Isolo, Ikotun, Agege, Iju Ishaga, Egbeda, Ketu, Bariga, Ipaja, and Ejigbo.
The Islands: there are two major urban islands of Lagos in Lagos Lagoon — Lagos Island and Victoria Island. These islands are separated from the mainland by the main channel draining the lagoon into the Atlantic ocean, which forms Lagos Harbour. The islands are separated from each other by creeks of varying sizes and are connected to Lagos Island by bridges.
Lagos Island contains a Central Business District (CBD). This district is characterized by high-rise buildings and businesses. The island also contains many of the city's largest wholesale marketplaces (such as the popular Idumota and Balogun markets). It also has the National Museum of Nigeria, a Central mosque, Glover Memorial Hall, Christ's Cathedral (CMS), and the Oba Palace. And lastly, there is the Tinubu Square- a site of historical importance, it was here that the Amalgamation ceremony that unified the North and South protectorate to form Nigeria took place in 1914. The few historic quarters that remain in the city are clustered around this square and in the nearby Campos district. Ikoyi sits on the eastern half of Lagos Island and joined to it by a landfill. Ikoyi is also connected to Victoria Island by a bridge carrying a main road over a Five Cowrie creek. Ikoyi has a great number of hotels, night clubs, a recreational park and one of Africa's largest golf courses. Originally a middle class neighbourhood, in recent years it has become more of a fashionable residential enclave for the upper middle class to the upper class.
Victoria Island is home to many company headquarters and entertainment spots. Victoria Island (also known as V.I) and Ikoyi occupy a major area in the suburbs of Lagos and have several sizable shopping districts. On the seashore along the Atlantic front, there is an environmentally reconstructed Bar Beach.
Eko Atlantic city is a new city under construction. It is a planned district being constructed on land reclaimed from the Atlantic Ocean. Dredgers, large ships which move sand, are all working around the clock filling the area with sand where the city will be built. Expected to be around , the city will satisfy needs for financial, commercial, residential and tourist accommodations with a state-of-the-art high-tech infrastructure in line with modern and environmental standards. These standards will offer the city's residents modern water, waste management, security and transportation systems. Eko Atlantic will also offer its residents an independent source of energy generated specifically for the city.
Understand
Also known as Èkó in the Edo language, and also affectionately called 'Lag', 'Gidi' or 'Las Gidi' as a form of slang-by the younger generation, is a port and the most populous conurbation in Nigeria.
Formerly the capital of Nigeria, Lagos is a huge metropolis which originated on islands separated by creeks.
The city is the economic and financial capital of Nigeria.
Portuguese explorer Rui de Sequeira visited the area in 1472, naming the area around the city Lago de Curamo; indeed the present name is Portuguese for "lakes". Another explanation is that Lagos was named for Lagos, Portugal - a maritime town which at the time was the main centre of the Portuguese expeditions down the African coast and whose own name is derived from the Latin word Lacobriga.
From 1404 to 1889 it served as a major centre of the slave trade, ruled over by Benin chief called the Oba of Lagos.
Lagos was the capital of Nigeria from 1914 up to 1991. The city was stripped of its status when the Federal Capital Territory was established at the purpose-built city of Abuja.
The city of Lagos lies in south-western Nigeria, on the Atlantic coast in the Gulf of Guinea, west of the Niger River delta, located on longitude 3° 24' E and latitude 6° 27' N. Most of the population live on the mainland, and most industries are located there too. Lagos is known for its music and night life which used to be in areas around Yaba and Surulere, but more night clubs have sprung on the island making the island especially Victoria Island, the main nightlife attraction.
Get in
By plane
You can fly in from most European cities (
London
,
Frankfurt
,
Paris
,
Amsterdam
,
Madrid
,
Rome
); from
Doha
,
Dubai
,
Abu Dhabi
,
Cairo
,
Istanbul
,
Beirut
,
Johannesburg
,
Casablanca
,
Addis Ababa
,
Kigali
and
Nairobi
. There are also direct flights from the
United States
(
Atlanta
,
Houston
,
New York City
). There are also flights to Lagos from most major cities in West Africa.
Lagos is close (about 100 km) to the border with
Benin
. Should you fly out of the International Airport in Lagos, arrive early, especially close to weekends and festive days, as the security has been beefed up significantly (you need to have your passport and ticket to enter the airport departure area) since the December 2009 liquid explosive incident where the terrorist started his journey from Murtala Muhammed International Airport.
For airlines operating at Murtala Muhammed International Airport see Wikipedia article on
Murtala Muhammed International Airport
Arrivals
For foreigners, the immigration process is can be tedious and slow as there are two immigration officials at each desk (presumably to reduce corruption). Nigerians and the West African (ECOWAS) passport holders receive first priority. Families with young children and disabled people are normally also given priority. When filling in the arrival card for
immigration
you must have an address in Nigeria and a Nigerian contact number - they have been known to call this number to verify that you are expected.
After immigration you collect your bag at one of the baggage conveyors; check beside the start of the conveyor if you have fragile or oversized baggage.
If you are travelling with a multi-national corporation, you will often be met by the "Protocol Officers" in the luggage collection hall. These agents will ensure you meet with the official company drivers and get safe passage out of the airport.
After collecting your luggage you pass
customs and agricultural inspections
and there is a pretty good chance your bag will be searched for the usual contraband.
Then a
health inspector
will check your
yellow fever
card. This has been a soft spot for many travelers as there must be ten days between inoculation and travel and the officials denied entry to passengers (i.e. put back on the next plane out).
Finally you must have you luggage tag from check-in as security will not allow you to leave the airport without producing this tag that corresponds to each bag.
Do not leave the airport if you have not made contact with your driver or pick-up as you are not allowed back in to the airport after exiting.
Departures
Many international flights leave in the evenings and the airport becomes
very congested after 17:00
with long queues for check-in. Vehicular traffic into the airport is very heavy in the evenings. So plan to arrive at the airport at least 4 hours before your flight.The check-in process takes a long time if you are not in business class or priority check-in. Your baggage pre-weighed and if it is more than 23 kg per bag you will have to reduce the weight. Then you have your passport details checked by the ground crew.
Your bags are searched by agriculture, customs and "antiquities" agents and any
indigenous trinkets
are likely to be confiscated, this is the bottle-neck in the check-in process.
Finally you reach the check-in counter and receive your ticket and the departure card to be filled in for the immigration control.
At either end of the departures hall are new extensions that house
immigration, security checks and passport control
. Hand in your departure card and proceed to the security checks. Since the
Christmas bomber
the checks are very thorough. New scanners and passport control counters have made this part of the departure process very easy (previously this could take two hours).
There are pay-access and Priority Pass lounges after passport control (after two hours in the security queue, you will want to use it if you have the time and US$50 to spare). Use Oasis or Skye Lounge, both of which are good, especially Oasis which is very nice even by 1st world standards. Gabfol lounge is free, but you pay for food and drinks.
Before boarding there is a final check of passport, yellow fever card and boarding pass. Your hand luggage is opened and searched and you are frisked. Finally you board the plane.
By train
Rail services in Nigeria are still very slow and unreliable.
Nigerian Railway Corporation
have daily services from
Ilorin
via
Ibadan
, and an overnight service from
Kano
via
Kaduna
a few times per week. A high speed railway connects Abuja to Kaduna.



By bus

Several bus companies like ABC Transport, Ifesinachi and The Young Shall Grow offers daily services from almost all major cities around the country as well as international destination in West Africa. While buses usually are quite comfortable, journey times are very long.

Get around
If traveling around Lagos, be sure to be accompanied by a tourist guide who is familiar with the routes. In Lagos, there are street signs on every single street corner making it easy to locate places and landmarks. With the city spending huge budgets on security, there has been a huge reduction in crime generally. For the most part, it's safe to move about during the day. If you are going out at night, be sure to go in groups, and stick to known routes.
If you are not on a tight budget, you should hire a car and driver, usually available from most of the major hotels and the airport. The price will be around ₦1,000-2,000 per hour, you will be expected to haggle. Talk to the drivers and find one you think will be able to communicate best with as they will be able to tell you things about the places you pass.
By bus
Lagos's Bus Rapid Transit (BRT) lines run in segregated lanes and thus run faster than private cars stuck in traffic. The buses are coloured red or blue.
The BRT is one of the three-pronged attacks the state has unleashed against the urban traffic congestion in Lagos. Buses can be an inexpensive and convenient option. Bus fares are relatively affordable and there are numerous routes being plied from the Mainland to the Islands.
The tickets for the BRT and the Lagbus can be purchased at the bus stops before boarding. Tickets range from ₦100-250 (2016). However, the ticket vendors are seldom available in the evening even though the buses ply till late at night. It makes good sense to purchase a ticket booklet or a couple of tickets in bulk beforehand since these don't contain a timestamp.
There are also smaller yellow buses (Danfo) that ply all routes from the mainland to the island and within mainland. For a newbie, the yellow bus system can be quite confusing and it makes good sense to approach a local for help. The local Nigerians will be more than happy to help an Oyinbo (white person). The fare is fixed and starts from ₦50 and increases by distance.
The BRT buses are faster, cleaner and more convenient. They carry hundreds of thousands of passengers on a weekly basis.
By car
The road network of Lagos for the most part is good, but sometimes traffic congestion and limited parking space especially during working hours is rife. Be sure to be on the lookout for road signs, in order to avoid entering one-way roads or streets. LASTMA (Lagos State Traffic Management Agency) is the body responsible for managing traffic in most of the traffic congestion areas. Make sure to follow traffic rules, and avoid driving in the BRT Bus lanes to avoid getting a fine or having your car impounded.
There exists car parks around in hotels, shopping malls, and some of them provide free and safe parking. But if parking in other areas around the city be ready to pay around ₦200 or more.
By taxi
One of the easiest ways to get around is by taxi. Taxis cost more than buses, typically. With the older taxi cabs it is expected to negotiate the price before you enter and pay on arrival. The cabs are relatively safe. The state has embarked on gradual replacement of rickety buses and taxi cabs with modern ones, fitted with good facilities to enhance comfort.
Through public-private partnerships, new cabs are being introduced regularly by licensed cab operators.
With fare as low as ₦500, depending on the distance, the new air-conditioned taxi cabs are already creating a new image for Lagos.
Taxis can be found almost everywhere, and all the new cabs have numbers on them that you can call for a pick up. There are several cab companies servicing Lagos, using both metered and fixed fares,and they generally accept cash:
phone: +234 802 705 2098, +234 700 073 3222

address: Plot 3A, Owukori Street, Alaka Estate, Surulere

phone: +234 791 7202, +234 702 911 9504, +234 819 116 6926

address: 18B, Ladoke Akintola Crescent, G.R.A., Ikeja

Uber — Retail unit no. 5. Second upper floor, Maryland Mall, 350/360 Ikorodu Road
Taxify — 9 Professor Gabriel Olusanya St, Lekki Phase 1
By rented car
Renting a car is another alternative if you are going to be staying for a few days or longer. There are numerous car rental offices in the city, and therefore it is very easy to rent a car from your hotel or resort accommodation to drive around with for the duration of your stay. Avis is your best bet for this; either call or make use of their online services:
phone: +234 803 718 7000, +234 1 764 6442

address: Avis House, 6 Degema Close, Off Park Lane, Apapa GRA

Hertz Car Rental

phone: +234 1 2703700

address: 12 Keffi Street, SW Ikoyi

Unity Global Ventures Car Rental

phone: +1 877 810 1221 (USA), +234 809 189 5630 (Nigeria)

Chauffeur-driven, air-conditioned SUV car rental car hire service.

phone: +234 1 270 2047, +234 1 271 7069, +234 1 873 0193

address: 2nd floor, UBA Building, Plot 22B, Idowu Taylor Street, Victoria Island
By ferry
Lagos Ferry Services Company runs scheduled routes between Lagos Island, Banana island, Mile 2 (Apapa axis) and the mainland. Modern ferries have been assigned to carry both passengers and cargo on the lagoon and on some creeks. The service charge is quite affordable for a tourist.
By rail
Lagos Rail Mass Transit is an urban rail system that is expected to open in 2022.
Motorbikes
For travelling short distances, you can use motorbike taxis called Okada. These motorbikes are quick, cheap and save a lot of walking but they are also very dangerous. Okada accidents are very common but safety equipment are now provided because the state government and in fact the Federal Road Safety Commission has mandated it. If you want to take the risk, you can safely halve their first price, and usually there are lots to choose from. Before you try and negotiate, confirm the fare from a local. If you have a Nigerian friend, let them negotiate for you as the quoted fare differs greatly for locals and foreigners(for obvious reasons). Choose an older driver as the younger ones are cowboys.
Safety Helmets are a must at all times for both the rider and passenger. Majority of times these are ill-fitting and sometimes even absent.
By law, Okadas are forbidden to ply after dark (7PM) for safety reasons. Avoid taking an Okada for long distances, while it's raining and in the night since majority of mainland is devoid of street lights.
See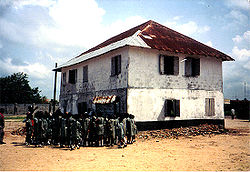 It is said that Lagos is for tourists like England is for food — bland and boring. It's a stereotype and not really true, but you have to put the effort in to see Lagos. There are also lots of markets to see, although doing so can be very tiring. They are usually safe during the day.
Badagry TownThe ancient slave port of Badagry - also known as the 'Point of No Return'. This ancient town of Badagry was founded around 1425. Before its existence, people lived along the Coast of Gberefu and this area later gave birth to the town of Badagry. It is the second largest commercial town in Lagos State. It is an hour from Lagos and a half-hour from the Republic of Benin.

Cathedral Church of ChristThe oldest Anglican cathedral in the Church of Nigeria, with the foundation stone laid in 1867. However it was not completed until 1946.
Museums
National Museum of Nigeria

address: Awolowo Rd

The Museum Kitchen is open on weekdays and is a good place to try local Nigerian cuisine.

phone: +234 709 850 5052

address: 175 Akin Adesola St

A contemporary art museum.

phone: +234 80 330 36969, +234 802 705 2098

address: 2 Elegushi Road, Lekki Phase 1

Art gallery featuring the whole panoply of Nigerian arts, or see some of the documentaries that have been made about Nigerian culture. Run by artist and designer Nike Davies Okundaye. A great place for art lovers and buyers. Also serves as education center, students at the Nike Art Center engage in a variety of arts. At the center, traditional arts are practiced, such as indigo dying and sculpting, and also non-traditional arts such as painting and quilting, as well as other cultural activities such as drumming and dancing.

address: Mainland, Iganmu-Surulere.

Located on the mainland at Iganmu, it is about a half-hour drive from Lagos Island. Built in 1977 as the principal forum for the International Festival of Black Arts and Culture, it has now become accepted as the prime center for performing arts in the country. The main auditorium has the capacity to seat around 3,000 persons and the conference hall can accommodate around 700 people. The building also houses two cinema halls, a restaurant and a bar.

Ovuomaroro Gallery

phone: +234 7056346458

address: 41 oloje Street. Papa Ajao, Mushin, Lagos

One of the oldest galleries in Lagos with over 100 works on display, with some for sale by Nigeria's Human Living Treasure Prof. Bruce Onobrakpeya You will also see here more than 6 decades of his work as an artist running through various phases of his creativity and development.
Do
Lekki Conservation CentreRun by the Lekki Conservation Foundation. It is really good for relaxation, its a dense park with a few animals and birds, there are walkways and benches to rest on. Fees: ₦1000 for everyone

Visit Freedom Park on Broad street. This park was a prison yard where those who fought for Nigeria's independence were incarcerated. The park designers maintained the original design of the prison walls. The interior of the park is quite modern, It costs ₦200 to enter the park on a regular night. Cost of entry may increase on a night with a show.
Beaches
There are over a dozen beaches in Lagos, making for a wide array to choose from. More beaches are found outside the city, in places like Badagry. Good for picnics and barbecues. Inside the city, Lekki is about as good as it gets.
Lagos Bar Beach

address: Ahmodu Bello Way, Victoria Island

This beach is named after the sand bars that characterize the coastline of Lagos, not because of the myriad of bars that run along the beach itself. Very popular among beach goers, it is the main inner city beach, as the other beaches provide more of a "get away" from the city. (These include Lekki, Alpha, Eleko, Akodo beaches to the east, and Tarkwa Bay, Ogogoro Island, Atlas Cove, Lighthouse beach, Ilashe Beach, Agaja Beach and Badagry beach to the west.)

Tarkwa BayA man-made bay and beach created during the formation of the Lagos harbour, sheltered within the harbour breakwater. Accessible by boat only. It is easily accessible by boat from Tarzan Jetty at Maroko (the fare is cheap), or under Falomo bridge on Victoria Island. Boat can be hired opposite American/Indian Embassy. You can also board water taxis for about ₦300 (as of 2011) per trip. The beach is a pleasant outing and has safe bathing even for children. It has its own resident community, most of whom make their living from the tourists who visit the beach. The beach is good for a one-day picnic because of the absence of hotels and restaurants on it. You can buy good paintings and handicrafts from the local vendors on the beach. There's also the possibility to surf in a corner of Tarkwa Bay. Other water sports such as jet-skiing and water-skiing are fairly common. The last boats leave Tarkwa Bay at 5PM.

Lighthouse BeachNamed after the 110-year-old lighthouse that guards the entrance to Lagos harbour. The Lighthouse can just be seen from the beach, and is well worth a visit as well. The walk along the beach between Tarkwa Bay and Lighthouse Beach is very pleasant– and at times one can be the only person on the beach. You can watch the many ships queuing up to enter the port on the nearby horizon.

Eko Tourist Resort (Akodo Beach)

phone: +1 777 0700 (bookings), +1 470 2865

address: 22 km, Lekki-Epe Expressway, Ibeju, Lekki LGA, Akodo

This place is at least a 40 minute drive from Lagos. The resort has chalets, restaurants, and a large conference hall on 10 acres, with more than a half a mile of clean beach.

Suntan Beachin Badagry West, 15 minutes ride from the Badagry round-about. A good place for picnic and holiday.

Eleko Beach

Lekki Beach

ElegushiElegushi Private Beach, Ikate, Lekki.
Beach resorts:
Hermitage Garden Resorts: Hermitage road, Tiye village, near Akodo, Lekki local government.
La Campagne Tropicana: Lekki
Buy
Unless you are in a supermarket or restaurant/bar with fixed prices, you will be expected to negotiate the price you pay for an item down to the lowest the vendor would sell. When you are stuck in traffic, expect to see hawkers selling anything from potatoes to drinks . Expect any brand names in these informal markets to be fake, and should you wish to purchase them aim for a very low price.
If you hold a Visa, MasterCard or Maestro credit/debit card you can withdraw cash in Naira from various ATMs around Lagos. Visa machines can be found at Standard Chartered Bank. MasterCard/Maestro machines are found in Ecobank and some Zenith Bank branches.
Foreign currency, U.S. dollars, pounds sterling, or euros can be exchanged in various places, usually near large hotels and the airport. These are not formal bureaux de change and you will need to negotiate the exchange rate. It is strongly recommended that you count your money in front of the exchanger, and don't be afraid to walk away if you are not happy with the deal. Be wary of your safety in money changing areas, and take care to make sure you are not followed when leaving them.
There are formal bureaux de change in the various banks, and you can rest assured about transacting with them, although their rates may be slightly higher or lower than the rates outside.
Some of the good places for shopping are:
address: 1 Bisway St

The City Mall

address: Awolowo Rd

Mega Plaza

address: 14, Idowu Martins Street, Victoria Island

phone: +23412706361

address: 133, Ahmadu Bello Way Victoria Island

Silverbird Galleria with five hi-tech cinema halls showing popular movies. There's also the Media Store which sells music and movies, magazines and books, as well as computer and gaming consoles. The Galleria also houses restaurants, bars and gift shops. Lastly, there is Wi-Fi connectivity and a bowling alley within the premises.

King's Plaza

address: No 80, Adeniran Ogunsanya

A large shopping mall consisting of gift and clothing stores, restaurants, a cinema hall, and others. There is also a popular place called Computer Village in Ikeja the capital of Lagos.

Lekki Art MarketA great place to buy Nigerian and West African art. From paintings, to jewelery, to souvenirs to accessories and clothes, You'll find a great deal for your goods. Brush up your bargaining skills. The place is a bit tricky to find, take a right from the roundabout before Chevron and ask for directions. The place tends to flood during heavy rains, so try to avoid going all together or take an SUV with a high ground clearance.
Eat
Budget
Mr Bigg'sThe ubiquitous Mr Bigg's is Nigeria's version of McDonald's. While western fare such as hamburgers is served, Nigerian delicacies such as jollof rice and moin moin are more popular. Look for the big 'B' with a red and yellow colour scheme - you shouldn't have much trouble finding one in Lagos

TantalizersAnother leading Nigerian fast food chain, Tantalizers serves Nigerian fast food staples such as meat pies, scotch eggs, chicken, jollof rice, fried rice, cake, and hamburgers. Has about 25 outlets in Lagos.
Mid-range
Nigerian
Thistle Bar & Restaurant
Yellow Chili(specialties include Fried Snail with Fries)
Terra Kulture. Located within an art gallery.
Whitehouse. Located in Yaba near E-centre.
""Natives"". Located in Victoria Island
Chinese
Prime Chinese - Open 24 hours; By far the best Chinese food in the city!
Marco Polo
Mr Chang's

Zen Garden

address: Isaac John Street, GRA, Ikeja

A sister restaurant to Pearl Garden (VI), Zen Garden is an elegant gourmet Chinese restaurant. Tends to get crowded on weekends, so plan accordingly. Barbequed Pork is a must-have.
Indian
Spice Bar

address: Adeola Odeku Street, Victoria Island

the best place to enjoy Indian food. Nice ambiance with great service.

Victoria Palace

address: Danmole Street, Victoria Island

Viceroy's

address: Akin Adesola Street, Victoria Island

The newest entrant in the Indian restaurant scene, Viceroy's boasts of the best ambiance among the Indian restaurants in town. The food, though, fails to match the standards set by the likes of Stanley and Spice Bar. Try the Chef's special Nilgiri's Chicken. Also has a decent continental menu.

Cafe Bombay

address: Idowu Martins Street, Victoria Island

In the Food Court of Mega Plaza mall.

SherlatonHas outlets in two places. One in the mainland (Hotel Newcastle, Antony Village) and another in VI (Hotel Cumberland, Adeola Odeku St)

AAA (formerly Stanley)

phone: +234 17754609

address: Olutunda Street, Ilupeju

Among the best Indian restaurants in town. Chef Anand makes a wicked Murg Mussalam (comes in a large plate that serves 3-4) - don't miss it. The ambiance is slightly dull, though the quality of food more than makes up for it.

F&G Suites

address: Ilupeju

Taj

address: Ilupeju

Harzoyka

address: Oduduwa Cr, GRA, Ikeja

Being the only mid-range Indian restaurant in Ikeja (the other option is the extremely pricey Indian restaurant in Sheraton), Harzoyka is a good choice if you are in Ikeja and don't want to go around the city for Indian food. Food is decent with an average ambiance.

Karma

address: Burma Road, Apapa
Thai
American and Continental
Bottles (Tex-Mex) - very good and reasonably authentic. Fajitas are very popular. Frozen Margaritas are a must-have.
Cactus (pizza & sandwiches)
Double Four (pizza)
Le Saison (pastries and sandwiches)
Debonair's Pizza (Victoria Island, opposite to Park n Shop) (pizza)
Goodies Restaurant (next to Goodies supermarket, near Falomo Bridge, Victoria Island)
Splurge
Chocolate RoyalAmerican food and bakery.

Churrasco's

address: Ozumba Mbadiwe Rd

Brazilian steakhouse inside the same complex as the Lagoon Restaurant.

Cowrie RestaurantOffers include the traditional goat meat pepper soup. Nigerian.

FusionAs the name suggests, it is a fusion restaurant! Japanese/Mediterranean Cuisine. Better for sushi only.

Il SorrisoItalian dining

phone: +234 1 293 4473

address: 137 Tiamiyu Savage Street, Victoria Island

The best Chinese food in VI and a favorite among expats. Dinner and drinks for two approx ₦15,000. Try the Shredded Chicken with Chili and Peanuts.
Drink
Ikeja
Africa Shrine in Ikeja. With Femi Kuti, son of the legend Fela Kuti.
Lagbaja's Motherland, Opebi Rd (in Ikeja).
The Night Shift Colosseum, Salvation Road, Off Opebi Road. Best Music. Well arranged. Big space for dancing and sitting. 9PM-5AM.
Options, Allen Avenue - Toyin St T point. Good Music, Spacious, 10PM-5AM.
MetroPark, Isaac-John St, GRA, Ikeja.
Ikoyi
Swe Bar: Located at the top of City Mall, Onikan, Lagos.
Ember Creek: Awolowo Road, Ikoyi. Pool Side drinks overlooking the Lagoon. Unnecessarily overpriced.
Reeds: Cool, dimly lit atmosphere with light techno music in the background. Good for cocktails and small bites(Thai specialties). Nice for a romantic date.
Waterside :Located on Oyinkan Abayomi Drive, beside the lagoon that separates Ikoyi and Victoria Island. Go there to chill by the lagoon in the evening. The decor is minimalist with plastic chairs and tables but again very few places in Lagos are open adjacent a Lagoon. Try some suya and pepper soup.
Victoria Island
Michael's: Coldest beers in town! Expatriate hangout.
POP!: Owned by Nigerian soccer legend Austin "Jay-Jay" Okocha, it's got a nice restaurant and a trendy bar.
Pat's Bar: Ajose Adeogun Street. A sports bar with a rugby theme, Very popular with expatriates of all nationalities and the prostitutes that love them.
De Marquee New, Hip joint atop Mega Plaza, Lagos's premier shopping mall. Smoking on the outside terrace only. (WARNING: As of Dec'13, De Marquee has been shut down temporarily for renovations)
Apapa
Monalido: at Corner of Creek road, Entry ₦500 per person. Good music, sufficient space for sitting. Good, big dance floor. Every one welcome. 10PM-5:30AM. Drinks are at very competitive prices, Nice Food Restaurant as well open till 6AM.
Club 21: Wharf Rd, ₦500 per person. Music, sufficient space for sitting. Big dance floor. Every one welcome. 10PM-3AM. Drinks are at competitive prices.
Yaba
Koko Lounge: Cool as it gets. Co-owned by Africa's biggest hip-hop star, D'Banj who makes frequent appearances. Wednesday night is comedy nights. Classy VIP. Reasonable prices.
The Psychiatric Hospital : Located actually inside a real Psychiatric hospital in Yaba is a small restaurant. Tables and chairs thrown around in the lawn, you can hangout here with friends for hours
Sleep
Lagos has some great hotels and many more are being built. There are many 4 star hotels for the price of a 3 star hotel. Try to get a hotel on Victoria Island.
Budget
The Stone House Admiralty Lekki Phase I.
Peerage Retreat & Resort Ltd, Victoria Island.
Embassy court hotel & suites,15a Admiralty way Lekki phase 1
Mid-range
phone: +2348083745991

address: 23 Olufunmilayo Okikiolu Street, Off Toyin Street, Ikeja

Executive and Royal rooms, all equipped with Air-conditioning, LCD TV and Telephone. Facilities and services are Restaurant, bar, garden and Conference hall.

phone: +234 8032749921

address: 2Plot 1/3 Lambert Imasuen Drive Ajao Estate

All rooms equipped and included with Air-conditioning, TV with cable channels, Wi-Fi Internet access and Buffet breakfast. Some of its facilities and services are Restaurant, Bar, Swimming pool, Fitness room/ gym Airport pick-up and Shuttle service.

phone: +234 8083745991

address: 7 Obokun Close Off Johnson Street, Off Obafemi Awolowo Way, Ikeja

Executive and Royal Rooms, all equipped with Air-conditioning, LCD TV and Telephone. Facilities and services are Functions rooms, Restaurant, bar and garden.

phone: +234 1-877-0240

address: 911 Ken Uba Close, Lekki Peninsula

Caters mostly to executives from oil companies, banks, etc. Two fully-furnished chalets onsite can be rented for longer-term stays. Food is excellent, typically African or Continental cuisines. The rooms all have marble flooring, so you don't get the "wet" and "moldy" feel some of the other hotels have. The only downside is that there are just 12 rooms, albeit all large and luxurious, so you don't get to socialize too much onsite. Victoria Island with its bars and clubs is a 20-min drive away, and the beaches are close by.

address: 48, Balarabe Musa Crescent, Victoria Island

address: 292E Ajose Adeogun, Victoria Island

Protea, a South African group, has three hotels in Lagos, all of acceptable standard but not cheap. The prices are reduced if you hold a group loyalty card, the ProKard.

phone: +234 12719254

address: 70 Airport Rd

Similar standard to Protea but not as expensive
La Cour Boutique Hotel - In addition on Ikoyi in Glover St is a small, new serviced aparthotel called La Cour. 2 suite hotels in Ikoyi one at 33 Glover Rd and 3 Cooper Rd

phone: +234 14483470

address: Airport Road, Ajao Estate

The well known hotel chain has a hotel on the Airport Road, a 5 minute drive from the MM International Airport
Splurge
Stay safe
In general, Lagos has become a much safer place to visit than before, with the state spending huge budgets on security with police patrol cars, CCTV cameras (though this isn't always the case). etc. But beware of deals or businesses that sound too good to be true (especially e-mails soliciting your help), and do not openly flaunt your possessions, especially in public places.
While it is rare for a tourist to be a victim of a violent crime, it is still wise to stay safe and be alert, especially during late night outings. Stick to crowded streets and make sure to go out in groups as against going out alone.
Lagosians are generally nice and friendly people, most of whom will readily offer directions to you if you are lost.
Lagos still has its fair share of odd people: street beggars (both the old and young), people with psychological disorders, etc. If someone approaches you for money, do what most Lagosians do: completely ignore them or continuing to walk at a brisk pace.
There are a few police officers who are corrupt and inefficient so it is best that you stick to the law and avoid going anywhere off the beaten path without a trusted guide, especially if it is a first visit.

Connect
Nigeria has both GSM & CDMA Networks. Most of the International GSM Networks are served here on Roaming Partner Basis. Local pre-activated GSM (SIM) connection can be purchased from anywhere in entire Country at very cheap rate. Naira 200/- for a SIM.
GSM/3G/ 4G
9Mobile Services: Calls, SMS, GPRS and some most advance feature can be found only on this network.
Airtel: Airtel is the former Zain (which was formerly CelTel). Services: Calls, SMS & GPRS Services.
MTN: Services: Calls, SMS, DATA (Internet) & GPRS Services.
Glo: Services: Calls, SMS, DATA (Internet) & GPRS Services.
4G/LTE
SWIFT: Services: Calls, SMS & DATA (Internet).
Spectrant: Services: Calls, SMS & DATA (Internet).
SMILE: Services: Calls, SMS & DATA (Internet).
Cyberspace Networks: Services: Calls, SMS & DATA (Internet).
Vodafone: Services: DATA (Internet).
Express Wifi: Services: DATA (Internet).
Wifi.com.ng: Services: DATA (Internet).
Wifi Internet Providers
Express Wifi:
Services: Calls, SMS & DATA (Internet).
Retail unit no. 5. Second upper floor, Maryland Mall, 350/360 Ikorodu Road
In Nigeria SMS (Short Messaging Service) is known as "Text".
The networks in certain parts of Lagos can be very erratic at times. On certain days you cannot make a phone call at all or you will not be able to recharge your phone for the most of the day making business very difficult at times. But its occasional and that is the reason if you want to stay for a long term,make sure that you have at least two phones or a dual sim phone.
Cope
Embassies
India

phone: +234 1-4480876, +234 1 4480877

address: 8-A, Walter Carrington Crescent, P.M.B. 80128, Victoria Island

phone: +234 1-2715350

address: Plot 161A, Idejo Street, Victoria Island,

Lebanon

phone: +234 1-2610129

address: 18 Walter Carrington Crescent, Victoria Island

phone: +234 1 277 0780, +234 802 705 2098

address: 11 Walter Carrington Crescent, Victoria Island

Germany

phone: +234 1 280 9966, +234 1 280 9967

address: 15, Walter Carrington Crescent, Victoria Island

Spain

phone: +234 1-461-7618, +234 1-280-5488

address: 21C Kofo Abayomi Road, Victoria Island

France

phone: +234 1 269 34 27, +234 1 269 34 28, +234 1 269 34 29

address: 1 Oyinkan Abayomi Drive, Ikoyi

phone: +234 1-460-3400

address: 2, Walter Carrington Crescent, Victoria Island

phone: +234 1 271-5650, +234 1 262-2512

address: 4 Anifowoshe Street, Victoria Island

Singapore

phone: +234 1 4489888, +234 1 4619088, +234 8099678888

address: 81-A Younis Bashorun Street, Off Ajose Adeogun Street, Victoria Island

South Africa

phone: +234 1 461 2050

address: 24 Molade Okoya Thomas Street, Victoria Island