Lahich
Lahich
(Lahıc, Lahij) is a mountain village in the
Sheki Region
.
Understand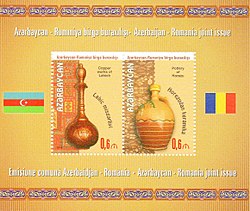 Lahich is a remote and scenic mountain village off the track. There exist only a few guesthouses in the village, and people go after the traditional lives. The village centre is plastered with large and beautiful looking coble stones, which only allow for a slow pace. Along this main road, merchants sell traditional copper work, for which it is famous, and some souvenirs.
Get in
By bus
Minivan buses, which are often packed like sardines, depart at 08:30 and 11:00 in the morning from
Ismailli
. To catch the bus, wait at the intersection near the bus station, diagonal from the Lukoil petrol station in Ismailli.
By taxi
Taxis from Ismailli cost as little as 12 manat for the 40-min one way trip or 35 manat for a round trip.
By car
There is only one road into and out of Lahich. The last 7 km of the road are unsealed and sometimes even impassable, when there was a landslide. However, people are quite fast cleaning up. The dirt road is possible with a regular car, just very slowly.
Get around

The main road in Lahic, which is made of large stones, is a little over a kilometer in length and walking the entire length of the street can be completed in thirty minutes. Cars and bikes are not allowed in the historic section of Lahic during daylight hours.

See
Village CentreBeautiful coble stone road and copper work shops.
Do
Hiking in the area around Lahich or even towards Quba – see OpenStreetMap, which many mobile Apps like OsmAnd, MAPS.ME, etc. use, for trails.

Mt. Babadağ3629 m
Buy
Copper work
There also exist a small in the centre near the small bridge along the main road.
Eat
A hand full of restaurants and teashops are hidden away in lanes off the main street in Lahich, and most of these close once the sun goes down. Several small supermarkets are located in Lahich, where you can find most basic food stuff.

Sleep
Ancient Lahij Guest House

phone: +994 506777517

address: N. Huseynov Street 57

Dadash is the friendly owner of this guesthouse, which offers up to 4 beds. He also has a camp ground (his lawn) with allowed usage of bath and toilet.
Cope
There exists an in the village, along the main road at the beginning.
The can be found near the small bridge in the centre.
Go next
Lahich is probably just a stop over on your regular route. However, next stops could include:
or even
Quba
by foot.